Communication
Updated Apr 20, 2022
Our favorite asynchronous communication tools
[wtr-time]
Make asynchronous communication more effective by using the right tools. Read on to learn about our favorites.
Nicole Kahansky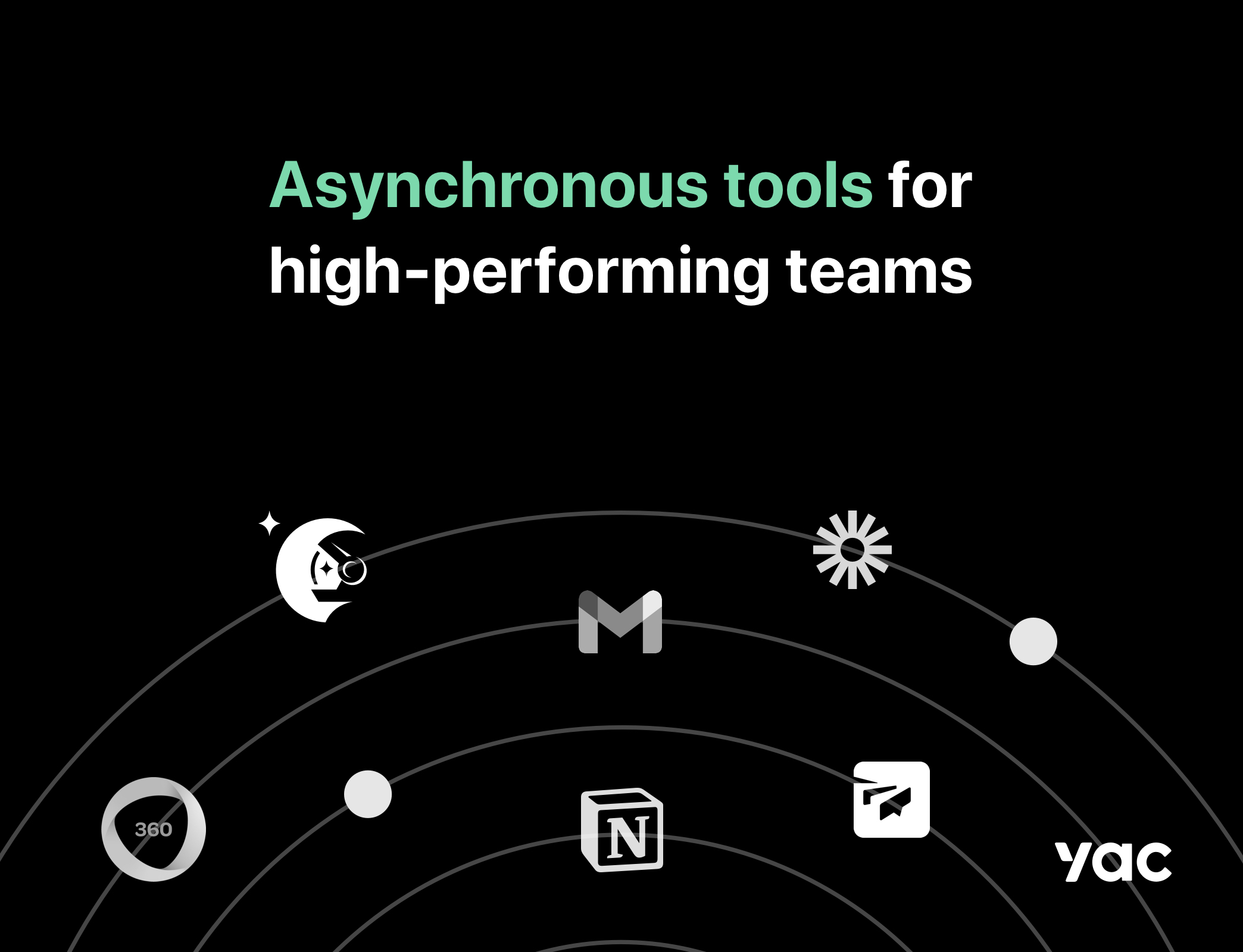 It's indisputable that asynchronous communication can have massive benefits for your team. From greater flexibility to more thoughtful discussions, integrating asynchronous methods of communication into how your team works together can help make everyone happier and more productive — especially when working hybrid or remote.
With the right tools, asynchronous communication can help save a lot of time and distraction.
In this article, we're going to explore why you should consider asynchronous communication and how to implement it:
What is asynchronous communication?
Before we go any further, let's quickly go over what asynchronous communication is.
Simply put, it's communication that isn't in real-time. But that's not the end of it.
Asynchronous communication is a go-to strategy for hybrid or remote teams because it allows team members to communicate without the need for an immediate response. So, rather than calling a meeting or walking over to someone's desk every time you need to let them know something, you can send them an email or message — allowing them to respond on their own schedule.
Why is asynchronous communication important?
Think of the last time you were able to work for an entire morning without being interrupted by instant messages, calls and meetings.
If you're anything like the average manager, you likely feel these interruptions deter your team's productivity. In fact, according to Doodle's 2021 State of Meetings Report, 56% of employees believe more meetings are impacting their job performance negatively. When people are consistently disturbed, it has a huge impact on their ability to get things done.
So it should come as no surprise that the opposite is also true. Employees that face fewer interruptions like instant messages, emails and meetings throughout the day are often more efficient and productive.
1 – 👷 Makers v Manager

Meetings:
To You? How work happens
To Them? How works stops happening

Makers get in flow. Meetings ruin that.

❌ Meet wherever it fits.
✅ Meet after a natural work break of THEIRS

Ensure *unbroken* focus time.

👀 https://t.co/5xXbieI0A0

— Brennan McEachran 👨‍🚀 (@i_am_brennan) May 14, 2021
That is precisely why asynchronous communication is so effective, particularly in remote teams. It frees up time for employees to focus on priorities by putting a stop to unproductive communication.
And if those aren't compelling enough benefits of asynchronous communication, consider this:
Asynchronous communication creates a culture of thoughtfulness and inclusivity. In practice, this looks like a team member focusing during a time that works best for them, knowing they can respond to messages or requests at a time that makes sense for their unique schedule. Or, a remote employee not needing to join a meeting after-hours, knowing thoughtful meeting notes are available, where they can make comments and contributions asynchronously if needed.
How does asynchronous communication work?
Even with all the incredible benefits of asynchronous communication, it's not a catch-all method of communication and every team has different preferences for when they want to communicate synchronously vs. asynchronously. That's why we're sharing some do's and don'ts or asynchronous communication:
✅ DO: Use asynchronous communication in place of daily stand-ups, weekly updates and brainstorming
Daily stand-ups, weekly updates, and brainstorming can be done over instant message, in your project management tool or in the notes of your collaborative agenda. This means that when you do meet in real-time, everyone already knows what's going on. So you can focus on the important stuff, rather than reviewing a list of updates. An example of a company that has fully adopted this practice is Yac.
Read more on Yac Founder Hunter McKinley's experience with an async-first approach.
❌ DON'T: Run one-on-ones asynchronously
1:1s are an important time for managers and employees to connect, build trust and have coaching conversations. This is an example of a situation when synchronous communication is irreplaceable. One-on-ones need to be real-time conversations, be it in-person or virtual.
Pro tip: Try using our one-on-one meeting software for more focused and effective one-on-ones.
✅ DO: Use asynchronous communication for global teams in different time zones
One of the major benefits of asynchronous communication is that it allows you to better accommodate employees in different time zones. When you can tackle things asynchronously, your employees who may be 3 hours ahead don't need to respond in their evenings, resulting in better work-life balance.
Note: Setting the expectations for when communication should be more immediate and when it's okay to have a delay in response is the hallmark of effective asynchronous communication. With this in mind, employees can take into account communication gaps to account for delays in response time. Plus, it easily takes the pressure off employees that may feel their role is 24/7.
❌ DON'T: Use asynchronous communication for employees that have reactive roles and responsibilities.
Reactive roles refer to areas of responsibility that demand immediate attention. An excellent example of this would be your customer support team. Because there is a need to solve customer concerns in real-time, using asynchronous communication among customer support representatives isn't practical.
7 Asynchronous communication tools for better team collaboration
Many remote teams have adopted asynchronous communication successfully with the help of asynchronous communication tools. 🛠
The following are some of our favorites you can consider implementing for better team collaboration:
Hypercontext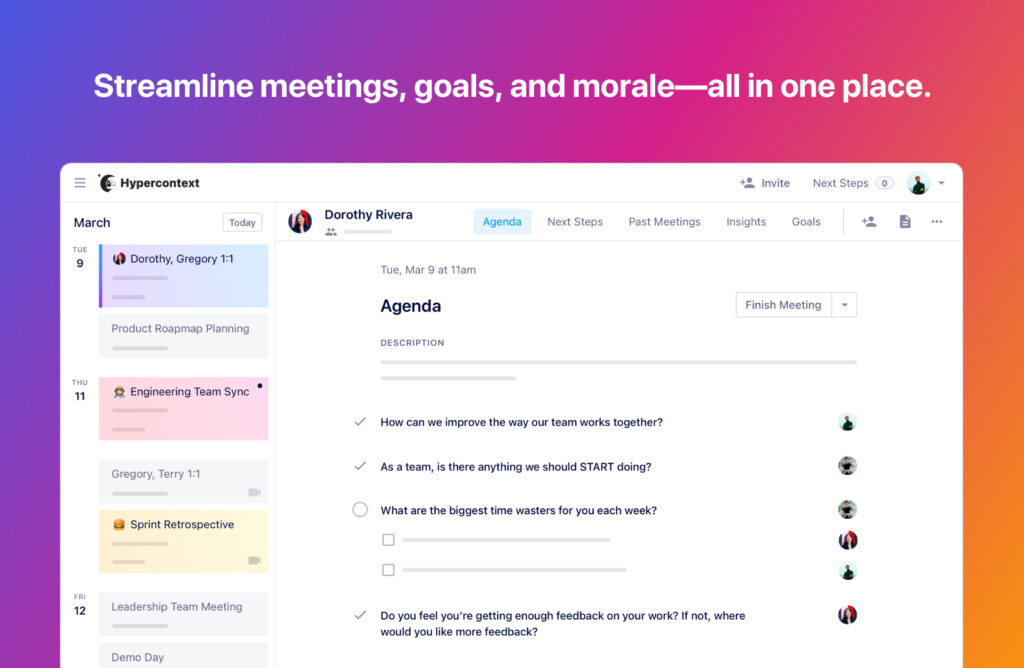 We don't know who needs to hear this, but meetings don't need to rely solely on synchronous communication. Hypercontext helps managers run better meetings by combining goals, meetings and morale into one workflow. While meetings themselves are synchronous in nature, your Hypercontext workspace allows you to communicate asynchronously as well—so that when you do meet up in real-time, you can have the most effective and productive meeting possible!
Key features:
Review and contribute to the shared agenda on your own time.
Tackle blockers as they're added to the agenda instead of waiting until the meeting itself to discuss them.
Use the next step feature to work through action items throughout the week.
Track your progress towards your goals 
Access 70+ meeting agenda templates and hundreds of conversation starters.
Pricing: If you want to give Hypercontext a try, there's a free forever plan, a pro plan for USD $7/user/month and a business plan for USD $11/user/month.
Yac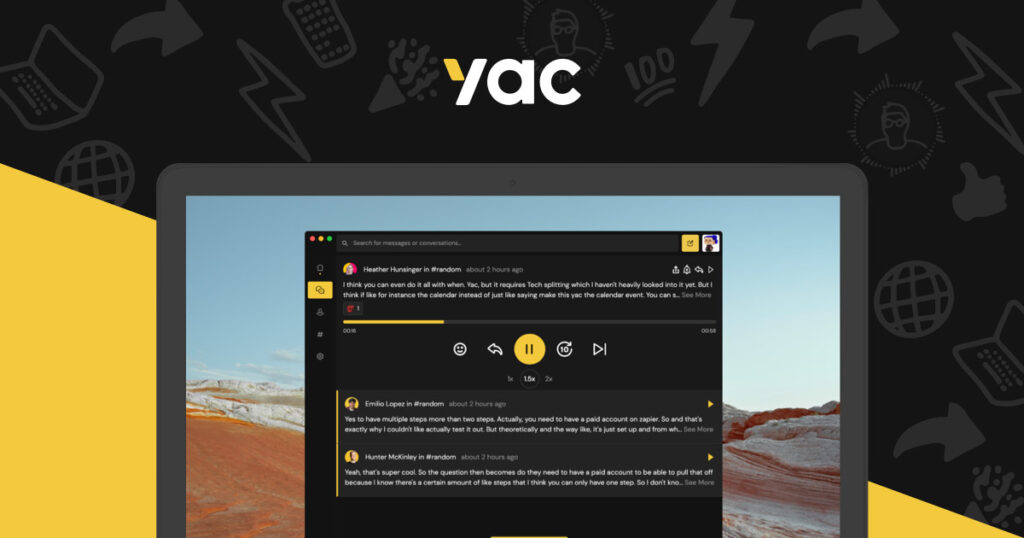 You know when you don't want to jump on a call, but a written message isn't going to do the trick? Yac is a voice and video message system that aims to help remote teams communicate asynchronously. While many remote teams rely on video conferencing, Yac eases the always-on, real-time communication with asynchronous verbal feedback.
Key features:
Have asynchronous meetings through voice messaging without sending calendar invites.
Talk and draw on your screen share for more interactive communication.
Read and create new updates in public or private group chats on your own schedule.
Pricing: There's a free starter plan, or you can upgrade features for USD $5/user/month.
Loom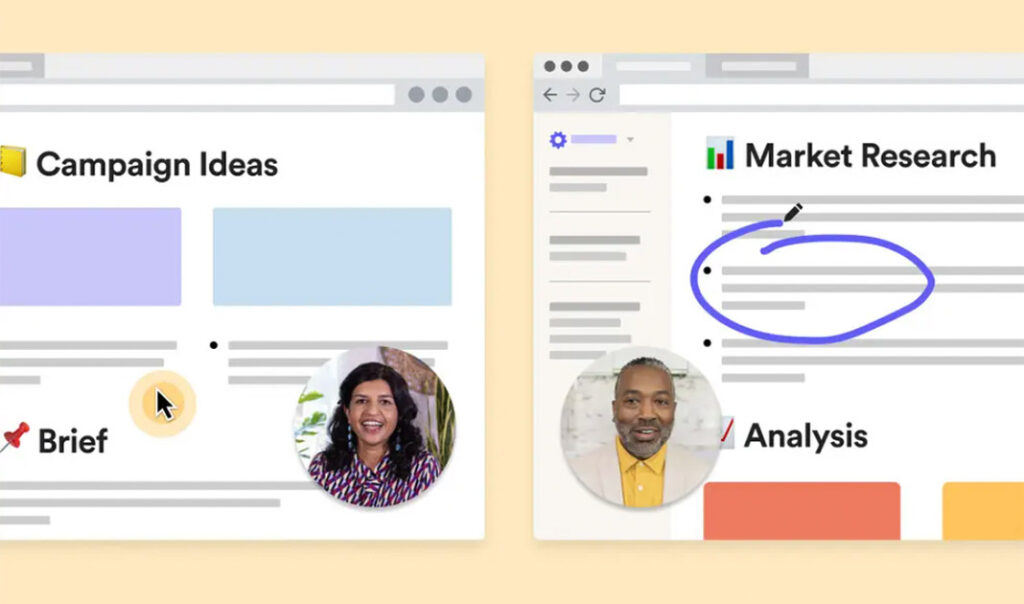 Loom is another app for when a written message won't provide enough context. It's a video messaging platform looking to marry video communication with the convenience of messaging. It allows you to record your screen while also recording yourself so you can walk through anything you want to demonstrate on your screen. While you can type an email, Loom delivers an instantly shareable video experience that makes asynchronous communication faster and more personable.
Key features:
Record video messages on your screen, from your webcam or both instead of email or meeting.
Make you videos more accessible with automatic transcriptions that you can review and edit.
Break your video up into chapters so people can skip to the parts that are relevant to them.
Pricing: There's a free starter plan and an upgraded plan for USD $8/user/month for more features.
360Learning
So often, we store all our learnings and knowledge in our heads. But, that can make it really hard to work with your team efficiently — especially when onboarding or training new employees. 360learning is a collaborative learning management system that allows you to work with your team asynchronously to build internal courses based on the collective expertise of the company. It's designed to help managers and HR deliver employee onboarding and employee training all in one place.
Key features:
Create course material quickly using video, questions and cheat sheets for employee training.
Allow employees to interact, access training course material anywhere and track completion statuses.
Support employees align their career pathing and interests with skill development.
Pricing: They have a basic plan that starts at $8/USD/user/month. For those looking for more features, you can upgrade to Business or Enterprise.
Notion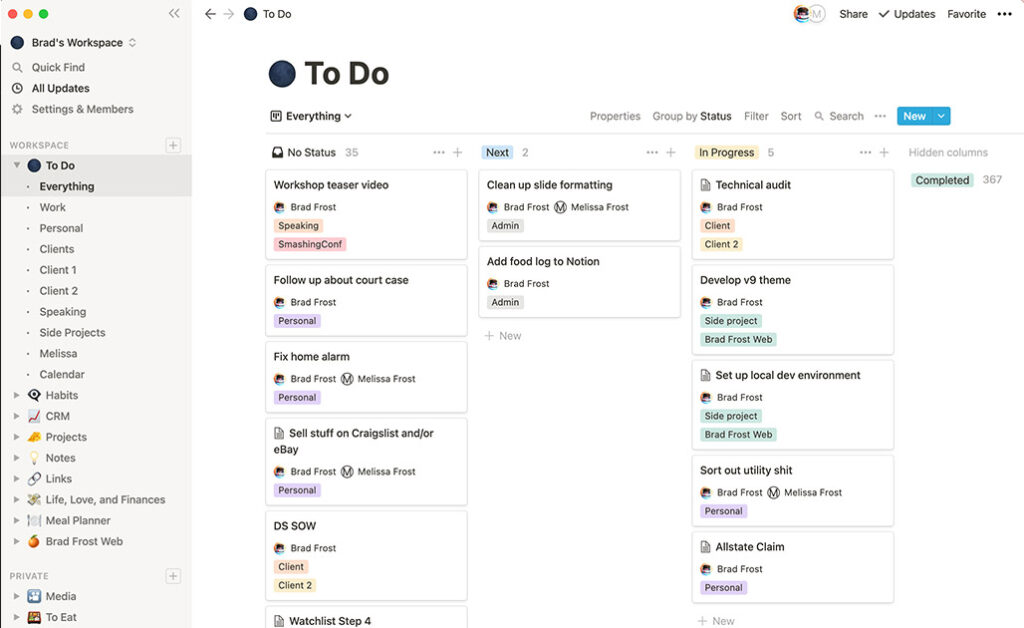 Notion is how we plan for and track the tasks we have each sprint. It's a workspace for teams to write notes, store documents and manage projects. There are countless ways you can organize your Notion pages, from calendar views to checklists to kanban boards — there's something for every teams' needs. Plus, stay up to date with what's happening by tagging team members in the comments or assigning them tasks.
Key features:
Write notes, access team documents and review them on your schedule.
Leverage the template gallery to help get started organizing your team and projects.
Consolidate your project management tech stack to a single platform.
Pricing: There's a free starter plan with limited features, a personal pro plan for USD $4/user/month and a team plan for USD $8/user/month.
Twist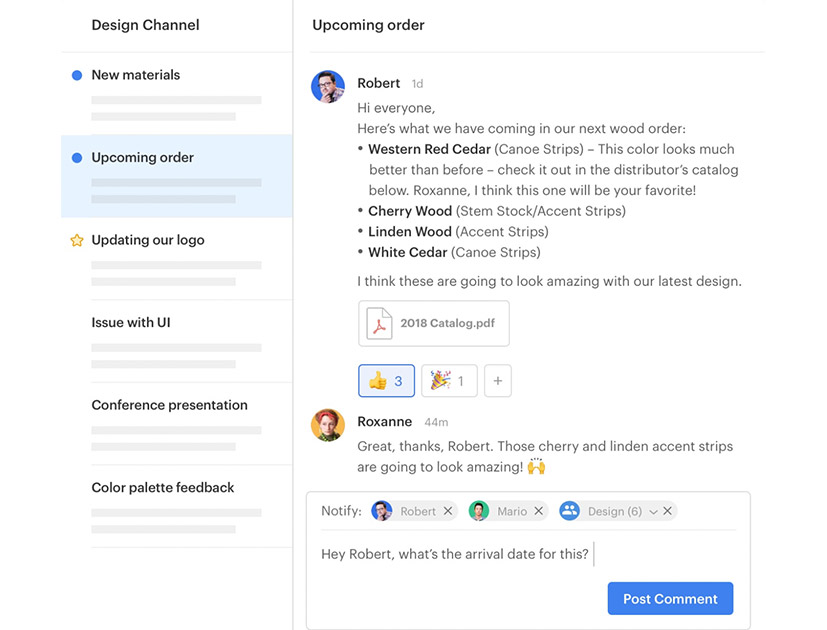 Instant messaging with colleagues can be fun and productive, but too many conversations can make the experience feel chaotic. Twist is a team communication app that promotes long-form communication and instant messaging (think Slack). The long-form messaging feature tracking employees in different time zones looks to consolidate instant messaging with email.
Key features:
Keep conversations organized using topic threads that are accessible to everyone.
Catch up with parallel conversation threads when you're ready and disconnect to focus.
Reduced notifications to avoid the pressure of real-time responses of instant messaging.
Pricing: There's a free forever version and an unlimited plan for USD $5/user/month.
Gmail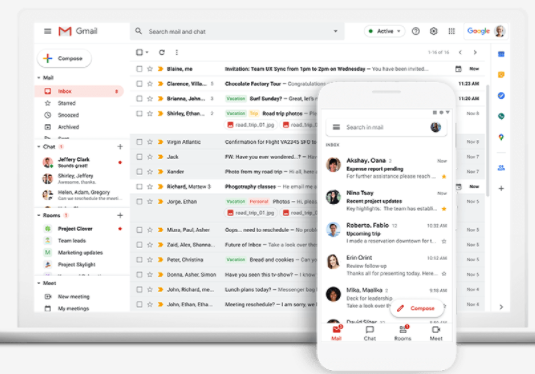 Email is a form of asynchronous communication you're almost definitely using already, and Gmail needs no explanation. Even if you're not using it, you've likely heard of the email service. Gmail integrates with Google Chat, Google Meet, Google Calendar and more— all in one workflow. Plus, in addition to Google Workspace products, Gmail allows for tons of great third-party add-ons. For example, if you find yourself with too many emails to manage, you can make use of a shared inbox within Gmail and collaborate faster with your team.
Key features:
Compose and reply to email threads based on prioritized categories.
Schedule send feature to deliver emails in the preferred time zone of your recipient.
Allows for instant messaging, video calls, sending calendar meeting invites and more.
Pricing: Free forever or business plans starting at USD $6/user/month.
Pro tip: Download the Hypercontext chrome extension to seamlessly integrate your Hypercontext workspace and Google Suite — giving you access to your agendas straight from your browser and Google Calendar.
Bonus: ClickUp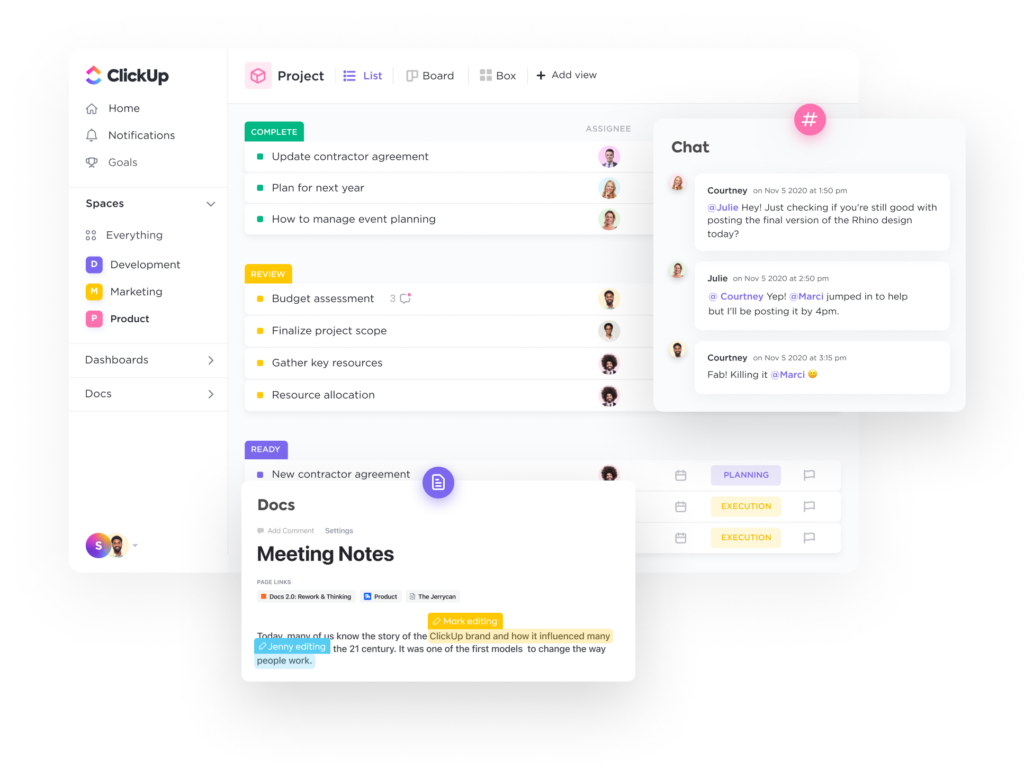 When working asynchronously, effective collaboration is key. ClickUp is an all-in-one productivity tool that makes it easy for teams of all sizes across industries to manage tasks, collaborate smarter, and bring all of your work together in one place. It offers hundreds of customizable features to keep asynchronous teams updated and aligned on goals—no matter where you're working from or what project style you use. ClickUp's collaborative features ensure everyone can work, edit, and communicate without overlap or repetition.
Key features:
Keep your team in the loop by adding watchers and assignees to tasks with automatic task updates.
Collaborative live-editing in ClickUp Docs allows teams to work efficiently alongside each other without overlap.
Instantly view your workload, progress, and resources with a high-level overview of your progress in ClickUp Dashboards.
Pricing: There's a free forever plan, or gain access to more advanced features with paid plans starting at $5.
Moving forward — asynchronously
Using asynchronous communication with your team will help increase focus time and flexibility, resulting in greater productivity and employee morale. While it can't always replace real-time interactions, it can help make those interactions more meaningful.
Adopting tools that support asynchronous communication will ultimately make team collaboration even easier and more effective for remote or hybrid teams working across different time zones.
Try communicating asynchronously between meetings with Hypercontext. 👇