Motivation: Competitive salary is a leading motivator
80% of salespeople agree or strongly agree they're motivated at work. In parallel, according to Gong's report on the Reality of Sales Talent, 17% of salespeople agree difficulty staying motivated is a top challenge.
The repercussions of this are real. When people agree or strongly agree they're motivated at work, they're 2.6X more likely not to look for another job.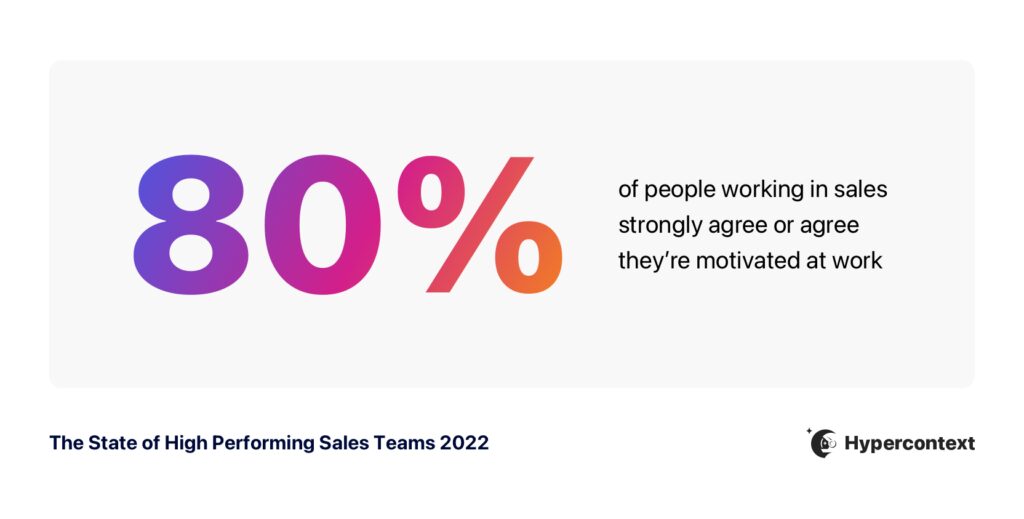 The top factors impacting the motivation of a sales team are competitive salary/benefits, fulfilling/challenging work and a good manager.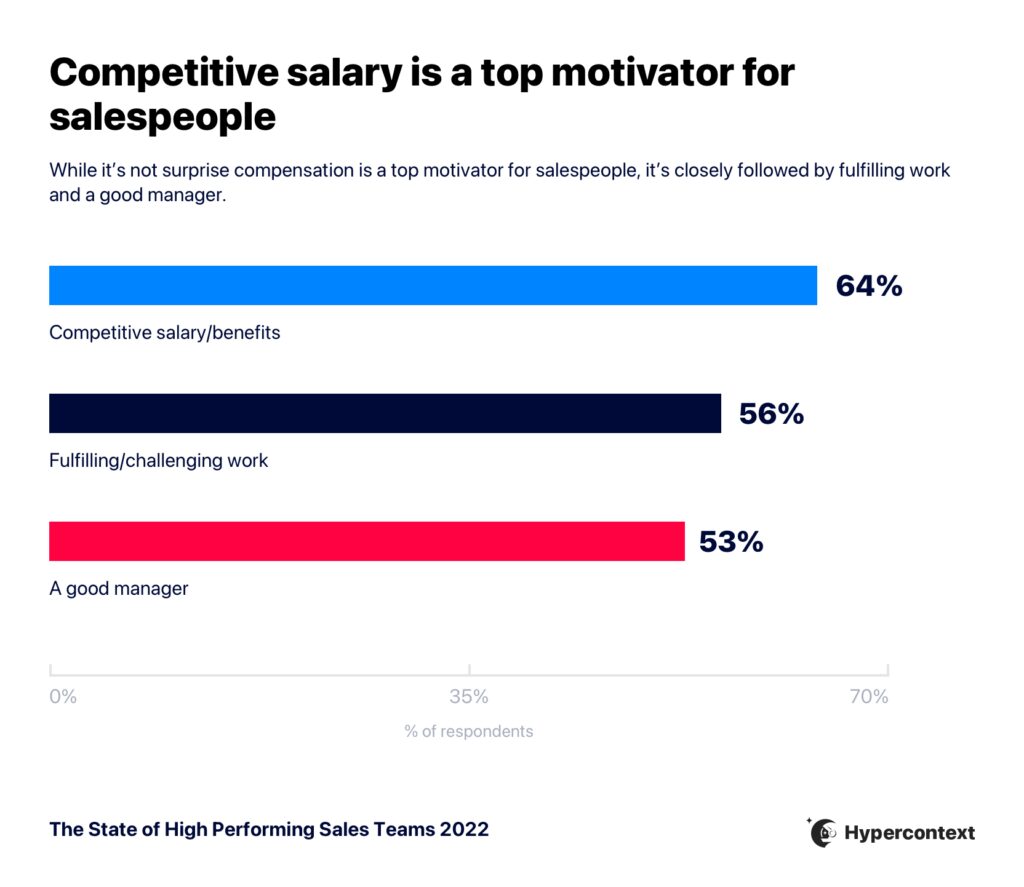 Competitive salary and benefits
Competitive salary and benefits is the number one factor impacting motivation on sales teams — no surprises there.
It's interesting to keep in mind that, while competitive pay impacts motivation, it's not the biggest consideration for retention. Rather, Fair pay is what's important. 64% of people who believe they're being paid below market value have applied for another job in the last 6 months, vs. 33% of people who believe they're being paid average rate.
At the very least, your team members need to be paid fairly. Without fair compensation, other efforts to motivate your team will likely be moot.
💡 Recommended resource: Getting compensation structure right is imperative to the success of your sales team. Check out Hubspot's guide to sales compensation.
Fulfilling/challenging work
Employees want to be challenged and given the opportunity to grow. It drives people to try their best and not get complacent in their work. A great first step in helping your team feel fulfilled and challenged at work is by simply asking them how they want to grow. When you understand the areas where your team members want to develop, you can think of them for the right opportunities.
💡 Try-it-tomorrow tip: Have a reliable one-on-one meeting each week where you can talk about growth with your team members. This helps provide visibility to whether direct reports are feeling fulfilled and challenged and what kind of work they'd like to be more involved with.
Good manager
A good manager ensures their team is being challenged, compensated fairly and, overall, staying motivated. For sales managers, in particular, it's essential to ensure information is flowing both ways, and your team's getting the coaching they need.
While managers play an integral role in their team members' motivation, their own needs are often overlooked. 38% of sales managers only somewhat agree their companies equip them with the proper tools/resources needed to be a good people manager.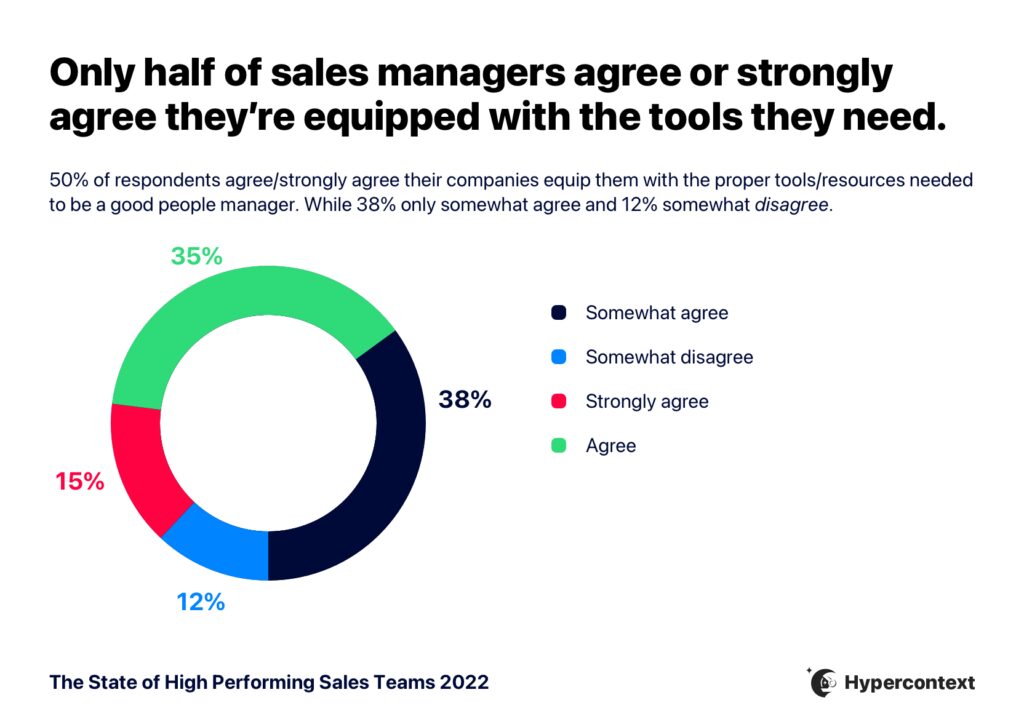 👉 Skip ahead to learn about the unique challenges of sales managers.
Productivity: Access to resources impacts productivity for salespeople more than other departments
84% of salespeople strongly agree or agree they're productive at work.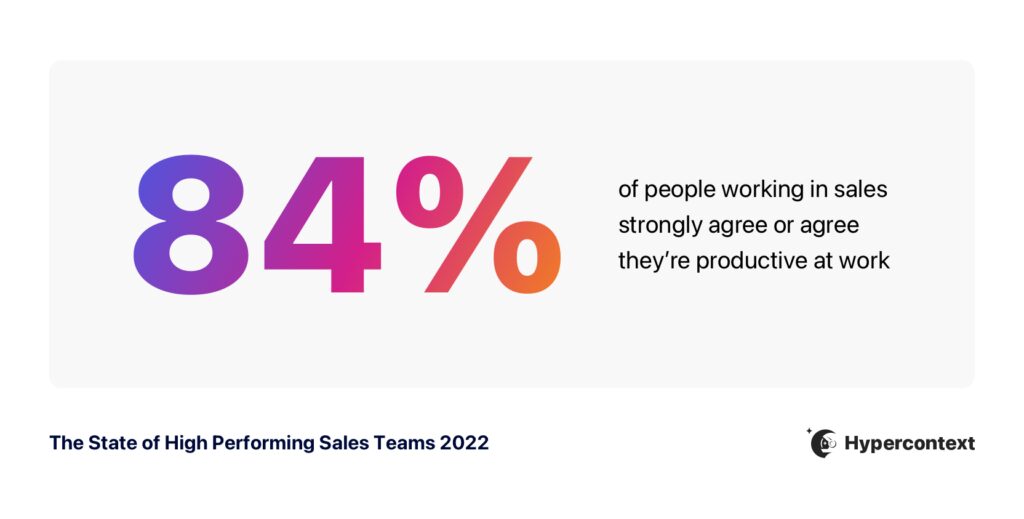 In The State of High Performing Teams in Tech report, "access to resources" was the 5th most important factor impacting productivity. When we look specifically at data from employees working in sales, on the other hand, it's cited as the 3rd most important productivity factor, after "clear expectations and goals" and "seeing how work impacts the bigger picture."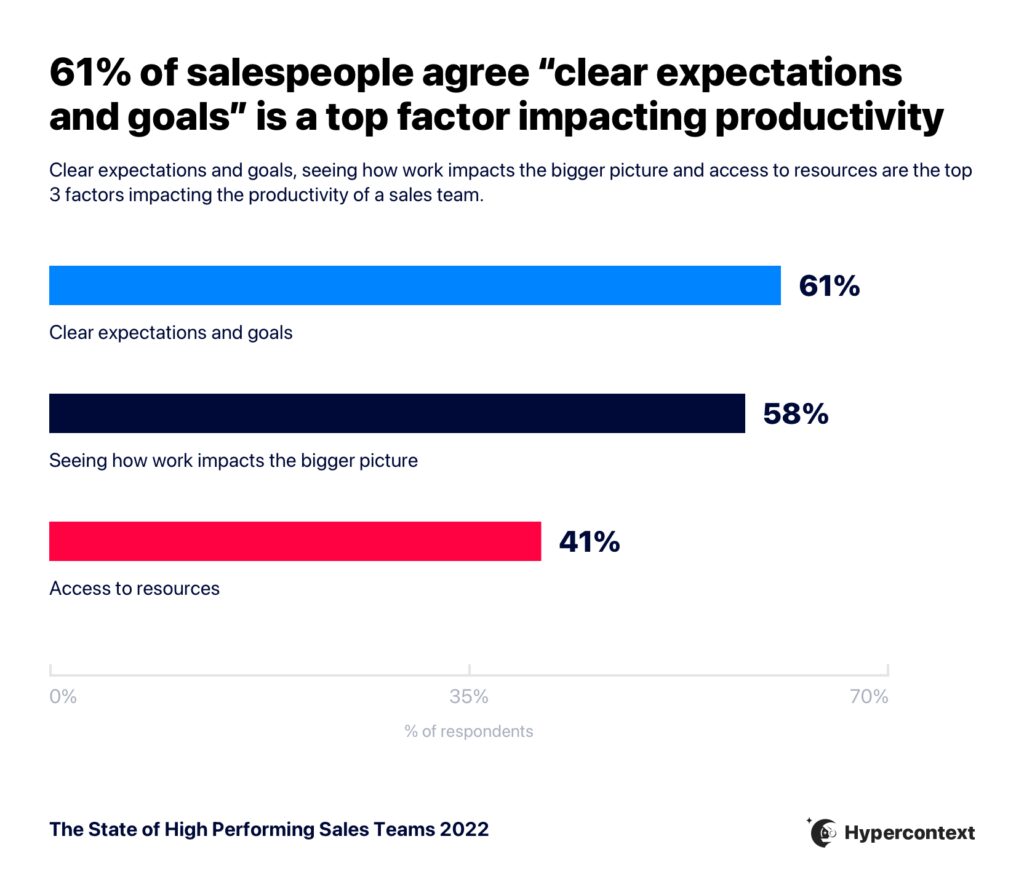 Clear expectations and goals
Clear expectations and goals is the #1 factor leading to productivity no matter what team people work on. 61% of people working in sales specifically feel it's a top factor impacting their productivity. If you want your team to hit targets, it's imperative they're clear on what's expected of them.
💡 Try-it-tomorrow tip: Setting goals and expectations doesn't necessarily lead to clear goals and expectations. Talk about goals weekly so your team doesn't lose sight of what they're working towards. Plus, when you discuss goals weekly, you increase confidence in hitting them (by 2.7X).
Seeing how work impacts the bigger picture
The further an employee is from the executive team, the more they know about what's happening with customers, and the less they know about what's happening with the company.
When employees understand the 'why' behind the 'what', it's easier to stay motivated to help accomplish something greater.
💡 Try-it-tomorrow tip: Nathan Sparks, CRO at Kandji, conducts a weekly fireside meeting with his entire revenue organization to ensure critical information is shared throughout the team. You can try his meeting template here.
Access to resources
Salespeople are more likely to find access to resources critical to productivity than people working in other departments. Why is access to resources important for the productivity of sales teams? Time kills all deals. High performing sales teams rely heavily on a focused operating cadence. They need to stay on track and not waste time. This requires easy access to the information they need to move any deal forward.
Tools include proper sales coaching, product training, testimonials, sales software and team touchpoints. The right resources means your team is empowered to sell — it also means your managers are empowered to lead.
💡 Try-it-tomorrow tip: Do a survey on your team to understand what tools and resources are helpful for them, and where there are gaps. Don't assume you know what resources are missing — get input from your team on where they need support.
Empowering the team is a top challenge for sales leaders
Managers play an important role in their team's motivation, and face their own unique set of challenges. According to 40 sales managers, their most pressing challenges are empowering their team members, supporting career development and collaborating across the organization.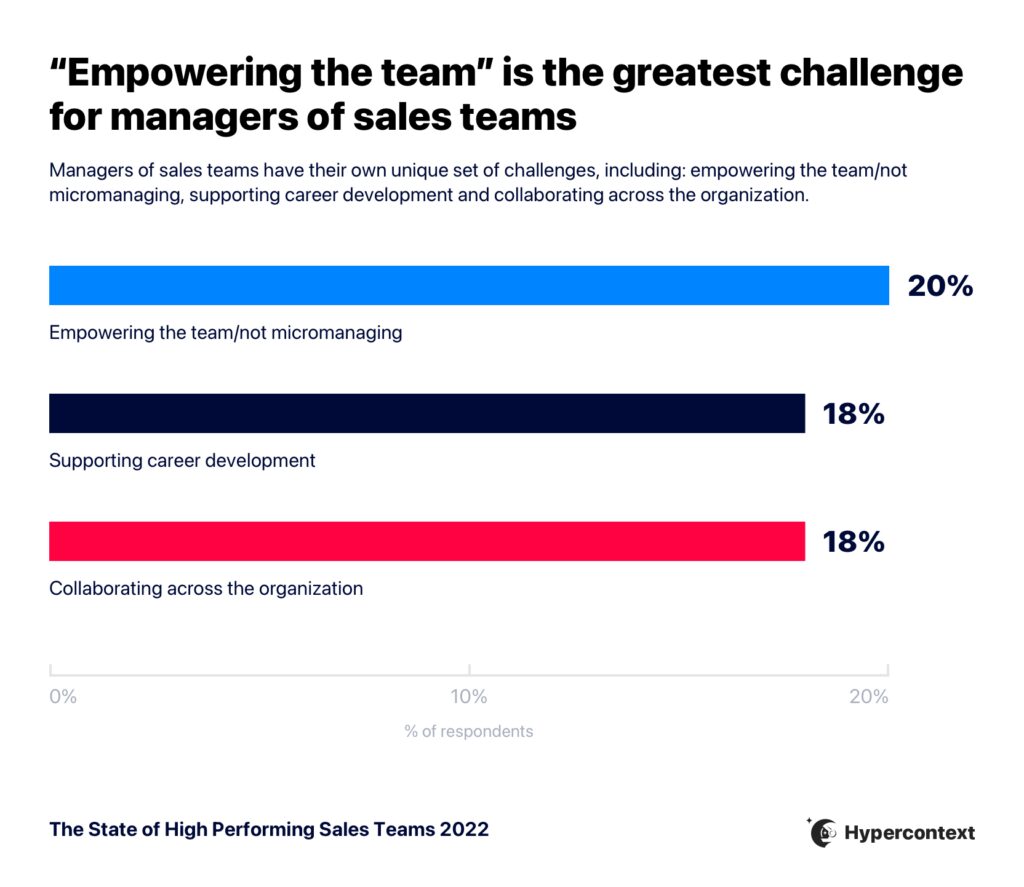 Empowering the team/not micromanaging
Managers are responsible for ensuring their team hits targets. But the best leaders know, you can't sell for your team. You need to empower them to operate as directly responsible individuals. When you micromanage, not only does it create a toxic environment, your team also stops thinking outside the box and taking ownership of their work.

💡 Try-it-tomorrow tip: Micromanaging is often a result of fear and lack of trust. One-on-ones are the fastest way to build trust with team members. Try a one-on-one template to start building trust.
Support career development
People are almost 2X more likely to look for another job because of lack of growth opportunities than not enough money. Yet, 18% of sales managers agree it's their biggest challenge.
For some managers, it may feel like the development of their teams is too far out of their hands. After all, you're not in full control over opportunities for advancement.
But regardless, managers have a role to play. Career growth isn't just about title changes and promotions. Managers can help their team get the experience they need to be ready for that next job when it comes available or expose them to other potential paths.
💡 Try-it-tomorrow tip: Add a career development question to your next 1:1 meeting to get a conversation started about how you can support your team's growth.
Collaboration:
The magnitude of this challenge is unique to sales leaders.
When looking at the general data from the State of High Performing Teams report, collaboration is ranked as the 5th biggest challenge for managers. When narrowed down to Sales managers, collaboration moves up to the 3rd biggest challenge.
It's critical for sales teams to be looped into what's happening in the organization — and collaborate with teams like marketing, customer success and product. That's why peer-to-peer 1:1s are also a lot more common for salespeople than employees working in other departments. 72% of salespeople have peer-to-peer 1:1s vs. only 56% of people in other departments.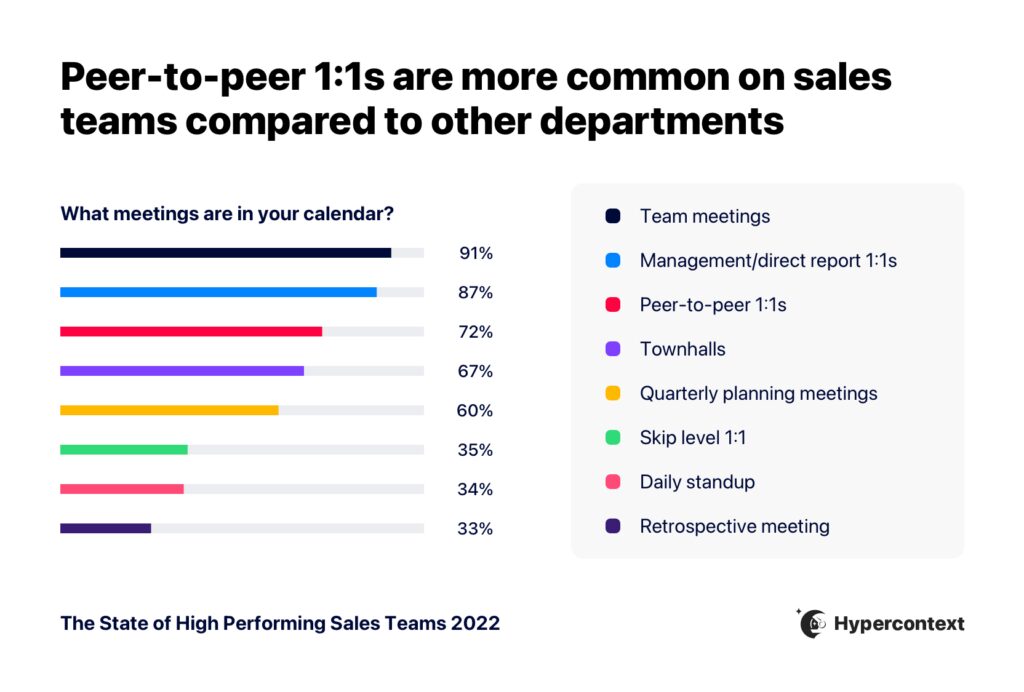 💡 Try-it-tomorrow tip: Have consistent cross-functional and team meetings. When you have standing meetings set up, there's a touchpoint teams can rely on to connect, rather than sending one-off requests when needed. Check out these meeting templates for sales teams.
Retention: Lack of growth opportunities is the #1 reason people leave
39% of people have applied for external jobs in the last 6 months. Not enough growth opportunities is the primary reason.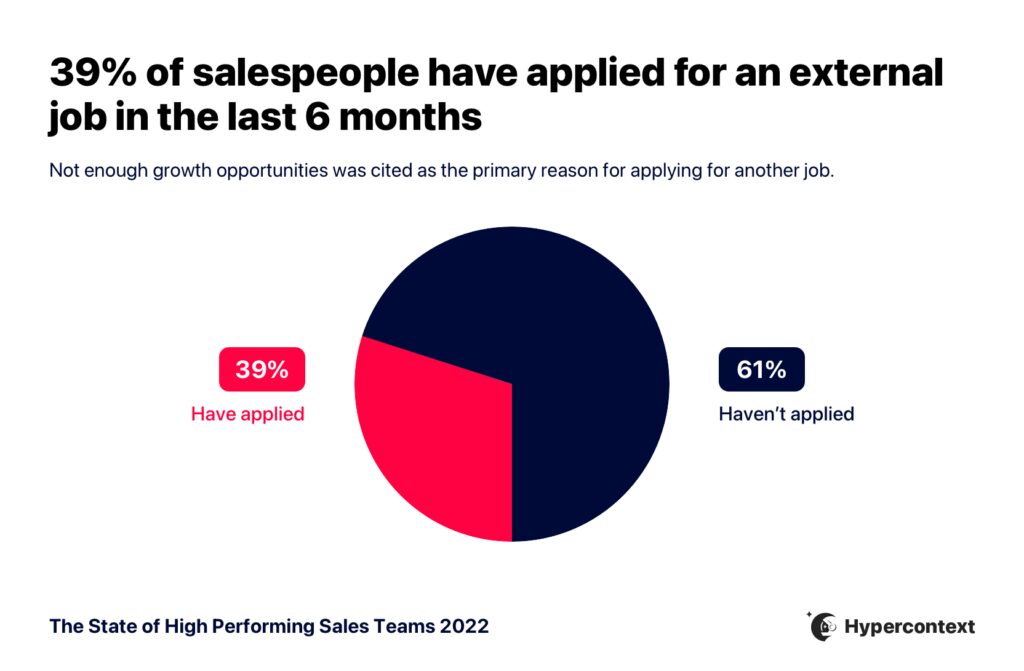 People are 1.8X more likely to cite lack of growth opportunities as a reason for leaving a company than competitive salary and benefits.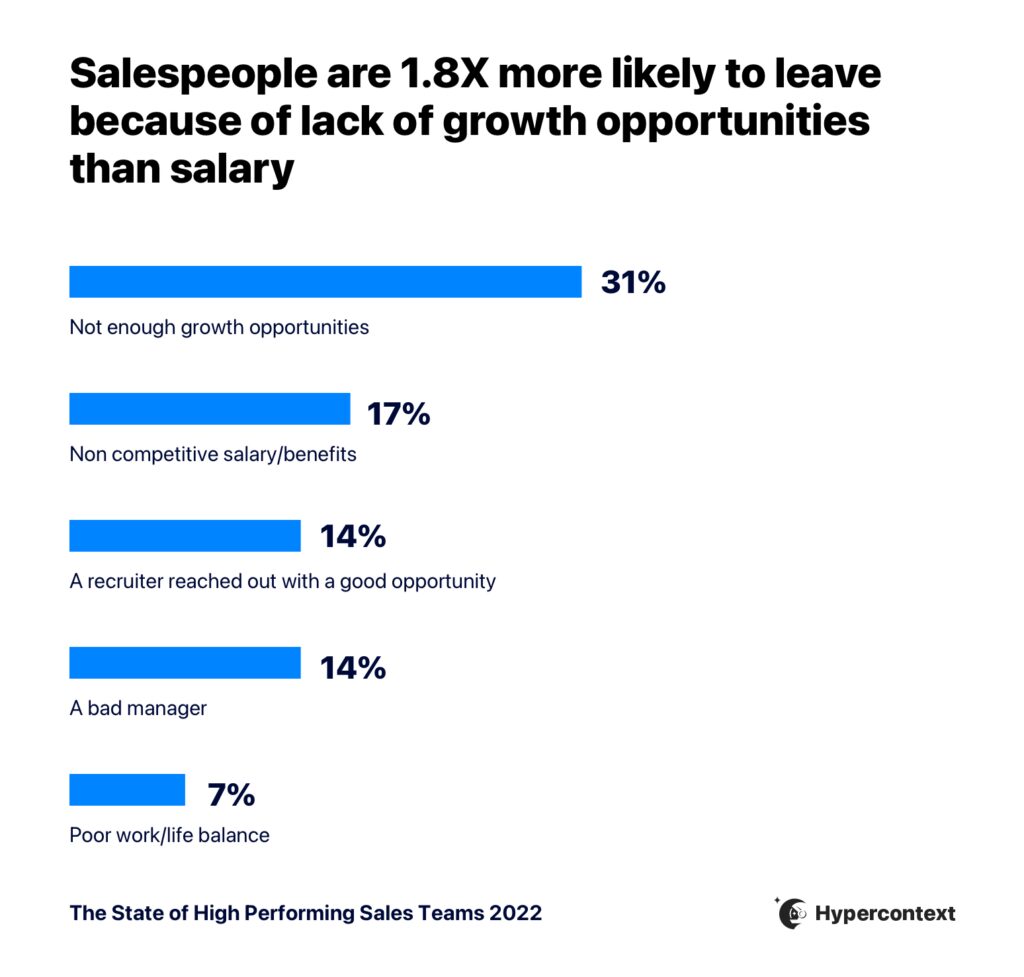 Strategies to motivate and retain your sales team
Based on the data, these are some strategies leaders can implement to motivate their sales teams in 2022.
Create opportunities for learning and career growth
A consistent theme in the data we collected from salespeople is the need for learning and growth opportunities. Unfortunately, supporting career development is also one of the areas that managers find the most challenging. Whether or not you have direct control over your team members' career growth within your company, it's essential to create a space to talk about growth and provide opportunities for learning for salespeople on your team.
To better support the development potential of your team:
Have weekly one-on-ones and ask the right questions. Here are some one-on-one question examples to prompt conversations around growth and where you can support your team.
Set development goals. Work with your team members individually to set OKRs that ladder up to team and company goals to create a path to success and understand how their career path fits into the bigger picture.
Recommend learning opportunities. Once you understand how your team members want to grow, point them to resources to help them achieve their goals. Even if you don't have expertise in the area, recommend a book, course or contact to help them learn.
Empower your team through transparency
When information flows effectively throughout an entire sales organization, it creates a level of accountability and ownership impossible to achieve with silos and secrets.
To help your team understand how their work impacts the bigger picture:
Focus on building trust
Building strong relationships is at the core of everything a sales team does, whether they be with customers, other members of the sales team, direct reports or other departments within your organization. Trust helps empower your team and makes it easier to collaborate across the company.
A few ways you can begin to build trust are through:
Consistent one-on-ones with peers and direct reports alike. 100% of people working at a company with 3X growth in the last year have 1:1s. On the other hand, only 38% of people working at companies experiencing stalled growth have 1:1s. Trust is more than a nice-to-have, it's a catalyst for individual and company-wide growth.
Create a culture of two-way feedback. While as a leader it's part of your job to coach your team members and provide feedback, don't be afraid to ask for feedback as well. This will help create trust and understanding on how you can better support your team.
Demographics and methodology
The State of High Performing Sales teams in tech report was created using answers from a sample of 75 people who identified themselves as working on a sales team in the tech industry. Answers were collected between November 9 2021 and November 25, 2021.
Here's the breakdown of demographics:
Headcount
1-10 employees: 8%
11-50 employees: 18%
51-500 employees: 36%
501-1,000 employees: 15%
1,001+ employees: 23%
Revenue growth in the last year
Plateaued (about the same): 11%
Growing 0-1.5X: 44%
Growing 2X: 24%
Growing 3X or more: 19%
I don't know: 2%
Seniority
Individual contributor: 47%
Manager: 19%
VP: 15%
Executive: 12%
Director: 6%
CEO/Founder: 1%
Gender
62% of people identified as a man
35% of people identified as a woman
1% of people identified as non-binary
2% of people said they'd prefer not to say
Race/ethnicity
27% of people identified as a Person of Color
70% of people didn't identify as a Person of Color
3% of people said they'd prefer not to say
Age
Baby boomer (1946-1964): 4%
Gen X (1965-1980): 25%
Millennials (1981-1996): 63%
Gen Z (1997-2012): 7%
Other: 1%
Want to learn more about leading a high performing sales team? Let's stay in touch.
For questions about this report or data please reach out to [email protected]. For more insights on how to run a high-performing team, sign up for our weekly emails 👇