Productive Meetings
Updated Oct 3, 2022
16 Sales meeting templates every organization needs
[wtr-time]
High performing sales teams rely on internal alignment. Here are agenda templates for 16 meetings every sales team should have in their calendars.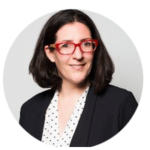 Jocelyn Brown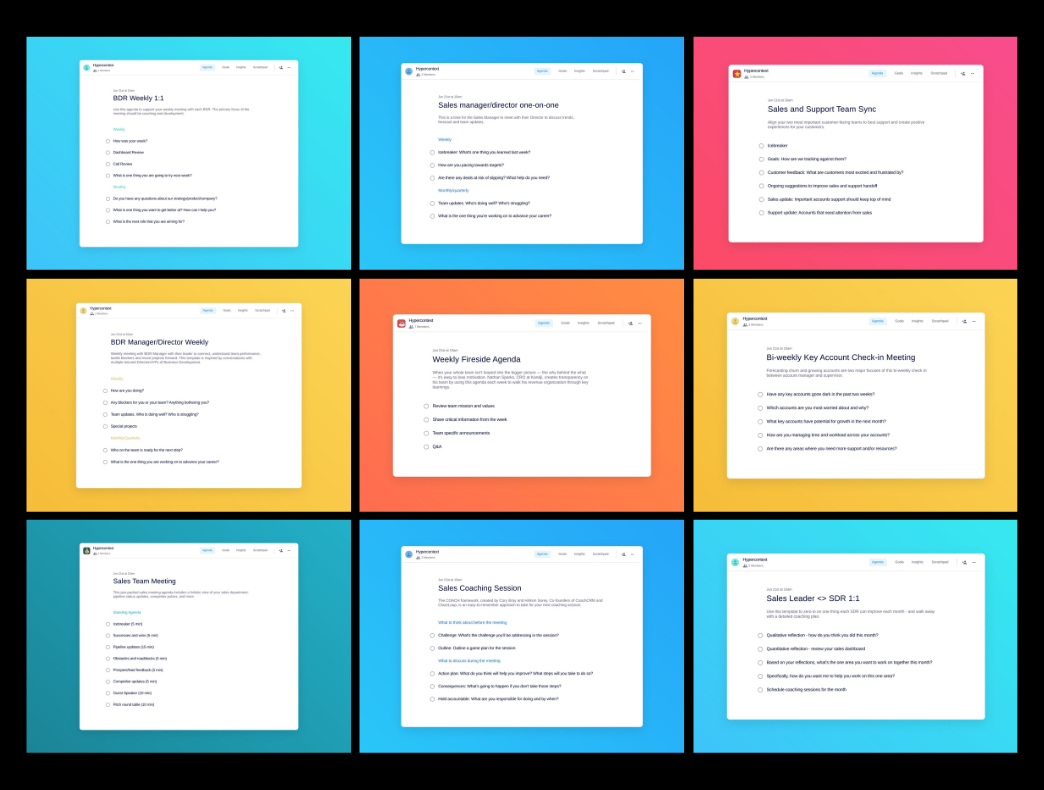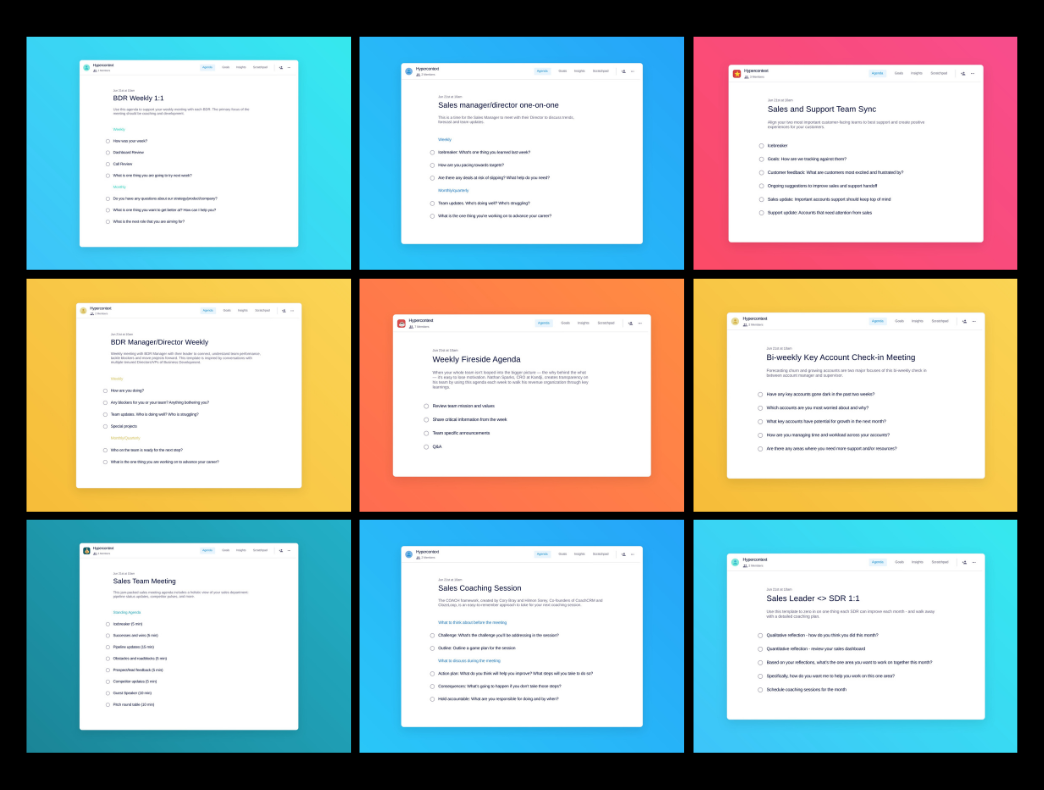 Time kills all deals.
The best sales leaders I know are acutely aware of this fact and are incredibly disciplined with their time. They always know how they're tracking against targets and how much time is left in their week/month/quarter. At the same time, they're also focused on providing high-quality customer experiences.
This means two things for sales leaders:
You want to make sure you're optimizing to spend as much time as possible with customers.
You need to be informed and aligned with other parts of the business that support customers (which is all parts of the business). This can result in a lot of internal meetings…leading to a lot of time not with customers.
Balancing between time selling and time aligning internally requires you to be intentional about your meetings — taking into consideration the timing, the attendees and the agenda. When conducted with purpose, meetings are an invaluable tool to facilitate the flow of information through the company — ultimately helping minimize distractions.
In this article, I'm going to walk through the must have meetings on every sales team, including:
One-on-ones with frontline sales employees
Every frontline employee should have consistent one-on-ones with their managers.
Why?
They're an important tool for building trust, collaborating and supporting career development and learning. In fact, according to our report on the State of High Performing Sales Teams, 100% of people working at a company with 3X growth in the last year have 1:1s. While only 38% of people working at companies experiencing stalled growth have 1:1s. The numbers speak for themselves.
Here are 3 types of one-on-ones for frontline employees:
BDR/SDR one-on-one
The focus of this meeting is coaching and development. Often, the frontline team is at the start of their sales careers and there's a steep learning curve. Plus, they receive a lot of feedback from customers — and some of it's pretty brutal. This should be a very positive meeting, where reps feel supported.
Use this time to dig into what they're learning and trying, not just the numbers. It's a chance to talk about career and personal development.
Try adding these topics/questions to your meeting agenda:
Weekly
How was your week?
Dashboard review
Call review
What's one thing you're going to try next week?
Monthly
Do you have any questions about our strategy/product/company?
What is one thing you want to get better at? How can I help you?
What is the next role that you're aiming for?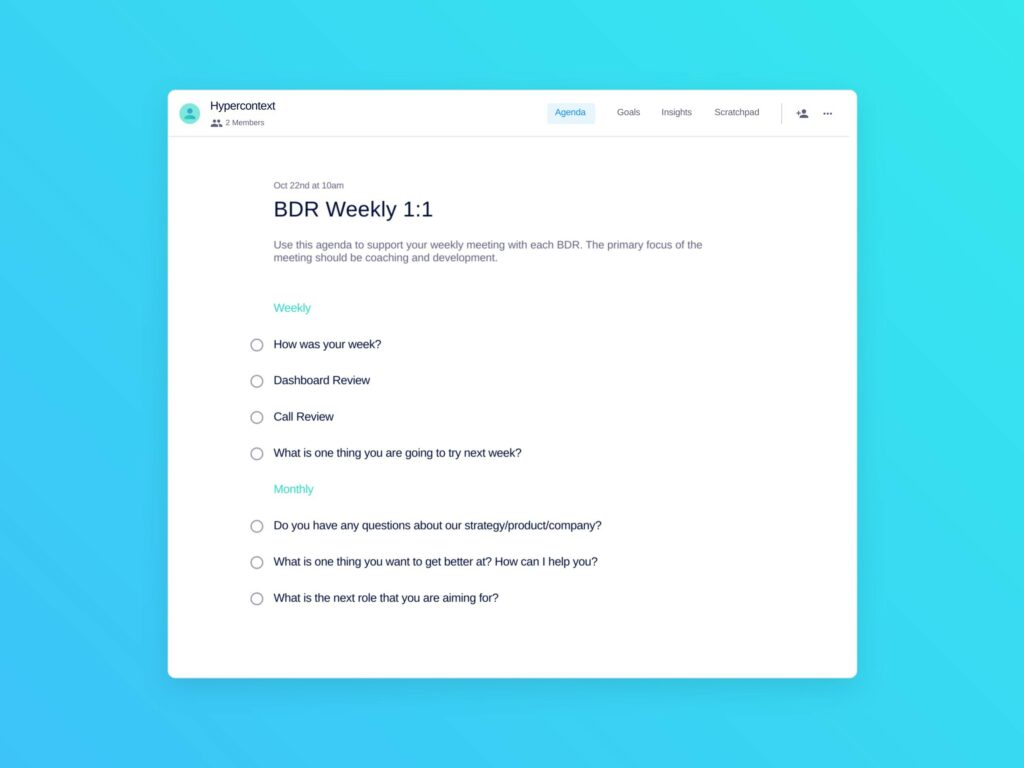 👉 Try this template in Hypercontext
Monthly SDR skip level one-on-one
Since these meetings are monthly, zoom out to help your SDR reflect on what's going well and where they need to improve. Then develop a plan to get there. This could involve setting professional goals and scheduling coaching sessions to help support those goals.
Try adding these topics/questions, recommended by Mark Roberge, former CRO of HubSpot, to your meeting agenda:
Qualitative reflection: How do you think you did this month?
Quantitative reflection: Review your sales dashboard
Based on your reflections, what's the area you want to work on together this month?
Specifically, how do you want me to help you work on this one area?
Schedule coaching sessions for the month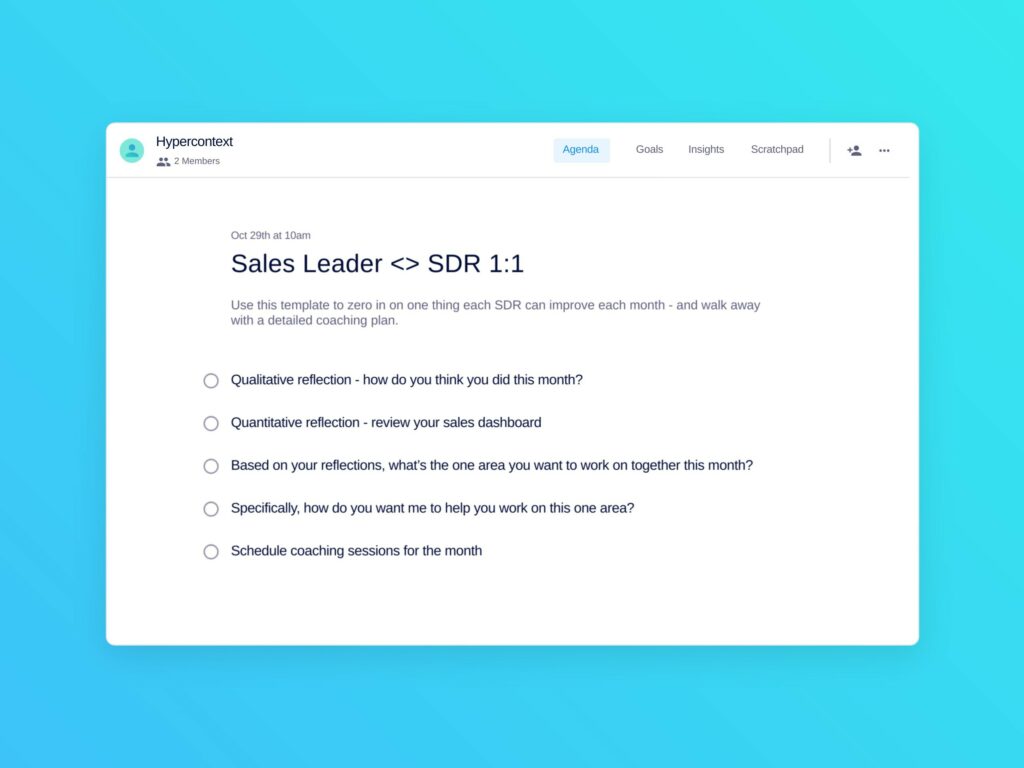 👉 Try this template in Hypercontext
One-on-one forecast meeting
Separating growth topics from work topics can make sure your 1:1s don't become all about activity and tasks. Having a dedicated meeting for your forecast allows you to dig into the details of each deal and strengthen your forecast accuracy.
Naufil Rashid, former Director of Sales at Clio, recommends covering the following in your 1:1 forecast meeting:
What deals are forecast?
What deals have the opportunity to close this sales cycle but aren't forecast?
What deals have a high probability of closing in the next sales cycle? Is there any opportunity to bring them into this sales cycle?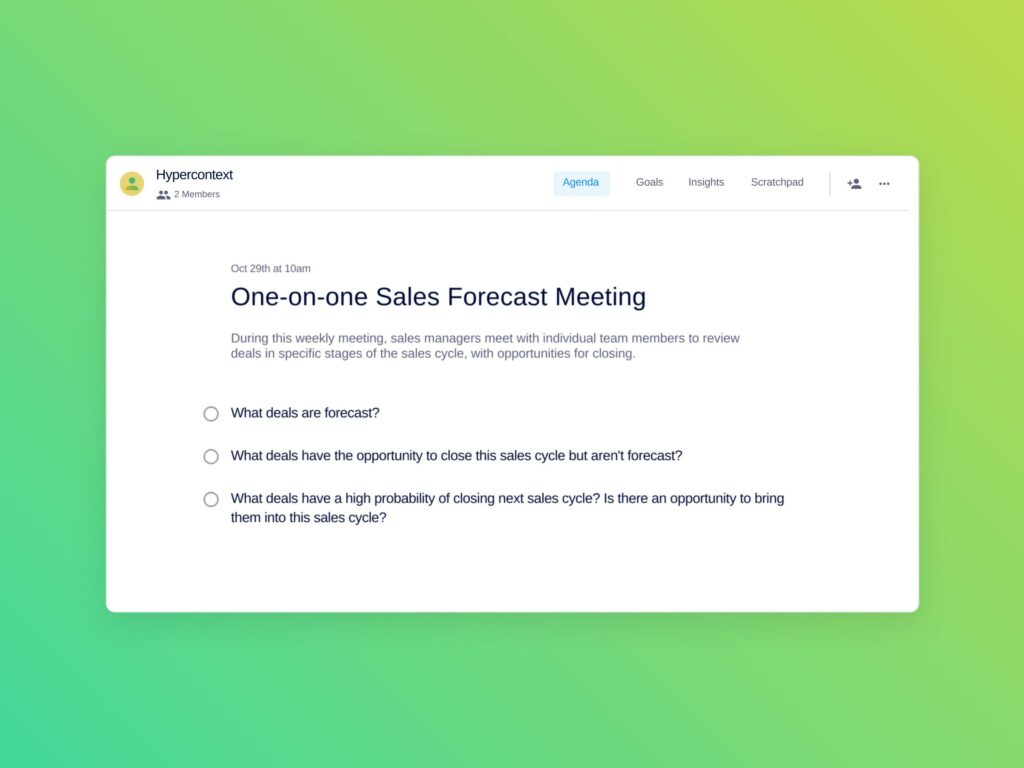 👉 Try this template in Hypercontext
Leadership one-on-ones
This set of one-on-ones should come after one-on-ones with frontline staff. They're an opportunity for managers to meet with their higher-ups to share relevant information/updates, get support and make decisions. Here are 3 meeting templates for one-on-ones with leadership:
BDR manager/director weekly
Once managers have their one-on-ones with their BDRs, they should meet with their director (or superior) to discuss trends and team changes.
First thing's first — directors, check in on your managers. It's a tough job and they can often get overlooked, despite the essential role they play. Then, talk about the team as a whole: What are the common issues? Where are the weak and bright spots? What do we need to do to move the whole team forward?
Here's what I recommend adding to your agenda on a weekly and monthly basis:
Weekly
How are you doing?
Any blockers for you or your team? Anything bothering you?
Team updates: Who's doing well? Who's struggling?
Special projects
Monthly/quarterly
Who on the team is ready for the next step?
What's one thing you're working on to advance your career?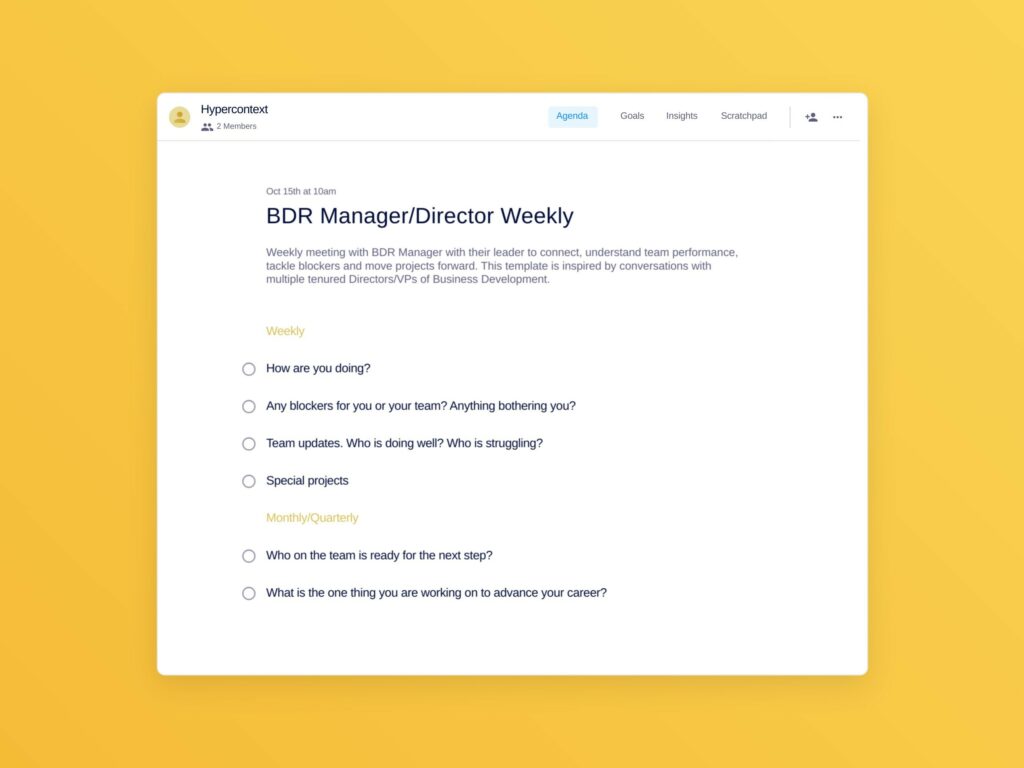 👉 Try this template in Hypercontext
Sales manager/director weekly
This is a time for information to flow up — for managers to share learnings they've gathered from the frontline sales reps with their directors. Similar to the BDR manager one-on-one, sales managers should come ready to share trends, forecasts and team updates.
This is also a time to talk about the team performance as a whole and look at common challenges, opportunities and what needs to get done to make target.
Here's what I recommend adding to your agenda:
Weekly
Icebreaker: What's one thing you learned last week?
How are you pacing towards targets?
Are there any deals at risk of slipping? What help do you need?
Monthly/quarterly
Team updates: Who's doing well? Who's struggling?
What is the one you're working on to advance your career?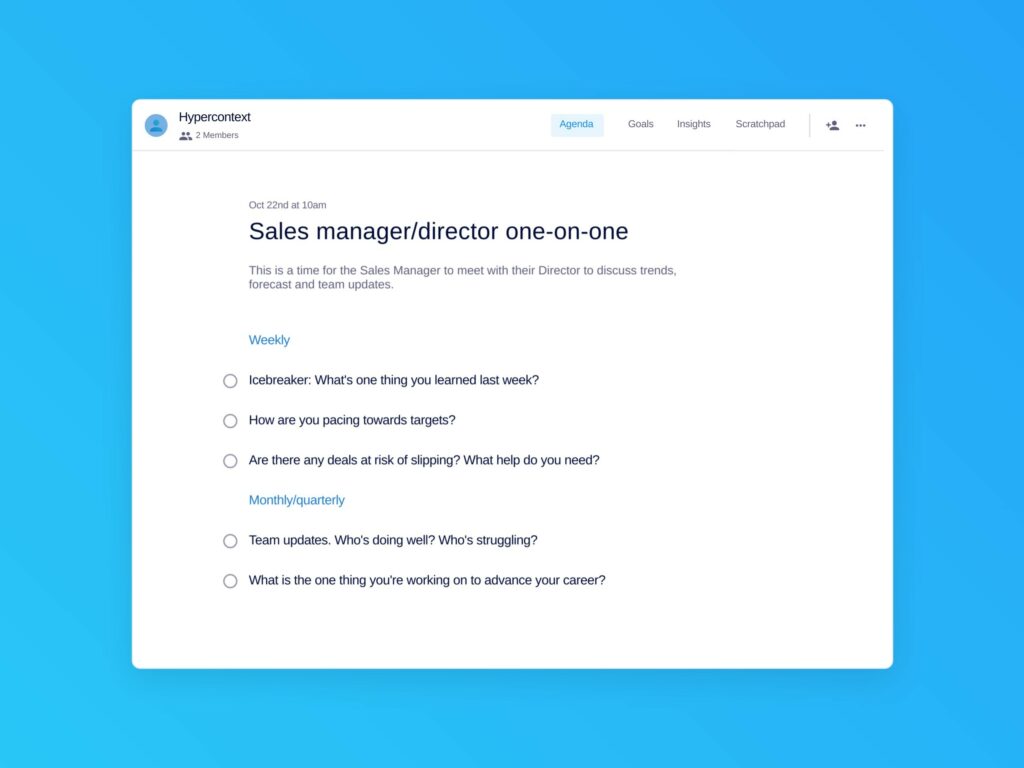 👉 Try this template in Hypercontext
VP<>Sales Leader 1:1
This skip level meeting is an opportunity for the head of sales to make sure they're in touch with the teams who are driving pipeline for the organization. The focus is on team trends and coaching plans.
Why do you need this monthly meeting in your calendar? Sales leaders know that 'pipe saves lives.'
Mark Roberge, former CRO of Hubspot, recommends adding the following questions to the agenda:
Diagnosis: What issue will you coach this SDR on this month?
Coaching plan: How will you help them hit their goals?
Measuring the impact: How will you know you've been successful?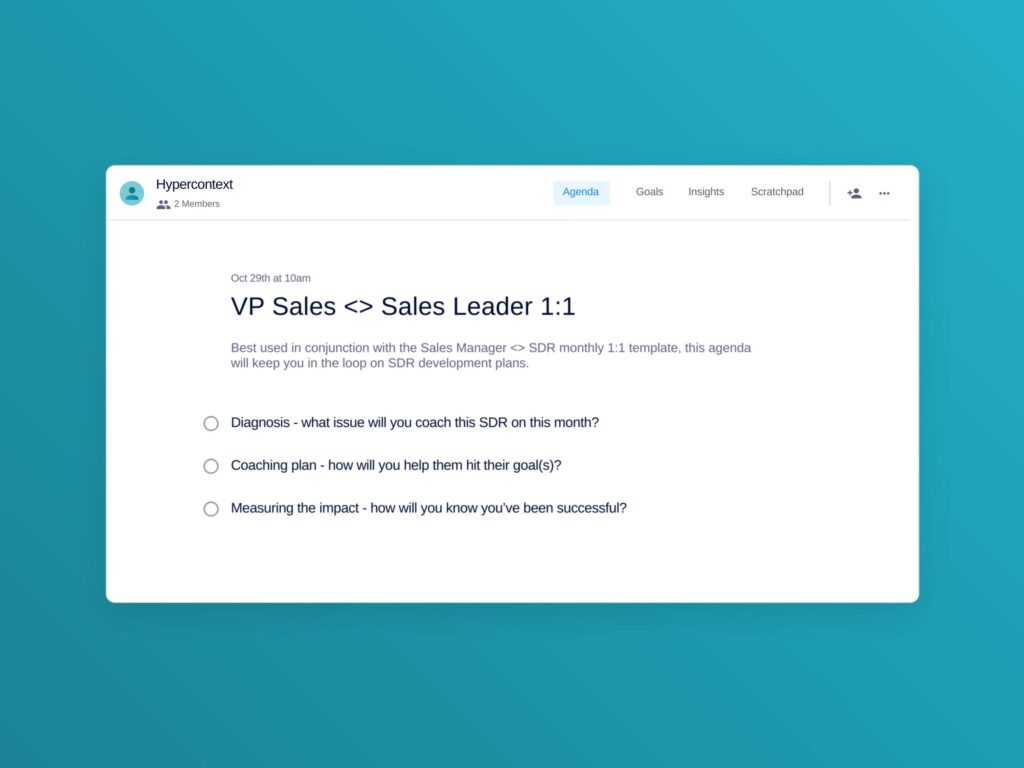 👉 Try this template in Hypercontext
Sales team meetings
Team meetings hold the steady drum beat of your business and should help everyone stay aligned and accountable. Here are 5 types of team meeting templates to add to your calendar.
Sales team weekly meeting
Use your weekly team meeting to celebrate wins, share updates, and align on what everyone needs to know. Keep the updates short and the time focused. You want to get everyone pumped and ready to execute.
This is also a great time to invite other teams to share updates with sales to help avoid ad hoc meetings that distract from selling.
For this meeting, think: high energy and high participation. How? Try adding the following topics:
Icebreaker
Successes and wins
Pipeline updates
Obstacles and roadblocks
Prospect/lead feedback
Competitor updates
Guest speaker
Pitch roundtable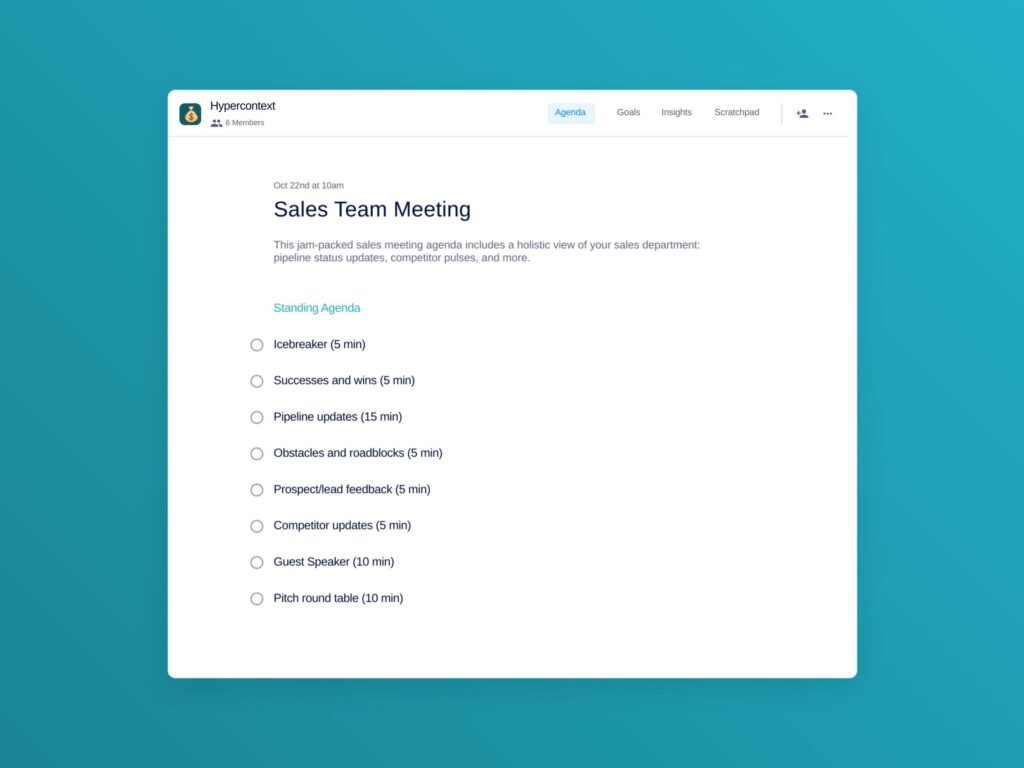 👉 Try this template in Hypercontext
For more details, check out our blog post on how to run a sales team meeting.
Sales team forecast meeting
Once managers have met with their reps 1:1, pull that information together to get an accurate high-level picture of the forecast.
In this meeting, sales managers should come together with their director (second line leader) to focus on the deals that will make a difference, discuss risk and collaborate on solutions to reduce that risk. Once clear on the current forecast, make sure you're getting ahead of the next reporting period.
Note: The emphasis of this meeting will shift as you get closer to the end of your sales cycle (month/quarter).
Here are the topics our friend Naufil Rasheed recommends adding to your team forecast meeting agenda:
High value deal review
Diagnose gaps in the forecast
Develop a plan of action to fill the gaps
What's working and what's not
Review the pipeline for the next period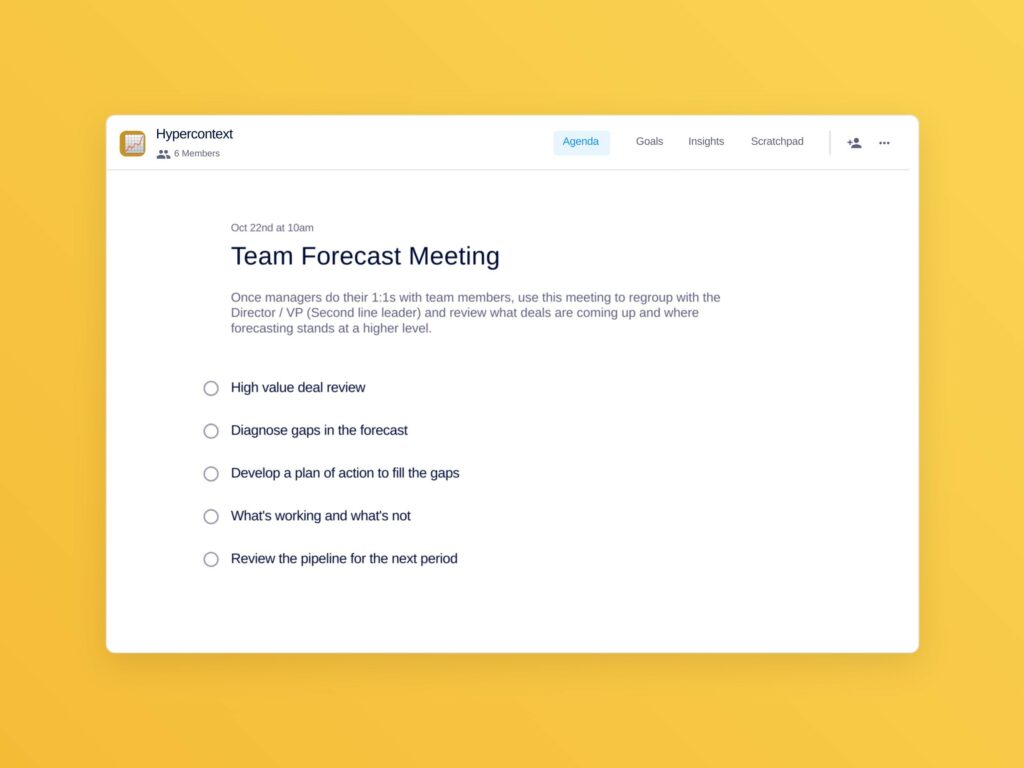 👉 Try this template in Hypercontext
Deal review
The reason deal reviews are important is two-fold. Firstly, they keep executives engaged in what's happening on the frontline. Secondly, they provide an opportunity for reps to ask for anything they need and give them exposure to higher levels of the organization.
They can happen at any stage of a sales cycle, but should be focused on larger, high-impact deals.
These are sections to consider adding to your agenda to make your deal review productive and actionable:
Why change?
Why now?
Why not?
Feedback and plan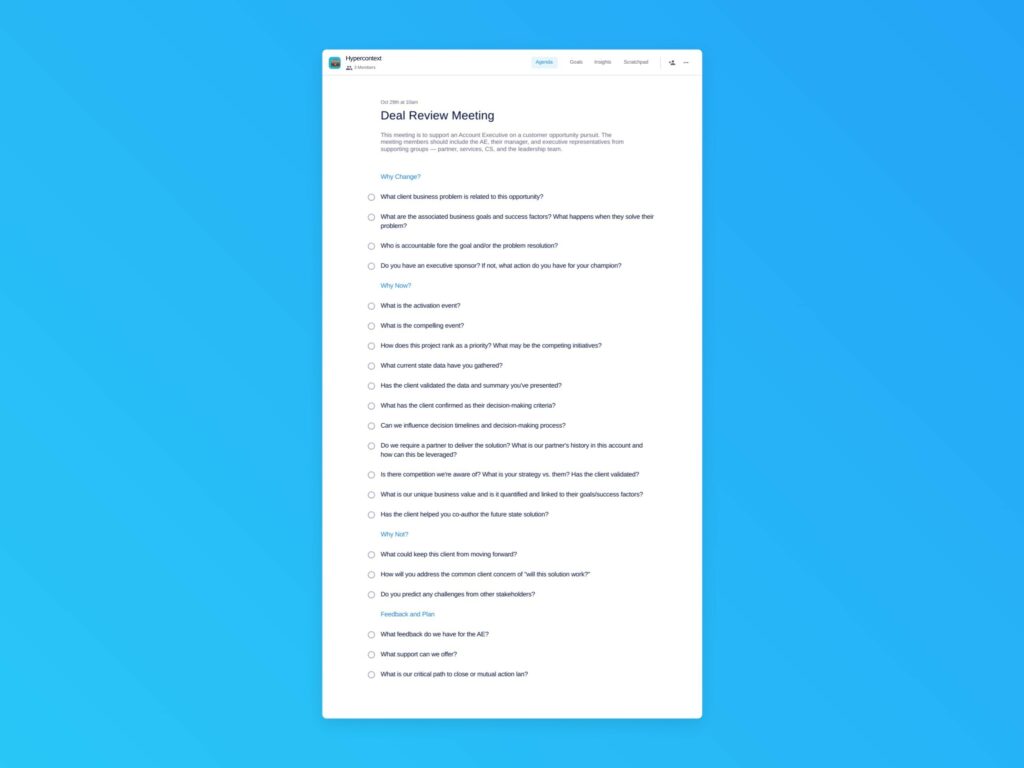 👉 Try this template in Hypercontext
Sales leadership meeting
This meeting is highly data driven and focused on targets. You want to start with the forecast, get visibility into projects directly related to making those targets, and make space to adjust anything in your sales process that isn't working.
This meeting should be supported by sales/revenue operations. Josh Guttman, CRO of Altrio, recommends covering these 3 topics:
Forecast review
Revenue leader accountability updates
Ever evolving ROE (rules of engagement)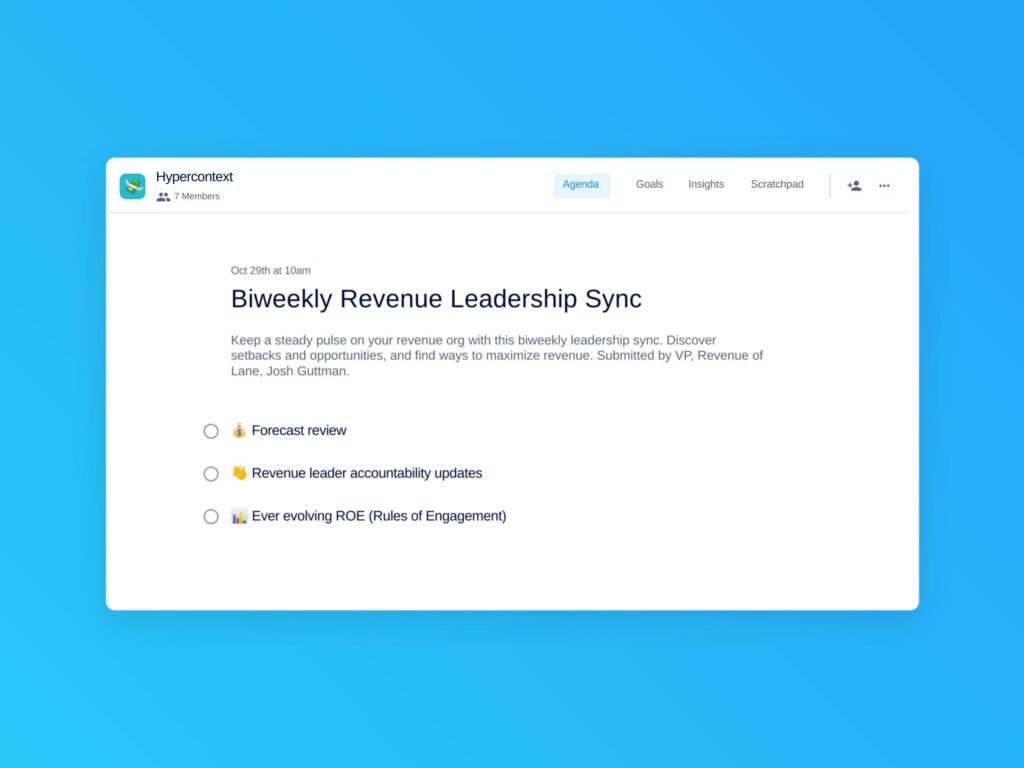 👉 Try this template in Hypercontext
Weekly fireside meeting
58% of salespeople agree, seeing how their work impacts the bigger picture is a top factor impacting productivity. Transparency is key to keeping your revenue team motivated and engaged.
This meeting, held at the end of the week, is a chance for everyone to hear from leadership to learn more about what's going on at a higher level of the organization. Examples of information shared could include a recent board meeting presentation, investor updates, or how a change in company direction will impact the team. Don't forget to end each session with an open Q&A.
Nathan Sparks, CRO at Kandji, runs this meeting every Friday with his revenue organization. This is the standing agenda they follow:
Review team mission and values
Share critical information from the week
Team specific announcements
Q&A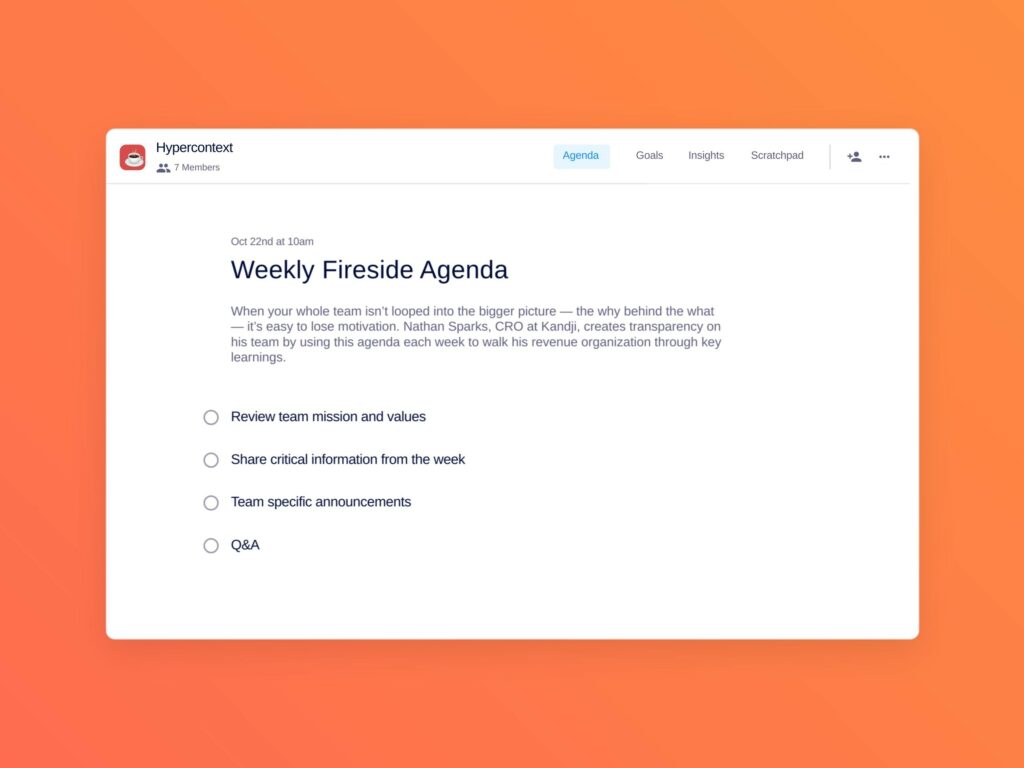 👉 Try this template in Hypercontext
Cross-functional sales meetings
18% of sales managers agree collaboration across the organization is their greatest challenge. It's also vital to their job. Aligning with other teams — especially marketing and customer success — will make the entire organization stronger. Here are 3 cross-functional meetings for your sales team.
Revenue and marketing alignment meeting
The alignment of revenue and marketing is critical to success. This meeting should include leadership from sales, marketing operations and CS, and be focused on the numbers and the actions needed to meet targets together.
Each week, the emphasis of the meeting will change to reflect where you are in your reporting period and how far you are from targets.
Nathan Sparks, CRO of Kandji, shared what's covered in his revenue/marketing alignment meeting:
Standing agenda:
Metrics that matter
Obstacles to target
Cross-functional issues and decisions needed
Weekly theme:
Week 1: Retrospective
Week 2: Rotating based on identified priorities
Week 3: Pacing to target
Week 4: Forecast commit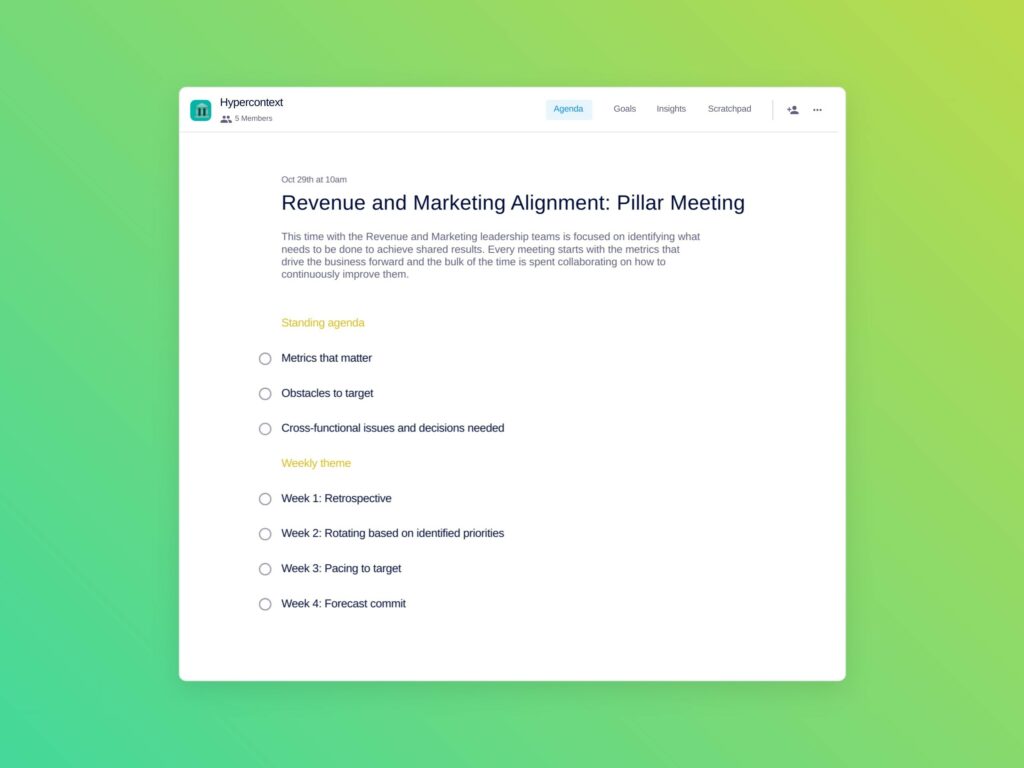 👉 Try this template in Hypercontext
Sales and support team sync
Customer experience, retention and expansion work hand in hand. Use this time to understand what's happening in the customer base (good and bad), the potential impact to revenue, and changes that need to be made to improve.
The closer what you sell and what you deliver are, the faster you can grow. Each team has valuable insights that are better shared with each other. Here are some things to discuss together:
Start with an icebreaker
Goals: How are we tracking against them?
Customer feedback: What are customers most excited and frustrated by?
Ongoing suggestions to improve sales and support handoff
Sales update: Important accounts support should keep top of mind
Support update: Accounts that need attention from sales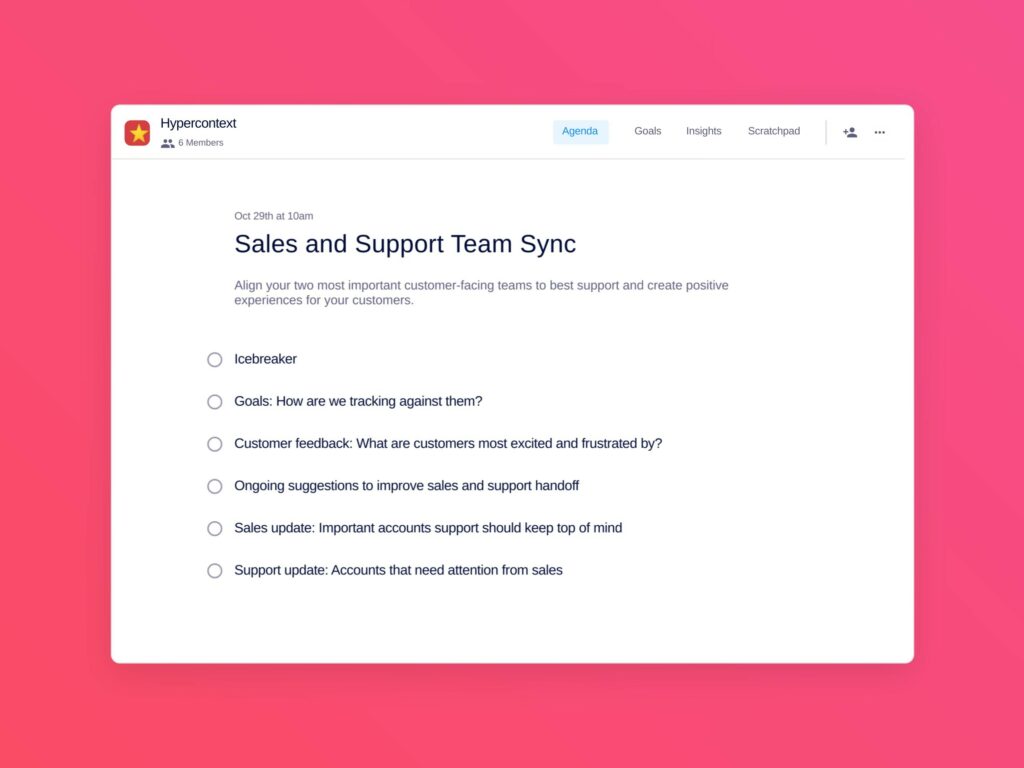 👉 Try this template in Hypercontext
Key account check-in
Running a key account strategy needs to be supported by a cross-functional effort. With so many stakeholders and touch points, it's critical to align internally to provide the best experience to the customer and capture the full potential of the account.
In attendance should include the key account manager and representation from solution consulting services, customer success and marketing. Here's what the team should cover to make the most out of the time together:
Have any key accounts gone dark in the past two weeks?
Which accounts are you most worried about and why?
What key accounts have potential for growth in the next month?
How are you managing time and workload across your accounts?
Are there any areas you need support and/or resources?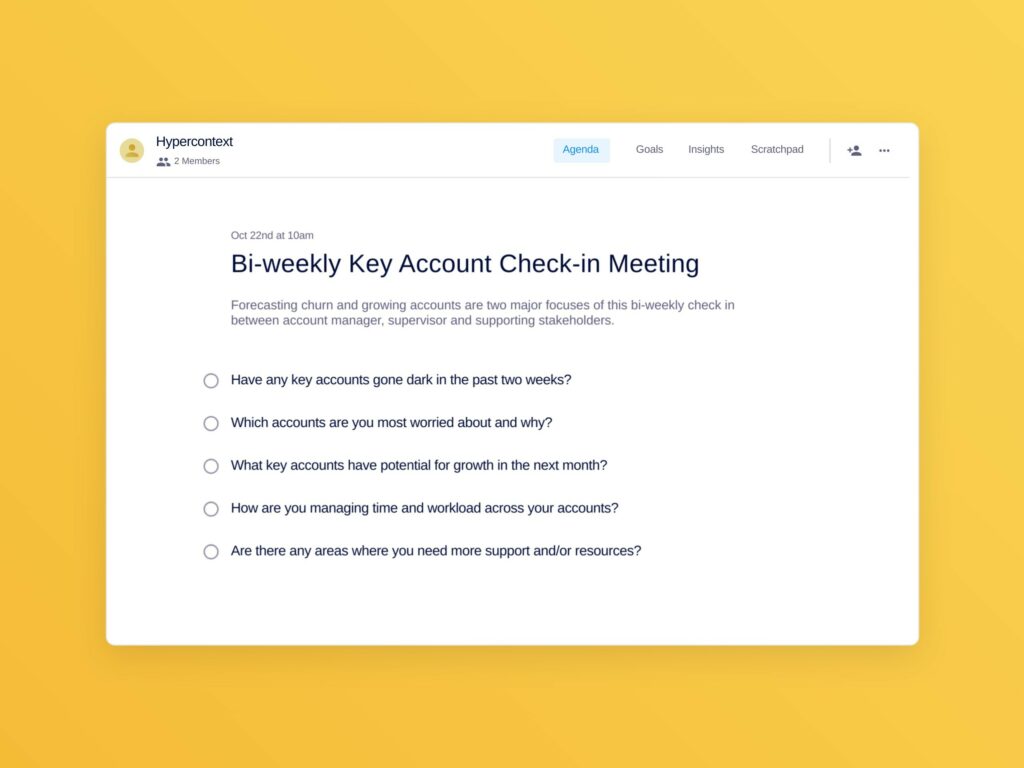 👉 Try this template in Hypercontext
Sales growth and development meetings
The importance of supporting the growth and development of your sales team can't be understated. Investing time and effort into the growth of your team members is synonymous with investing in the growth of the company. Here are two meeting templates dedicated to supporting your team's development.
Sales Coaching
Coaching is so important that it deserves its own meeting. But whether you're doing coaching as part of your weekly 1:1s or a dedicated session, you want to make sure that you create an actionable plan to help each team member improve.
Coaching isn't a one way street either — it's essential that reps are reflecting on their own skills and actively participating in creating their plan.
Cory Bray, Co-Founder of CoachCRM and ClozeLoop, shares the framework he recommends for coaching, following a simple COACH acronym:
Challenge: What's the challenge you'll be addressing in the session?
Outline: Outline a game plan for the session
Action plan: What do you think will help you improve? What steps will you take to do so?
Consequences: What's going to happen if you don't take those steps?
Hold accountable: What are you responsible for doing and by when?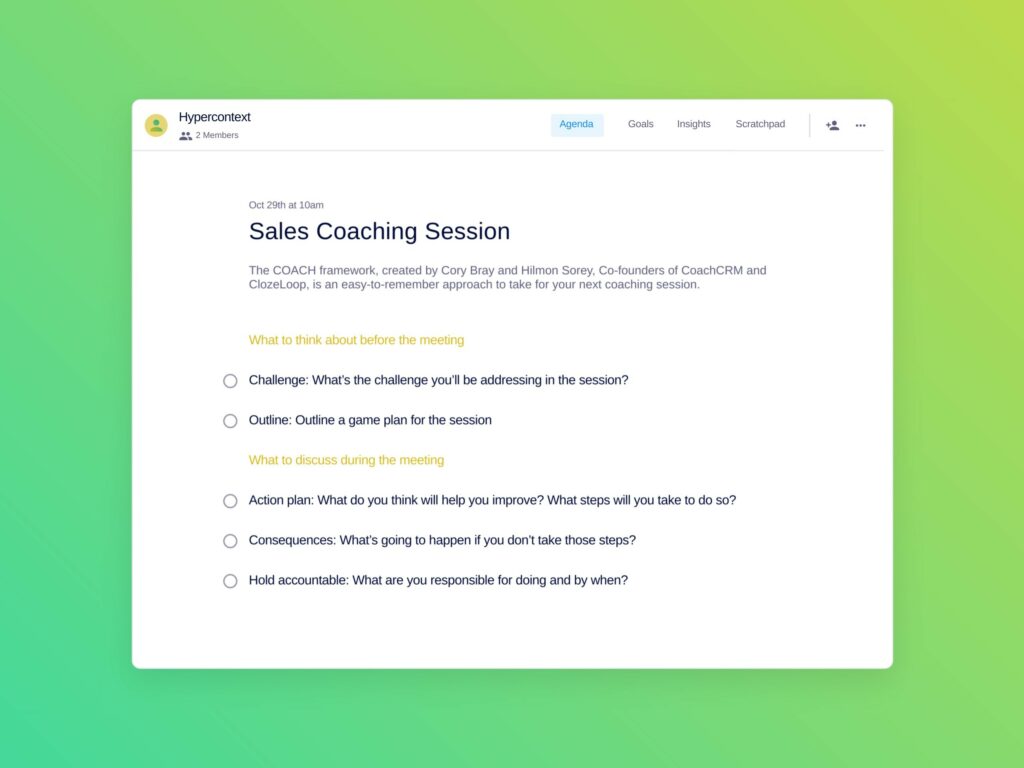 👉 Try this template in Hypercontext
Quarterly performance review meeting
While it's easy for sales teams to get wrapped up in the numbers, it's important to step back periodically and look at employees' overall contributions and feedback from peers.
Quarterly performance reviews are also an opportunity to explore if your IC is on the path they want to be on. You may not have the perfect opportunity for them right away but a conversation and plan to get there will help retain your top talent.
Show up to the performance review meeting prepared with:
Self assessment and peer feedback review
Performance against objectives
Wins, strengths and opportunities to grow
Areas for improvement
Concerns, questions and clarifications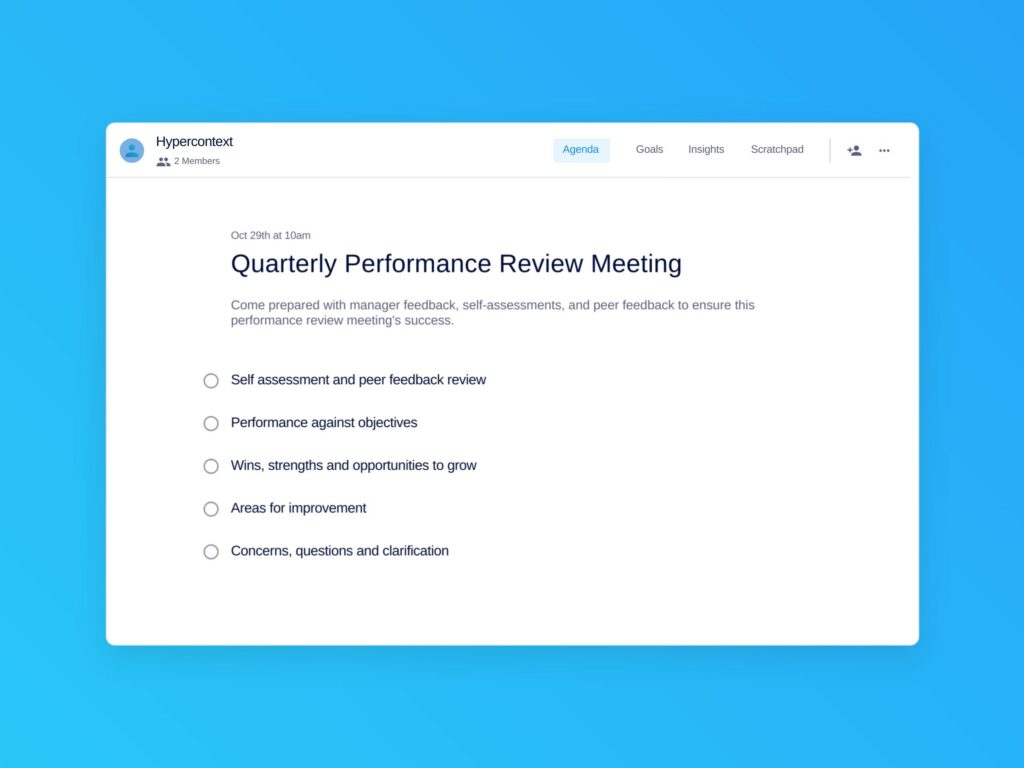 👉 Try this template in Hypercontext
Find your operating cadence
Sales teams need to spend their time wisely, juggling between customer-facing time and internal alignment. Neglecting either will negatively impact your team's ability to hit targets.
One-on-one, team and cross functional meetings are all essential for your team to be effective in their jobs. From understanding the forecast each week and where you're tracking against goals, to making decisions about how to course-correct and supporting growth and development — consistent internal touch points are a must. And the cadence and timing of them matters.
There's no doubt we've missed a few (I'm looking at you partner teams!). We want to hear from you! What internal meetings can you not operate without?