Goal Setting
Updated Jul 28, 2022
How to onboard your sales team with a 30/60/90 day plan
[wtr-time]
This article explores what goes into a 30/60/90 day plan, why they help set new sales team members up for success, and a template to get started.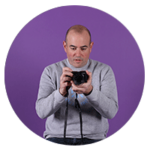 Alex Kinsella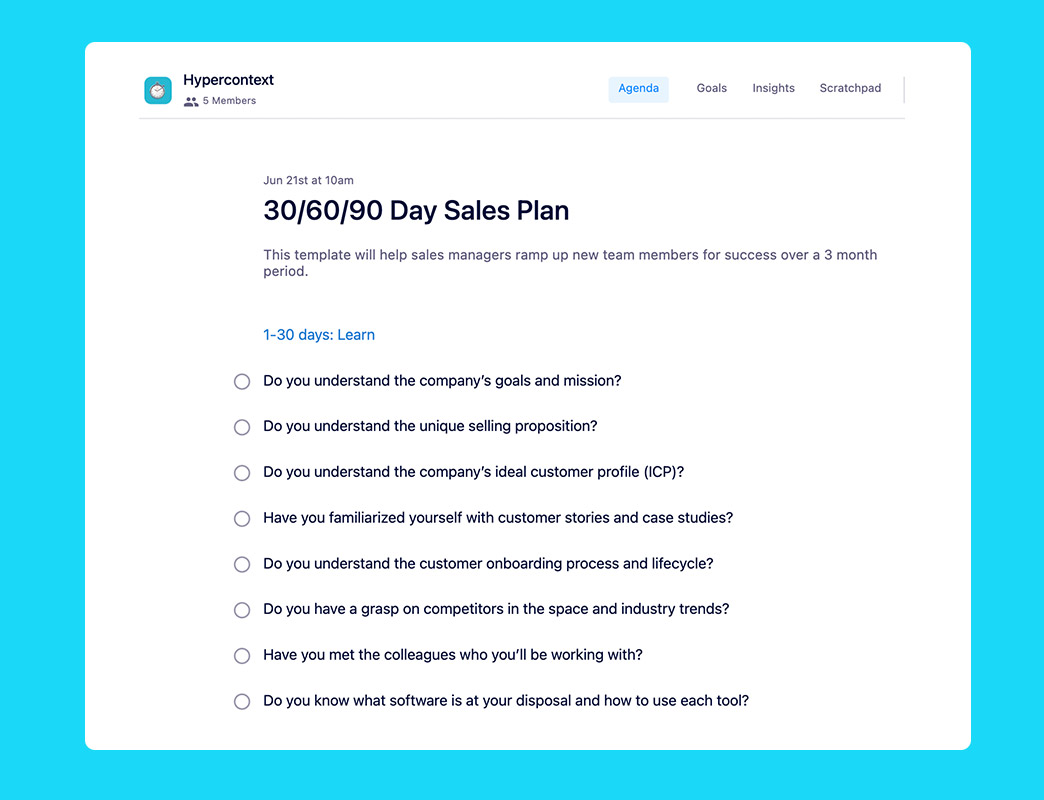 Hiring a new sales rep can be a long process — from reviewing resumes to conducting interviews to doing background checks — the list goes on. But once you successfully do hire a new team member — that's when the real work begins.
While it's tempting to want them to hit the ground running on day 1 (after all, there's a lot to do!), it's important to remember that they're still missing a lot of information.
That's where 30/60/90 day sales plans come in: To help you create a 3 months plan that starts off your new hire on the right foot, with small goals to reach every month. Because, in the words of Benjamin Franklin, "if you fail to plan, you plan to fail."
In this article, we'll review everything you need to know to create a 30/60/90-day plan for your new sales hire:
What is a 30/60/90 day plan in sales?
A 30/60/90 day sales plan is a 3-month plan for onboarding new sales team members to set them up for success. It allows you to set realistic expectations and goals from day 1, so nothing gets left to the wind.
Why is this important?
Motivating a sales team starts on day one. And setting expectations and goals is an important part of that. In fact, according to The State of High Performing Sales Teams, 61% of people working in sales agree setting expectations and goals is a top factor impacting their productivity.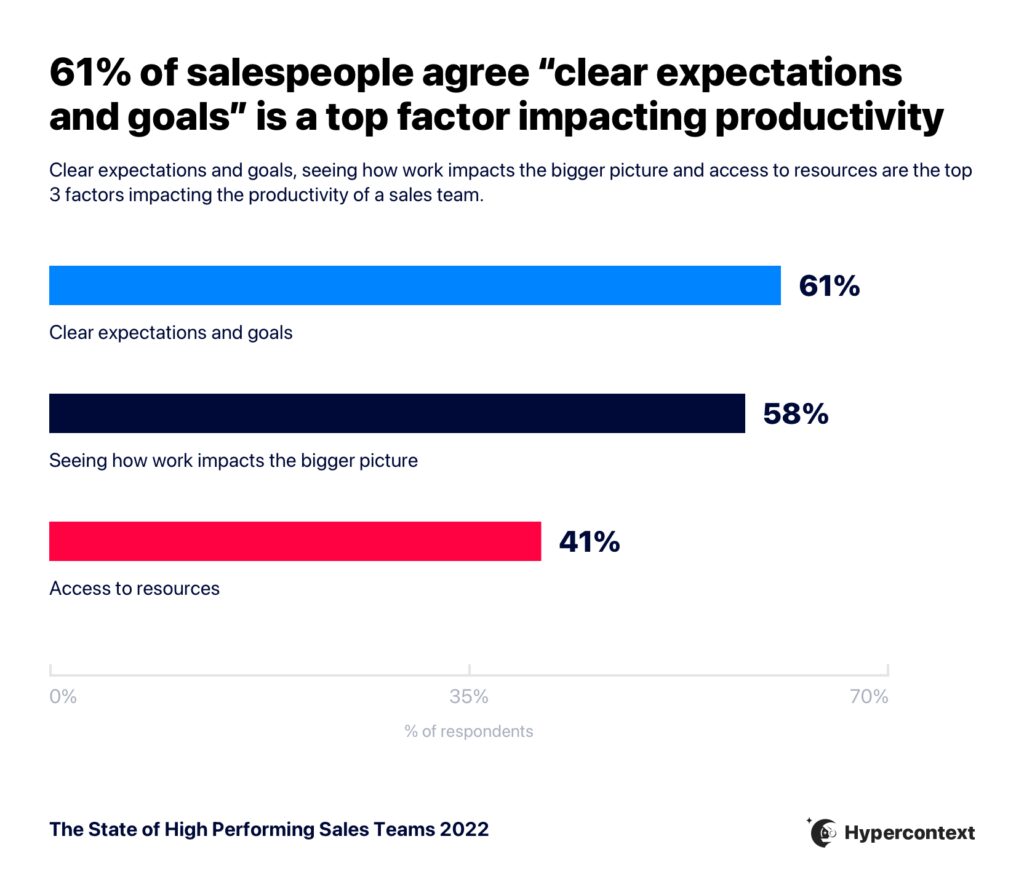 The 30/60/90-day plan isn't a solo project either. Managers should collaborate with new sales reps to ensure buy-in from both parties and align on goals and success metrics. Working on it together also helps identify what resources you need — whether that's software or an introduction to someone in the company.
What should be included in a 30/60/90 day sales plan?
A 30/60/90-day sales plan is divided into three 30-day segments: Learn, Execute, and Iterate.
The structure of each segment varies depending on your business, product, and how your sales process is structured. Regardless of those differences, the goal of the 30/60/90 day plan is to set your new hire up for success.
Here's what each month should look like:
Month 1: Learn
Your new hire has a lot to learn in their first month. During the first 30 days, the focus must be on helping them absorb all the information possible about your company, product, and role.
This is the time to build foundational knowledge. Without it, it's much more difficult to move forward. During the first month, your new hire has the chance to learn the company vision and goals inside and out, become familiar with the tools and resources they'll be using, the internal operating cadence, and how they'll make an impact on the bigger picture.
Here are a few examples of questions to walk through at the end of 30 days:
Do you understand the unique selling proposition?: You've given your new sales hire good leads, but do they know what it takes to convince a prospect that your solution is the right fit and price for their problem?
Have you familiarized yourself with customer stories and case studies?: Customer testimonials and successes are the best tools for salespeople. First off, they help the rep understand how customers are using the tool. Plus, having access to them is a great social proof to share with customers. Your new hire should learn as many of these as possible and have access to an internal library if available.
Do you have a grasp on our competitors?: The first month is the time when your new sales hire can build their competitive knowledge of other solutions and how they compare to your offering.
👉 For a full list of questions, skip to the 30/60/90 day sales plan template.
Month 2: Execute
By the second month, your new hire should have a solid understanding of your company, product, internal team, and the competition.
The second month's theme is execute, which means it's time to set goals. Creating weekly and monthly goals can help build confidence and give them a clear view of how they're progressing.
Keep in mind, while the theme is "execute", they are still learning! This is a good time to shadow colleagues and try some practice calls before they go out on their own.
Here are 3 examples of questions to ask at the end of month two:
Have you shadowed 5 peers on calls?: Five calls, ten calls — the exact number is up to you and your new hire — the important thing is to let your new rep hear how calls go. Give them an opportunity to see how multiple salespeople handle objections. It'll help them when they tackle their first solo calls.
Have you started developing relationships with key accounts?: Relationships are everything in sales. The second month is a great time to start reaching out to key accounts to get acquainted and learn about their primary contacts.
Have you set your OKRs?: Objectives and key results (OKRs) are the go-to goal-setting tool for businesses in almost every industry. Creating individual OKRs to align with team and organization OKRs should happen during the second month on the job. Here are some examples of sales OKRs to help you get started.
👉 For a full list of questions, skip to the 30/60/90 day sales plan template.
Month 3: Iterate
In the last 30 days of the 30/60/90 day plan, look at what's working and what's not. This is time to arrange for your new hire to get feedback from other employees and colleagues to help identify any areas that need adjustment or improvement.
The end of the first 90 days is also the time to set up a final onboarding review meeting. You can use this meeting to review how your new hire progressed towards their objectives and goals and learn about any gaps in the onboarding process that you can improve for next time.
These are two examples of questions to ask when the 90 days comes to an end:
Have you sought out and received feedback?: Without honest feedback, it's hard to improve. So don't wait until it's time for the performance review! In the third month on the job, make it a goal for your sales rep to collect feedback on their performance so far. That way they can iterate as soon as possible and learn what they need to be coached on— ultimately leading to quicker growth opportunities and more sales. 
Have you made time to reflect on what's working well?: Don't only look externally for feedback. Encourage your sales rep to take the time to review themselves and reflect on how they're progressing. Did they achieve what they set out to do? Are there areas they can improve upon? Do they have what they need to be successful?
👉 For a full list of questions, skip to the 30/60/90 day sales plan template.
Why is it a good idea to create a 30/60/90 day sales plan?
A 30/60/90 day sales plan helps new sales reps ramp up quickly and confidently with defined sales goals and other success metrics.
These plans are more than a to-do list — they're an opportunity for you and your new hire to get to know each other, learn about how you work and communicate, and identify any questions that may become roadblocks in their first 90 days.
When you create the 30/60/90-day plan, you're not only setting up your team for success in their first 3 months on the job — you're equipping them with the knowledge and resources needed to be successful long term. The tone you set at the beginning goes a long way. So make sure your new team members understand what's expected of them, and vice versa — what they expect from you. The effort you put into your 3 month sales plan will pay dividends down the road.
Hypercontext's 30/60/90 day plan sales template
Setting your sales team up for success is easy with a 30/60/90-day plan. 👇