Employee Motivation
Updated Nov 2, 2022
Money isn't everything: How to motivate a sales team
[wtr-time]
Motivating a sales team isn't as simple as a strong compensation package. Hypercontext's Head of CS and Sales, Jocelyn Brown, sat down with sales leaders from Docebo and Dooly to discuss the best strategies for motivating a sales team.
Nicole Kahansky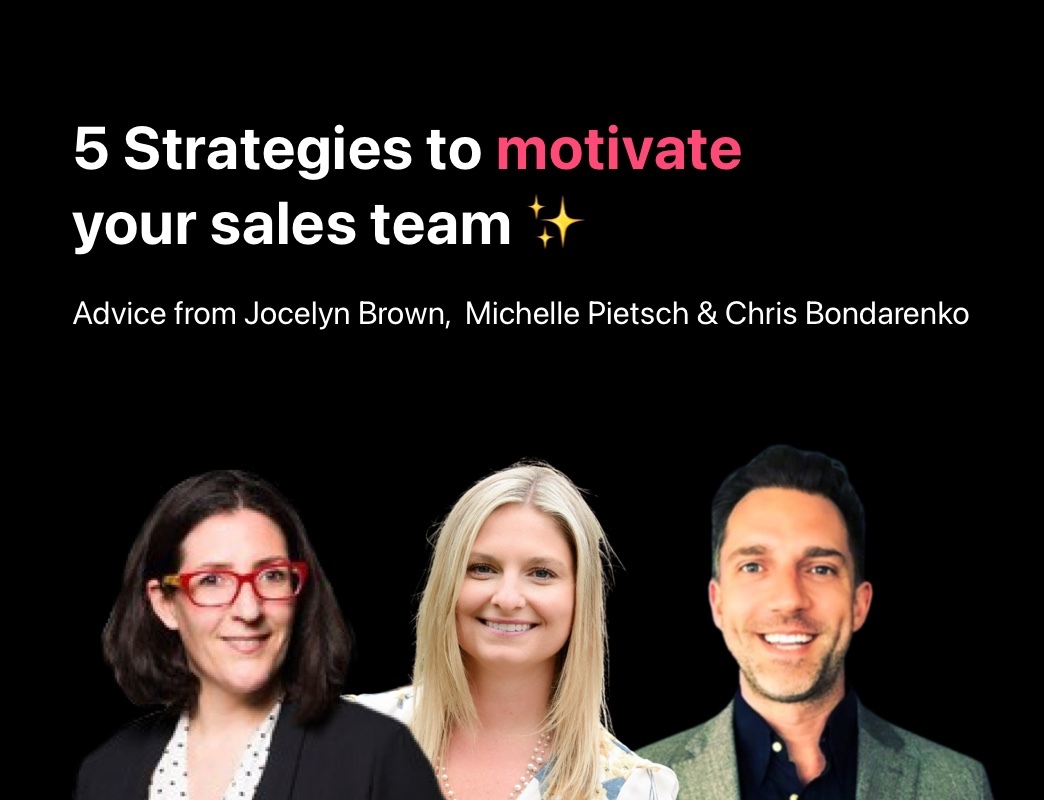 According to The State of High Performing Sales Teams, 64% of salespeople agree that "competitive salary and benefits" is a top motivator. This isn't surprising. But to focus solely on compensation when looking to improve motivation on your sales team is a huge mistake.
When you open your eyes to the bigger picture, it's clear that motivating a sales team goes far beyond compensation. While our research found salary was a top motivator, we also found it was closely followed by fulfilling/challenging work and a good manager.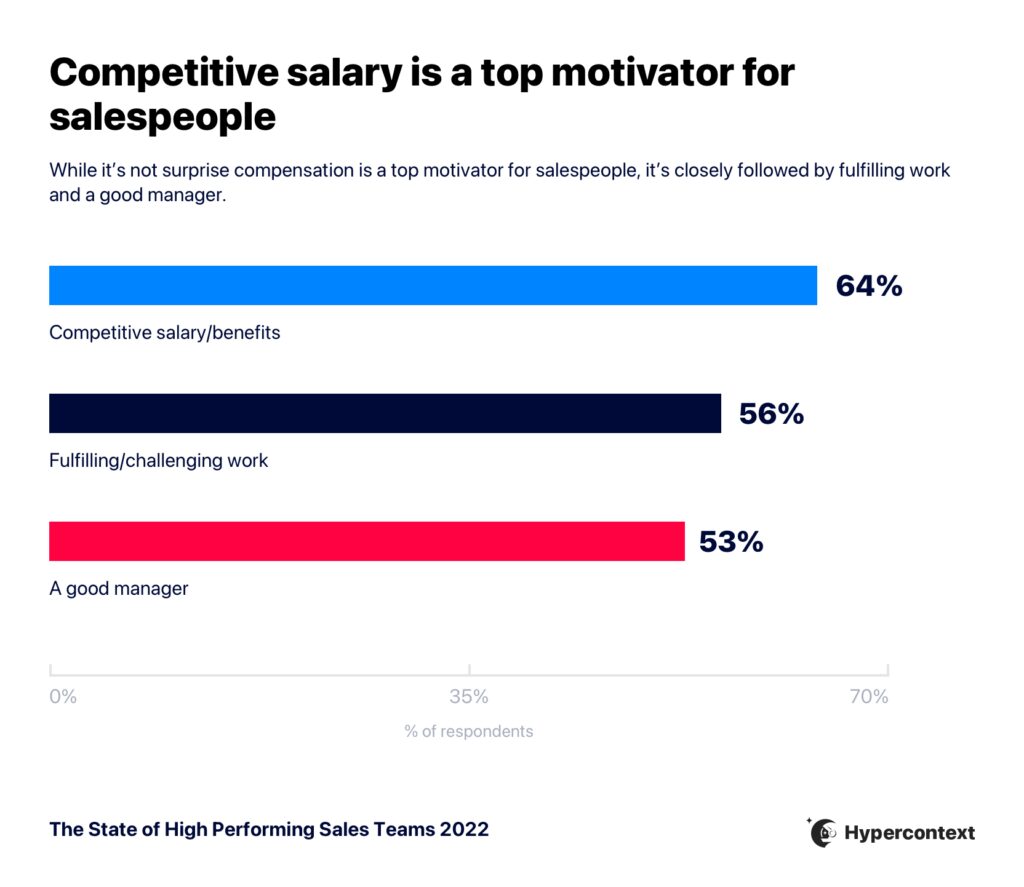 Recently, our head of CS and Sales, Jocelyn Brown, sat down with sales leaders Chris Bondarenko from Docebo and Michelle Pietsch from Dooly to talk about how to motivate a sales team…outside of compensation.
In this article, we'll share some key insights from their conversation and our recent report on what makes a high performing sales team, including:
Transparency
58% of salespeople agree seeing how their work impacts the big picture plays a big role in their productivity levels.
Why? Reps want to know what the vision is. They want to understand what they're working towards.
When people understand their goals and revenue targets, they get a sense of how they fit into the organization at large. It provides people with a stronger vision and unification across the team.
Beyond providing context for your sales team, failure to be transparent can create a toxic work environment. Michelle explains:
"If you're not transparent, people are going to make up stories in their head. Next thing you know, it's toxic and runs through the organization. It's better to get ahead of that or you're impacting the entire organization's morale."

– Michelle Pietsch, VP of revenue, Dooly
Tips for improving transparency
Have real conversations with your team and make the time to address their questions and listen to their concerns. One-on-one meetings and/or team meetings are great places to do this.
Conduct open-door meetings. Open door meetings are something we practice at Hypercontext with our Slack integration. By connecting select meetings to a general Slack channel, all meeting notes are automatically shared to the Slack channel to increase transparency across the company.
Organize skip-level meetings for your team members to meet with leadership.
Clear expectations and goals
"Clear expectations and goals" is the single biggest factor impacting the productivity of a sales team. And it goes hand in hand with transparency.
Clear goals for sales teams include sales targets and also include bigger picture expectations and vision. For example, what are you trying to achieve at an organizational level? What are individual team members directly responsible for? Goals at every level of the organization should ladder up to one another.
While creating clarity around expectations depends on your organizational structure, there are a number of things you can do to improve how you set and communicate goals and expectations.
Tips for creating clarity around goals and expectations
Chris talks about how he and his team use the V2MOM approach, developed by Marc Benioff, the CEO of Salesforce. The approach allows you to be highly transparent and very goals/metric oriented by defining:
Vision: What do you want to achieve?
Values: What's important to you?
Methods: How do you get it?
Obstacles: What's preventing you from being successful?
Measures: How do you know you have it?
A couple of other things you want to keep in mind for clear goals and expectations to motivate a sales team:
Frequency: How often you set goals and review them is important. Reviewing goals weekly is an ideal cadence for most. According to The State of High Performing Teams, discussing goals weekly or bi-weekly increases confidence in hitting them by 2.7X.
Measurability: The clearest goals are ones that can be measured. That's why so many people use OKRs. OKRs take those big, hairy, audacious goals and turn them into actionable and measurable goals. They're one of the most straightforward goal-setting frameworks for organizations and teams of any size. Here are some OKR examples for sales.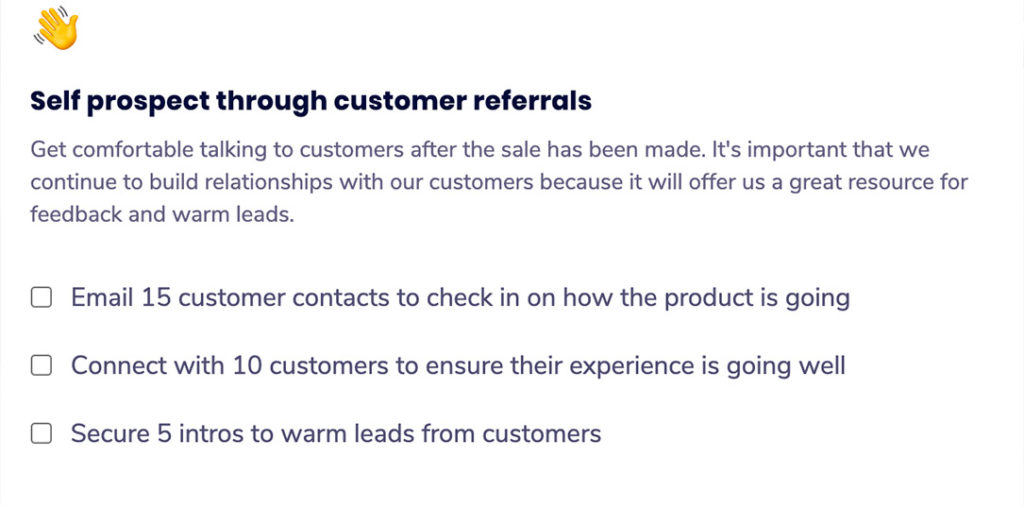 Challenging work and opportunities to grow
Providing employees with challenging work and opportunities to grow is incredibly important when it comes to motivation levels.
While competitive compensation was cited as the number one motivator for salespeople, employees are 1.8X more likely to leave due to a lack of growth opportunities than non-competitive salary.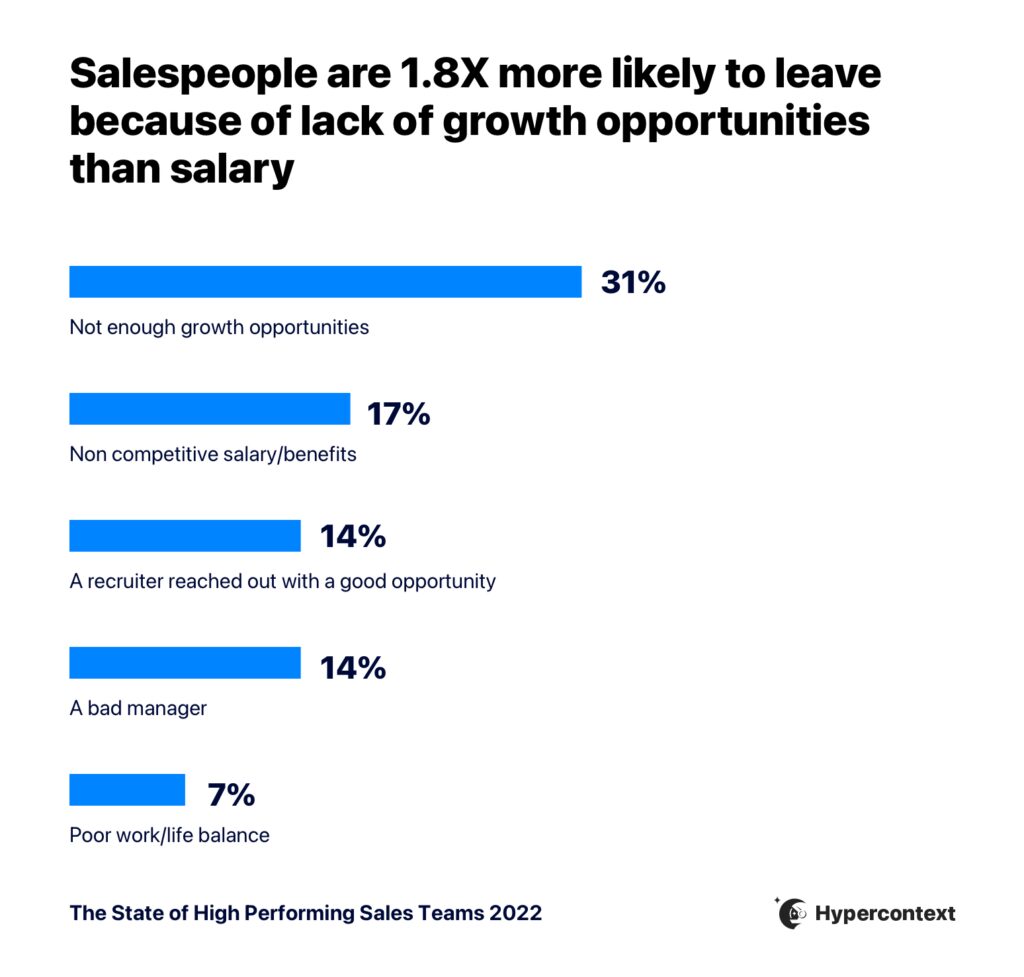 It's important for people to see the road ahead of them. But, there are a lot of challenges when it comes to supporting career growth — whether it be because the person's not actually ready for a promotion, the business isn't ready for it, or maybe as a manager, you don't have direct control over your reports' growth at the company.
"Hypergrowth companies rely on their ability to attract top talent, develop top talent and retain that top talent. Laying out opportunities for career growth and the development of skills and competencies is key to all three of those. You need to develop your team so when the business is ready, they're also ready. "

– Chris Bondarenko, VP of sales, north america, Docebo
Chris tells us about how he approaches career growth at Docebo. For every 4 positions open on his team, he tries to fill one through internal candidates. To do so, he looks at two factors:
Candidate readiness: Are we getting employees ready to take the next step in their careers?
Business readiness: Is it a good time for the business to promote people and can the business support it right now?
Supporting career growth isn't only a defence against turnover, it also benefits the health of your business. So when the business needs to grow, your employees have already been trained to support that growth and grow with it.
Tips for supporting growth:
Set in place guidelines for the expectations of each role, and have career conversations regularly. That way, career progression isn't ambiguous or a surprise.
When there's not an immediate promotion available, Jocelyn recommends having a conversation with your team members about what gives them energy and what doesn't. This will open up the conversation about how they want to grow and which areas to focus on.
"One of the things I've often used when there's not a promotion right on the horizon is a conversation around what kind of work gives your direct report energy and what takes it away. Have people reflect on how they can get a balance where they're working on more things that give them energy. For first time people leaders, that's an important thing to learn. Because a promotion to people manager is actually a career change. Give people ways to think about if that's something they're ready for and want."

– Jocelyn Brown, Head of CS and Sales, Hypercontext
Proper tools and resources
41% of salespeople agree they need access to resources to be productive.
Without proper tools and resources, your team's simply not being set up for success. While the specific tools used will look different for each team and organization, there are certain tools that are absolutely essential for salespeople to have access to — they're table stakes.
In this competitive landscape, candidates want to go to a company where they have access to the resources they need to succeed. Otherwise, they won't be empowered to hit their targets and the competitive compensation will be mute. After all, it doesn't really matter what the compensation package is if you're not being empowered to hit your OTE through the proper resources.
Tools/resources for your sales team:
Here are a few tools and resources that are helpful for sales teams:
Outreach tools: Tools like Outreach or LinkedIn that help reps find contacts and reach out to them is a baseline for sales teams. Michelle explains, "everyone wants different tools […]the tools my team's found extremely valuable is anything that helps you find contacts and then tools to make it as fast and efficient as possible to hit those contacts."
Call recording and coaching tools: Recording tools provide opportunities for reps to continuously learn and endless material for coaching. Training and sales coaching are imperative to supporting the growth of both your employees and your company — and employing the right tools and resources to support training is essential.
Management cadence tool: The best sales leaders have a formal operating cadence by which they manage their teams. Using a tool like Hypercontext for sales teams helps streamline internal sales meetings in one place.
Onboarding and enablement: Tools that centralize knowledge and learning, like Docebo, can reps onboard seamlessly and support growth and development during their time at the company.
Access to customer stories and references: The quality of the social proof will reduce friction in a deal cycle by helping reps build trust with prospects. Plus, how seriously your company takes cultivating those things speaks volumes.
Keep in mind that too many tools can be distracting. Implement the tools you need to support more efficient selling and collaboration, but don't overdo it. More tools don't equal more deals.
A good manager
None of the above ingredients can come together without a good manager. This is probably why it's cited as the third most important factor to motivate a sales team.
Unfortunately, oftentimes, managers aren't equipped with the supports they need to lead their teams. While many sales teams have invested in proper tooling for outreach or external processes, not as much is invested in management. And it's a clear miss.
While managers are imperative to the success of an organization, only half of sales managers agree or strongly agree their company equips them with the tools and resources needed to be a good people manager.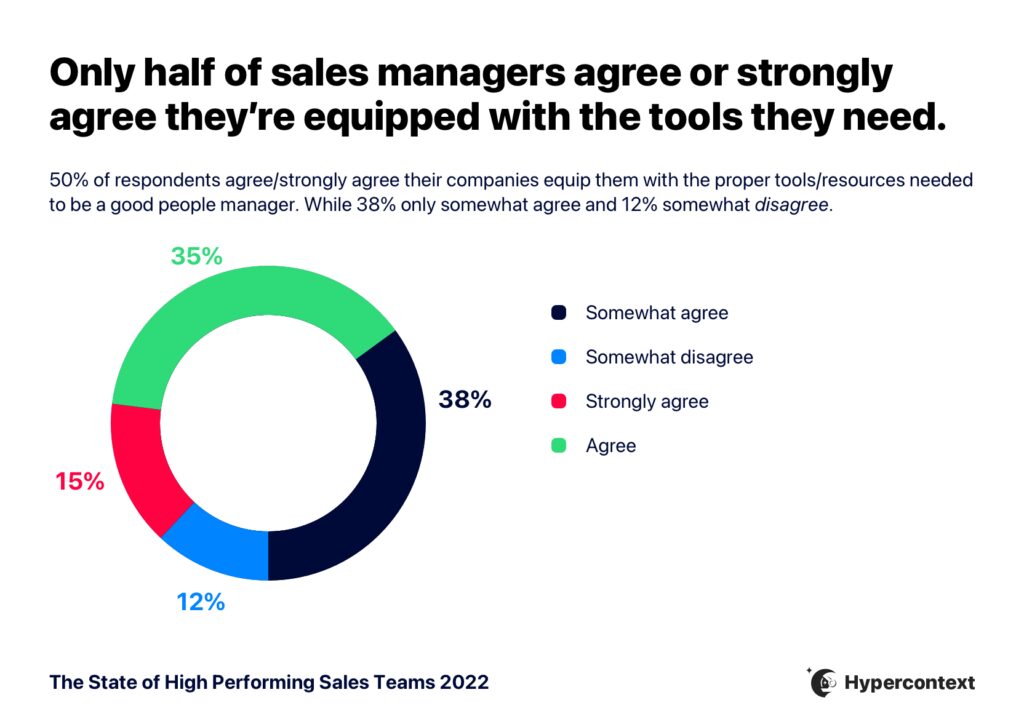 It makes sense. When someone gets promoted to a manager position, it's a job change disguised as a promotion. Oftentimes, managers aren't prepared.
In other words, it's time to step up for our managers — because they directly impact the motivation of the teams who report to them.
Tips for being a better manager
Managers: we see you. If you're looking to improve your management skills to motivate your sales team, here are a few tips to help.
Explain the why: Explaining the context behind decisions alleviates question marks and demonstrates the thinking behind the change to instill confidence and buy-in.
Put yourself in your direct reports' shoes: Change management, new process, new tools — we need to remind ourselves how each change impacts our teams. It's easy to lose sight of that when you're not in the trenches.
Ask for feedback: Asking for feedback is incredibly important for every leader. But Jocelyn recommends actually sharing a time when you got feedback and made an adjustment. It demonstrates vulnerability and that you can take feedback…and take it seriously.
Creating a more motivated sales team
A competitive comp plan can be alluring. It can motivate salespeople to hit their targets and even to move jobs. But, the ability to meet OTE can be dragged down by a lot of other missing things.
The more we focus on the full picture of what motivates a sales team — from growth opportunities and good management to proper resources and clear goals — the more likely you are to build a high-performing sales team. It's not as simple as salary.
Check out the full live session recording here:
For more management tips and advice straight to your inbox, sign up for our weekly emails 👇