Sales and marketing alignment can be significantly improved through joint discussions on priorities.
And we're not talking about alignment in meetings at the leadership level. But across the entirety of both the sales and marketing team. The key to better clarity, alignment, and buy-in is working closely together on activities.  
---
Real buy-in involves at least some element of co-creation. It invites discussion, debate, and allows everyone to feel even more vested in the outcome.
– "How To Get Real Buy-In For Your Idea"
---
Getting sales and marketing aligned
Sales and marketing will always have different measures and that's OK. I'm talking more about the friction that happens when you're executing.
For example, planning a North American roadshow. Most times, something like this gets planned with a small subset of individuals from marketing and input from a few sales leaders. Most of it gets planned well. But in my experience, there are often things that could be more right, less wrong. Most of these things could easily have been avoided with more input from the people who talk to customers every day. Here are a few random examples (I'm sure you can insert your own from just about any campaign you've been a part of): 
The event location in the wrong part of the city at the wrong time of day.

The topic was OK, but in a few cities, it could have been better.

Invite copy and process didn't account for local opportunities to do something a little more unique and effective.
The more input you're able to collect and consider, the lower the probability details get missed, the higher the likelihood it goes well.
But there's an even bigger benefit to inclusion. Buy-in.When marketing asks sales to drive attendance and they're not bought-in… it doesn't go well. Even if all the details don't end up being what sales wished for, being part of a transparent process means people are more likely to accept the compromises that inevitably come up.
How SoapBox helps
The challenge with being more inclusive in planning, decision-making, and feedback is that it's a lot of work and potentially unrealistic if you have a large number of people on both teams.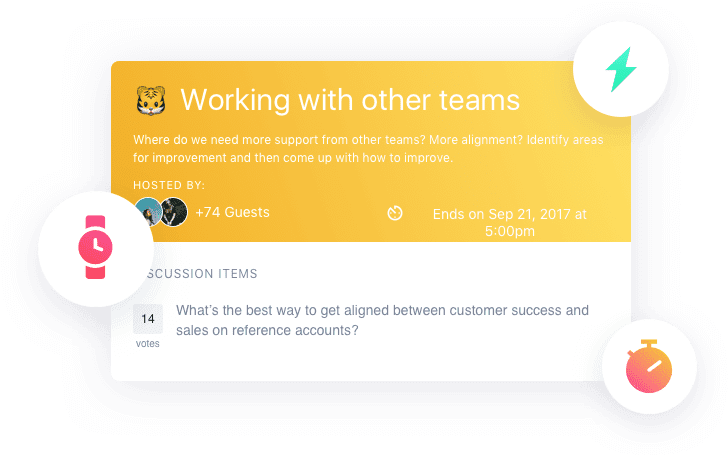 If you're going to do this successfully, you're going to need a better collaboration tool to facilitate: 
You'll want communication to be centralized and transparent to everyone involved. Email is a nightmare for this.

Remove barriers to contribute. Adding input, ideas, feedback, comments should be super simple and people should be able to do it whenever and wherever it suits them.

There should be some structure to the discussion so it's easily actionable. Chat apps like Slack are a nightmare for this.

Nice to have: keep track of who's contributing or make sure a minimum percentage of both teams are contributing.