"Do you do one-on-ones? How do you do them at your company?"
This double-whammy question is probably the most common thing we ask people. One-on-ones are such an integral part of management, and it's fascinating to get into the specifics, the nitty gritty, of how they're done at cool companies.
That's why we're launching a special series on how amazing managers do one-on-ones at their companies 🎉. We hope you'll learn from their tips (and mistakes!) and make your own one-on-ones all the better as a result.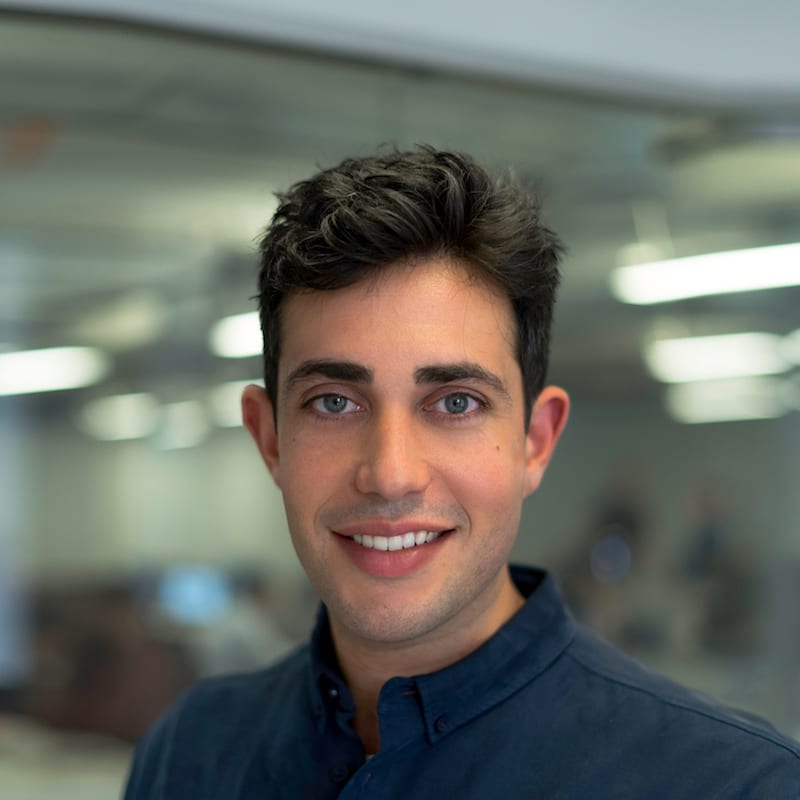 Up first: Matt Himel, head of BD and Partnerships at Drop Technologies.
Drop is the maker of the loyalty app that earns users points for making purchases with linked credit or debit cards. The points can be redeemed for gift cards through brands like Amazon and Starbucks.
We sat down with Matt to learn how about the biggest challenges he faces in his one-on-ones, his go-to-questions for opening his team up, and more.
---
Matt's 1:1 basics:
# of direct reports: 6
Office or remote? Office
Frequency: Weekly
Length: 30 minutes
Why do you do one-on-ones with your team?
They help me to identify any individual, team or broader company red flags. They also allow individuals on the team to bring up topics for discussion that they might want a second opinion on or to think through more before acting on it.
How do you prepare?
If there's direct feedback I'd like to provide, or a topic I'd like to discuss, I prepare by trying to anticipate reactions and thinking through the topic in its entirety. I try to consider how different individual team members will react. Some want to know every detail, and others are happy with the general discussion point and want to move on.
Who makes the agenda?
I prefer the team member to come in with an agenda of items they would like to discuss. I'll add to it if there's something specific I'd like to address.
Matt's go-to 1:1 questions:
"How are things going?"
"Is there anything you'd like to discuss or know more about?"
"How are things going with respect to a certain goal or project or new team member?"
How do you know if you've had a successful one-on-one?
If I helped to diffuse a situation that could have become a larger issue if it wasn't addressed, or if I've learned more about a team member and the support they need from me to succeed. Both the manager and team member having ownership over one or two specific action items after a one-on-one usually means it was successful.
What's the biggest challenge with your one-on-ones?
Preventing a team member from chatting about what they're working on. I trust our team to prioritize their work and accomplish their goals – I prefer we chat about broader and more personal topics, but some defer to discussing what they're working on.
I also find it challenging to go into every one-on-one with the same energy. It's really important to remember that each member of the team deserves the same amount of time and attention and it's incumbent on me to ensure that I'm up to the task.
"It's really important to remember that each member of the team deserves the same amount of time and attention and it's incumbent on me to ensure that I'm up to the task." – @matthimel of @earnwithdrop on his 1:1s
Click To Tweet
What's the most surprising or memorable conversation you've ever had in a one-on-one?
I've had a team members tell me they prefer deadlines over open-ended assignments, which I loved. I've always appreciated when team members come in wanting to know how I feel they're performing and what I think they can do to level themselves up.
How else do you communicate with your employees on a regular basis?
I'm a big believer in immediate feedback, or addressing topics as soon as I can feel them becoming more than just a pebble in their shoes. So I try to call in-person meetings or touchpoints to address them and allow the team to ask questions. We sync every morning at 9:45 for 15 minutes, which allows us to take a pulse on what we're up to. We also use private channels on Slack to address ongoing discussion topics.
Use SoapBox to have amazing one-on-ones