Productive Meetings
Posted Jan 8, 2020
Becoming a new manager at Top Hat
[wtr-time]
Nick White puts a heavy focus on helping his team grow through coaching. Learn about how he's made the transition from individual contributor to manager at Top Hat.
Hiba Amin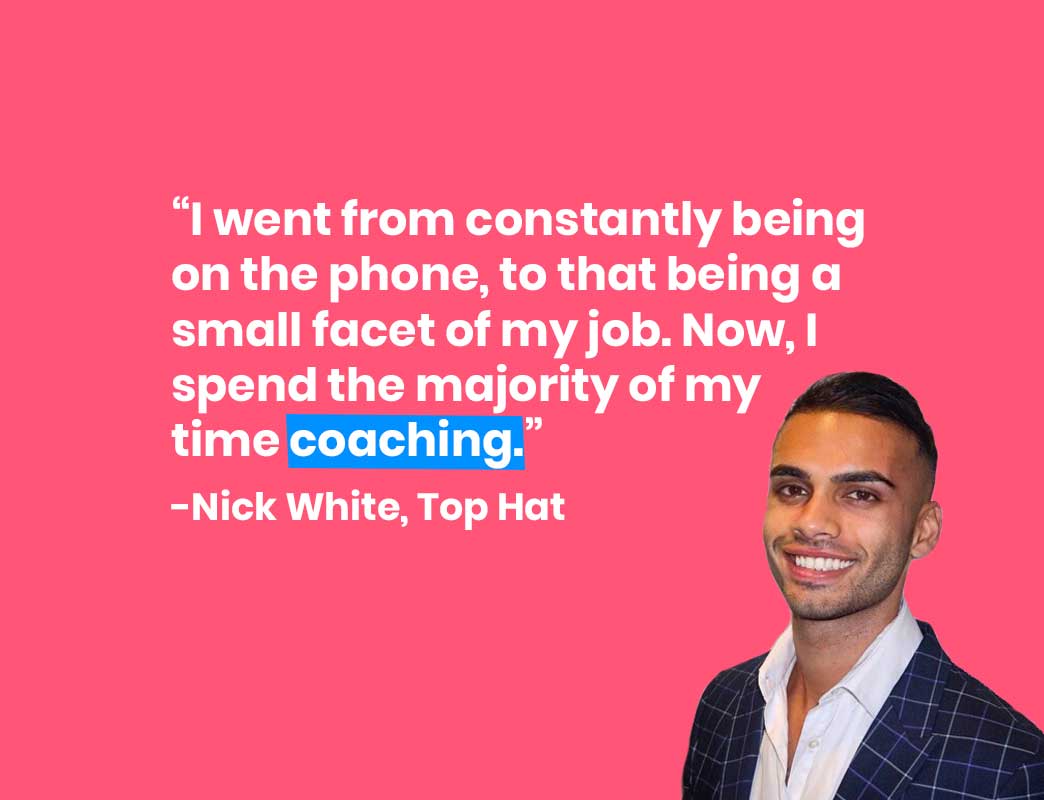 We recently sat down with Nick White, Sales Manager at Top Hat to talk about his transition into management. Becoming a new manager can be extremely rewarding, but it doesn't come without big changes or challenges and that's what we've covered below!
Quick facts:
👥 400+ employees
👩‍💻 10 direct reports
🏢 Onsite team
⏳ Less than 1 year of management experience
Since becoming a people manager, what was the biggest change to your day-to-day life?
It's changed completely. I went from constantly being on the phone, to that being a small facet of my job. As a sales rep, I was making cold calls, crafting emails, running demonstrations of our platform, traveling onsite to meet customers and generate revenue for the company. Now, I spend the majority of my time coaching. Although there are hundreds of other things going on, whether it's hiring, forecasting, and participating in management meetings, I try to spend as much of my day dedicating myself to my team, through prioritizing coaching.
I spend my day plugging into calls, listening to my team, shadowing them, and coaching via Slack, if the reps get stuck. I try to make myself as available as possible to my team, answering their questions, removing roadblocks, and doing whatever I can to help them achieve their goals. Whether it is on the fly, morning meetings, or during 1:1s, providing coaching has been my core focus and the biggest change since switching roles.
What was the biggest challenge for you when you made the switch from individual contributor to manager?
The biggest challenge was figuring out what I should be doing with my time. The role is not even the slightest bit similar so I had to figure out how to best map out my day and utilize my time to perform the job effectively. As a sales rep, the job was like clockwork. I put my headset on and run the calls I had planned for the day. But there was no playbook to abide by when I first transitioned to management.
To overcome this, I spent a lot of time speaking to the other managers on the sales floor to get an idea of what the best practices were. I spent a lot of time reflecting, trying to figure out how I could be most valuable to my team. Once I figured that out, I was able to map out my calendar accordingly and get my team to target.
How did you handle the transition from working with peers to managing them?
This was quite challenging at first, as many of the reps on my team were my close friends. I took on a team that I was once a team lead for so I was fairly close with the whole team. This made the job easier in some areas, but difficult in others.
Providing feedback and mentoring for my team wasn't new for me or my direct reports, so it made the transition smoother for everyone. However, having tough conversations with your pals can be a little bit awkward at first. Going from a friendly peer relationship to a direct report and manager relationship was a sudden switch.
So what I did to overcome this was actually just call it out. I addressed any issues head-on. I created a space where my direct reports and I could all feel safe and open to share concerns, challenges, successes, you name it. I made it a point to let every individual know that I was in their corner. That means that any feedback or coaching that I provided would be with their best interests at heart. I let them know that at the end of the day, I care about their success and growth; I want to see them win. Because we were friends, the trust was already there and that made the transition that much easier.
What's your biggest challenge as a manager?
The biggest challenge I'm facing is keeping the culture consistent as new hires come in, and senior reps get promoted. The culture specific to my team and direct reports right now is one of "excellence." I put learning and development at the forefront of everything that we do, so striving for greatness is something I try to instill into my team. However, when members of the team who I believe are the biggest champions of our values get promoted, I put in the time to reinstill these values into the team. I want to ensure that we, as a team, keep up our motivation and momentum regardless of any team changes.

With that, I of course lead by example. Everything I say and do is in line with this culture I've set out. I also set the expectations with the new reps as they come in. It's hard to replace amazing team leads, but this also opens up opportunities for growth within the team. As the senior reps get promoted, this presents an opportunity for the newer reps to step up and take on that leadership role among their peers. This is in line with maintaining the team's culture of excellence, and it is an exhilarating feeling for the newer reps looking to get a shot at leadership. Win-win.
What's one piece of advice you can give to someone who's about to become a people manager?
Get ready for the rollercoaster! Being a people manager is an extremely tough job, but it can be extremely rewarding. Especially coming from an individual contributor position, being responsible for the sales target of your whole team is a tough transition.
As a sales rep, sometimes it can feel like there are certain things that are just out of your control when it comes to hitting your target. As a manager, you get that same feeling, but it's multiplied by 10 (or more depending on the size of your team). As a sales rep, you're laser-focused on YOUR goal. As a manager, you're focused on getting everyone on the team to hit their goals. Every rep will come to you with their own unique challenges and it's your job to coach them through it. Not only will this help your team hit targets, but it's really fun too.

So focus on coaching. That is my main piece of advice. Inspire your team to strive for greatness. Work with them to get better at selling. Give it your all. Never stop training your team. Keep the culture strong. Remove roadblocks. And the score takes care of itself. Seeing your team win, grow, and develop will make it all worth it.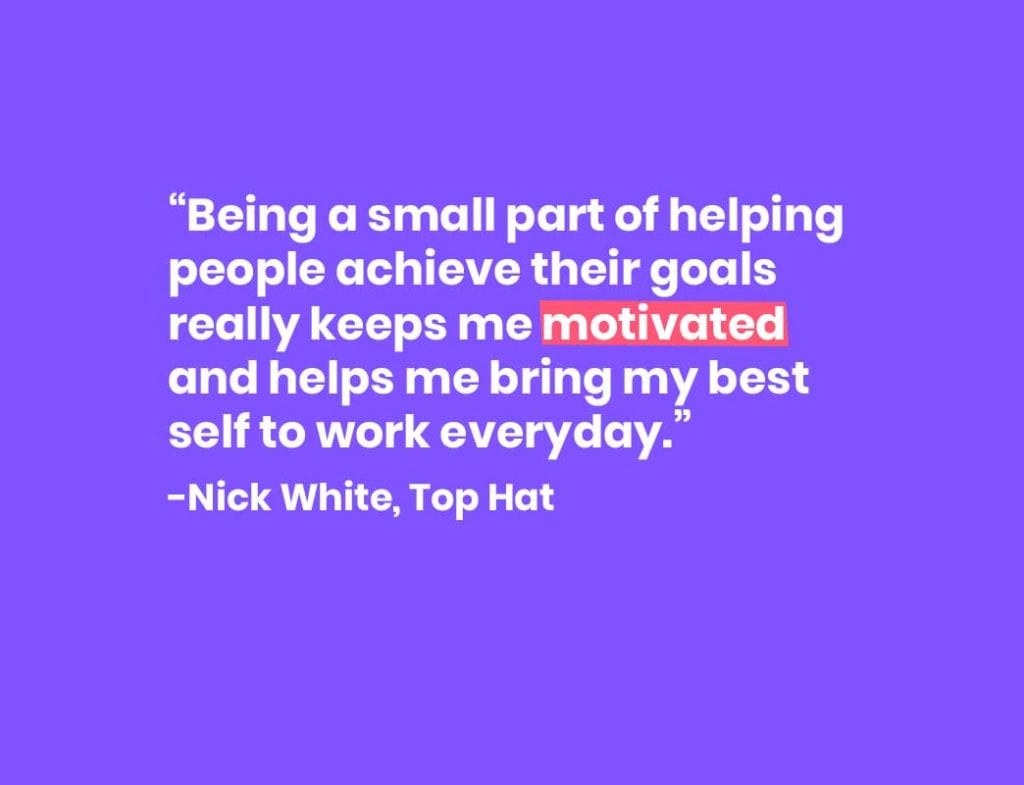 Quick facts about Nick's one-on-one meetings:
Does he have them? Definitely! ✅
Length: 1 hour ⏰
Frequency: Weekly 📅
What was it like entering a one-on-one as a manager rather than an individual contributor?
It's exciting! I had made up my mind on getting into management a long time ago, so I was really anticipating doing 1:1s with my team. I see them as a great opportunity to get to know my reps. I use this time to really understand my direct report's goals, not only at work, but in life.
One of the main reasons I wanted to get into management was to play a part in enabling a team to achieve their goals. I wanted to provide individuals with actionable feedback, helpful advice and see them not only action on that feedback, but succeed as a result of it. 1:1s have been a great tool when it comes to sharing that feedback and advice. Being a small part of helping people achieve their goals really keeps me motivated and helps me bring my best self to work everyday.
What's your biggest challenge when it comes to one-on-ones?
One of the biggest challenges I had was initially building trust with news reps. It can be tough to get certain personality types to open right away. Some people have their guard up initially, so breaking through this initially was a bit tough, and still is!
To try and overcome this, I let people know (and showed them) that I am on their side. My goal as a manager is to help my team win, in all aspects of their life. My sole mission is to add value to my team wherever I can and get them to where they need to be. Being empathetic, opening up, and being vulnerable myself has also aided in getting these reps to open up as well.
How do you know if you've had a successful one-on-one meeting?
This is very tough to tell, actually. As a manager, you won't always know if your message is getting across to your team. You might think that you gave the best advice, coaching, or training, but it just didn't land with that rep.
Some people will tell you directly – "that was a great meeting, thank you." But for others, you sometimes have to wait and see. What I do to speed up this process, is to directly ask for feedback. I get my team to write anonymous notes about my leadership; top 3 things and bottom 3 things. This gives me an idea of what I should continue doing, and what I should change. I do this once a month to keep "sharpening the saw" so to speak. I am also giving feedback constantly, so my team should be able to as well. However, it's always nice to hear, (sometimes even 3 weeks later), that what you said to a rep, made an impact and helped them succeed. Those are the best moments.
What do you usually discuss in your one-on-ones?
The main focus of my 1:1s has been to add value. If I am not helping my team get better or removing roadblocks for them, our time is being wasted. Sure, we need to talk about pipeline updates and administrative stuff, but the core focus is about them. Whether that is feedback on demos, coaching on our product/value props, or strategies on certain deals, my goal is to have them leave the room with something tangible that they can take with them and reflect on.
However, every rep is different. Senior reps may not need as much coaching. So the focus is around their next step, like getting that promotion or being a leader on the team. Whereas with a new rep, they may need help with the basics. Like the best Salesforce reports to look at, the rules of engagement, and etc. With that, I make sure that I prepare the night before, for all of my 1:1s. My main mission with 1:1s is to be present and give it my all to ensure value is being brought into that room, so I like to tailor my meetings according to each individual rep's needs.