Productive Meetings
Updated Nov 16, 2021
Setting a goal for your one-on-one meeting (and suggested questions)
[wtr-time]
Determining a one-on-one meeting goal will ensure that you and your direct report are always on the same page leading up to, during and after your meeting.
Hiba Amin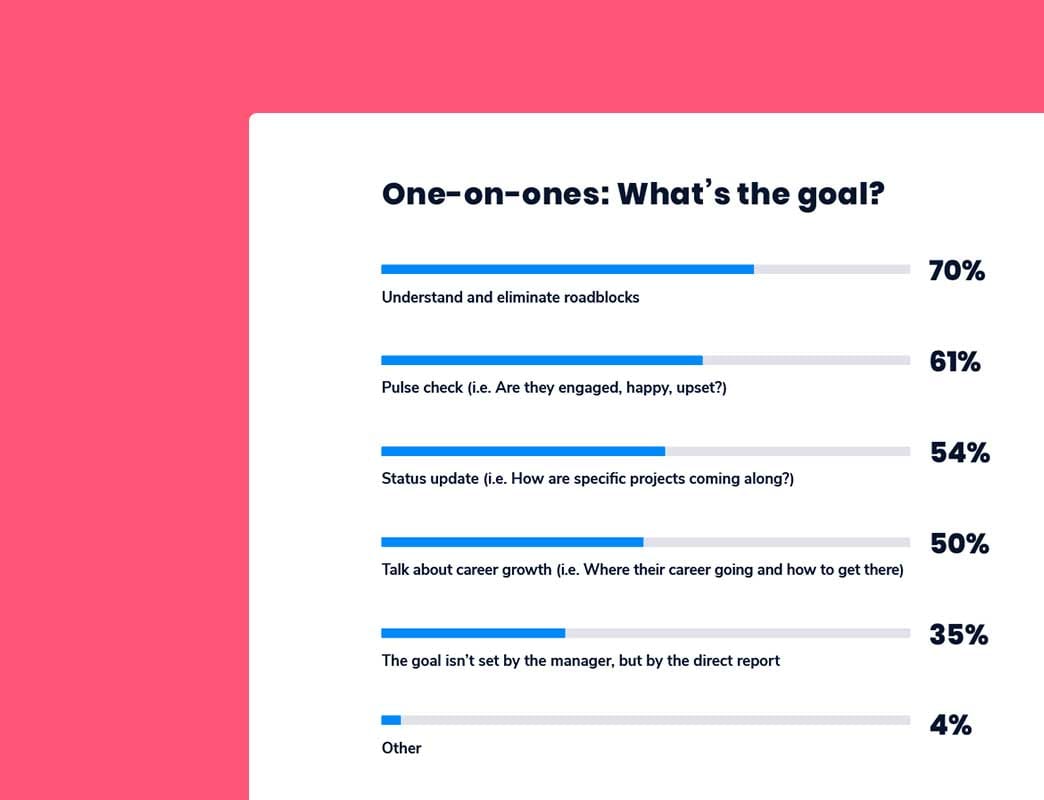 The key to a productive one-on-one meeting is defining what you and your report want to get out of it. The goal of the meeting should be set collaboratively so that you're both on the same page leading up to, during and after the meeting.
In our recent State of One-on-ones report, we asked managers what their goals are when it comes to their one-on-one meetings.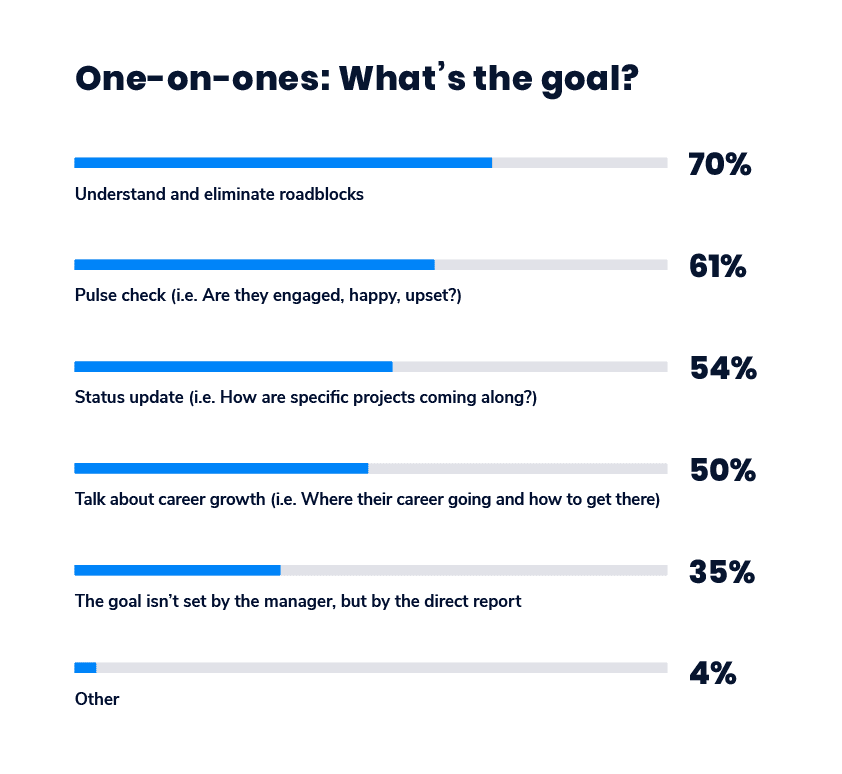 If you've determined your one-on-one meeting goals, here are some ways to focus the conversation around that goal.
Understand and eliminate roadblocks
Ensuring that you're able to eliminate roadblocks for your direct reports is a great way to build trust and increase your team's productivity. The process of learning and eliminating roadblocks is simple:
Add discovery focused agenda items onto your agenda
Discuss what the roadblocks are and determine what needs to be done to move the project along
Set action items for you and your direct report
Continue to keep the line of communication open
Questions and agenda items to help you understand roadblocks
What is stressing you out this week?
Do you have any blockers right now? How can I help?
What's your outlook on the week?
What are the biggest blockers affecting you from performing to your fullest potential?
How can I better support you?
Do you feel you're getting enough feedback on your work? If not, where would you like more feedback?
Do you have any questions that, if answered, would help you in your day-to-day?
Do I have anything outstanding for you that I haven't done yet?
Pulse checks (Are your employees happy? Engaged?)
It's important that you continue to have an ongoing conversation with your direct report on how they feel about the work they're doing, their role and outlook on the organization. Doing this will help you gain a better understanding of how you can better engage them with the work that they're doing. This doesn't (and shouldn't) be done as a pulse survey, asking your direct reports to rate how they're feeling from 1 to 5. But rather, it should be focused on qualitative data that stem from meaningful conversations in your one-on-one meetings.

Questions focused on employee happiness and engagement
What makes you excited and motivated to work on a project?
Is your job what you expected when you accepted it? If not, where has it differed?
What projects would you like to work on or be more involved in?
Are you happy in your role? What could make it better for you?
What do you like about my management style? What do you dislike?
What's one thing we could change about work for you that would improve your personal life?
Are there any aspects of our culture you wish you could change?
How do you feel your work/life balance is? What would you want to change, if anything?
What's a problem we have on our team that I might not know about?
What's something you'd like to share but is a little stressful to bring up in person?
If this is your primary goal for a one-on-one meeting, it's important that you include items to your meeting agenda that address this (more on that later).
🛑 Status updates (How are specific projects coming along?)
Managers should avoid using one-on-ones as a time for status updates. It's hard not to turn these meetings into status updates, we know. In fact, it's a common challenge that managers experience when it comes to the conversation within a one-on-one meeting. This can be even more challenging during one-on-ones with employees that cling to status updates as a way to avoid more personal topics. You don't want to force them out of their comfort zone. Try reminding them (and yourself) the goal of the meeting and how it can benefit them to move away from status updates on a frequent basis.
"If you are not careful, 1:1s can end up being status updates. Or the manager can take over the meeting. This isn't their purpose. It's important to make sure the employee and their needs stay front and centre."
What do status update questions look like?
What did you work on last week?
What are you working on this week?
When will your project be shipped?
How far along are we on project X?
It's time to stop one-on-ones from turning into status updates. There is a time and place for them, and it's not during your one-on-one meetings.
Growth and development
Gallup's State of the Global Workplace found that when employees have consistent performance feedback, they become emotionally and psychologically attached to their work and workplace. As a result, that individual's performance is boosted and experience higher levels of productivity, safety and quality.
Growth and development conversations are directly tied to an individual's level of engagement. So, as a manager, it's an extremely important conversation to continuously have with each direct report.
One-on-one questions focused on growth and development
What areas of the company would you like to learn more about?
What skills would you like to develop right now?
What professional goals would you like to accomplish in the next 6 to 12 months, and what makes you say that?
Who in the company would you like to learn from? What do you want to learn?
How would you like to use your education budget this year?
What's something you'd like to focus on more next quarter?
What's one thing you really wanted to do last quarter but didn't get a chance to?
Where do you see yourself within the team in the next year?
The goal is set by the direct report, not the manager
Fantastic! Empower your direct reports to take ownership of this time. After all, it is their time with you and not the other way around. In many cases though, this is easier said than done. So, how do you empower your employees to take more ownership of setting the goal? Make them accountable for the meeting agenda.
Try these strategies to encourage your direct reports to take more ownership of the agenda:
Prior to the meeting, let your direct report know that they are just as accountable for the meeting agenda as you. Encourage them to add any items they'd like to discuss leading up to the meeting.
Add a note into your meeting description, whether it's in your calendar invite or your meeting agenda, letting your direct report know what the meeting is about and what's expected of each of you.
One-on-ones are one of the greatest opportunities managers have to build rapport with their team, and keep employees focused, productive and engaged. They're also a great time to give and receive feedback in an environment where employees can feel more comfortable and safe to do so (so long as you make it safe!). That's why it's so critical to have one or more goals set for your one-on-one meeting.
---
Want to make the most of your one-on-ones? Book a free one-on-one tune-up session with a leadership expert at Hypercontext. ⚡️