Communication
Updated Feb 3, 2022
How to provide the best onboarding experience for a new hire
[wtr-time]
If you want to retain new hires and set them up for success from day one, it's worth refining your new hire onboarding experience.
Hiba Amin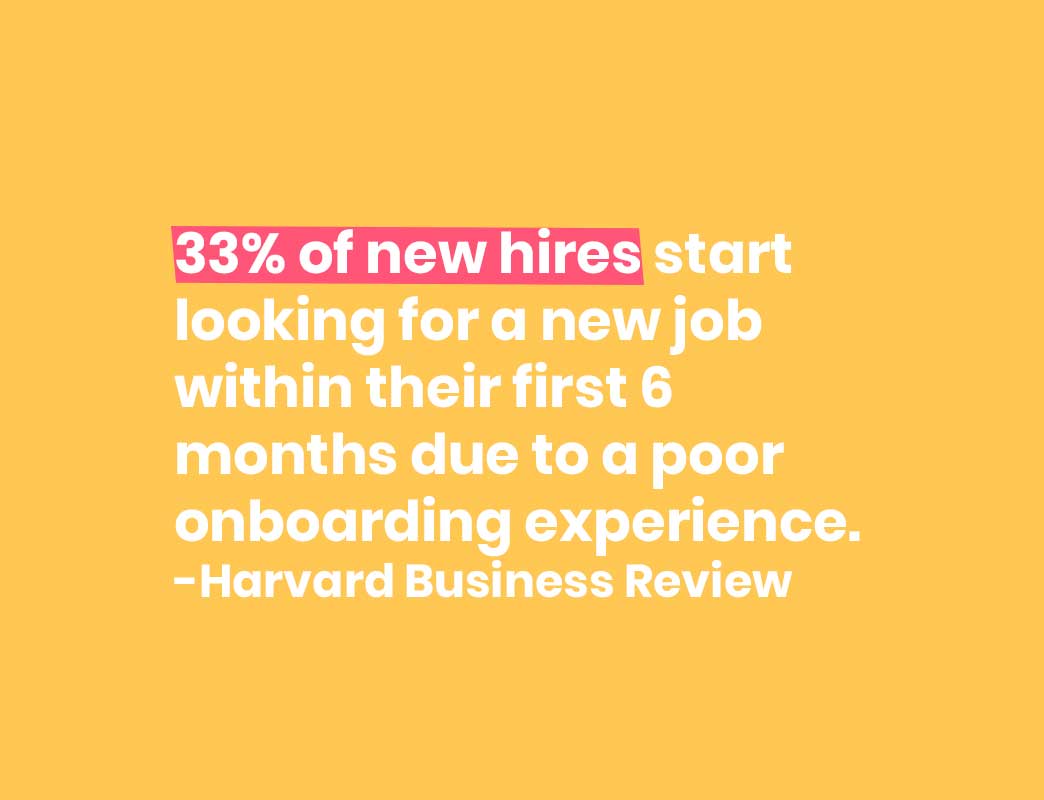 33% of new hires start looking for a new job within their first 6 months due to a poor onboarding experience. On the flip side, BambooHR research showed that employees who felt their onboarding experience was effective were over 29 times more likely to feel satisfied with their jobs.
That means that if employers want to retain new hires and set them up for success, they need to put a heavy emphasis, not only on planning but also tailoring the onboarding experience to each individual new hire.
In this article, we will walk through what it takes to create the best onboarding experience, including:
Determine your onboarding goals
This is the time for all stakeholders to decide on what success looks like when it comes to the onboarding experience. What are you hoping that the organization and the new hire will get out of this experience? What you decide on will dictate how you go about planning, organizing and executing your onboarding plan.
Some common onboarding goals include:
Ramp up the new hire fast and efficiently
Create a positive learning experience that fosters a sense of belonging for every new hire
Set the new hire up for success and assign quick-win projects that will help boost confidence
The new hire feels comfortable in their new role after completing their onboarding
The onboarding experience is smooth for everyone involved
Whatever goals you decide on, it's important that your new hire is at the center of your onboarding experience. Keep in mind that onboarding will look different for each individual due to factors like company function, experience level and more.
Who needs to be involved and when
At the bare minimum, the two individuals who need to be involved are HR and the new hire's direct manager (usually the hiring manager). These two individuals are likely the most familiar faces to a new hire and are most accountable for their growth and overall happiness within the organization. Other individuals who would be involved would be the new hire's team and key stakeholders.
Human Resources
Generally, HR will own the onboarding experience from a holistic point of view, focusing on the tasks that need to be done across all new hires. This includes all of the administrative tasks like signing forms and getting them set up on company portals and so on (typically done before their first day). 
When HR is involved
This will vary across every organization. However, we suggest that HR be involved at these moments of the onboarding experience:
Planning the onboarding experience. HR is involved in onboarding across all functions of the organization. That means that they'll have the best understanding of what works best for every new hire, and more granularly for every department.
Collecting qualitative and quantitative data. This can include sending surveys to better understand how the onboarding experience was (and how to improve), meeting for a one-on-one to discuss how they're feeling overall. This also includes checking in with every new hiring periodically at certain points of their first year (e.x. 3 months, 6 months, 1 year).
At smaller-scale companies, some HR managers may also be taking on tasks that would otherwise be for those in a people/culture or office manager role. So, for some organizations, this could be doing things like office tours, introductions and more.
Hiring manager
The hiring manager is responsible for ensuring that the onboarding experience is seamless and provides the new hire with all of the tools, access and information they need to succeed. They are directly responsible for their new hire's growth and overall engagement.
When the hiring manager is involved
Like HR, this can vary across organizations. Here's what we suggest:
Plan out the first 3-6 months for projects and tasks you'd like your new hire to tackle. Especially at the start, these should be easy wins to help build up confidence as the new hire becomes more familiar with your product, processes and people.
Set up meetings with the right stakeholders. This can be individuals who the new hire will interact with on a day-to-day basis, as well as individuals who you think will be instrumental to their success.
Set up a recurring one-on-one meeting with the new hire.
New hire onboarding template
This onboarding checklist breaks down what needs to be done internally by HR, the hiring manager and other key stakeholders from tasks needed to be done before the new hire starts all the way to the end of their onboarding experience and beyond.

There's a clear business case for having a smooth and positive onboarding experience. Take the time to set your goals, build your plan and prepare your new hire for the best onboarding they've ever experienced. They'll love you for it (and so will your bottom line).