Employee Motivation
Updated Oct 6, 2022
Managers: A new employee onboarding checklist to ramp your team up faster
[wtr-time]
New employee onboarding isn't just the responsibility of HR, it's also a huge part of being a great manager. This new employee onboarding checklist is sure to set your new hire up for success from day one!
Hiba Amin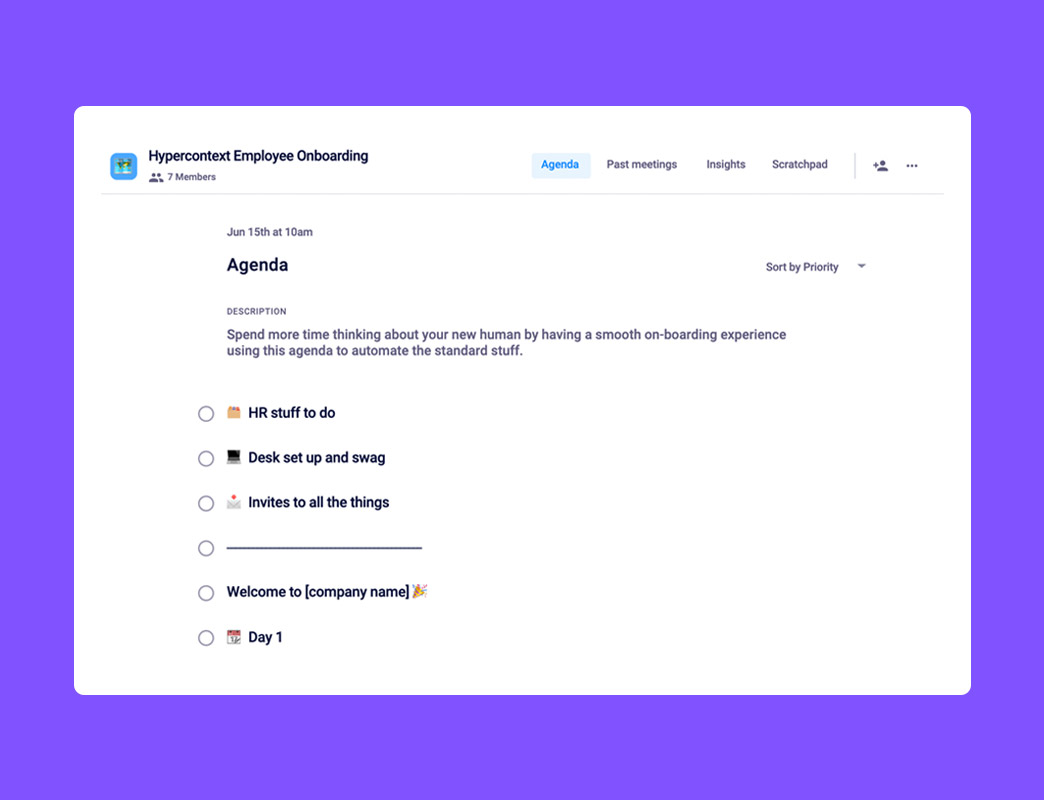 A Gallup study found that only 12% of employees strongly agree that their organization does a great job with onboarding.
On top of that, a Harvard Business Review study found that nearly 33% of new hires look for a new job within their first 6 months, a lot of which is because of a poor onboarding experience.
That's why it's so important for hiring managers to provide new employees with the best onboarding experience possible.
At Hypercontext, we created an incredible onboarding experience for onsite employees. We've since modified that experience for onboarding new remote employees. I can say that this process works like a charm for both situations!
Our new employee onboarding checklist is focused on enabling managers, not just HR, to ramp up new hires faster. In fact, we use this template internally with every new hire at Hypercontext!
In this article, we'll cover:
Go directly to the new employee onboarding template.
Why should you care about properly onboarding a new employee?
If your employees feel excited and set up for success right from day one, it makes a big difference. According to SHRM, 69% of employees are more likely to stay with a company for three years if they've experienced great onboarding.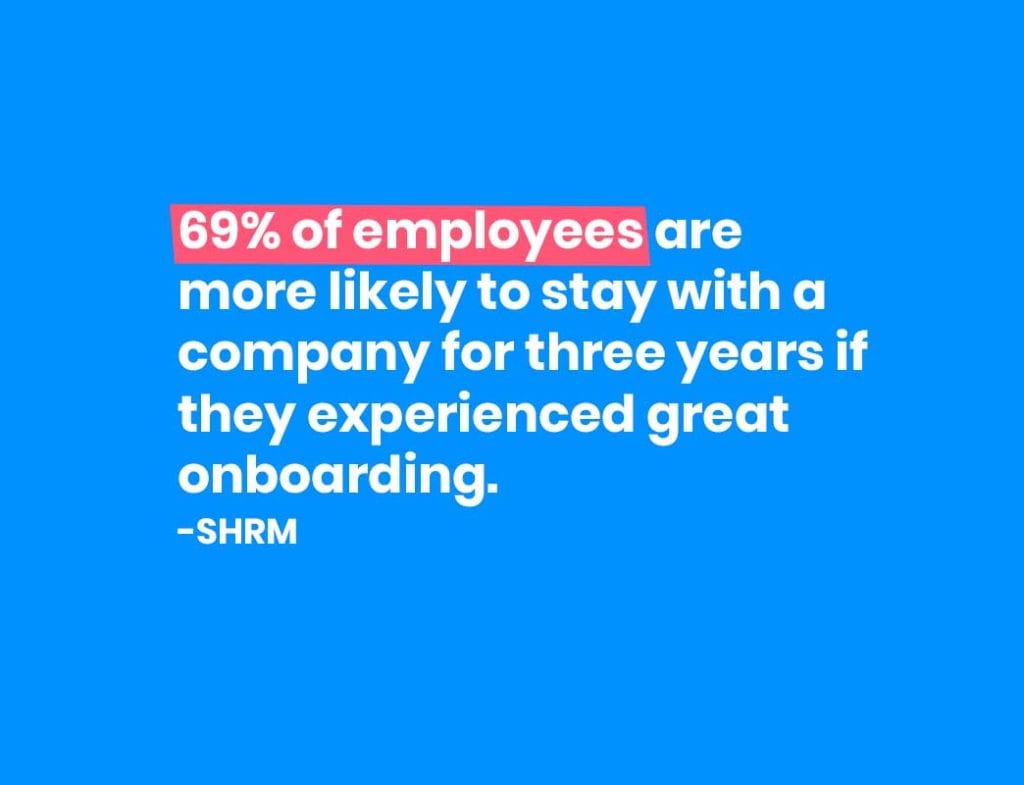 There's a massive business case for having a solid onboarding experience for new employees.
Speaking from experience, when I first started at Hypercontext, it was hands down the best onboarding process I have had at any company to date. In fact… It was so amazing that I made the effort to let everyone know on LinkedIn: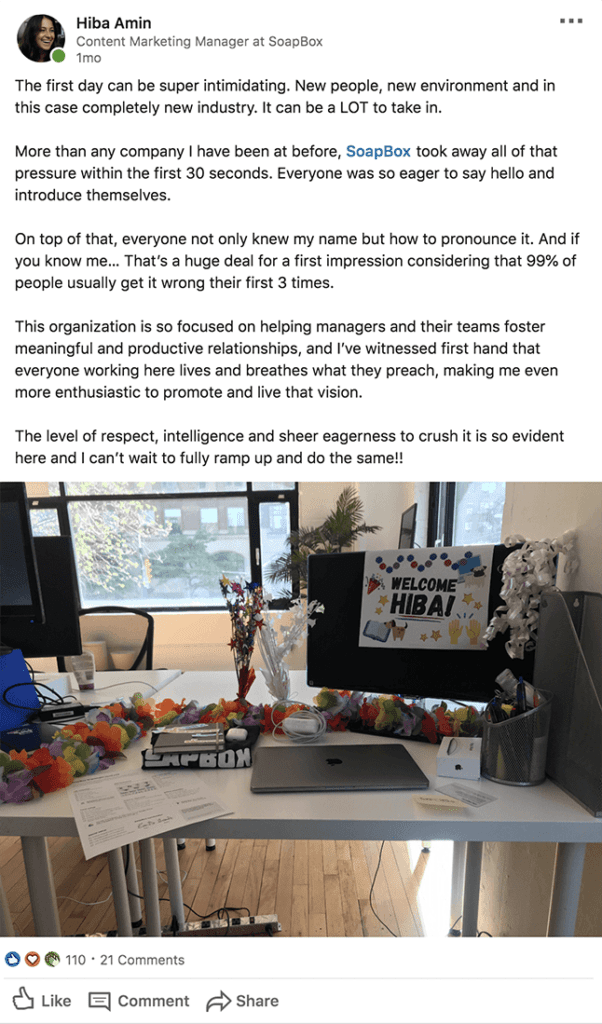 Imagine if all of your employees talked about your organization so publicly this way? 👆All of this because of an awesome onboarding experience.
Onboarding checklist for managers
Leading up to your employee's first day, it's important that you have everything you need to set them up for success from day one. Let's walk through some of the ways in which you can best prepare:
1. Book multiple 1:1 sessions around tool and process walkthroughs
Don't just throw your employee to the wolves. Instead, spend time showing them how (and why) things are done:
Is there a certain type of brief they have to submit to get marketing images for the blog?
Where do all of the team's metrics live? How frequently are they updated and where is the data pulled from?
How is the team's Jira workspace set up?
How do you use tools like Google Analytics, ahrefs, Intercom, and Stripe?
What's the 3, 6, and 12-month strategy for the team?
While you've just hired great talent, it doesn't mean that they're coming in as experts on your customers, product, or tech stack.
These sessions are a great way to ramp new hires up because they give them the knowledge they need to become that expert, faster.
2. Outline the outcomes you expect them to achieve in their first 30-60-90 days
In a perfect world, you've already outlined the outcomes expected of this person. After all, that information would help you make the right hiring decision.
Now that you've hired someone for the job, it's important to document those outcomes in an accessible place for you and your new direct report. That way, they can continue to reference those numbers, prioritize their work, and stay aligned with the team's overall goals.
Personally, I document those outcomes within my 1:1 meeting with my direct reports using Hypercontext's goal-setting platform.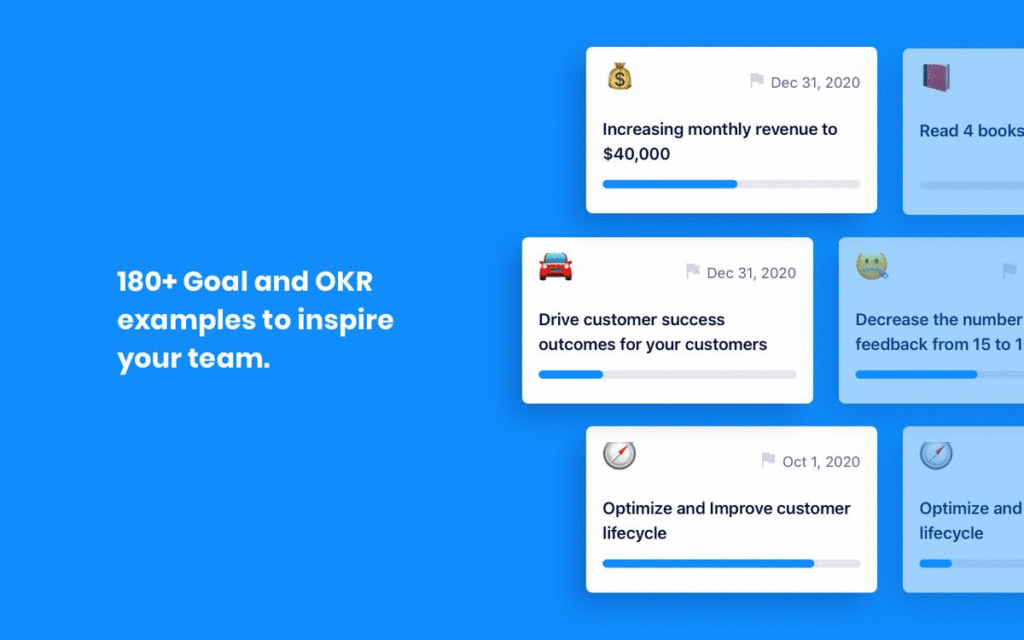 3. Audit and update your team's internal documents
To save yourself a lot of time and future headaches, stay on top of updating your team's internal documents year-round. But, that's not always the biggest priority, totally understandable.
However, 2-3 weeks leading up to your new hire's first day, it's important to do a full audit of all of your internal documents to ensure that all of the information is up to date.
Have your buyer journeys changed in the last year?
Did your team develop new features that need to be documented?
Are your contributing guidelines up to date?
These are just some of the questions you might ask yourself when auditing your documentation.
5. Announce your new employee in multiple places
You've just hired someone. That is incredibly exciting!
Get everyone on the team excited about their arrival with new hire announcements. We're talking:
Demo days
Team meetings
Slack
Letting the social media team know so they can queue up the public announcement
Shout it from the rooftops! 🥳
Heck, we even share the good news every time an offer is signed in our #wins channel on Slack. 👇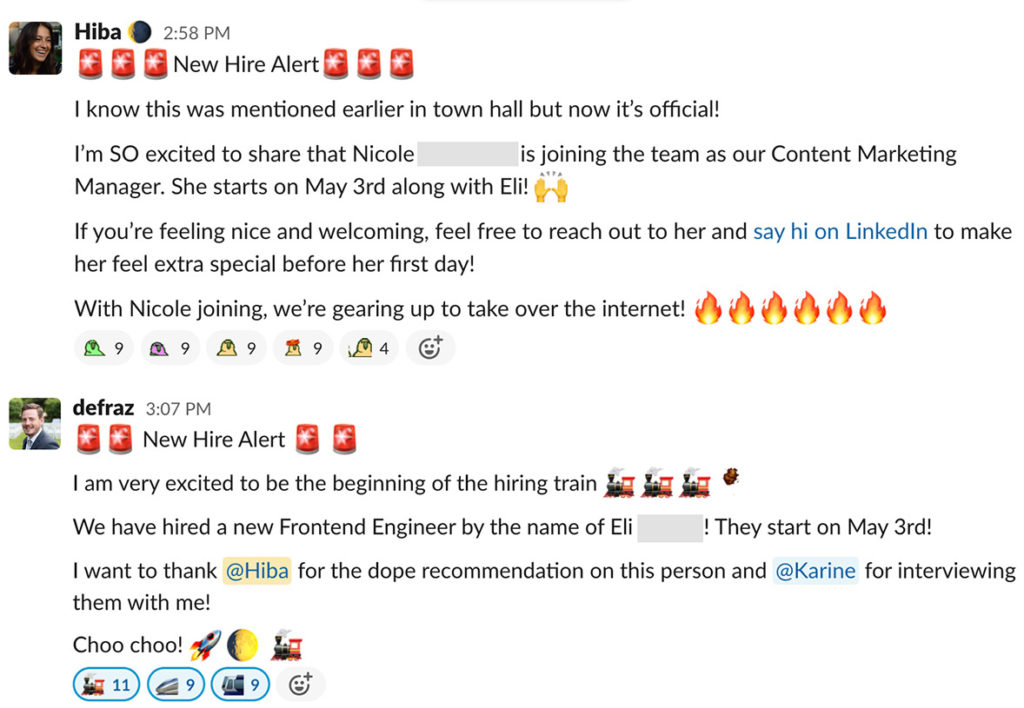 When everyone is excited about every new hire, and that excitement comes through in their first couple of weeks, it'll make the onboarding experience that much better!
5. Set up your first one-on-one
While one-on-ones are ultimately the employee's time with you, it's important that you set the stage from their first week. Prepare an agenda for your first one-on-one meeting in advance so that your new hire can read through your items and show up prepared.
From there, you can decide on a time of day, week, and cadence to have these meetings together.
A breakdown of your new employee onboarding checklist
This onboarding checklist breaks down what needs to be done internally by IT/HR/Management the weeks preceding your new employee's start date and then breaks down the first two weeks of your new hire's onboarding. If you're using Hypercontext, all you have to do is select the onboarding agenda template and invite your onboarding stakeholders to contribute!
Before your new employee's first day
Start your list with things that need to be done before the new employee starts. Be sure to assign every task or activity you set to an individual with a due date to ensure that things actually get done.
🗂 HR stuff to do
Enroll employees to benefits program
Complete background check
Sign options grant
Assign a buddy 
Other paperwork necessary
💻 Desk set up and swag
📩 Invites to all meetings and platforms
Email
Calendar invites to various meetings/events
Google drive (or equivalents)
Any tools they need access to
Day-to-day onboarding checklist for your new employee
Keep in mind that you can edit this template to fit your team and process best. The steps below walk through how we onboard new employees during their first week at Hypercontext.
🗓 Day 1 – Welcome to the company!
Set up your laptop
Accept invites to tools, calendars, other platforms, etc
Start reading your onboarding doc
Set up your Slack account
Get a tour of the office from [name]
Fill out HR paperwork
At Hypercontext, every employee receives an onboarding document containing our employee handbook, department-specific information and other important information. Our onboarding documents have proven to be a great way to share information on things like our values, team structure and more.
🗓 Day 2 – Get to know your team and the company!
Start creating your demo day deck
Meet with your manager to talk department specifics
Continue reading onboarding documents
Welcome orientation with CEO
Every new employee at Hypercontext is asked to create "demo day deck" to present at their first demo day. The presentation includes things like their role, past experience, fun facts (i.e. "I hate peanut butter with a passion 🤮"), what they're excited to work on and more! This is an awesome opportunity for new employees to introduce themselves to everyone at the company. It also gives current employees easy talking points for when they introduce themselves to the newcomer (i.e. "I also hate peanut butter with a passion 🤢), making the onboarding experience even better!
🗓 Day 3 – Let's learn about how things work around here!
Meet your office buddy for a coffee or treat
Review the company website to learn more about the product and brand
Learn about your team's work and process (This could be doing a code review for developers, reading help articles and going through conversations for customer success, or reviewing the product roadmap for product, etc).
HR department orientation
Every new employee at Hypercontext gets assigned a buddy from a different team. We've seen that by doing this, it helps reduce a lot of the first-week jitters. It gives the new employee an opportunity to meet a new friendly face and ask questions about things not necessarily related to the job (i.e. "How do I use the coffee machine?" ☕️). It's also great for building more cross-departmental relationships within the office!
🗓 Day 4 – First project and welcome lunch!
Start your first project!
Enjoy your welcome lunch
Marketing department orientation
We welcome every new employee with a welcome lunch. We invite members of their direct team, as well as other individuals who they'll be collaborating with. Building connections in a space outside of the office walls is a great way to help everyone let loose and create more genuine connections.
🗓 Day 5 – TGIF! How was your first week?
Check-in with your manager – How was your first week?
Finish your scavenger hunt
Product department orientation
At Hypercontext, we give every new employee a scavenger hunt to complete in their first week. It's a great way to gamify what otherwise might be menial tasks like getting wifi passwords or learning how to work the coffee machine.
Looking back at my own onboarding experience, I can't begin to explain how crucial a good onboarding process is when ramping up at a new company. Within a week, I felt like I had been a part of the organization for months. I was set up for success from day one. Having my first two weeks planned out, with several opportunities to talk to people from every department took away so much of the stress that comes with joining a new organization.
New employee onboarding template
Now it's time to prepare your new employee onboarding checklist so you can ramp up your employee in a smooth and timely manner. There's probably a lot you'd like to share with this new hire, but you need to make sure that you're not overwhelming them from day one.
Get started with our new employee onboarding template!