Team Tools
Updated Apr 22, 2022
20+ Best productivity apps every manager should know about
[wtr-time]
Using the right tech stack plays a huge role in team productivity—especially when working hybrid or remote. This article outlines 20+ top productivity tools for managers to consider introducing to their teams.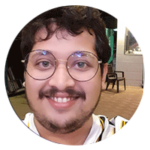 Guest Contributor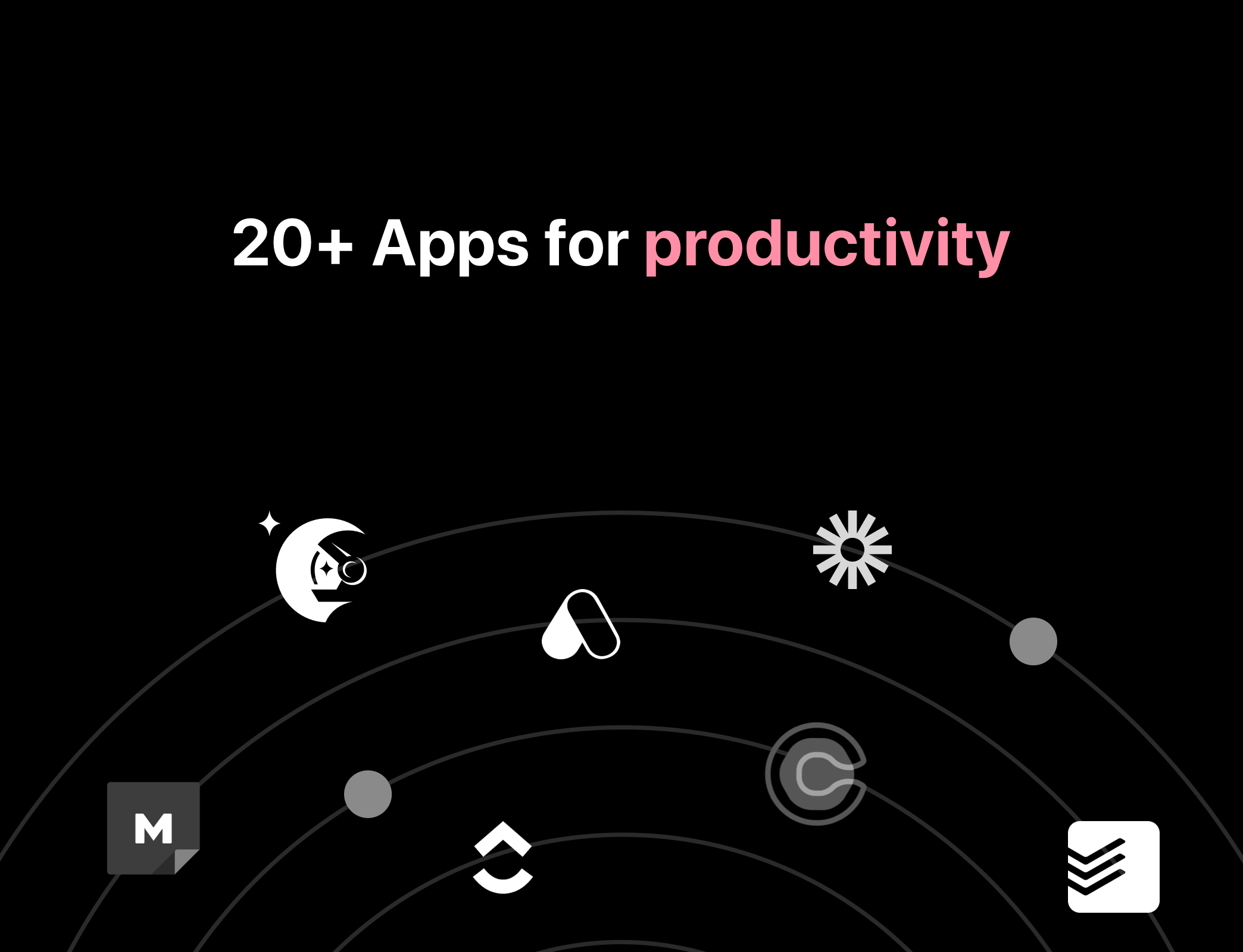 The life of a manager isn't easy. On top of getting your own work done, a big part of your job is also supporting your team and motivating them to perform better. It's a balancing act that's in constant need of finessing.
To make things easier (and speed up the process), it's helpful to automate your work wherever possible. Thankfully, there's a gamut of apps to help support you on your quest to increase productivity. The question is, where to start? 
How do you know which productivity app to use?
Juggling between multiple tasks and apps may get overwhelming, especially if you use more productivity apps than required. There's an app for almost everything, but you definitely don't need all of them. So before you start downloading every app that gets your attention, you must ask yourself one basic question — What apps do you need?
It's important to identify the kind of tasks you want to automate and in which areas your team needs support. For example, are you struggling to collaborate efficiently? You might want to consider a new collaboration app. Or, is booking a meeting time always a mission with your dispersed team? Try a scheduling app. With the right combination of apps that work for you, you can get hours (hours!) back to focus on managing your team.
In this article, we've gathered the top productivity apps and categorized them into the following sections to help you make an easy pick. Instead of spoiling you for choices, we've handpicked only the best ones in each category.
Let's get started.
Collaboration Apps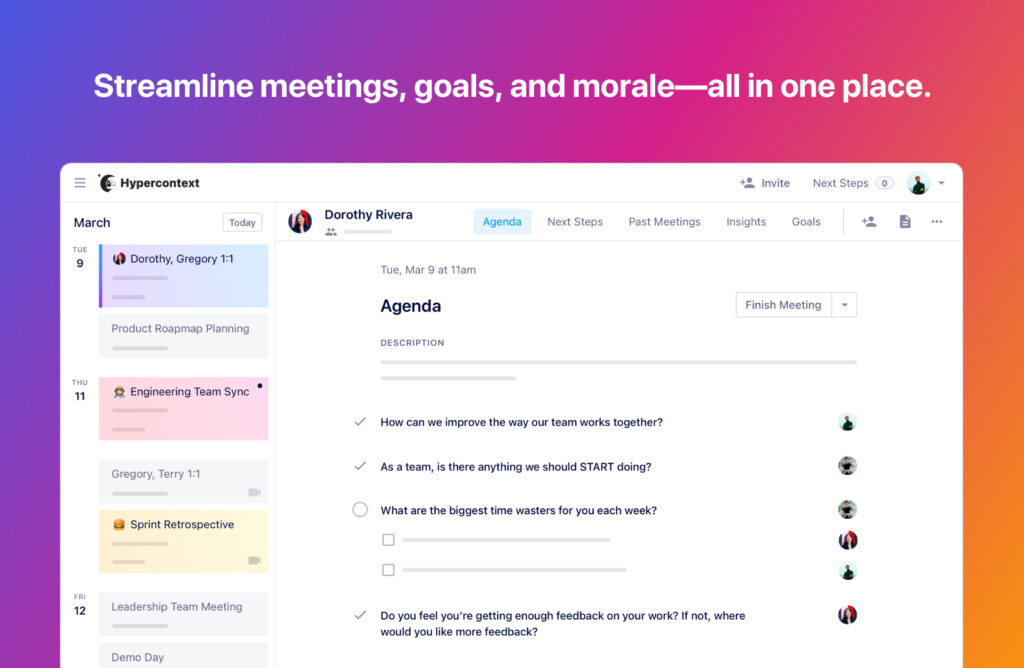 Hypercontext empowers managers and their teams to be high-performing by combining goals, meetings and morale in one workflow. With a focus on one-on-ones and team meetings, the app allows teams to set goals, create collaborative meeting agendas, take meeting notes, assign next steps and collect feedback —all in one place.
Key features:
Automatically send meeting minutes to all participants post-meeting.
Get real-time feedback from employees after every meeting so you can gauge engagement and improve meeting quality.
Set goals and pin them to the top of your meeting agenda to keep your team aligned and meetings focused.
500+ conversation starters and agenda templates.
180+ goal examples, from professional development to role-specific goals.
Compatible with: Chrome, Slack, Outlook, Zapier, Microsoft Teams
Ps. Get on the waitlist for these integrations coming soon: Zoom, Asana, Jira
Pricing: Hypercontext has a free forever plan, a pro plan which is USD $7/user/month and a business plan that's USD $11/user/month. Small teams up to 5 can use the starter team pack at USD $5/month total for the first 5 users to join.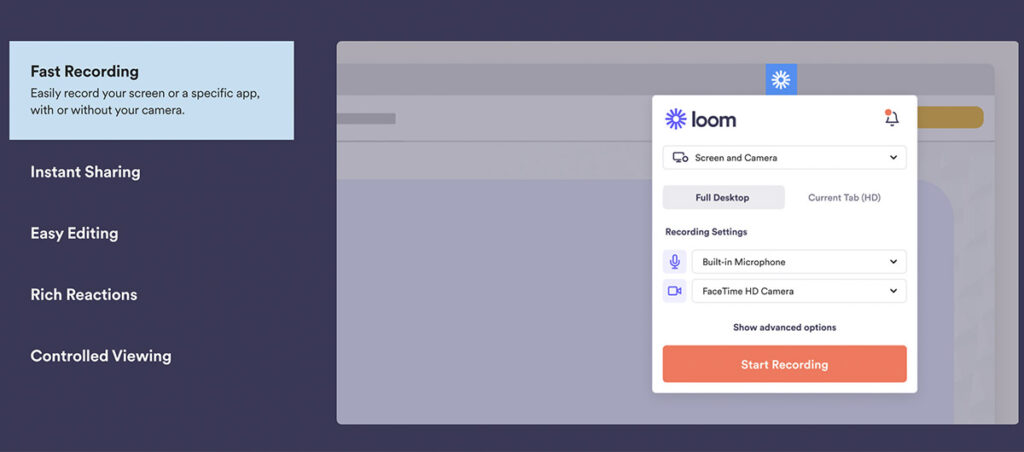 Loom allows you to communicate by video asynchronously. With the app you can capture videos from both your screen and your webcam, making it easy to communicate like you're on a video call — but without the need for an immediate response. It's a great option when a written message won't do the trick, but you don't need to schedule a meeting either.
Key features:
Instantly edit your videos so you can easily share.
Add reactions to the video with emojis and comments.
Control who sees the video with password protected content.
Compatible with: Chrome, Mac, Windows, iOS, Android
Pricing: Loom has a free forever version, $8 USD business plan, or an enterprise plan which you can contact their sales team about.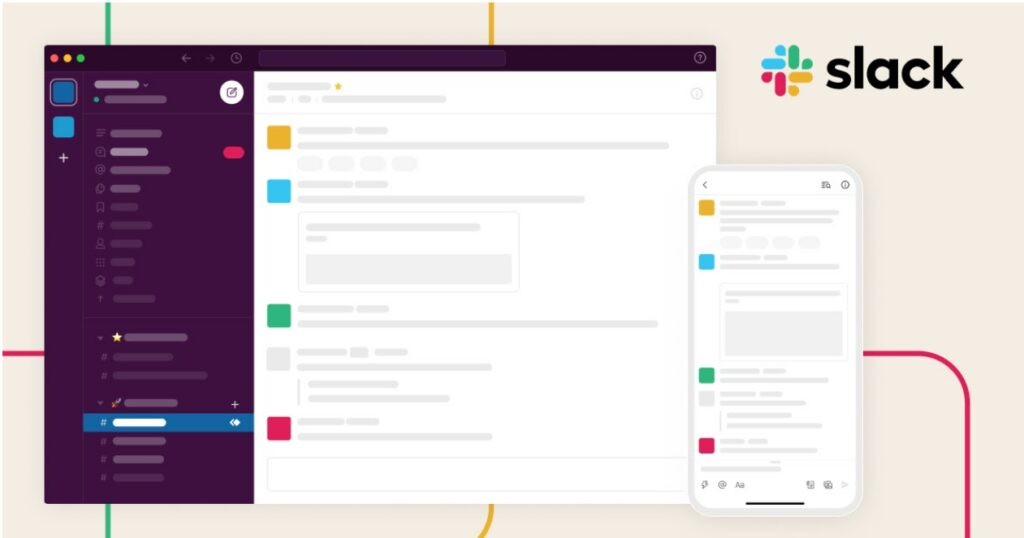 If you're not already using Slack, you've likely at least heard of it. Slack is a popular instant messaging app that allows you to send messages to people within your organization. One of the beauties of the app is the ability to streamline conversations into unique channels to keep discussions organized. This app is so popular that Slack is now often used as a verb to describe instant messaging.
Key features:
Attach files to messages and easily search for them later.
Respond to messages within the same thread for less confusion.
React with emojis to messages.
Create seperate channels for different conversations to keep everything streamlined.
Compatible with: Google Suite, Asana, Salesforce
Pricing: There's a basic plan that's free forever, a pro plan that's USD $8/user/month and a business+ plan that's USD $15/user/month.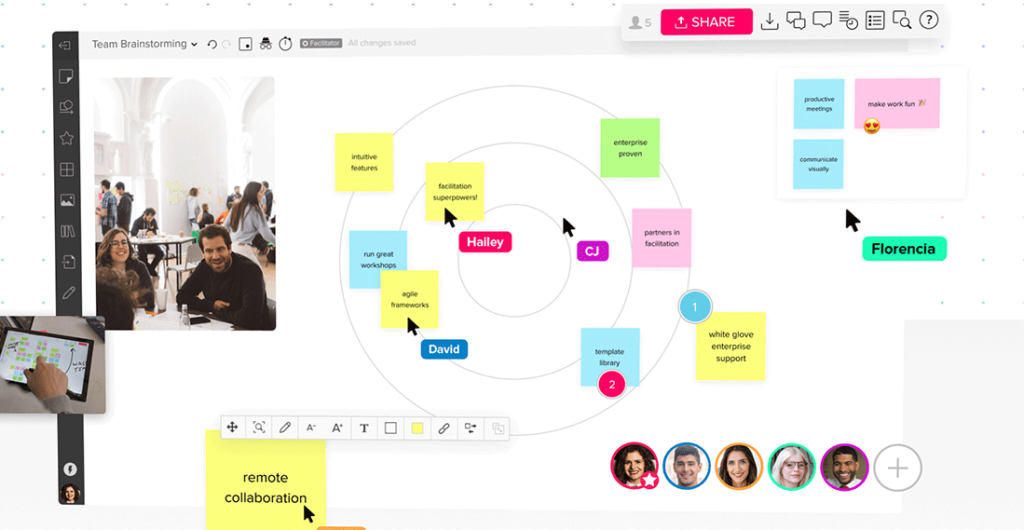 MURAL is a digital workspace for visual collaboration and is used by over half of Fortune 100 companies. More than an online whiteboard, MURAL makes it easy for anyone to put their imagination to work through a simple-to-use online space. It's a great tool to encourage creative brainstorming.
Key features
Choose from more than 200 customizable pre-built templates and frameworks, including brainstorming, design sprints, sales discovery, and retrospectives.
Create interactive meetings and boost attendee engagement with MURAL's Facilitation Superpowers.
Instantly start a voice call inside any mural for spontaneous collaborative sessions with the Quick Talk feature.
Compatible with: Adobe, Google Calendar, Webex, Slack, OneDrive
Pricing: MURAL has a new free forever version for up to 5 murals, a team+ plan for USD $9.99/user/month and a business plan for USD $17.99/user/month. Plus, you can get a free 30-day trial for all their plans.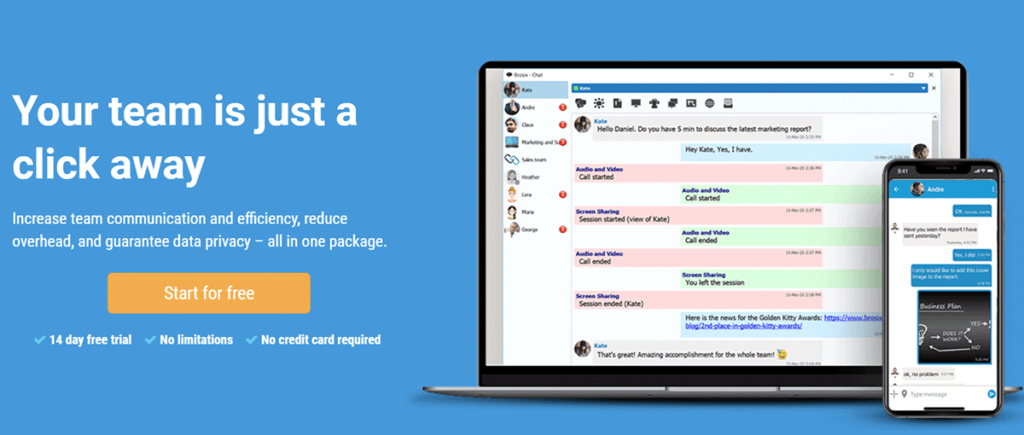 Brosix is a private instant messenger with security and efficient collaboration at its heart. Brosix gives teams full administrative control over their own private instant messaging networks. This helps teams stay focused and keeps their data secure.
Key features
Collaborate in a way that works for you with features like text, video, and audio chat, screen sharing, and remote desktop.
Set security levels for specific data on your network.
Transfer necessary files with no limit on file size.
Customize your Brosix with your company colors and logo.
Compatible with: Integrately
Pricing: Brosix has a free plan for small teams of up to 3 users. The paid plans start from USD $4/user/month.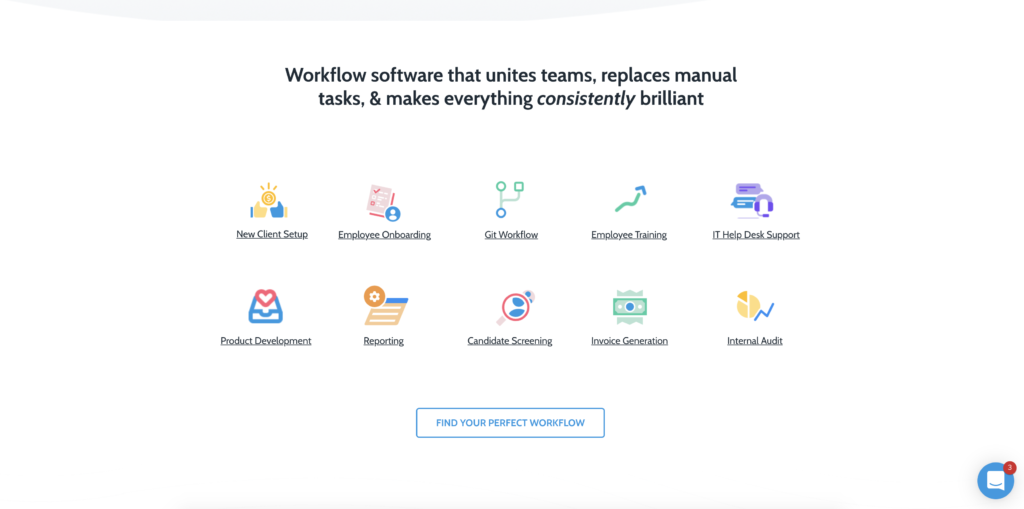 Process Street is the modern process management platform for teams. It's like driving with Google maps versus a paper map. Every team has recurring processes. You know, those things you have written down and stashed in random docs, people's heads, and that filing cabinet no one has a key for? Process Street transforms those processes into interactive, no-code workflows that are stored in a single, central location.
Key features
Capture and organize all of your operational knowledge and SOPs with Pages, which allow standalone documentation to live side-by-side with your interactive workflows.
Add the complete functionality of Process Street workflows to your Slack workspace with the Slack App and get more done with less effort!
Integrate your workflows with Salesforce, DocuSign, and others with Process Street's first-party integrations, plus thousands of additional apps through Zapier.
Build workflows with conditional logic to create branching pathways that allow your processes to stay dynamic, flexible, and adaptable – no matter what the situation.
Guest users allow you to keep your important data secure while collaborating with external colleagues. Guest users only see what you want when you want.
Compatible with: Slack, Zoom, Salesforce, Google Sheets, Jira, DocuSign
Pricing: Freemium version with access to all features, unlimited free team members, and up to 5 active workflow runs; $25 per user per month for the Pro plan; a custom Enterprise plan with personalized onboarding, training, and a dedicated Success Manager.
To-do list apps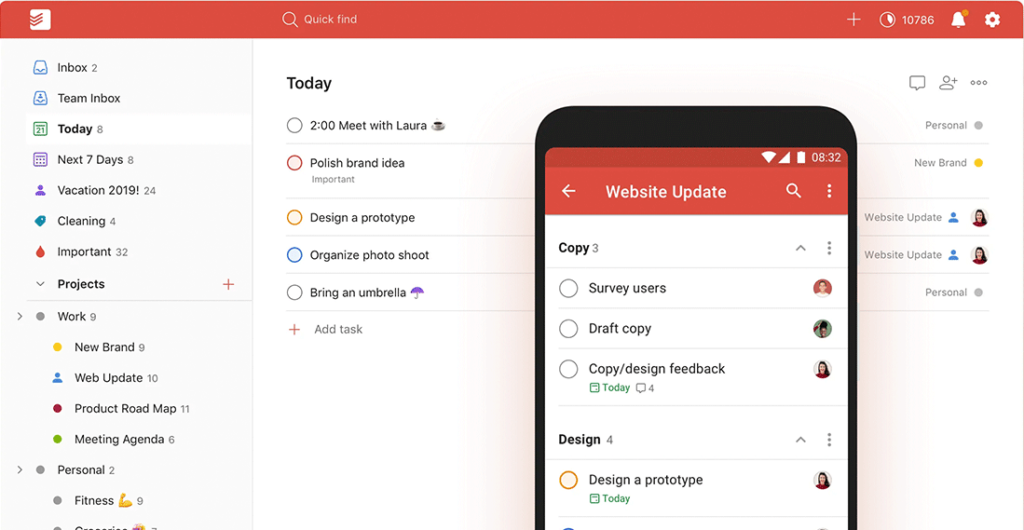 Todoist is an award-winning task management app that helps people stay on top of their deadlines and enhance their productivity. The product is flexible, easily customizable, and designed in a way that the users can categorize, sort, and prioritize to-dos in both their personal and work life.
Key features
Turn your emails into to-do tasks.
Copy and paste multiple lines of text into the app, which will be transofrmed into tasks.
Customize the swipe gestures for the app.
Sort and group the tasks based on the person assigned to do them.
Compatible with: Google Suite, Slack, Zapier, IFTTT
Pricing: There's a free plan for 5 active projects and paid plans start from USD $3/month (when billed annually).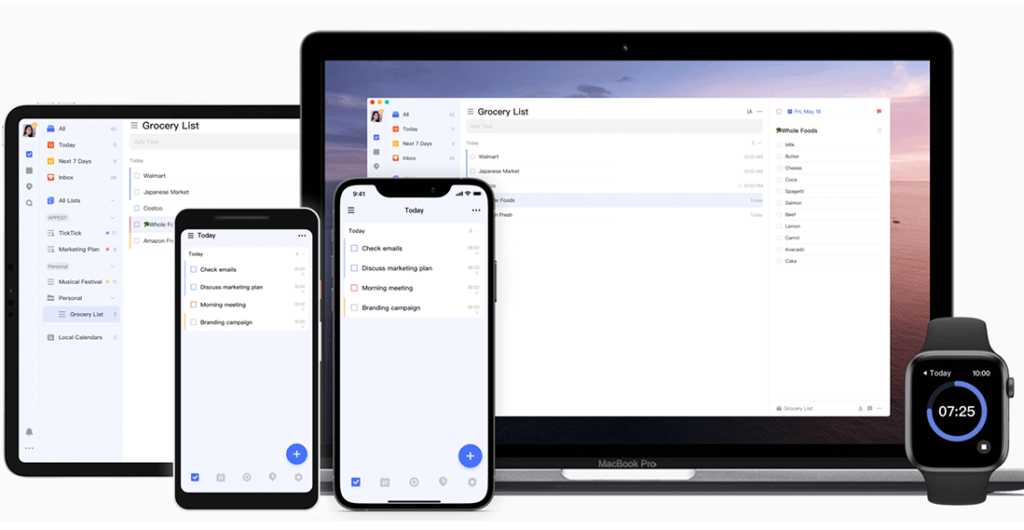 Get those tasks ticked off with TickTick! TickTick is a more simple checklist app that's easy to use for your run-of-the-mill to-do lists. It's a simple yet powerful product that allows you to set up and manage all your to-dos in one, easily accessible place.
TickTick has handy features like location-based reminder settings, voice inputs, and data sync across different platforms that help you stay on track.
Key features
Use voice input to create your to-do list.
Automatically create a reminder by assigning a due date to your task name.
Set up multiple reminders to avoid missing an important task.
Use the Pomo timer with white noise to help remove distractions.
Share and assign tasks to collaborate with others.
Compatible with: Zapier, Gmail, IFTTT, Spark, Amazon Alexa
Pricing: TickTick has a free basic plan, while the premium paid plan starts from USD $27.99/year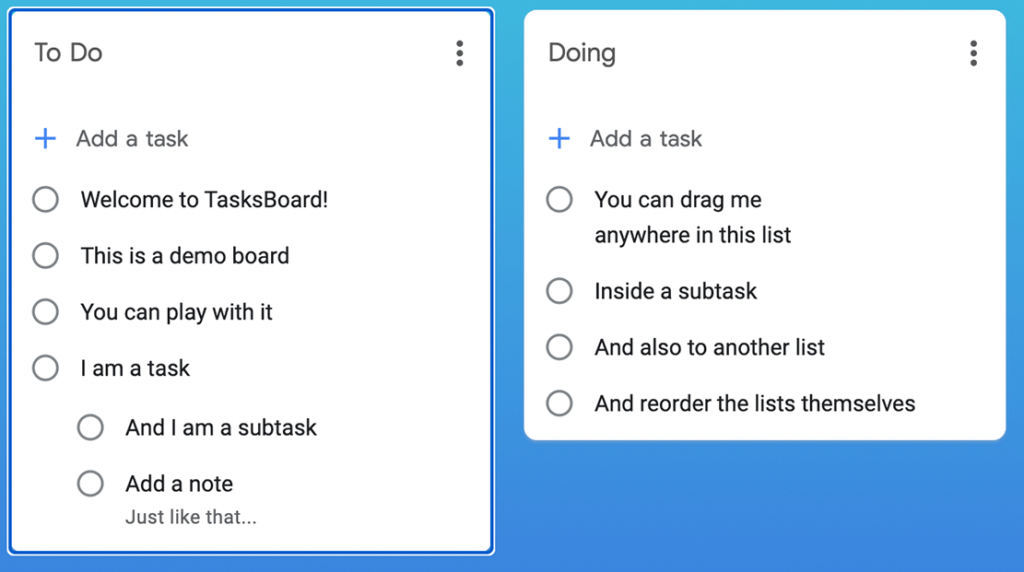 Google Tasks is one of the most robust apps for tracking tasks, reminders, and more. It is Google after all. With its easy-to-use design, users can create a to-do list within their Gmail or Google Tasks app. Especially if you're already a user of Google Suite, the app is easy to incorporate into your work routine.
Here's a comprehensive guide on how to leverage Google Tasks to organize your daily work.
Key features
Easily manage your to-do list without leaving Gmail.
Create lists for tracking to-dos based on priority or different projects.
Use the drag and drop options to add emails to your to-do list, reorder tasks, and check off completed ones.
Automatically sync your to-do list with Google Calendar, so it's easy to keep a tab on your upcoming tasks.
Compatible with: Google suite
Pricing: Google Tasks is free for all users.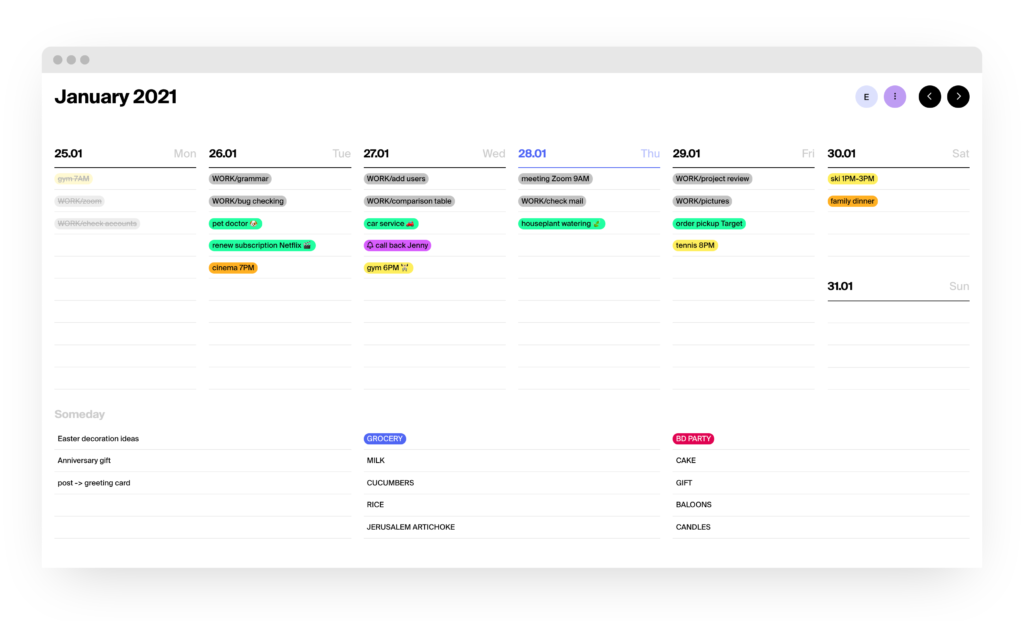 To enhance your productivity, Tweek is built around your weekly calendar view. It's one of the best view to organize your life and work without stress.
Key features
One account allows you to keep records in multiple calendars and share the calendars with different people.
Note down your thoughts with a rich-text editor or add subtasks and create checklists to facilitate your event planning.
Automate your routine by creating recurring tasks and set reminders which will be sent to you over email.
Plan your week and highlight the important stuff with colors or emoji stickers.
Go beyond online planning by using the ultimate printable to do list template .
Compatible with: Google Calendar
Pricing: There's a basic plan that's free, a premium plan that's USD $4/user/month and 2.83/user/month for annual subscription.
Project management Apps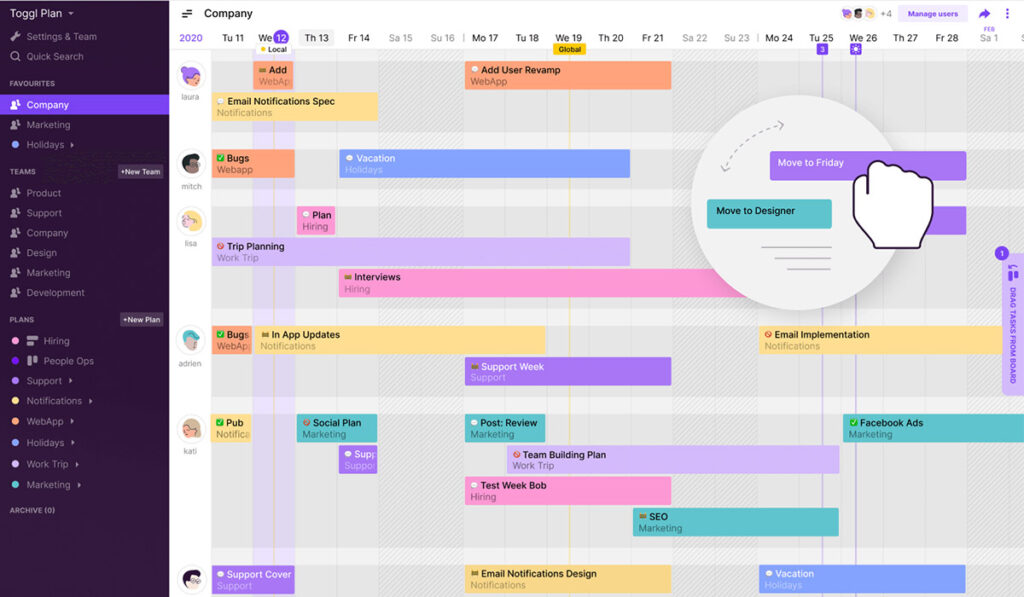 Managing a team project and keeping all the project info up to date can quickly become a chore.
That's where Toggl Plan can help. With its visual project timelines and task boards, you can plan track, and deliver work on time, without the last-minute rush. Best of all, its simple drag and drop interface makes it super easy for your team to stay on top of work and keep the project information up to date. With Toggl Plan's "Team timelines" you get a clear picture of who's doing what and when even across projects.

Key features
Visualize your team's capacity to take on new projects using Team timelines.
Manage and rebalance workloads within your team to avoid burnout.
Get tasks done with visual, Kanban task boards. Collaborate on tasks with file attachments and feedback comments. Improve task completion quality with task checklists.
Get started with almost zero onboarding, and keep project information up to date with even less time.
Compatible with: Toggl Track time tracking, Google Calendar, Slack
Pricing: Free plan for Solo users. Team plans start at $9/user/month with unlimited projects and tasks.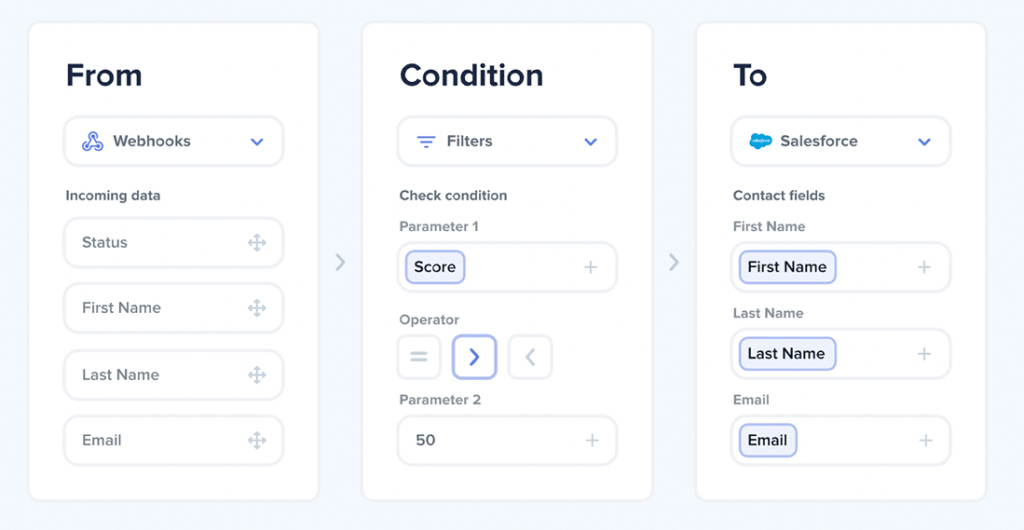 Wouldn't it be great to eliminate some of your more tedious work? Automate.io is a no-code integration platform that enables users to connect two or more web apps in a few minutes. Create workflows to automate your repetitive tasks and improve your teams' overall productivity.
Key features:
Build simple integrations or complex multi-step workflows using Automate.io's simple drag and drop editor. No IT help or coding is required.
Automate popular workflows in a jiffy with the pre-built bot remplates.
Collaboratively automate repetitive processes with Automate.io's team account.
Customize workflows the way you want with Automate.io's built-in tools: conditional logics, timer, math operations, and data formatter.
Compatible with: Gmail, Mailchimp, Slack, Trello, Salesforce, Typeform
Pricing: There's a free forever version, a personal plan for USD $9.99/month, a professional plan for USD $19.99/month, and more robust plans depending on your business size for up to USD $159/month.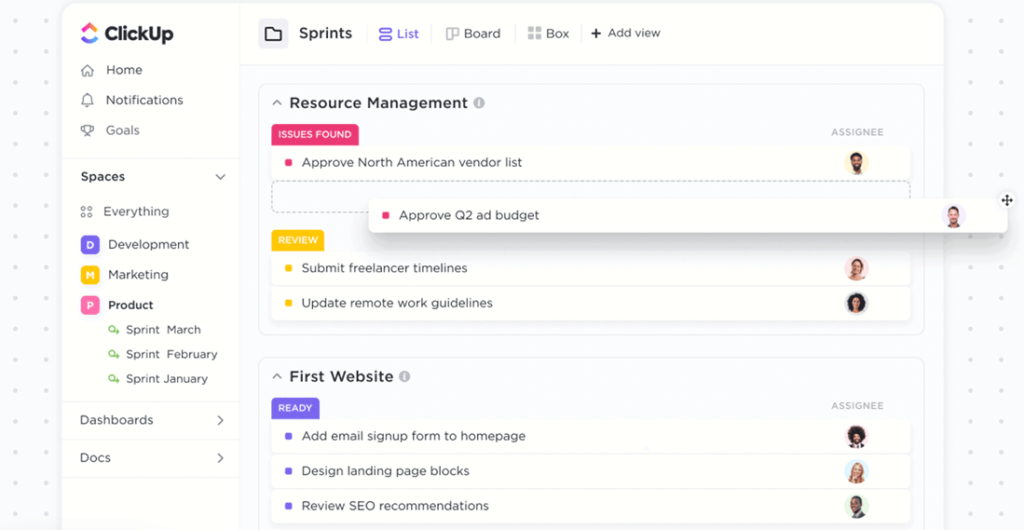 ClickUp makes information sharing and team collaboration easy and accessible to everyone — from both desktop and mobile. Plus, files are embedded within comments and task details so everything can be stored in the same place.
ClickUp combines your personal to-do lists and task lists with your team's schedule, where you can check the status of your projects, work, and comment on tasks.
Key features:
Easily switch from apps like Trello and Asana to ClickUp with their 1-click import.
Visualise your work in a way that works for you with 15+ viewing options.
Put repetitive taks on auto-pilot.
Stay aligned with your team through the Workload and Goals management feature.
Compatible with: Slack, Microsoft Teams, GitHub, Clockify, Box, Google Calendar
Pricing: Free plan until 100MB storage, paid plans start from USD $5/user/month with unlimited storage.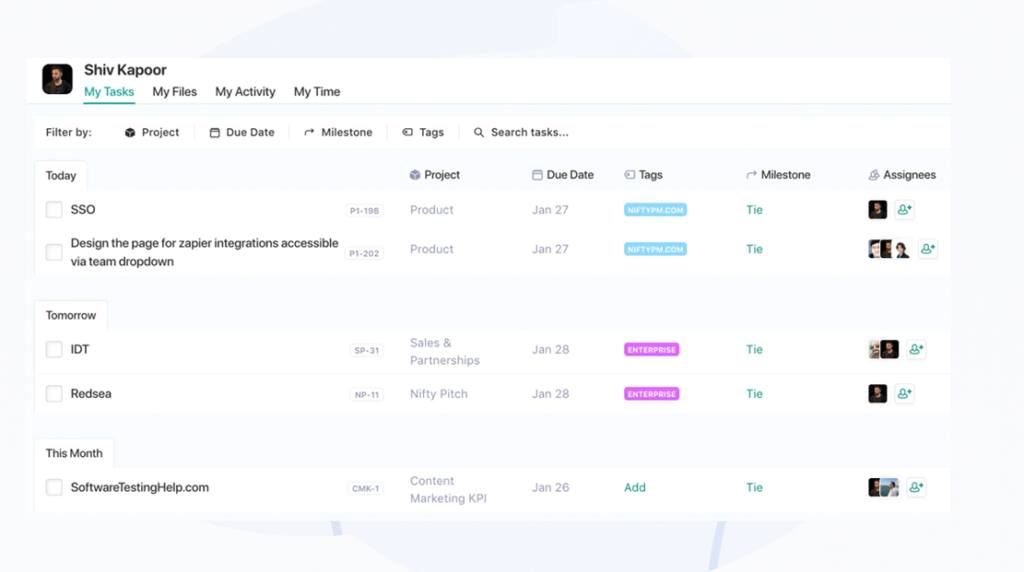 Nifty is a modern task management product that reduces project development cycles and improves team productivity. It combines all the features of task management into one software. The result is milestone-driven progress that helps keep your teams inspired, while ensuring that the organizational goals remain on schedule.
Key features
Transform team discussions into actionable tasks.
Get a real-time picture of your project's progress with the milestone feature.
Organize projects better with the Project Home and Portfolios feature.
Compatible with: Asana, Trello, ClickUp, Jira, Zoom, Gmail
Pricing: Nifty has a 14-day free trial. The paid plans start from USD $39/month for up to 10 team members (when billed annually).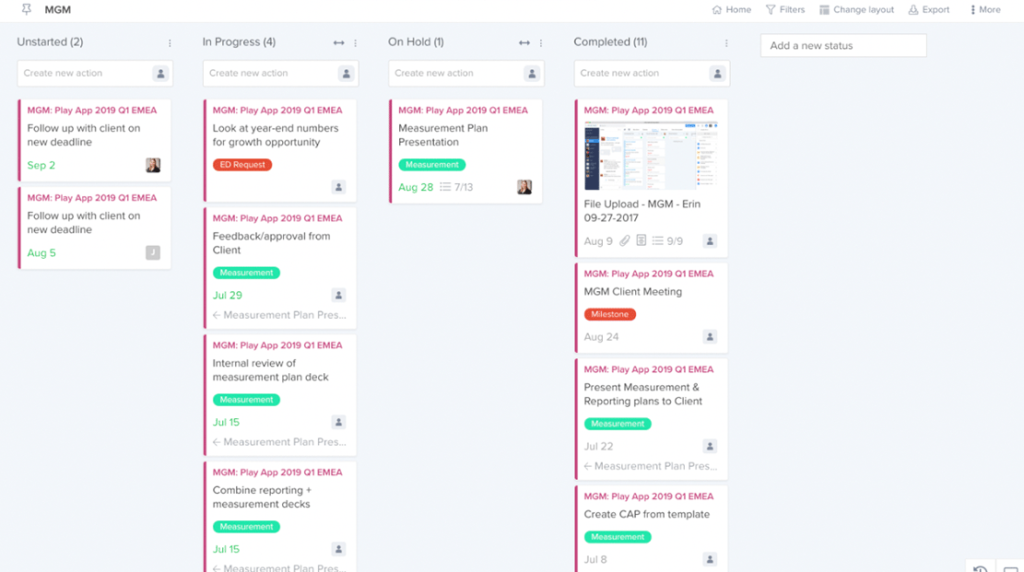 Similar to Nifty, Hive is a commonly-used task management tool that helps teams work faster. Hive brings all your workplace tools into one dashboard. So you can manage your projects, chat with colleagues, send emails and conduct Zoom calls all in one place.
Key features
Message team members in real-time using Hive chat.
Collaborate better with your team with a shared inbox.
Eliminate repetitive tasks with workflow automation.
Project more accurate timelines and stay tuned into potential rirsks with the app's AI that alerts the team of project risks.
Compatible with: Outlook, Google Calendar, Salesforce, Okta, Slack, Microsoft
Pricing: Hive has a free forever version for individuals and small teams. Their team plan is USD $16/user/month (or $12 when billed annually). You can try Hive for a 14-day free trial.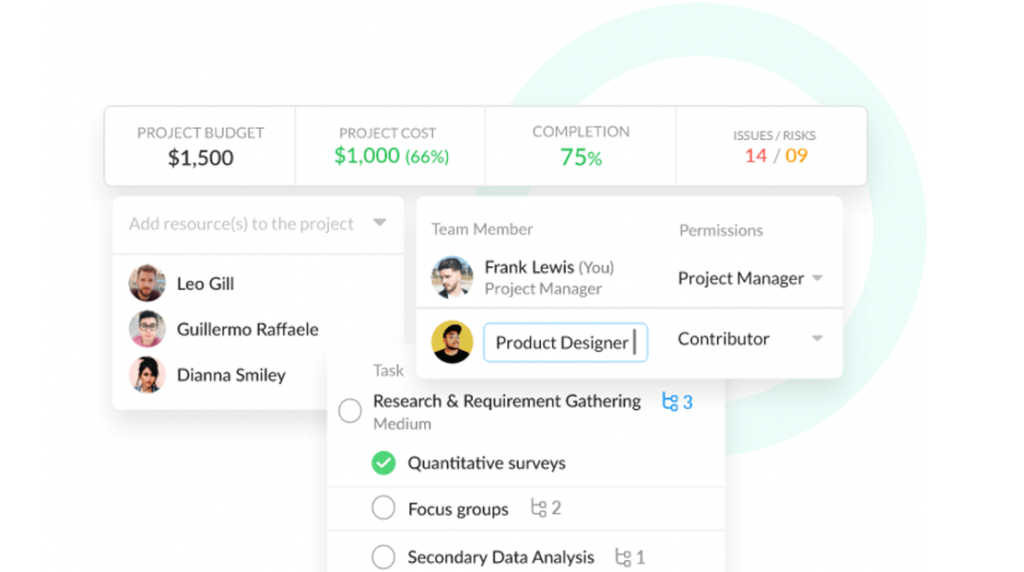 nTask is a cloud-based platform for task management. The tool is used widely by small teams and solopreneurs to get them organized. One reason for the tool being so popular is the forever free version for individuals and teams up to 5 people.
Key features
Built-in time-tracking features allow employees to submit and withdraw timesheets, while managers can approve them in a click.
Streamline product releases with bug and issue tracking.
Manage risks to ensure succesful project deliveries with nTask's risk management features.
Compatible with: Google Calendar, Outlook, Zoom, Slack, Harvest, Dropbox
Pricing: nTask is Free for up to 5 users, and the paid plans start from USD $3.99/user/month.
Time management and tracking apps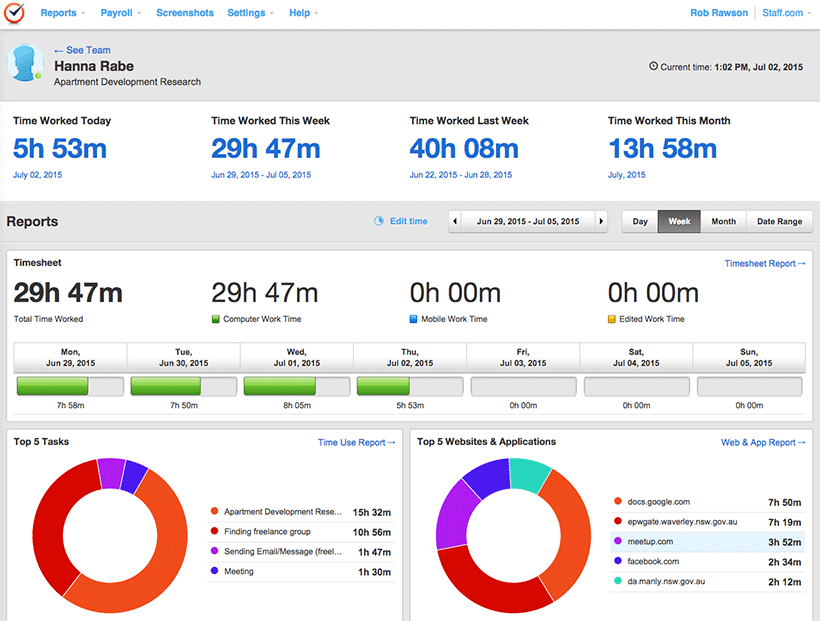 Time Doctor is a top time tracking tool for both teams and individuals. It's a simple-to-use app that provides time tracking, smart reminders, screenshot recording, invoicing, reporting tools, integrations, and more to help your business be more productive and organized.
Key features:
Enterprise-level security compliance.
Set up alerts to remind yourself and your team to stay off social media.
Customize the app to your preferences. You can disable or enable any feature you like.
Compatible with: Basecamp, Asana, Jira, Evernote, Google Suite
Pricing: TimeDoctor offers a 14-day free trial. The paid plans start from USD $10/user/month.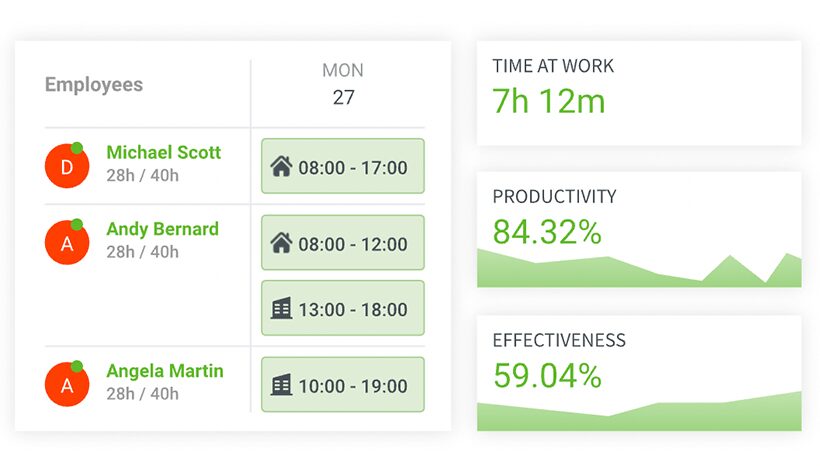 DeskTime is a time tracking software that's filled with practical tools for productivity measurement, attendance tracking, and effective workflow management. While this app has many of the same capabilities as Time Doctor, the main difference is that DeskTime can analyze team productivity as well as time tracking.
Key features:
Track projects and calculate costs for accurate billing.
Track attendance with absence calendars and schedule shifts with ease.
Use the private time option to disable tracking for employees to get some personal work done during office hours.
Create smart data reports to get a better pulse check on team productivity.
Compatible with: Google Calendar, Outlook, Asana, Trello, GitLab, Zapier
Pricing: DeskTime has a limited free plan for one user. The paid plans start from USD $7/user/month and cost up to USD $14/user/month.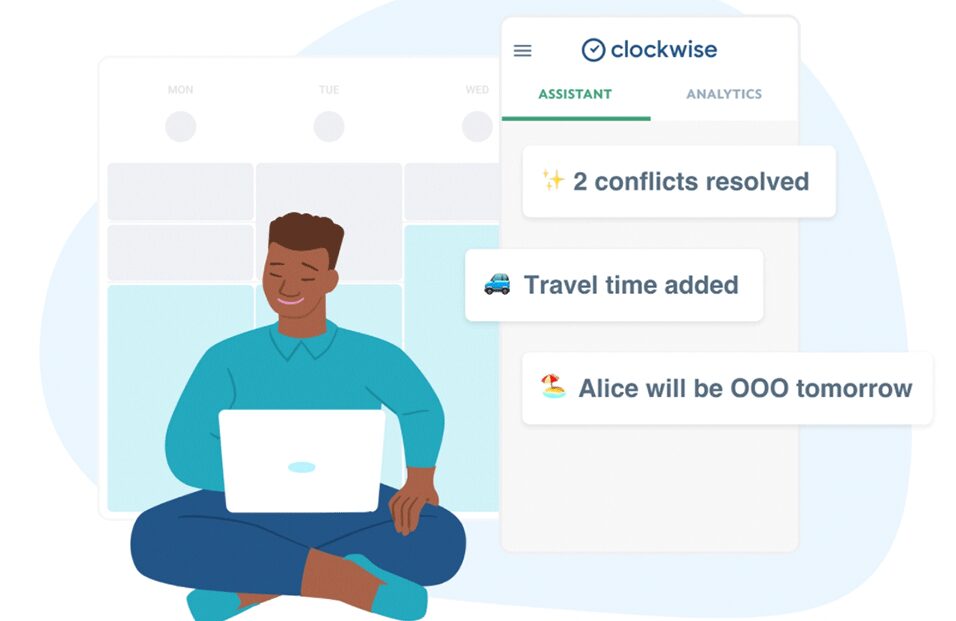 Clockwise is a calendar assistant that helps you organize your day better. It optimizes your schedule for focus time so you don't have awkward short breaks between meetings. When your whole team uses it, the app will find a time that works best for everyone's schedules and will automatically reschedule conflicting meetings.
Key features:
Set your preferences for how you work best. For example, if you're a morning person, Clockwise will carve out focus time in the morning.
Integrate the app with Slack so your messgae notifications get turned off when you're in a meeting.
Set your work hours so people know when they can and can't book time in your calendar.
Compatible with: Slack, Asana, Zoom
Pricing: Clockwise has a free forever plan, a $10 USD pro plan for small teams of 5-50 people and a business plan for large teams of over 50 people.
Scheduling apps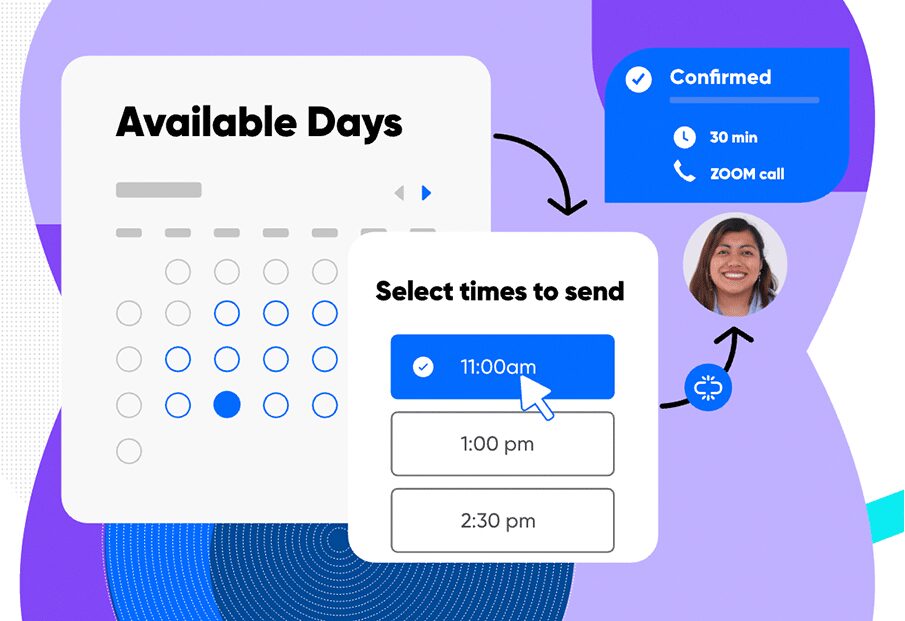 We've all been there: you're trying to book a meeting with someone outside of your organization. But, not having visibility into their calendar results in endless back and forth to find a time that'll work. Calendly is a great solution. It easily integrates with your Google or MS Office 365 calendar. Then, when you're trying to schedule a meeting you can share your personalized Calendly link so people can view your availability and schedule meetings.
Key features:
Allows you to connect all your calendars, so you're never double-booked.
Accept payments when someone books a time with you, if needed.
Automatically send a meeting invite and reminder to your invitee for the time they book.
Compatible with: Zoom, Teams, Zapier, Salesforce, Stripe, PayPal
Pricing: Calendly has a free basic plan. The paid plans start from USD $8/user/month.

Doodle is one of the world's leading enterprise scheduling platforms. It helps companies instantly set meetings with their clients, colleagues, and internal teams. Unlike Calendly, Doodle is especially helpful when you're trying to organize a meeting with more than two people. It allows everyone to indicate their availability to find a time that works for the group, no matter the time zone or physical location.
Key features:
Simplify scheduling your 1:1 and group meetings with unique smart AI scheduling.
Set your unique availibility and automatically set up meetings with the bookable calendar.
Auto identify guest time zones to avoid meetings being rescheduled at the last minute.
Compatible with: Zoom, Google Calendar, Zoom, Google Meet, Office 365, Outlook, and Microsoft Exchange Online.
Pricing: Doodle has a 14-day free trial, and the paid plans start from USD $6.95/user/month.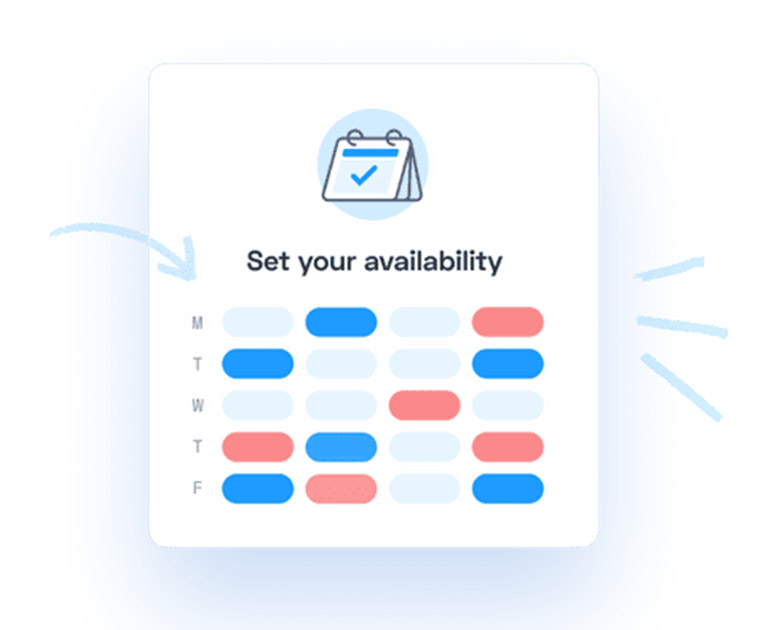 Email ping pong isn't a fun game. Appointlet allows you to manage your availability and schedule meetings with one easy link. From simple design and an easy-to-use interface to tons of integrations and everything in-between, you'll undoubtedly find Appointlet to be a platform you'll depend on for all your appointment scheduling and management.
Key Features:
Advanced automation to automate nearly every aspect of your appointment setting.
Easy meeting rescheduling with a few clicks of a button.
Custom intake forms to get all of the information you need prior to a meeting.
Compatible with: Zoom, Google Meet, Microsoft Teams, GoToMeeting, Google Calendar, Office 365, PayPal, Stripe, Square, Zapier, and more.
Pricing: Appointlet has a forever-free plan and a plan for $8 per month for Appointlet's full suite of features.
Budgeting apps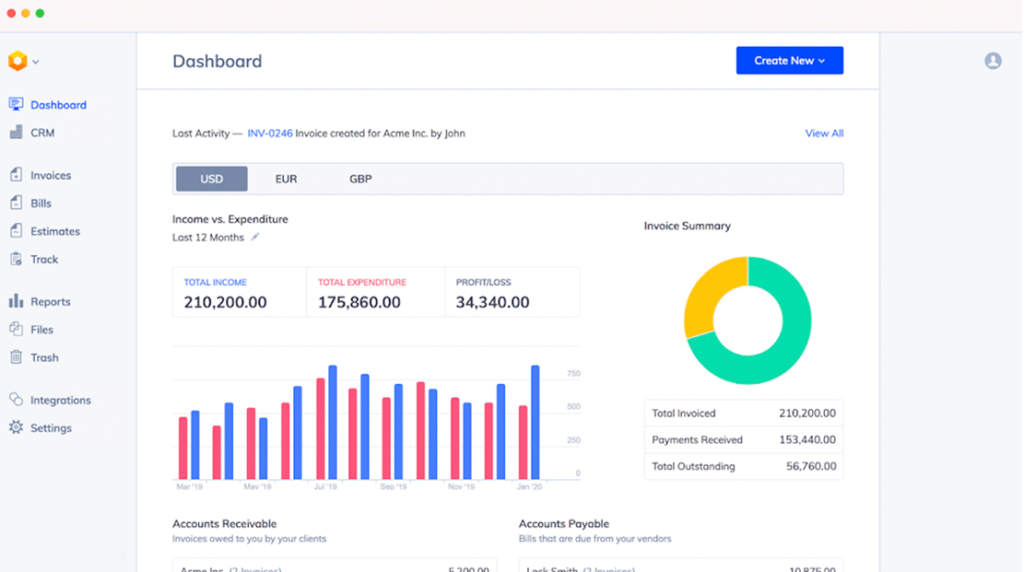 Hiveage is a digital invoicing and payments app that allows you to do everything from creating invoices to tracking expenses to tracking time. The app is especially great for teams, as it allows you to grant different levels of access to your employees and delegate billing tasks to your team with one login.
Key features:
Supports recurring and subscription billing, time and expense tracking and detailed financial reporting.
Flexibility in functions and pricing to scale with your growing business needs.
Easily import and export data and recieve personal assistance for data migration.
Compatible with: PayPal, Stripe, Coinbase, Authorize.net
Pricing: Hiveage has a free plan for up to 5 clients, while paid plans start from USD $16/month.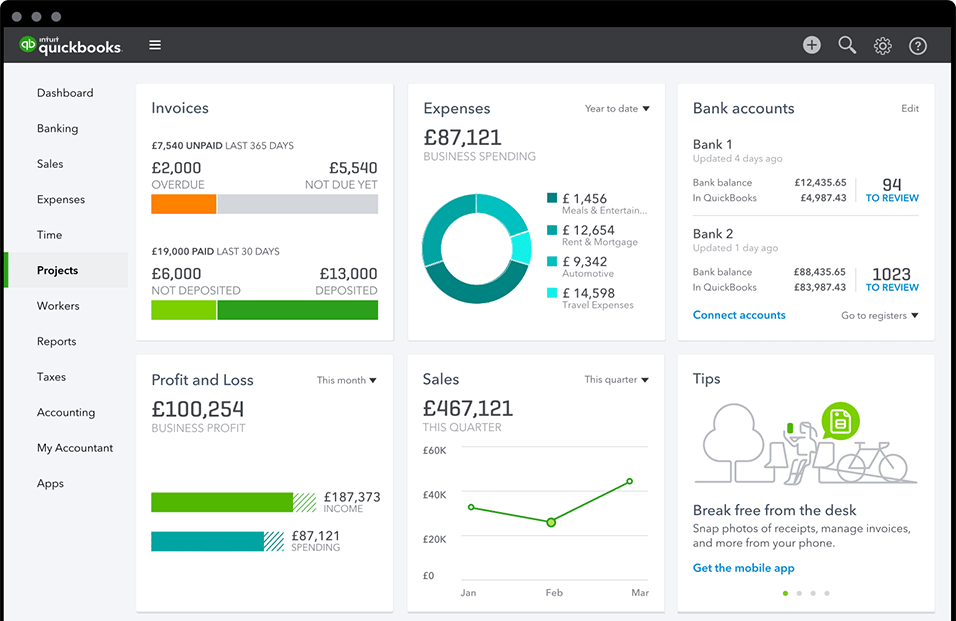 Invoices and budgeting can get out of hand quickly. Quickbooks helps you keep all your financials in one place so that nothing falls through the cracks.
Key Features:
Keep track of your team's expenses and ensure they get reimbursed on time.
Don't lose site of incoming or outgoing invoices by keeping it all in one place.
Create invoices directly in the app.
Get reminders when payments are due.
Compatible with: Dext, Plooto, Expensify, Fathom
Pricing: USD $20/month for the starter pack, USD $40/month for the Essentials plan and USD $60/month for Plus. For the first 3 months, get 50% off any plan.
Moving forward with productivity apps
As a manager, you have to wear multiple hats. Using productivity tools can not just save you time but also keep your team organized and working smoothly. Whether you're looking to make a payment or collaborate more effectively with your team — start with the productivity apps that will help your team flourish.