Communication
Updated Nov 11, 2021
How to talk about career development with your team
[wtr-time]
Career development and growth are key to employee performance and retention, but aren't always the first item on meeting agendas. Here's how to bring up conversations around growth in your one-on-ones.
Shannon Maloney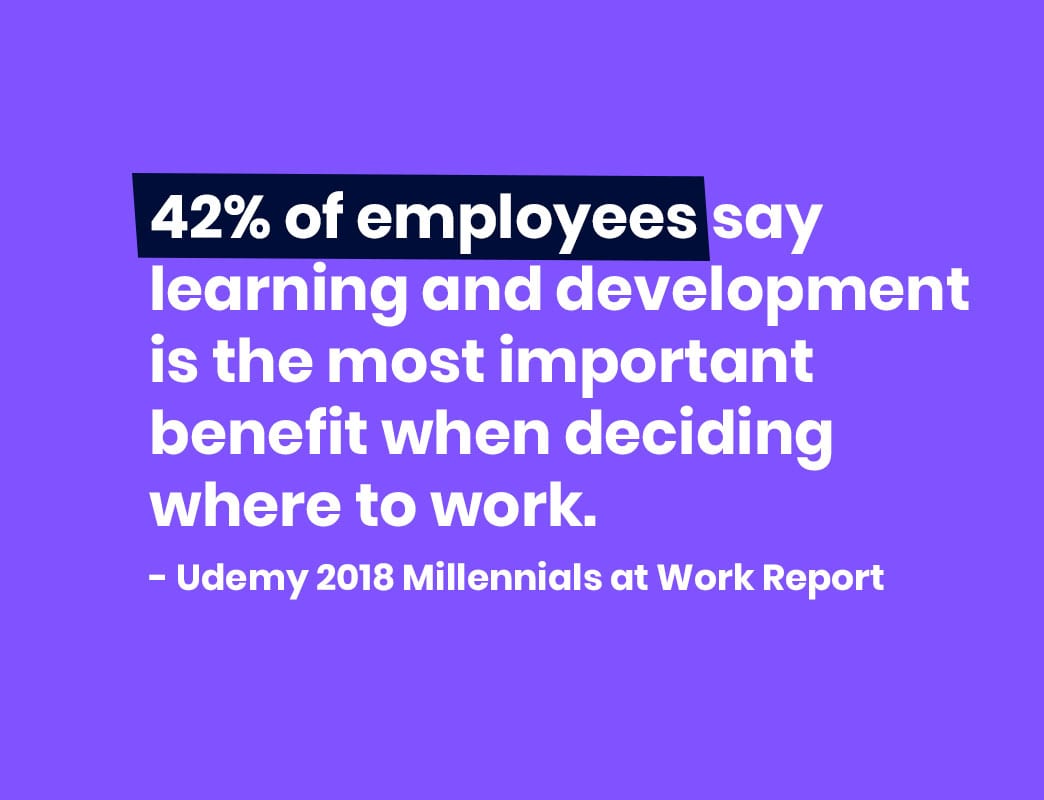 According to Udemy's 2018 Millennials At Work Research Report, 42% of employees say learning and development is the most important benefit when deciding where to work.
One-on-ones are the biggest opportunity to talk about career development with your team. If you're not discussing learning and development in your one-on-ones, now is the time to start. Here are 5 different things you can do right now to start facilitating conversations around career development.
Ask directly, "What are your career goals?"
The simplest way to jump-start conversations around career development is to ask. "What does your career look like in 1 year, 5 years, 10 years?" Preface the conversation by saying, "It's okay if your career goals aren't necessarily aligned with the scope of your current role or field." You don't want your team to feel like they have to limit their responses to a perceived career track within your given company. Having this initial conversation will help unearth different opportunities to present for learning and development both inside and outside of the company.
Share your perspective, give feedback
As a manager, you're likely to have some experience in the field that your report wants to grow in. Share your experience. Give your expert opinion (if you're qualified to do so). If you're VP of Sales and your report wants to be a VP of Sales in the next 10 years, share the journey that you took to get there. Offer advice you wish you knew when you started your career. If you're the CEO of a startup and your report hopes to one day found their own startup? Give feedback on your ups and downs on the road to startup success.
Present internal and external learning opportunities
Different skillsets will have various learning and development opportunities and most forward-thinking companies will have budget reserved for these types of growth. It's the manager's role to make sure that they're available and pursued by their team members. These opportunities might include:
Conferences
Networking events
Small group trainings
One-on-one coaching
Online courses, e-learning
Books, reading materials
Make it a recurring topic of every one-on-one meeting to discuss what current and upcoming opportunities either you or the company can facilitate for learning in their space.
Provide a growth framework
Small businesses and startups often make the mistake of thinking, "We're too small for a career framework." And it ends up getting pushed out as a priority until you have top talent threatening to leave without it. No matter what the size of your company, you should always have (or be working towards building) a growth framework. A growth framework, or career framework, outlines skills and criteria for progressing within an organization. Not all roads need to lead to management either. Take it from Buffer, an entirely remote company, that offers two paths for development: Maker and Manager.

Facilitate mentorships
According to Deloitte's 2016 study of Millennials in the workplace, having a mentor is strongly correlated to employee retention.
Being an individual's manager does not mean you're automatically their mentor. Managers might be mentors, but the two aren't mutually exclusive.
While you might not necessarily be the mentor to your direct report, managers have the responsibility of helping facilitate and unearth mentorship opportunities for their reports. This means drawing from internal resources and using your external networks to make connections.