Management Skills
Posted Dec 23, 2019
5 lessons from season 2 of the People Leading People Podcast
[wtr-time]
In season 2, we asked our speakers to go in-depth into particular topics like remote management, psychological safety and leadership styles. These are the biggest lessons we've learned this season.
Hiba Amin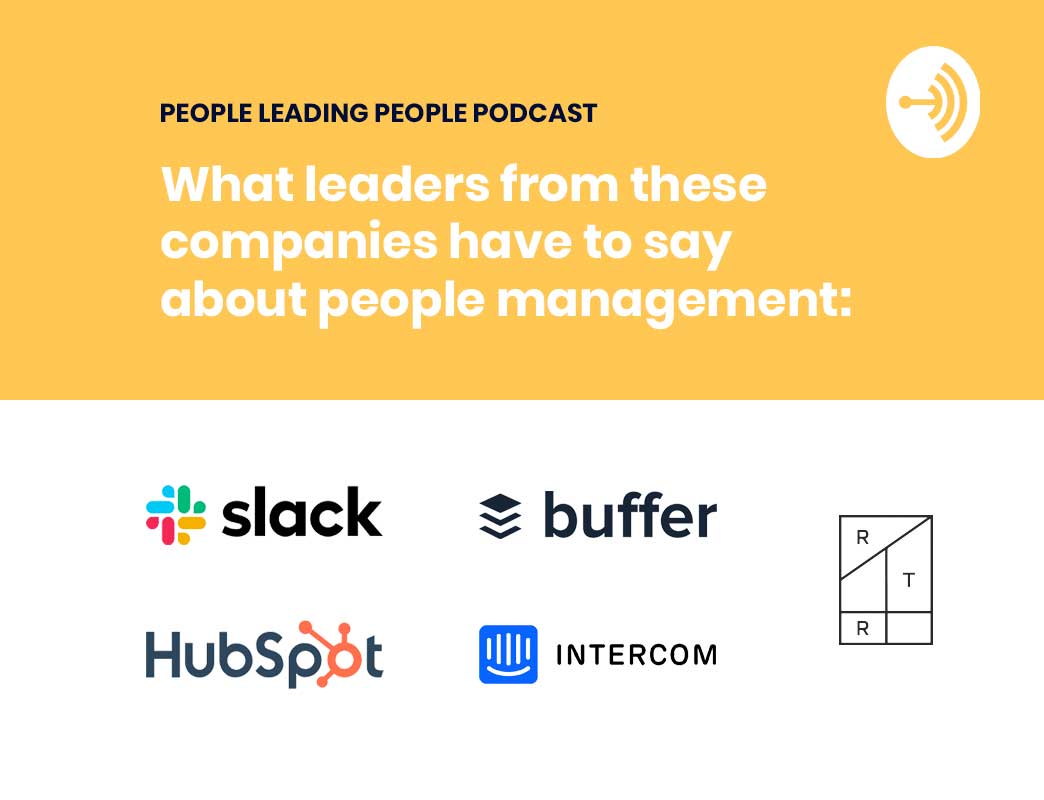 We can hardly believe that only a few weeks ago we released our second season of the People Leading People podcast! When we started the podcast, we didn't want to be just "another business podcast" with general management and fluffy leadership advice.
We wanted to talk to real leaders about their real struggles and successes building their teams and companies. We did just that.
This season we brought on 5 amazing leaders to go as deep as they could on a particular topic so that they never had to talk about it again. Speakers include:
Jump to a specific lesson 👇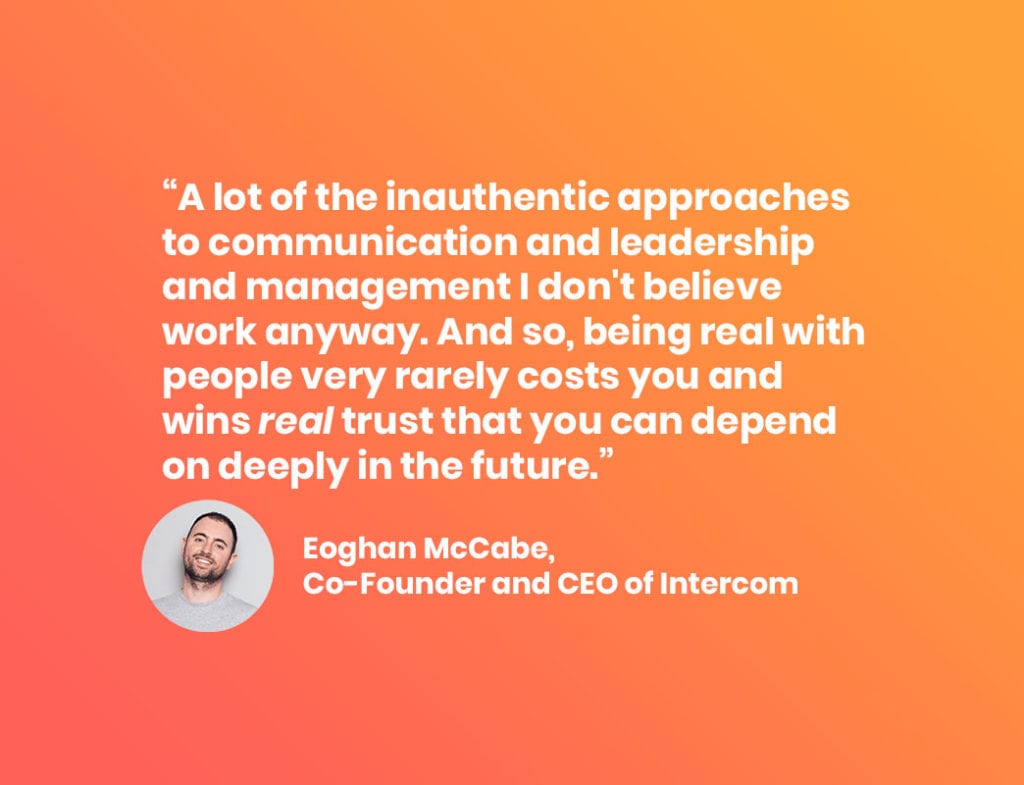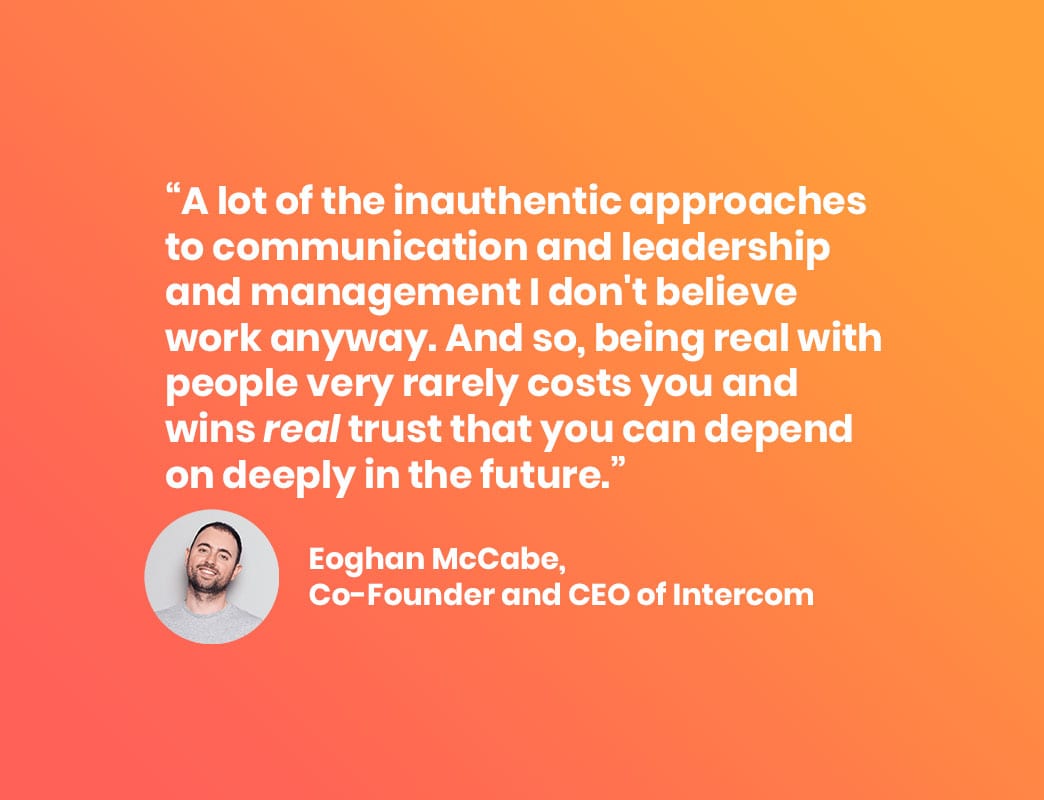 Lesson #1: Find your authentic leadership style
In episode 1, we sat down with Eoghan McCabe to discuss how leaders can find their authentic leadership style. Eoghan found himself playing the part of CEO at Intercom at several different stages of the company (from 1 employee to now 800+ employees). What was expected from him at every stage of growth, and how he should act changed drastically the more the company grew.
As a self-proclaimed technology and electronics nerd, it can sometimes be hard to be your true authentic self, while trying to fit the mold into how people expect a CEO to act. McCabe puts it best:
To give you an example, Eoghan describes his authentic leadership style as:
So the lesson here: It's okay when your authentic self doesn't fit exactly into the mold of what a leader is. All that's important is that you try to be a good leader and that you're staying true to yourself in the process (unless you're a mean person; don't be mean to your colleagues).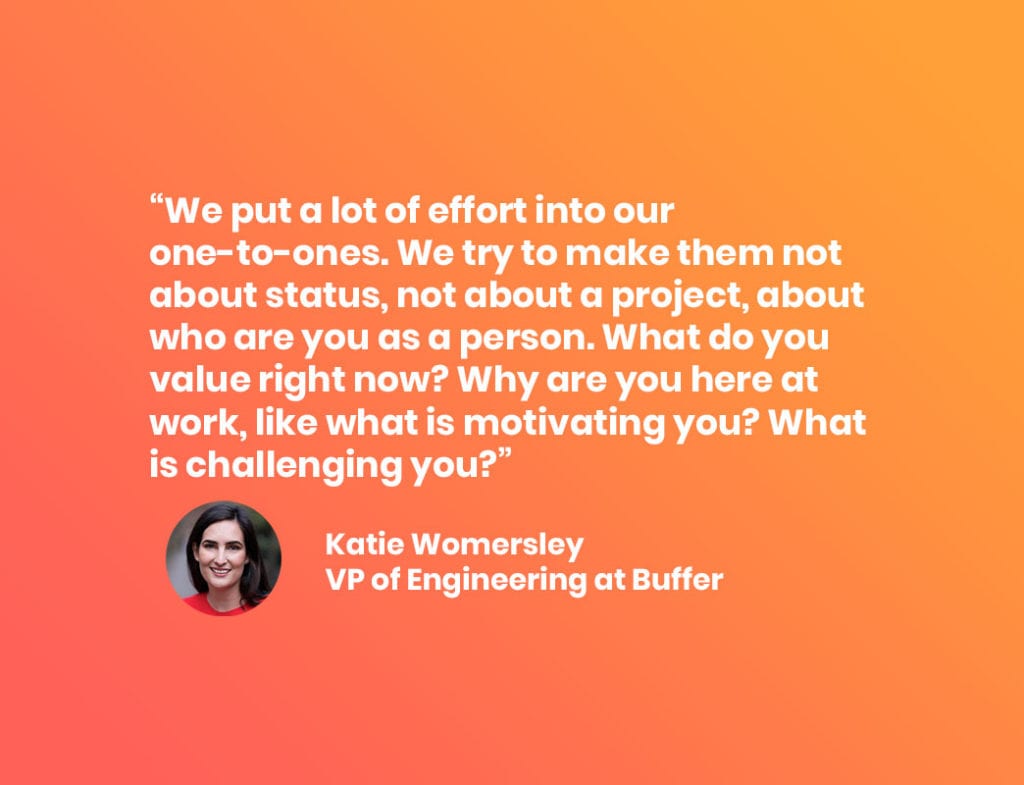 Lesson #2: Communication is your job
In Episode 2, we sat down with Katie Womersley of Buffer to discuss how she manages an entirely remote team. Katie was an ideal person to discuss this with considering that Buffer is 100% remote. When she first started at Buffer, Katie was a software engineer. Over the years, she moved up in the organization to where she is today, VP of Engineering.
The transition from individual contributor to manager can be extremely tough. For a lot of managers, at least on smaller teams, your job is likely a mix of individual-contributor type work, as well as management-specific work. Regardless of your team's size, as a new or tenured manager, you may feel obligated to do things like write code or content, design things, etc. But in reality, your job is to communicate with your team.
We asked Katie: If you were to go back in time and give yourself one piece of advice on how to be a better remote employee, what would you tell yourself? Here's what she had to say: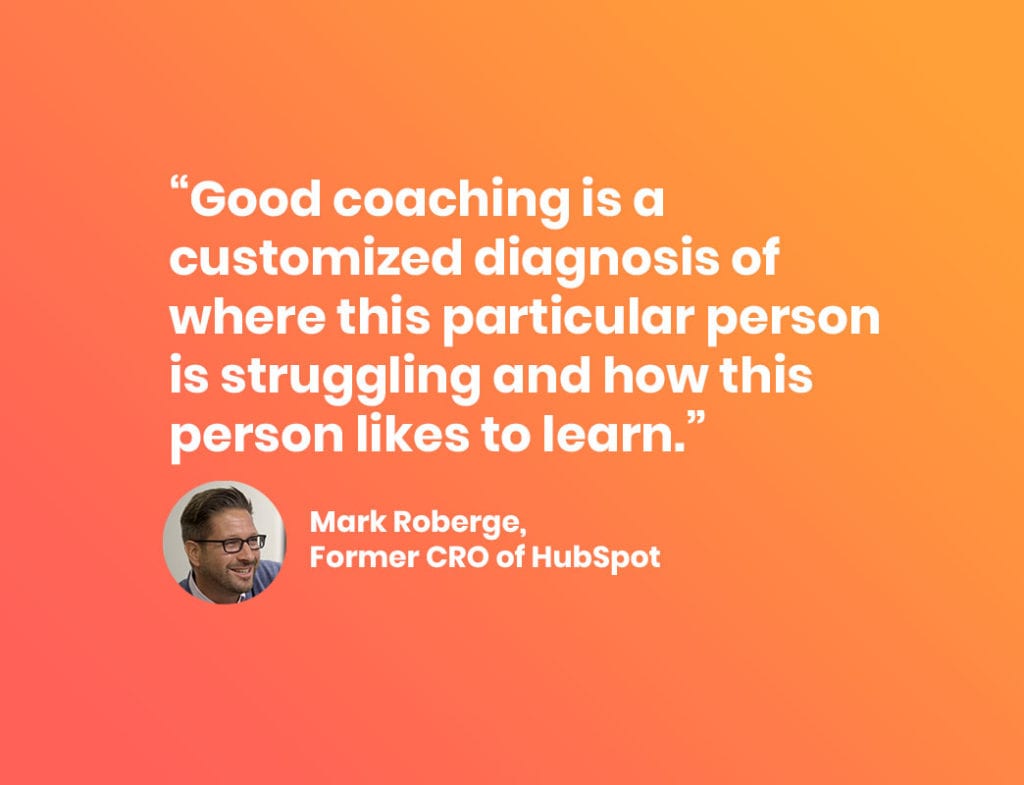 Lesson #3: Sales managers should focus on hiring and coaching
For many sales teams (excluding full-cycle sales reps), the very high-level sales process is:
BDR/SDR calls prospects and books demos
Account executives run demos and close deals
Sales managers "oversee" everything (you'll see why it's in quotes in a second)
However, when we spoke with Mark Roberge, former CRO of HubSpot, in episode 3, his view on the matter was more along the lines of this being an unscalable way to run a sales team. He saw that the role of the sales manager was unscalable and the jobs/tasks that they were doing were either detrimental to their team's productivity and success, or could be easily automated.
To the first point of being detrimental to the team's productivity and success, Roberge saw that rather than coaching the team, sales managers were essentially doing the job for the reps. They would go to the meetings, run them and it just wasn't helpful to the reps or the organization.
He also said that,
So what's the lesson for sales leaders? Mark shared his two-cents: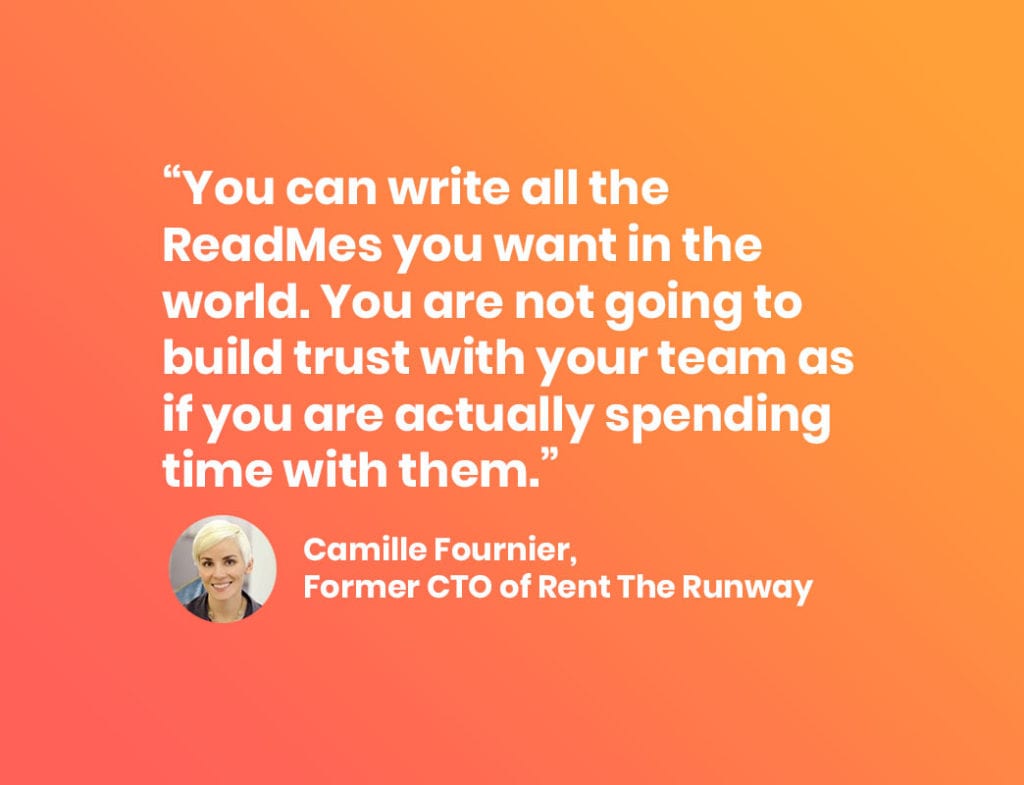 Lesson #4: Manager READMEs can be helpful, but only when done right
In episode 4, we sat down with Camille Fournier, former CTO of Rent the Runway to discuss her stance on manager READMEs. This document, also known as a "How I like to work doc", is something that managers create and share with their direct reports, covering things like their work hours, personality traits, quirks and more.
While this can be a powerful tool for self-reflection and rapidly onboarding new direct reports, when misused they can seriously damage the relationship between managers and their team. Camille puts it best:
When it comes to Manager READMEs, they're only helpful when you do them right, and more importantly to do it honestly. When you finish creating a README, it doesn't necessarily mean that you have to share it with your team. You can try sharing it with another manager and get their feedback. You can also choose to not share it at all and use it as a personal exercise for self-reflection and goal-setting.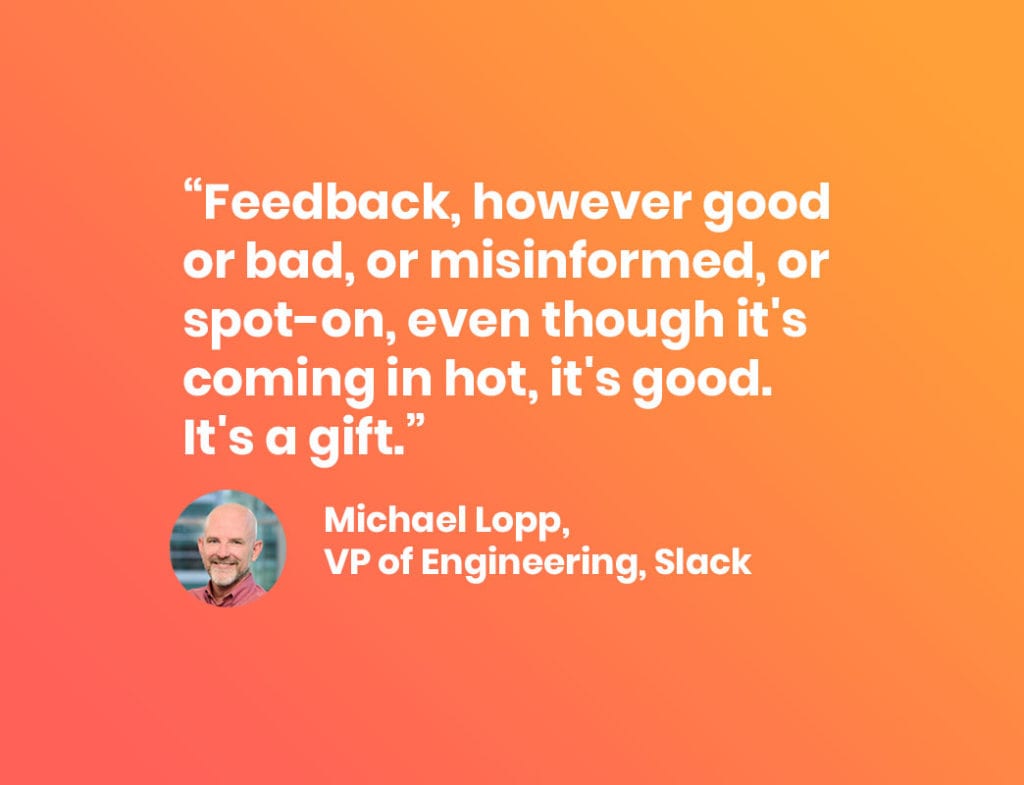 Lesson #5: The importance of psychological safety on a team
In the final episode this season, we sat down with Michael Lopp, Former VP of Product Engineering at Slack to discuss not only the importance of fostering a culture of psychological safety on your team but how to do it as well.
When psychological safety is high, people tend to feel more comfortable to be their true selves. They'll open up more about ideas, feedback and generally be happier (which often leads to higher productivity).
But as a manager psychological safety can be hard to foster. In this episode, Michael Lopp shares what he's learned from his time at Apple, Pinterest, and Slack when it comes to sharing hard feedback with your team while maintaining an environment where people feel safe enough to say, "No."
What we've learned from Michael is that… Yes, you may be the boss and you may have experience and context into certain decisions. But you've hired a team of people that you trust and that you feel are (at the bare minimum) competent enough to do the job, and do it well. So, creating a space where people feel comfortable challenging decisions is great because it allows the team to have the necessary conversations and perspectives that it needs to achieve greatness. The language that you use should never be "I'm the boss and what I say goes." But rather, "here's the context that I have and why the idea we're moving forward with is what's best for the team and the organization."
---
Check out all of our episodes 👇