Productive Meetings
Posted Sep 19, 2019
How Venngage does one-on-one meetings
[wtr-time]
Content Marketing Lead of Venngage, Sara McGuire shares how she approaches one-on-one meetings, her challenges, strategies and advice.
Hiba Amin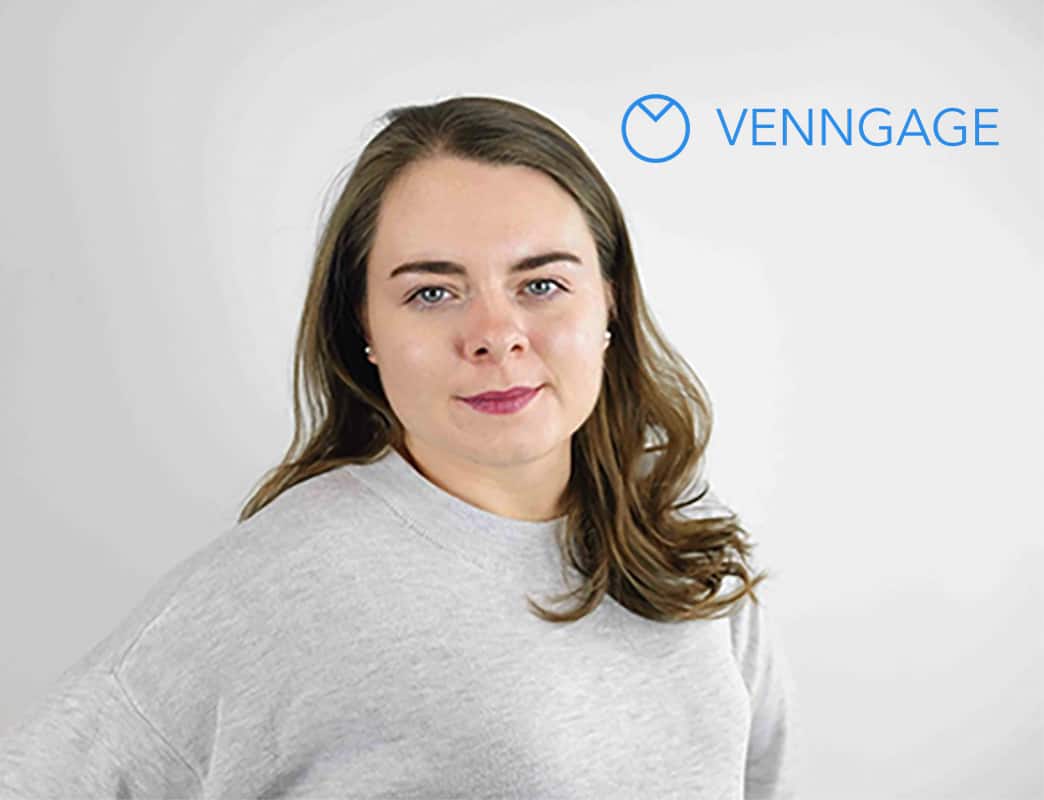 We recently sat down with Sara McGuire, the Content Marketing Lead at Venngage to talk about one-on-one meetings: How to prepare, what makes a one-on-one successful and more!
For those who don't know, Venngage is a free and simple infographic maker that enables people to create beautiful infographics without the design know-how.
A little about Sara
First-time manager 💪
Number of direct reports: 4 🙌
Where they work: Onsite 🏢
One-on-one meeting frequency: 30 minutes every week ⏰
Let's dive in!
---
Why do you have one-on-one meetings?
I have one-on-one meetings to touch base with my direct reports. It's a great opportunity for us to discuss any roadblocks, concerns or feedback as they arise. As their manager, it's my job to eliminate roadblocks that come their way, so having a dedicated time in the week to discuss and understand this is extremely important.
On top of that, I find that one-on-one meetings are a great opportunity to do mini-coaching sessions on a regular basis. So, if someone wants to learn more about things like keyword planning or SEO, it's a great time for them to have that dedicated time in the week to further build on their skills.
How do you prepare for your one-on-ones?
Before my one-on-ones, I take some time to look at the projects that my team is working on. I try to come prepared to address any potential blockers they might encounter. If a new team member is working on something they haven't before, I do my best to answer any questions they have and set them on the right path.
Prior to every meeting, I also spend time looking at notes from past meetings to see if there were any action items discussed previously so that I know what I need to complete before the meeting. Looking at past meetings also ensures that I bring these conversations up again during our next one-on-one in the form of a follow-up discussion, depending on the item.
I believe that maintaining a sense of continuity from week to week is extremely important and that goes for how I prepare for one-on-ones and the format of the meeting as well. Having a sense of continuity helps my direct reports prepare better for each meeting as well.
Do you use a meeting agenda? Who owns it?
Leading up to our one-on-one meeting, my direct reports and I list any topics of discussion that we want to cover. However, we don't follow a strict agenda. I prefer to approach this time as a conversation. So to answer the second part, we both own the meeting agenda.
What are your go-to one-on-one questions?
It really depends on the direct report that I'm meeting with. However, a couple of my favourites are:
What motivates you?
Is there anything that's puzzling you?
I like asking "What motivates you?" because their answers will give me some insight into how I can keep my team engaged, and how I can structure the feedback I give them. It also helps guide our project planning, since I can try to put each person on a project that I think will interest them.
For the second question, I think it's important for my team to feel comfortable opening up about things that may be confusing or blocking them. That way, we can try and arrive at a solution collaboratively. Some managers will say things like, "Don't bring me problems, bring me solutions," but I think that in itself can be a blocker. I think it's important to be able to look for solutions as a team.
What do you do to help your employees open up?
Patience is important. I strongly believe that managers should give people the time that they need to formulate answers to any questions you have. I also let my direct reports know that our one-on-one is their time to ask any questions that they're nervous to ask in front of others. It's also their time to bring up any concerns or feedback that they have. I try to structure every one-on-one meeting as their time, from the agenda to how I communicate, so that they're able to structure the meeting in whatever way benefits them the most.
What's your biggest challenge when it comes to one-on-ones?
It can be difficult for your reports to feel comfortable giving you feedback. After all, there's a power dynamic in the relationship and that can make things scary. Asking them questions like, "Is there anything I can do to help you with this roadblock?" can provide an opportunity for them to give you feedback in a constructive and specific way.
Similarly, in situations where you, the manager, has to provide constructive feedback to your direct reports it can be challenging. How I approach constructive or hard feedback is to always come prepared with specific examples, as well as specific action items for both them and myself to work on.
How do you know if you've had a successful one-on-one meeting?
If we're able to identify specific action items to address any roadblocks or concerns then I feel like that's an indicator of success. Especially since we set that as one of our goals for the time we have together. Also, if my direct report seems optimistic or has a positive outlook on the coming week, I consider that a win too!
What's the most memorable conversation you've ever had in a one-on-one meeting?
One time during a one-on-one, a direct report of mine told me that she had taken the feedback I gave her in a previous one-on-one and put together a plan for how she was going to improve in the areas we discussed. This was extremely exciting for me because it meant that she had listened to the feedback, reflected on it, and felt comfortable and confident enough to come up with a game plan. We were able to walk through her plan together, and identify and set specific goals for her to work towards. It was a very positive and productive meeting.
What's the biggest mistake a manager can make in a one-on-one setting?
Being impatient or pushy and not listening properly. It can be difficult for some people to open up about their concerns, so it's important to help them feel like they're in a safe and structured environment.
To create a structured environment, I encourage my reports to come to our meetings prepared with a list of items they want to cover. Unless there is something pressing that I want to discuss, I usually go over their items first. This ensures that we will have time to cover what they want to discuss.
What advice would you give to a new manager who's about to run their first one-on-one meeting?
Come prepared with specific points to cover. You don't want your direct reports leaving this meeting feeling like it was a waste of their time because the meeting was so unorganized. Coming prepared with specific points will allow you to cover everything you wanted to in the meeting, and sometimes more!
Also, be open to receiving and offering feedback. As mentioned earlier, giving you feedback can be harder for your direct reports to do so create a safe space where they feel comfortable enough to share that with you. It'll only help to improve your relationship.
---
Use SoapBox to fuel your one-on-ones 🚀