Goal Setting
Updated Mar 30, 2022
A guide to quarterly planning (plus a template)
[wtr-time]
What happens 4 times a year, is an hour long, and attended by your whole team? A quarterly planning meeting! In this article, we review why they're important and how to conduct them.
Nicole Kahansky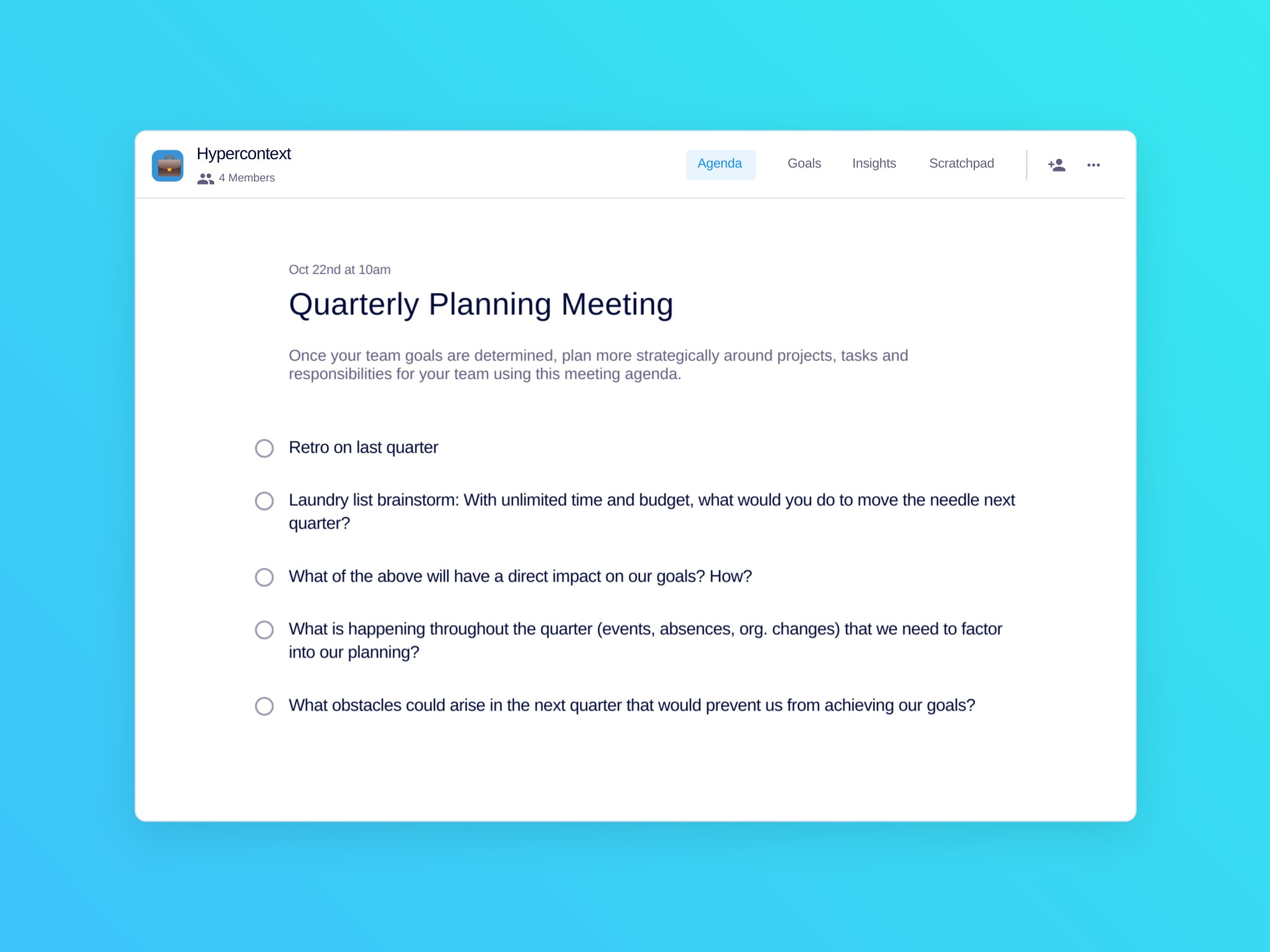 How you plan has a huge impact on the success of your organization. That's why a lot of fast-paced, agile organizations have shifted to quarterly planning.
Regrouping 4 times a year to re-evaluate your OKRs and KPIs and decide how you'll approach the next 3 months lends itself to adaptability and promotes greater team and company alignment.
In this blog, we'll share how to take advantage of quarterly planning just in time for the start of your next fiscal year:
What is quarterly planning?
Quarterly planning is a strategic way to move towards your company's objectives. By breaking down your annual business plans into 4 manageable increments, you can learn from the previous quarter's performance, set realistic goals and establish OKRs and KPIs that measure your success.
Quarterly plans allow you and your team to work towards smaller targets that help achieve long-term goals. It can give you the hyperfocus you need to track short-term plans that require more hands-on oversight, all while keeping your overarching goals top-of-mind.
When done correctly, creating a plan for the quarter can help improve all areas of business growth — including notable increases in employee engagement, motivation and performance that help contribute to a sense of purpose.
Quarterly vs. annual planning
Quarterly planning looks 3 months ahead, while annual planning looks a year ahead. But, you don't need to choose one or the other. In fact, the two formats complement each other.
Consider quarterly and annual planning structures like different zoom settings on a camera. Quarterly lets you zoom in closely. To clearly capture an image that's in the distance, you need a close-up — which is effectively what a quarterly plan helps you accomplish, by providing:
Broken down timelines into easy-to-manage increments
More frequent check-ins to zero in on what worked, and what didn't
Opportunities to review growth and how to optimize going forward
Sometimes though, when you're too zoomed in, you can't see the whole picture. Annual planning is the lens giving you a wide view. It focuses on goals that are broader in scope and:
Works to provide the basis and guiding influence for quarterly goals
Helps clarify the strategic intent to team members
Supports the company's overall mission and its primary business objectives
Annual and quarterly planning go hand in hand. 🤝
Why's quarterly planning so important?
While we know that things don't always go according to plan, the planning process helps establish OKRs and KPIs, allowing you to focus on the most important things to move your business forward, rather than the most urgent.
Going through the planning process on a quarterly basis is beneficial for a number of reasons, including:
🧠 Optimizes for agility
Many companies have shifted to quarterly planning because it facilitates more strategic resource allocation. For example, something that made complete sense in January, may not make sense anymore in July for a whole slew of reasons.
When you plan every 90 days vs. 365 days, you're able to readjust your time and resources to better suit your current needs. Things move quickly — set your team up for success by taking it one quarter at a time.
⚡ Improves company alignment and engagement
Quarterly planning improves alignment and engagement on a number of levels. When you sit down with your team to set goals and plan for the next quarter it:
Helps everyone recognize where they fit into the bigger picture
Creates a better understanding of what's expected so no one's left guessing what their role is
Reinforces the team's understanding of overarching goals and vision
Quarterly planning is an opportunity to get buy-in and align with your team on what you'll be working towards, and collaborate on how you'll get there.
🎯 Helps track progress on goals
It's a lot easier to track progress on quarterly goals than annual ones. By planning quarter by quarter, you can track how you're stacking against both. This helps provide a consistent sense of progress for your team members and lets them capitalize on smaller achievements and opportunities when they come along.
Plus, if after a quarter you realize your OKRs aren't contributing to the company's annual goals, you can readjust your plan for the next quarter. Iteration is key in fast-growing companies!
👉 Check out this article for more on how to set and track OKRs each quarter.
5 Key items to add to your quarterly planning meeting
Now that you know why you need quarterly planning, we're going to walk you through you how to run your quarterly planning meeting.
Here are five key things to consider adding to your quarterly planning meeting agenda:
1. Retro on last quarter
You can't think about effectively planning for the next quarter without first thoroughly reviewing the lessons learned from your last quarter. It's a chance to check in on the overall trajectory of your project and business.
This isn't the time to fluff up wins and glaze over losses. It's a time to get honest about where the team excelled, contrasted by where they might have fallen short. Doing so will help you readjust your metrics to better accomplish your goals next quarter.
In short, you want to continue doing what worked well and stop doing what didn't.
2. Brainstorm: With unlimited time and budget, what would you do to move the needle next quarter?
Armed with a better understanding of last quarter, it's time to go forth and brainstorm.
While it's our general opinion that quality should be prioritized over quantity, brainstorming is an exception! In this section, you want to get as many ideas down as possible, and not be held back by time or budget. While this may lead to unrealistic ideas, that's okay, you'll finesse later. Get the ideas flowing and quality will follow.
If you're having trouble getting people to contribute to the brainstorm, there are countless brainstorming techniques you can leverage to get people's creative juices going.
3. What of the above will have a direct impact on your goals? How?
Once you've brainstormed, chances are you have a laundry list of items you'd like your team to work on. Now, it's time to prioritize. Narrow down your list based on impact and what's realistic.
A helpful tool to better understand where to focus is a gap analysis. A gap analysis focuses on 3 steps:
The current situation
The ideal situation
What must be done to get from the current situation to the ideal situation, a.k.a "the gap"
At this stage of the meeting, you've already done steps 1 and 2. Now to narrow down which ideas to carry out this quarter, find the gaps between your goals and current state.
Your team could have a million good ideas. But focus on what matters to build for the future in a smart, methodical way.
4. What's happening throughout the quarter that needs to be factored into your plan?
An important part of the quarterly planning process is zooming out to see what else will be happening in the upcoming months that may impact your plan.
For example, is there a big launch happening on a different team? Organizational announcements? Long vacations?
Understanding resources, time constraints and company activities will help you plan. Take all this into account to avoid future frustrations. Of course, you won't be able to foresee everything that comes up in the year, so there needs to be some flexibility. But the more you know, the more you can plan for success.
5. What obstacles could arise in the next quarter that would prevent us from achieving our goals?
Even the best-laid plans can go haywire. Once you have a more holistic understanding of your goals, priorities and upcoming events, you can get a better pulse on potential obstacles.
Assess potential risks and build buffer time and space into your plan for events that could stop you from hitting your goals this quarter. Knowing potential blockers before they happen will help you get ahead of them and build contingency plans.
Plan for action
At the end of your planning meeting, ensure accountability by sharing meeting notes, assigning action items, and establishing timelines to follow throughout the next quarter.
Quarterly planning meeting agenda template
It can be tricky knowing where to start if you haven't created a quarterly plan before. Not to fear. We're here to help. Try Hypercontext's quarterly planning meeting agenda template to kickoff your quarterly planning. 👇