OKR (objectives and key results) is a goal-setting framework used by top companies like Deloitte, Netflix and Twitter – to name a few. With the OKR framework, a larger objective like "Increase app acquisition by 50%" becomes much more manageable, because it's followed with smaller key performance indicators like "New app store listing is published," all of which ladder up to the larger objective. Oftentimes, individual employee OKRs fold into team OKRS, which fold into broader company OKRs, to keep the entire organization aligned.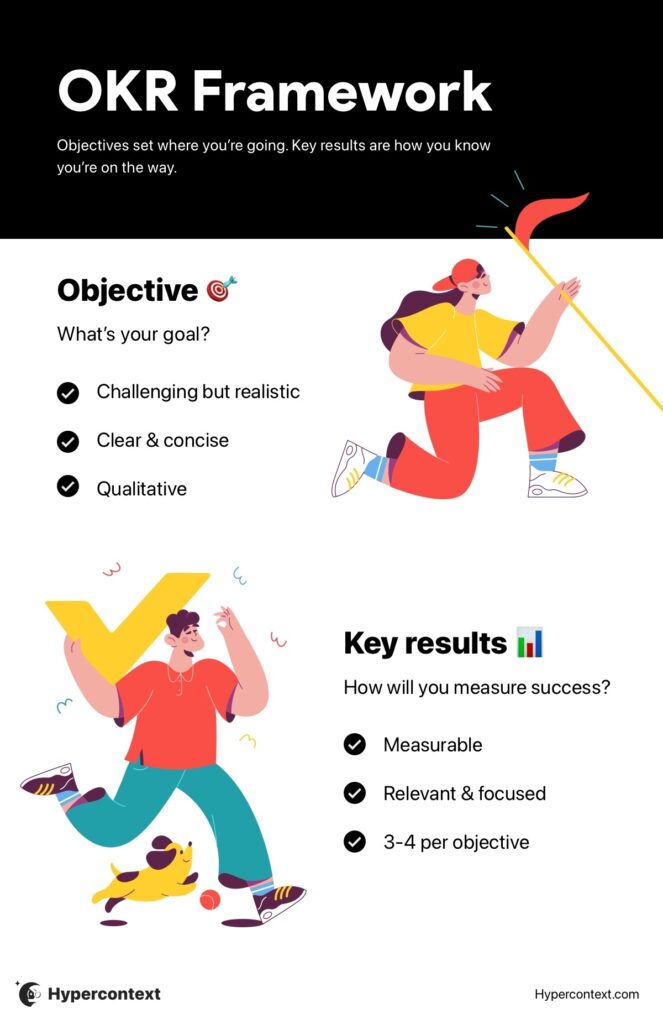 Hypercontext has been using an OKR framework for years, and we've developed a system for tracking the pulse of your employees' (and your team's) OKRs over time. It's simple and effective. It's – the traffic light system! 🚦
Use the traffic light system by dedicating one of your one-on-one meetings each month to OKR review – and add these seven items to your agenda.
Click here to jump to the Hypercontext OKR meeting agenda template!
1. What OKRs are green, yellow, red?
Have your employees come to this meeting prepared with a visual representation of where their OKRs stand:
✅ Green= On track to hit goal
⚠️ Yellow= Unsure
🔴 Red= Not confident
2. Red OKRs: What's preventing us from hitting our goals?
Was the goal unrealistic to start with? Are other teams/departments/work impacting your ability to achieve the goal? Have you received enough support from me? Are we lacking time/resources? These are all questions that you can use to further probe where the problem is and start addressing it.
3. Green OKRs: What wins have we had along the way? What are we learning?
Understanding where you're on track is just as important as determining why you're off track. Celebrate wins you've had along the way as well, as what insights and learnings you can take and apply elsewhere. If it's early in your quarter and the OKR is green, you might also want to discuss whether the goal was too attainable – and tweak it to be more challenging.
4. Yellow OKRs: What will it take to make these green?
Here's where you'll want to make sure that these goals are on the right track to hit green before the quarter is done. Are they trending in the right direction? Or are they stagnant in-between red and green and need a little help? This might mean removing blockers or adding additional resources.
5. What have you learned throughout the quarter that's informed or changed your strategy?
This is a great time to check in on your employees' approach to meeting their goals – discussing this will ensure they feel ownership over their OKRs, and continue to feel motivated to hit them. What's changed since they originally set their OKRs? What lessons can they share? What fails did they learn from? How will their approach change moving forward?
6. Are there any OKRs that you feel should change?
A key part of OKR management is adjusting it as needed. That doesn't necessarily mean just making red OKRs easier when it looks like you won't hit them – it means reviewing your strategy, and making sure your employee (and team) OKRs continue to reflect your roadmap.
7. What can I do to help you hit your goals?
Staying on top of OKRs is important as a manager but ultimately you have to hold employees accountable for the end result. That's why it's important that they ask for help when needed. Encourage them to tell you what they need to keep their OKRs trending green. If they say they don't need anything, circle back to the red OKRs to make sure they have a plan in place to hit them.
---
Other OKR meeting tips:
Use a spreadsheet to help your employees track their OKRs visually.

And make sure they update them on a regular basis. Or, if you want to make it even simpler, your employees can add comments within their Hypercontext agenda listing their OKRs against emojis like 🔴, ✅ and ⚠️.

Don't get off-track talking too much about your wins.

You'll want to spend the bulk of your meeting discussing the red OKRs to uncover blockers, discuss what's not working and ultimately start thinking about a solution.

Learn more about OKRs: What are OKRs? (and why you need to know about them)
Your Hypercontext OKR meeting agenda template 👇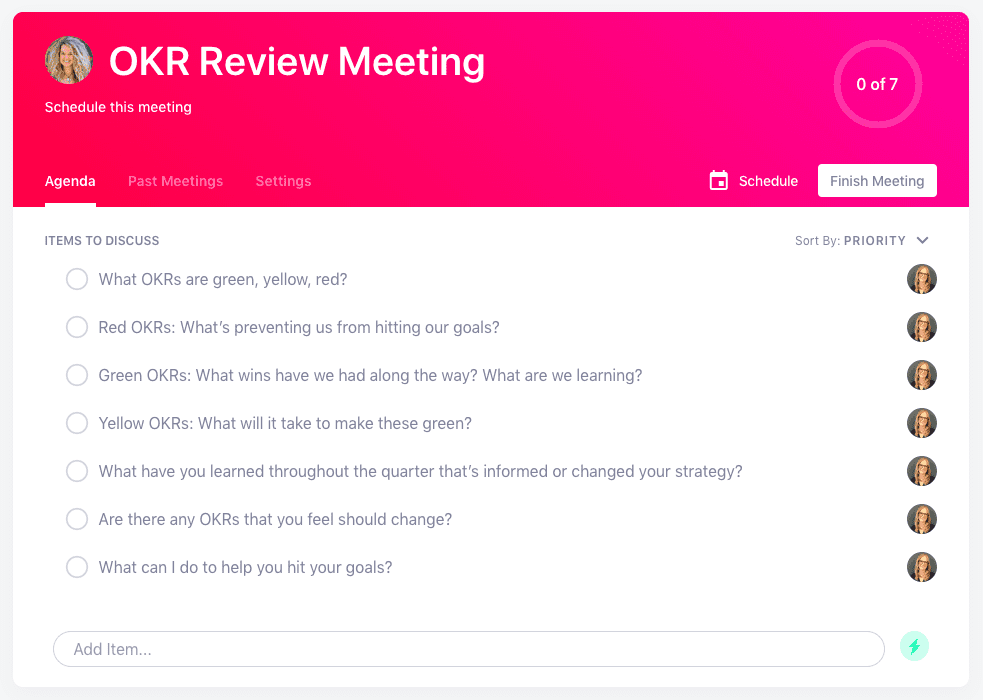 Use this OKR meeting agenda in Hypercontext