Team Tools
Updated Nov 9, 2020
17 Tools new managers will love
[wtr-time]
If you're new to management, these 17 tools will be a great addition to you and your team's productivity, communication and overall success.
Hiba Amin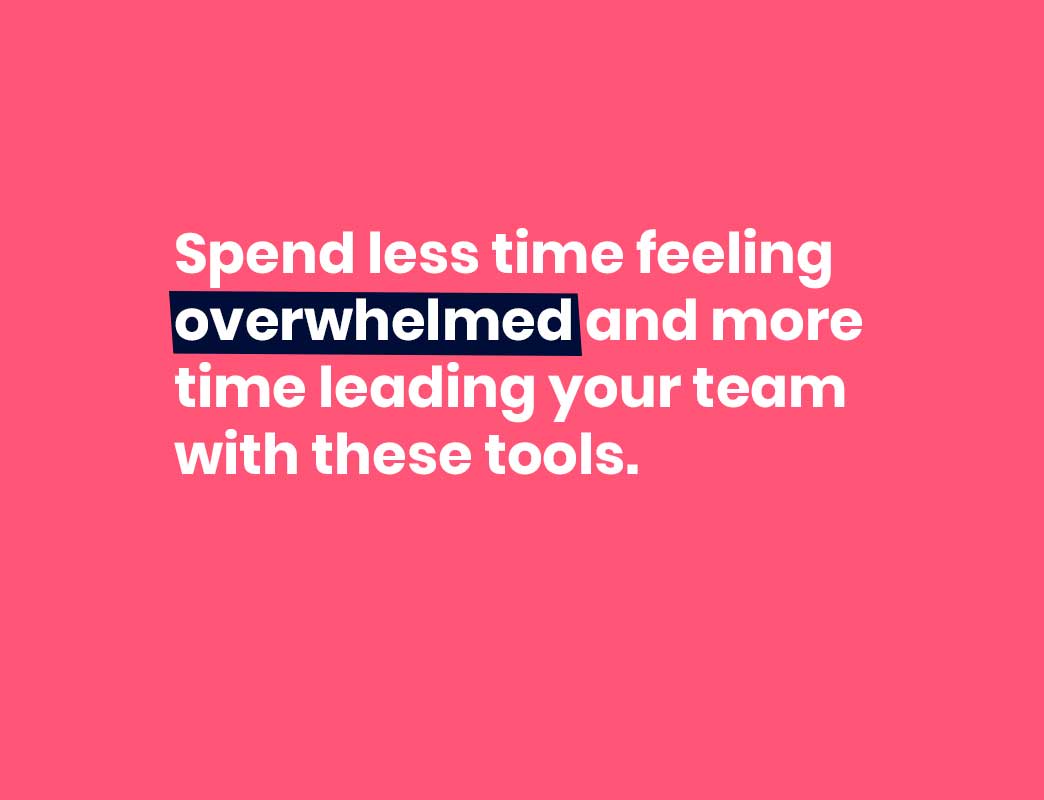 If you're a new manager, chances are you're now the owner of your team's tech stack. Researching and evaluating tools can be a cumbersome and time-consuming task, which you're about to learn you have even less of now as a manager. In fact, in our State of One-on-ones report, we found that the biggest challenge managers face (68%) is juggling to manage their team with other responsibilities.
To help narrow down your search and save you some valuable time, we've put together a list of the best tools out there for new managers looking to improve their team's productivity, organization and communication.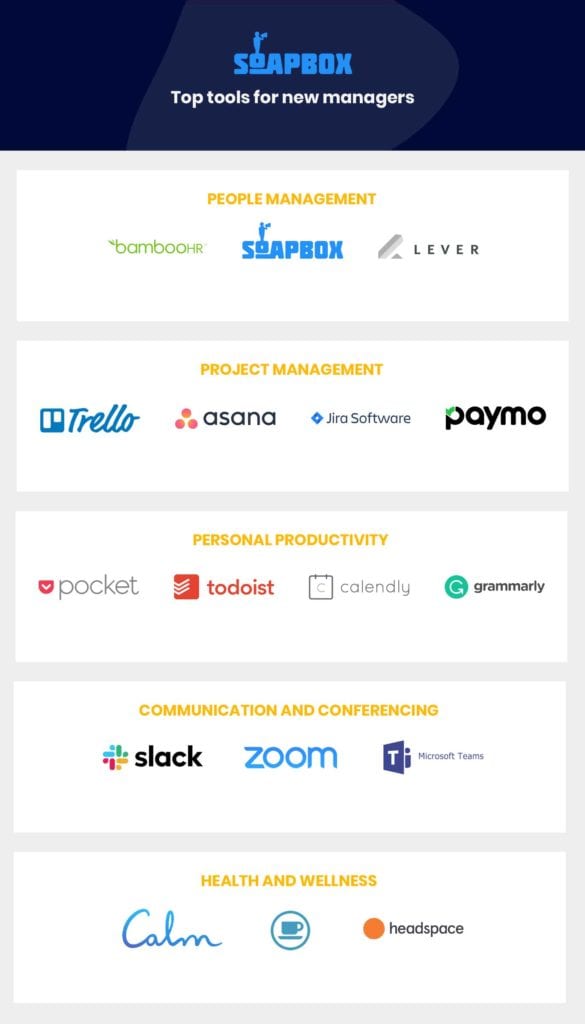 Jump to a category:
People management
SoapBox
SoapBox is a shared agenda tool for one-on-ones and team meetings used by over 100,000 managers and their teams. It helps build great management habits by making sure the most important conversations with your team are collaborative, documented and actionable. Key features include:
Shared meeting agendas where the team can add items, comment, assign next steps and more.
Meeting minutes that get sent out automatically once the meeting is finished
Conversational analytics to help managers have more balanced conversations with their team
Lever
When you're in the process of growing your team, Lever is a lightweight recruiting tool that makes the recruitment process smoother for you and HR. One of the best features for new managers is the ability to use LinkedIn profiles source candidates and add them into the mix for your HR or recruitment team to easily reach out to outbound candidates you like.
BambooHR
Although this is likely a tool that you won't have control over as a new manager, BambooHR is a great HR tool for teams. Use this as your go-to spot for important documents (like contracts), tracking vacation, sick leave and more.
Project management
Asana
Asana is a great tool for managers looking to manage their team's projects and tasks. From kanban board to lists, you can plan and assign tasks in a way that works best for your team. When your team is on the same page and looped in on project progress, you'll have more time to talk about the right things in one-on-ones. Some cool features Asana has to offer include:
Adding workloads to tasks so you can see how much team members have on their plate
Automation that allows you to streamline your processes
Trello
Trello, which is powered by Atlassian, is another great collaboration tool and also offers boards, lists and cards to organize and prioritize your team's work. When you create checklists in Trello, you'll see a progress bar to show you how close you are to being done everything.
Paymo
Paymo is a work management platform used by over 100,000 small businesses and freelancers. It bundles task management, planning, resource scheduling, time tracking and billing to help you and your team deliver projects on time. Some key features that are great for new managers include:
View the workload and availability of every team member
Set dependencies between tasks to create a clear project schedule, both for the team and the stakeholders
Create templates for common tasks to reuse in the future
Jira
Jira is great for new engineering managers. This tool is great for planning, tracking and releasing your team's work. Jira allows you to customize workflows in a way that works best for your team, but they also offer workflow templates if you're not sure how to get started.
Personal productivity
Todoist
Todoist is essentially a to-do list app that's used by over 20 million people worldwide. Todoist lets you keep track of everything in one place, making it even easier to prioritize everything you need to get done. Some core features include:
Adding, organizing and prioritizing tasks
Delegate tasks to your team
Reporting on what you complete
Pocket
As a new manager, you're going to be receiving a ton of reading material. From management to articles about your day-to-day work. But sometimes you just don't have time to read through it. That's why Pocket is such a great tool for managers. It allows you to save articles, videos and stories from any publication and curate your own content library.
Calendly
Going back and forth via email to try and schedule a meeting time isn't the best use of your time. That's why Calendly is so great! With this tool, you can easily schedule all of your meetings without the back and forth. Some key features include:
Round robin scheduling (for teams)
Cap the number of meetings you can be scheduled for daily
Grammarly
Grammarly acts as your second set of eyes on emails, documents and more. 20 million people worldwide use Grammarly to help improve their writing. What's really useful about this app for new managers is that they've recently launched a "tone detector" feature, which lets you know what the tone of your message is (i.e. friendly, formal, optimistic, etc).
Communication and conferencing
Slack
Slack is a great way to communicate with your team. With channels, your conversations become more organized, everyone on the team is looped in and ultimately (when used right), reduces the number of emails coming into your inbox. On top of that, there are so many apps available to you and your team in Slack's marketplace, making your team more productive!
Microsoft Teams
Teams is a chat-based workspace that is part of the Office 365 suite. It brings together people, conversations and content, along with great integrations to the tools your team is already using. If you're in the market for a communication tool, Teams is a great option to consider. As an added bonus, there are so many fun (or professional) Microsoft Teams backgrounds to pick from!
Zoom
New remote managers, Zoom is an awesome tool for you and your team! What better way to build rapport with your team than having conversations "face-to-face"? Video conferencing is an absolute must, whether you're chatting with your team or with external people.
Health and wellness
Calm
Calm is an app for sleep, meditation and relaxation. As a new manager, it's so important to find time for yourself to destress and relax. With Calm, you can run short and simple meditations or go through their entire master class, which is a collection of audio programs that are taught by world-renowned mindfulness experts.
Headspace
Similar to Calm, Headspace is also an app for sleep, meditation and relaxation. Headspace offers users themed sessions on everything ranging from stress and sleep to focus and anxiety. They also offer bite-sized guided meditations that you can fit into your busy schedule.
Take a break please
When you're working on something for so long and get stuck, sometimes the best way to tackle those challenges is to take a quick break away from the screen. This simple menubar app gives you a reason to step away from your screen and take a quick mental break, whether it's 1 minute or 1 hour. You can download this app on iOS.
Bonus!
Milanote
Milanote is a tool for organizing your team's projects into beautiful visual boards. Created to replicate the feeling of working on a wall in a creative studio – visual, tactile and sometimes a bit messy – Milanote is a great fit for marketing and design managers. They also have built-in templates to help you get started with a variety of different projects, from creating a mood board to plan out the visual direction for a project, to writing that perfect creative brief.
---
A great way to evaluate tools is to learn from those in your network. What works for their team and why?
If you're not sure where to start, here are the tools that all managers use at SoapBox:
People management: All managers use SoapBox (of course!) and BambooHR.
Project management: Depending on the department, our managers will use Asana or Jira.
Personal productivity: This is usually up to the manager's preference and what they feel they need to be more productive.
Communication and conferencing: Org-wide we use Slack and for meetings during WFH Wednesdays, we use Zoom.
Health and wellness: Every day, team members will use Headspace to meditate after lunch.
---
Stop juggling your work and start balancing it with tools like SoapBox