Employee Motivation
Posted Mar 1, 2022
Why goals are important: The top 3 benefits of goal-setting
[wtr-time]
500+ people working in tech told us the impact of clear goals and expectations on their performance. This article explores the importance of goals, the benefits and where to start.
Nicole Kahansky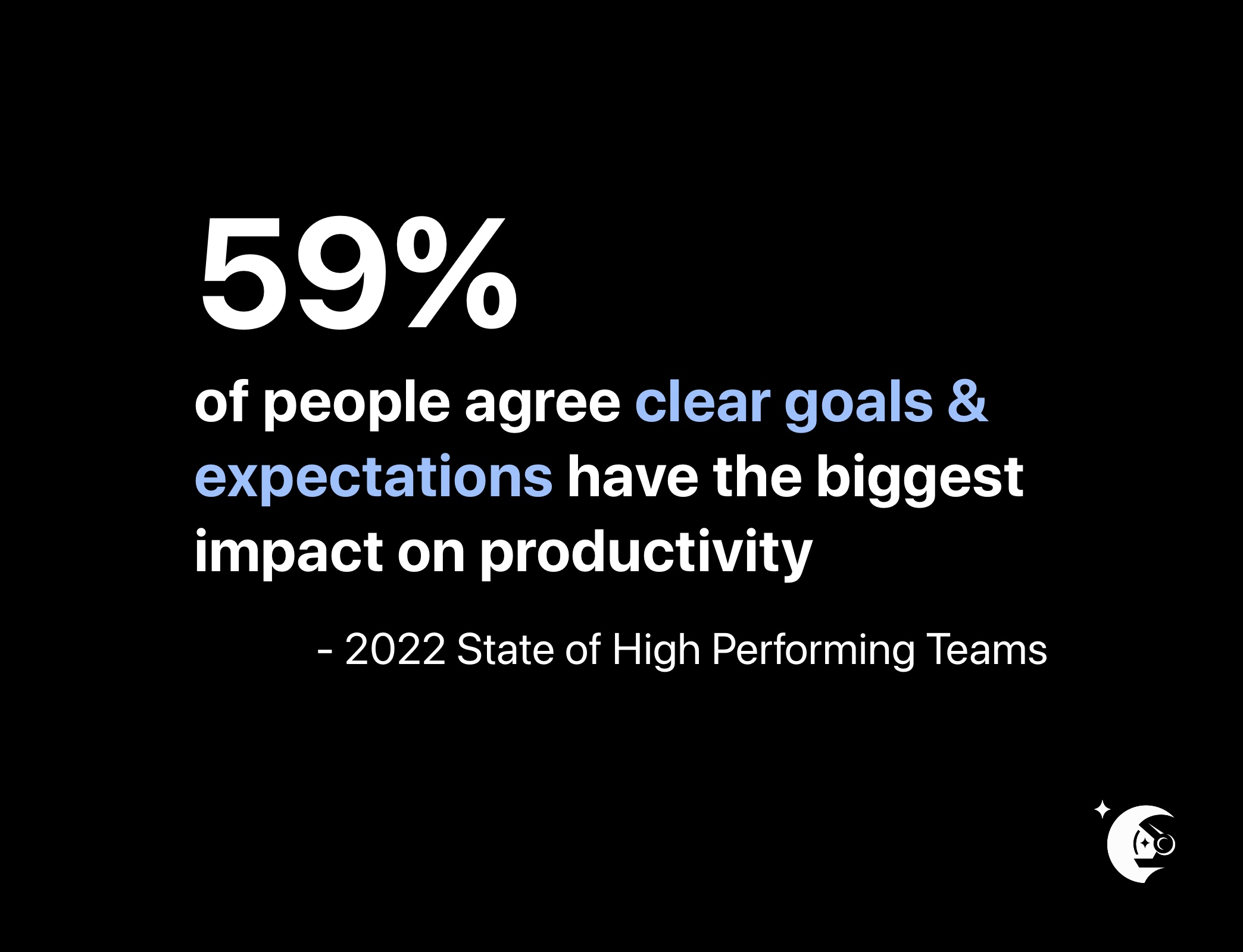 How often do you talk about goal setting with your team? For too many managers, these conversations are a quarterly box to tick rather than an ongoing discussion.
In a way, it makes sense. You've got a lot on your plate, and it's easy to fall into the habit of focusing more on outputs than the overarching goals behind them. In some cases, goal setting might even seem like an interference to the actual work. I mean, does everyone really need to know your company's ARR target?
The short answer is: yes.
Hypercontext's 2022 report on high-performing teams in tech found that regular goal setting is critical to managing a motivated, productive, high-growth team. With the Great Resignation putting more heat on organizations to attract and retain top talent, salary alone isn't a strong enough draw anymore. Offering a transparent culture, where work is driven by clearly defined goals, is now a competitive advantage.
So what does that mean for you? Here's what your team stands to gain from goal setting, and how to effectively implement this as a formalized process.
Why goals are important for success
Regularly communicating clear, concrete goals has a massive impact on your team's productivity, motivation, and— ultimately— growth. This doesn't just keep everyone on the same page, but also ensures your reports know exactly what they're working towards, and why.
Similarly, not having a formalized goal-setting process can be detrimental to individuals, teams, and organizations as a whole. Rather than working in tandem to support broader goals, employees wind up siloed, confused, and forced to connect the dots on their own. This will inevitably leave your team feeling unmotivated, unproductive, and disengaged.
When done the right way, goal setting can:
👊 Empower your team
How can your reports be successful if they don't even know what they're trying to accomplish? Setting goals not only communicates expectations, but also helps your team understand their impact on the bigger picture. This leads to higher engagement, motivation, and productivity — which in turn helps fuel company growth.
"Keeping high-performing individuals engaged starts with each person understanding how their role contributes to the overall reason why their company exists and then creating a transparent and direct environment where they get continuous feedback and can give continuous feedback."

Adam Houghton, VP of Customer Success at Klue.
🔎 Establish clear priorities
When your reports don't understand what they're working towards, their efforts are directed by guesswork. This can lead to misaligned team members inadvertently working against themselves or one another.
For example, what happens if one of your reports is urgently trying to complete a task, but requires input from someone else on the team? If their colleague considers that task a lower priority, this can lead to frustration, confusion, and delays.
Goal setting helps ensure all your reports are equally clear on what to focus on, and that their priorities are in sync with the rest of the team.
3 major benefits of setting goals
Goals are crucial to the overall success of your team and have many benefits.
We narrowed it down to the top 3:
1. Goals keep your team aligned (especially remote employees)
Setting team goals helps keep everyone on the same page. This is especially crucial for remote teams working across multiple locations or time zones.
With only 3% of tech companies planning to return to the office full-time, the ability to tap someone on the shoulder will soon be a distant memory.
To avoid misalignment, goals need to be communicated clearly and consistently to every one of your reports.
"As a product marketer, we work cross-functionally, so we have our own goals and consider the goals of teams that ladder up to achieving key business objectives. By meeting regularly as a team, we can surface what's on track, at risk, and off-track and discuss what else is happening in the business to decide what needs to be accelerated, paused, or kept."

Alex Virden, Product Marketing Lead at Metadata
2. Goals increase productivity
According to The State of High Performing Teams, 59% of tech workers identify clear goals and expectations as the most important factor contributing to productivity.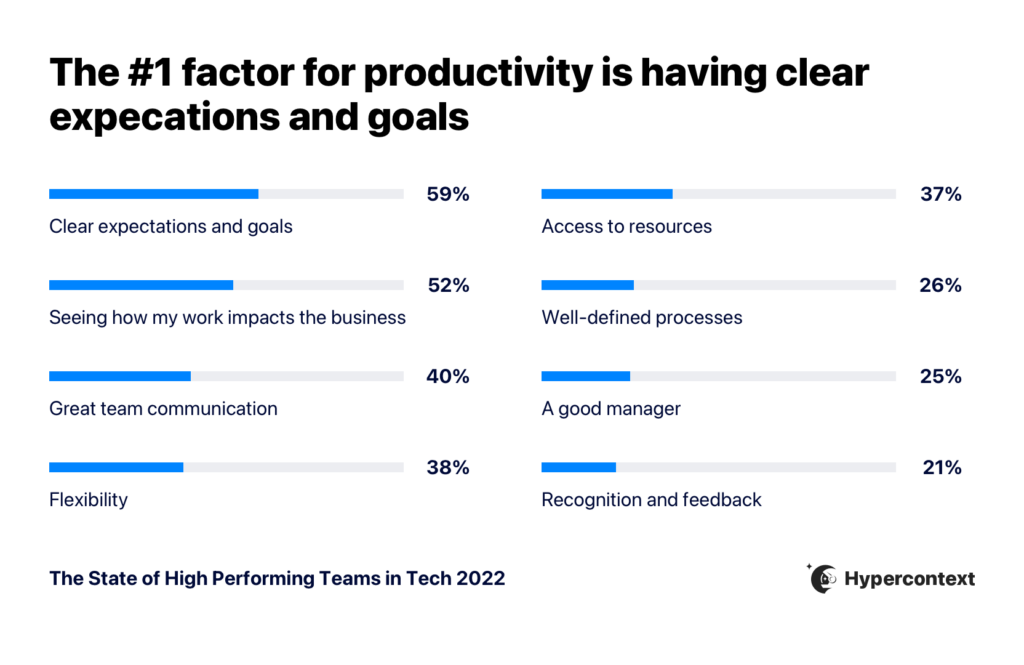 Why? Setting goals provides your team with a sense of direction and purpose in understanding how their work impacts the business.
"What motivates teams and what they need to perform at their best has changed and companies need to adapt accordingly if they want to create an environment conducive to high performance and company growth."

Brennan McEachran, CEO and Co-Founder of Hypercontext
On the flip side, unproductive employees are 2.8X more likely to not know their goals. If your reports aren't clear what to focus on (and why), their productivity and motivation can take a serious hit.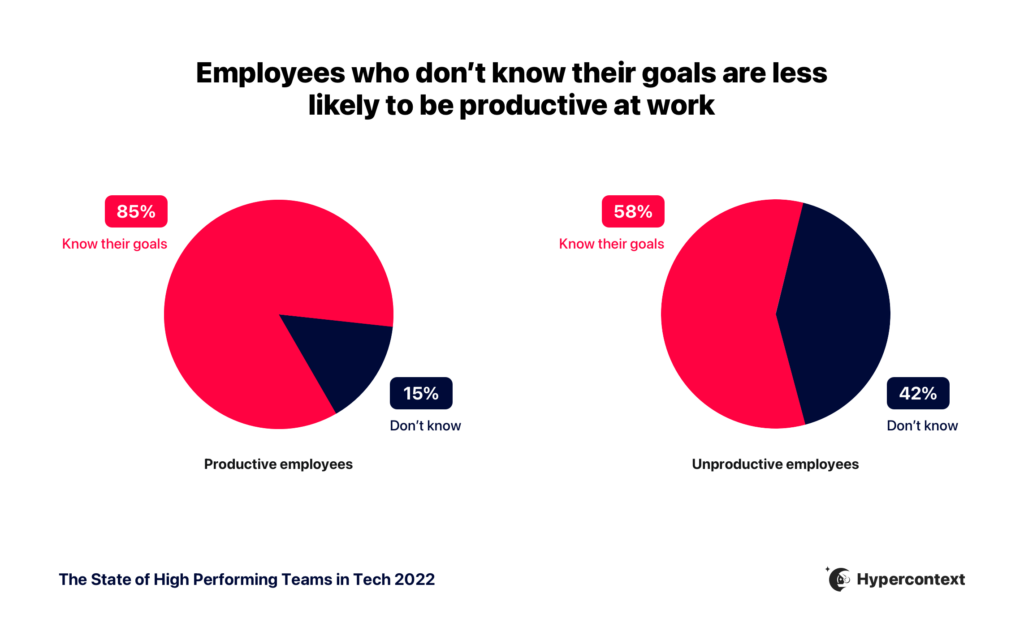 In fact, clear expectations and goals motivates tech workers 2.3X more than being praised. It also enables individuals to spend more time on the work itself, rather than figuring out what to do next.
3. Goals lead to faster growth
The 2022 State of High Performing Teams report found a strong correlation between goals and success, not only at the individual and team level, but organizationally as well.
Employees who don't know their goals are over 3X more likely to work at a company that's shrinking in revenue than those who do know them. Employees at shrinking companies are also nearly 2X more likely to have unclear expectations at work.
Fast-growing companies, on the other hand, understand how clear goals and expectations positively impact motivation, productivity, and alignment on their teams.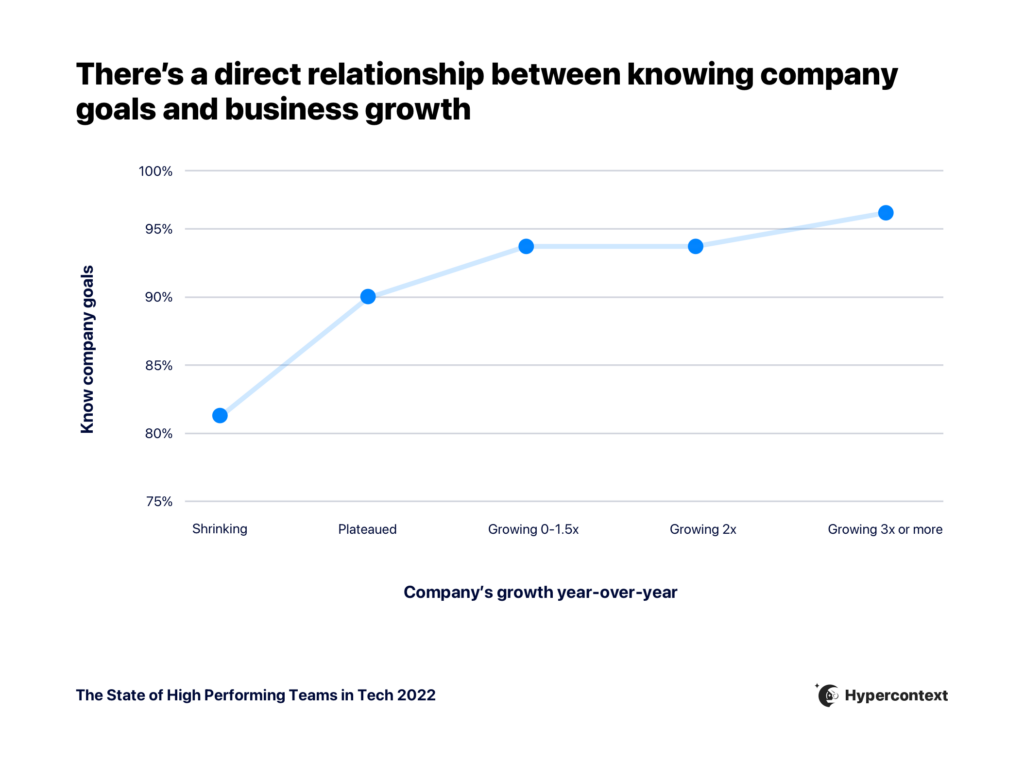 How to set goals effectively
Having a list of goals floating around somewhere on your Google Drive won't be of much help to anyone.
Instead, start by using these 3 steps to incorporate goal-setting into your daily operations:
Use a goal-setting framework
Goal-setting frameworks provide specific rules and processes to help you determine realistic goals with your team. While there are virtually dozens to choose from, two of the most popular include:
OKRs: "Objectives & Key Results" use specific objectives to define a particular goal, then determine key results to track your progress along the way.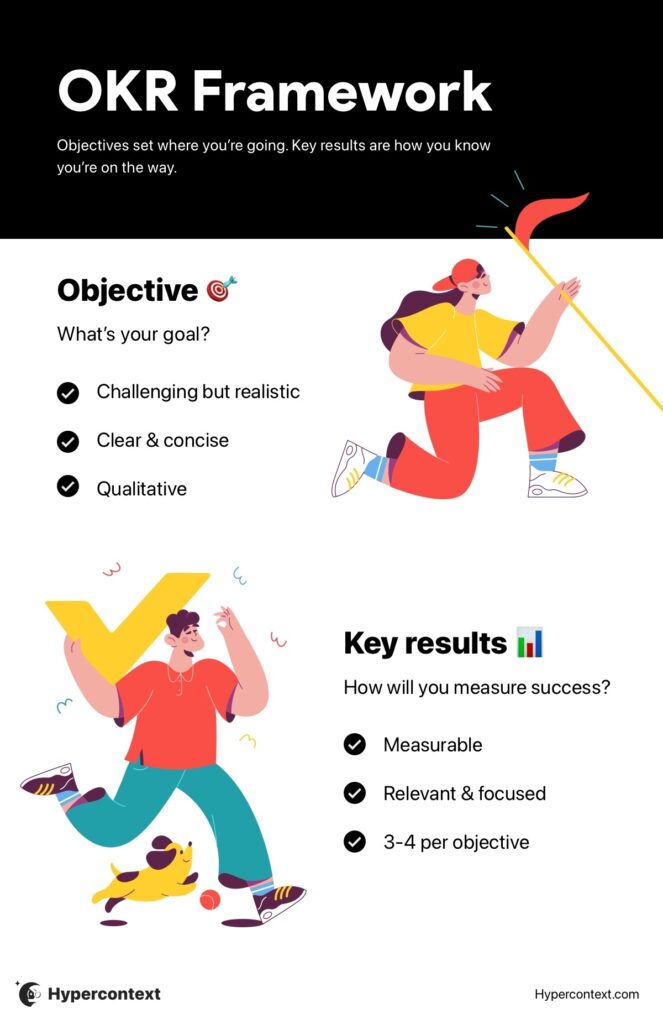 SMART goals: It's easy to jot down a mile-long list of everything you want your team to accomplish, but the SMART framework forces you to stop and flesh out each one to make sure it's Specific, Measurable, Attainable, Relevant, and Time-Bound.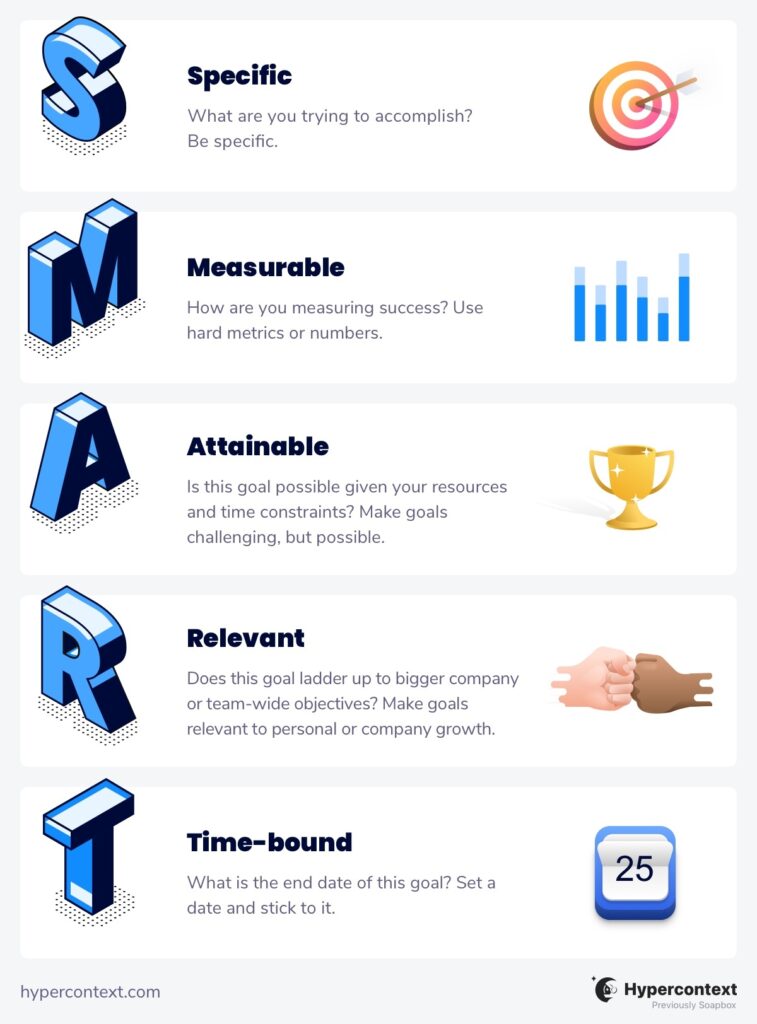 Goal-setting frameworks are a great way to get the ball rolling, so you're not just staring at a blank screen. They also help you break down bigger goals into more specific and manageable actions and outcomes — for example, "Improve NPS average from 8 to 9 by the end of the quarter" would give a Product Manager way more clarity than "Keep our customers happy."
👉 Psst: Try focusing on outcome vs. output based goals.
Don't set goals in silo
Before setting any goals with your team or a report, make sure you're clear on leadership's priorities. Also involve individuals in the process, so they can provide input and feedback. This is a great way to increase sense of purpose, ownership, and accountability.
Goal setting should be a team effort.
"We really try to align and ensure we maintain constant sync on whether a team member is able to connect specific actions to the outcome they're meant to have directly as well as together to achieve something specific."

Alex Panagis, CEO and Founder of Scalemath
Talk about goals weekly
Goals aren't "set it and forget it". Discussing them weekly with your reports makes it easier to spot roadblocks and shift gears as needed, instead of waiting until the end of the quarter to identify opportunities for improvement.
Plus, it helps your team remember what your goals actually are!
"I encourage my team to bring them up in every 1:1 with me, weekly. Personal, professional, we identify their goals at the top of the quarter and check-in week over a week. At the end of the quarter we review and course-correct as needed."

Anita Chauhan, Marketing Director at Fraction
Hypercontext's 2022 report found that when people talk about goals weekly or bi-weekly, they're nearly 3X more likely to strongly agree they're confident hitting their goals compared to those who talk about them quarterly. If that's not enough to convince you, 54% of tech workers who are confident in their company's ability to hit goals talk about them weekly, instead of monthly or quarterly.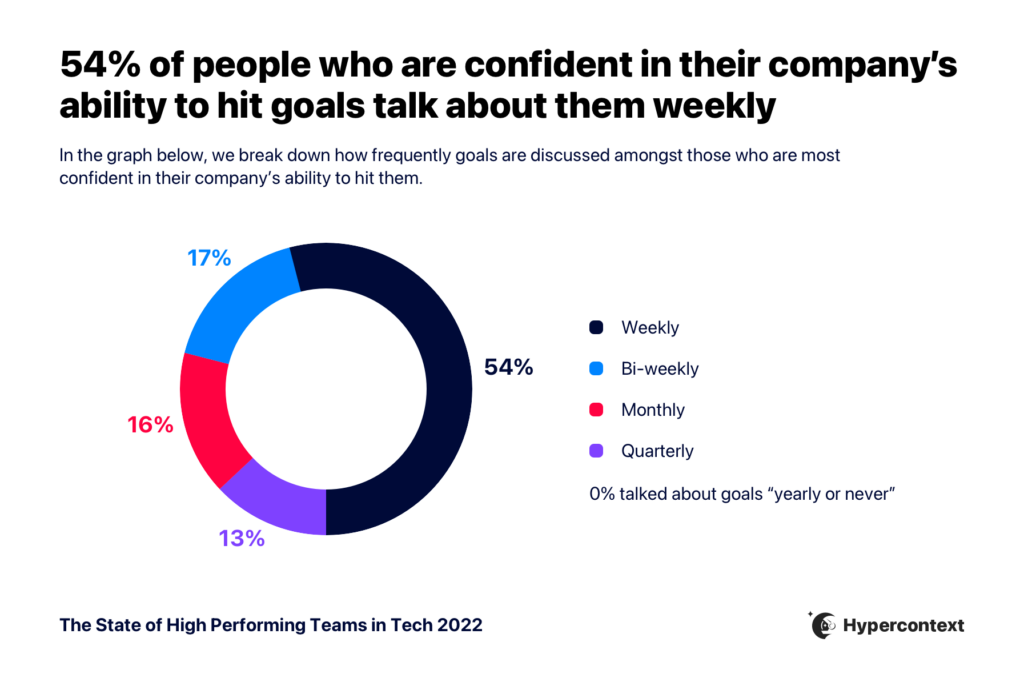 👉 Check out our full 7-step goal-setting process for a deeper dive into how managers can set goals for their teams.
Back to you
Goals aren't an administrative nuisance, or something that'd be "nice to have", if only you could find the time.
They're critical for your team's motivation, productivity, and success.
Goals also provide clarity and direction, a sense of purpose, and alignment.
The best way to get started is by identifying your organization's priorities, determining how your team can best support them, and then using a framework to build out clear, concrete goals. But remember, out of sight is out of mind. It's not enough to simply set these goals. You need to revisit them frequently, to chart progress and course-correct as needed.
When goals become a regular conversation, rather than quarterly check-in, your team will be at a serious advantage.
Explore 360+ goal examples to get started 👇