Employee Motivation
Updated Sep 10, 2020
Nora Jenkins Townson: Material perks won't make your employees happy, great managers will
[wtr-time]
Hiba Amin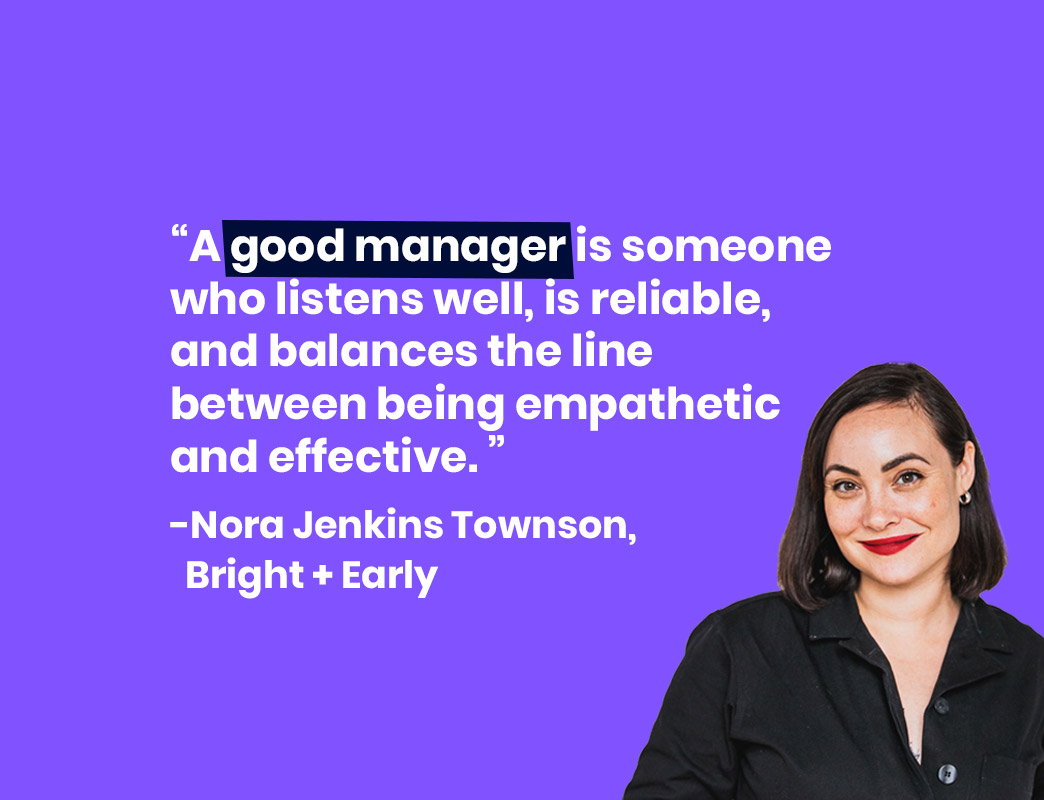 We caught up with Nora Jenkins Townson, Principal and Founder of Bright + Early, a group of HR consultants working to craft the best workplaces and employee experiences. Having helped build up workplaces like Wealthsimple, Crowdriff, Drop and many more amazing tech companies, Nora is an expert when it comes to what it takes to make employees happy (Hint: it's not your ping-pong tables or beer carts).
Before we dive in, here are some quick facts about Nora:
She's a first-time female founder
She partners with early to mid-stage companies who need to "scale fast but stay friendly"
She's a proud dog mom of an adorable husky rescue named Jasper and a beautiful 15-month-old human boy!
Let's dive into the interview!
Tell us a bit about your business and how it came to be?
Bright + Early are modern HR experts who build the world's best workplaces. We partner with startups and other growing companies to build out processes and policies that are both business and culture friendly. We've worked with companies like Mejuri, Wagepoint and Juno to create the HR foundations they need to grow both their companies and their people. A Bright + Early company is one that wants to empower their team to succeed as both employees and humans.
Bright + Early was founded in 2017 as a solo venture. After building out People Operations at Wealthsimple, FreshBooks and other companies, I wanted to find a way to help early-stage companies become great places to work, right from the start.
What do you love most about the work that you do?
I really love building systems that are equitable and also lead to business success. A lot of people see those two outcomes as being at odds with each other, but to us the equation is simple: Happy, engaged and challenged folks do the best work. And there are proven and scalable ways to build companies where this can happen. We also get to work with a number of really inspiring founders and teams.
"Happy, engaged and challenged folks do the best work." – @NoraJKS
Click To Tweet
If you were to try to explain employee engagement to your parents, how would you describe it?
I'd say it's the simple practice of helping people feel and perform their best at work. If expectations are unclear, things are highly stressful, or if people feel like no one cares about them or their future at the company, things aren't going to function well. Scale that to every employee on a team and then you understand why employee engagement is really at the root of everything.
What are the most important employee benefits that companies should focus on instead of "perks"?
We begin our work with companies by collecting anonymous feedback from everyone on the team. The number one thing people always want is more feedback on how they're doing, and a path (with clear goals) to how they're going to grow at the company. They want to feel appreciated for their contributions and like they're part of a team or social movement that needs them. That's a lot more motivating than ping pong or daily catered lunches.
So, managers should really focus on three things with your direct reports:
Give ongoing feedback
Set clear goals for individuals and the entire team
Define a career or growth plan
Where should companies invest their time and resources when it comes to engaging their employees?
Every company is unique, so I'd encourage them to regularly collect data on employee engagement. That way, you can address immediate concerns and build trust when your team sees you respond to those and track changes.
Training managers is also really important. People do have their own unique managerial styles, but you should be providing them with a base guideline in how to be a manager at your company. This can include things like:
How often should they be doing one-on-ones?
Do they know how to run a good one-on-one?
Do they know different ways of giving feedback or motivating people?
Good manager programming is a great way to ensure no one is falling through the cracks.
What's the danger of not investing in management?
For a while, the flat/no-hierarchy model was popular in startups. You don't hear about it as much anymore. Why? Beyond 15 or so people, it just doesn't scale. It's hard to keep people on the same page. I don't think of management (or HR, for that matter) as a dirty word. In my view, these are people the company employs to set you up for success.
The number one reason employees show up to work and actually try? Their manager. When you empower your managers and equip them with the knowledge they need to better engage and manage their teams, you foster a better working environment where people are productive, accountable and show up excited about the work they're doing. Your team will feel supported and heard, rather than frustrated and ignored. When you don't invest and support your people leaders, you're taking the risk of actively disengaging your employees.
Investing in your managers is the difference between an engaged workforce and one that's not.
For organizations who are scaling quickly, what piece of advice would you give leaders to ensure that what makes their company so great also scales?
Write everything down! Nobody can read your mind. Build an incredible handbook for your team, including the mission, vision, values, history and everything special and unique about the culture and how you want folks to make decisions. A great handbook can even be a recruiting tool. Also, ensure your values are baked into everything. Use them to make interview questions, and in how you evaluate performance, especially in managers and leaders.
What are some qualities that define a "great manager"?
A good manager is someone who listens well, is reliable, and balances the line between being empathetic and effective. You don't want to be so ruinously empathetic (thanks to Kim Scott at Radical Candor for that term) that you aren't able to give important feedback, but you don't want to be uncaring either. It's about building trust.
What can people leaders do to become great managers?
Realize that it's a learned skill! No one is born an incredible manager. Read, take courses, start a circle of peers that are also learning the ropes of management.
How can managers and executives create a culture of feedback?
The greatest indicator of high performing teams, according to a famous experiment at Google, is their level of psychological safety.
Is it ok to be yourself at work?
Is it ok to screw up?
Am I going to be judged harshly for my mistakes or my ideas?
Can I voice a dissenting opinion?
All of these environmental factors will affect how giving honest feedback will go, and how it will be received. That said, learning a few mental models for giving feedback helps. Focus on behavior, not personal characteristics.
When hiring managers, what are some qualities that organizations should look for?
I think 360 references are a good idea for managers. Meaning, don't just ask for references from their own manager or peers. I want to talk to people who reported to them. I'd also ask questions about how they learned to manage, mistakes they made along the way, and what company cultures and leaders they admire and why. Nobody's perfect, but I look for self-awareness and the curiosity to continuously improve.
---
If you'd like to learn from more senior leaders on how they approach people management, check out these other interviews:
Become a better leader. Get actionable management tips and best practices delivered to your inbox!