Management Skills
Updated Nov 23, 2021
Erin Bury, CEO and Co-Founder of Willful on managing a senior leadership team
[wtr-time]
In this interview, Erin Bury shares her experience on what it's like to manage and coach a senior leadership team, how she structures her one-on-ones and the qualities she looks for when hiring senior leaders.
Hiba Amin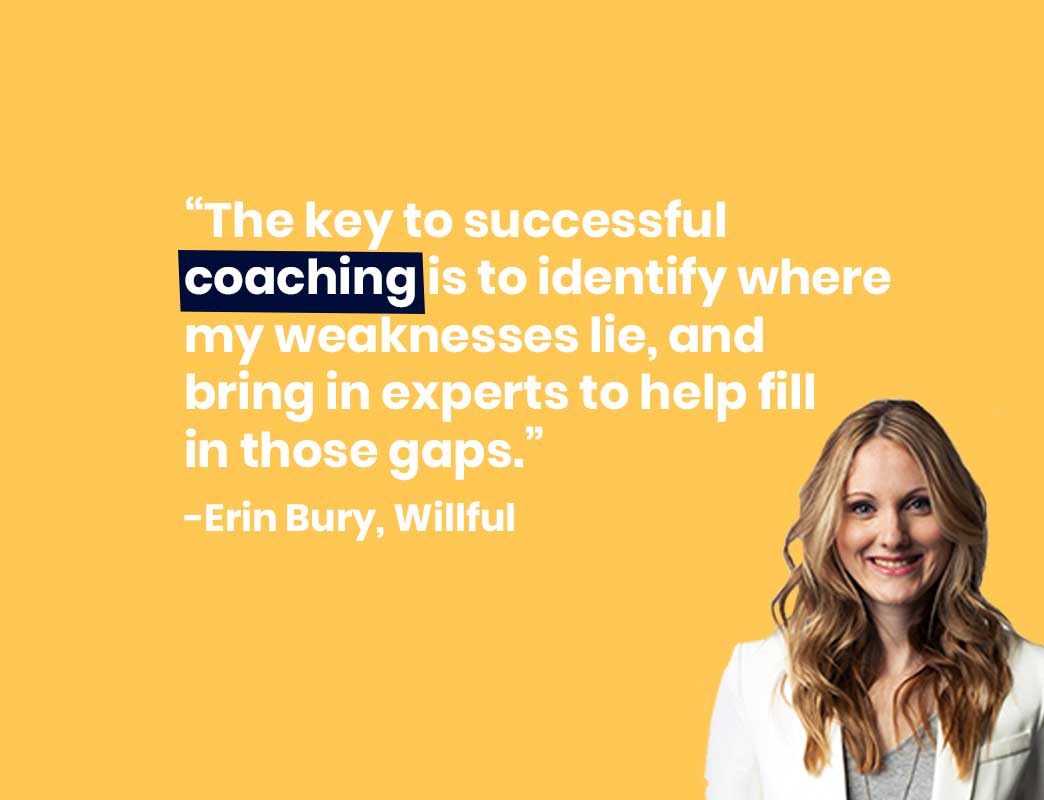 We recently caught up with Erin Bury, CEO and Co-Founder of Willful an online platform that makes it affordable and easy for Canadians to create a legal will. Erin is an extremely accomplished individual who leads by example. As a leader, she puts a heavy emphasis on surrounding herself with amazing leaders, learning from them and using that knowledge to coach her team to be amazing leaders as well.
In this interview, Erin dives into what it's like to manage and coach a senior leadership team, how she structures her one-on-ones and what she looks for when hiring senior leaders.
Quick facts about Erin:
Currently manages a team of 8, including 4 senior leaders
Over 10 years of management experience
#1 fan of The Fast and Furious movie franchise
---
How do you coach your senior leadership team?
I think the key here is knowing your strengths as a leader and using them to coach and motivate your team, while also recognizing the gaps you have that can be filled by training, consultants, or other external resources. My leadership style is very empathetic and motivating – I don't believe in yelling or leading with fear, and I truly believe you get the best work out of people when:
You're transparent about goals/expectations
You communicate regularly about challenges
You genuinely care not only about them as an employee, but also as a person who has larger career aspirations.
My approach to coaching has always been to be an ongoing resource and sounding board for frustrations, interpersonal issues, management questions, or just general growth. I do this through regular touch-bases about projects and through one-on-ones where the focus isn't on Willful, it's on them – their goals, their career goals, and how I can help them get there. That's the baseline. But, as a manager of senior leaders, the key to successful coaching is to identify where my weaknesses lie and bring in experts to help fill in those gaps. For example, I've brought in consultants to help with public speaking and management training, and have had team members work with a business coach or HR specialist when there's an issue that's beyond the scope of what I think I can manage effectively.
"My approach to coaching has always been to be an ongoing resource and sounding board for frustrations, interpersonal issues, management questions, or just general growth." @erinbury
Click To Tweet
As the CEO of a startup, how do you balance your workload with people management?
When I was running an agency, my business coach said most agencies start the same way – someone is an expert at something, whether that's graphic design or web development, and they eventually reach capacity for what they can handle and hire more people. Five hires later, they're suddenly running an agency, and they spend more of their team managing teams and client relationships than actually executing on their subject matter expertise. Some people thrive in this role, while others miss the days when they could just code without interruption, and they either have to learn to love to manage a team or go back to solo work. I was firmly in the camp that loved managing people. In fact, while my subject matter expertise may have been PR and marketing, now I love everything involving business operations – HR, finance, legal, you name it.
Balancing workload with people management is definitely a balance. You need to ensure you can get everything on your to-do list done while also accounting for the ongoing meetings, one-on-ones, the crises, and the "do you have 5 minutes to chat?" venting sessions. But in my view, that's my role as CEO – VC Fred Wilson said one of the 3 core roles of any CEO is to hire the best people and enable them to do their best work. A CEO should do all of this while ensuring that there's money in the back and that the company strategy is aligned. So, I really view managing and enabling the team as the most critical part of my role—if the team is operating smoothly, I know I've done my job because I've hired great people who are able to execute things like product, engineering, and marketing. As CEO, my job isn't to DO those things – it's to ensure the team has what they need to do them.
"As CEO, my job isn't to DO those things – it's to ensure the team has what they need to do them." @erinbury on how to balance her workload with people management.
Click To Tweet
How do you structure one-on-ones with your senior direct reports?
When I was running my agency, we brought Raw Signal Group in to do management training. We were a young team of several first-time managers, and so we thought it was a good chance to go through the fundamentals of management, from how to hold an effective meeting, to how to have effective one-on-ones. Melissa and Jonathan taught me that one-on-ones should:
Happen monthly
Be guided by your direct report
Always have an agenda
Never be rescheduled
And most importantly, they shouldn't be about the daily tasks at hand—they should be about the person's growth, larger goals, and any bigger issues at the company.
At Willful, we've just started to implement those best practices, knowing we've been a very small team to date without much structure. We're starting to hold those one-on-ones across the team, and will be implementing the same agenda process to ensure they're smooth, and we can see progress month to month. (Sounds like maybe we need Soapbox agendas for this!)
What do you feel is the most difficult part of managing a senior team? Most rewarding?
I think the most difficult part of managing a senior team at a small company is managing expectations around growth and responsibilities. Your title might be CMO at Willful, but if we need you to run an errand or respond to a customer question, then you pitch in—I'm doing those things every day too. It's the nature of startups. When it comes to career growth, it can be difficult for people at small companies to see the path for growth, since they either only have one person above them, or they feel that there's limited opportunity since the person they'd be replacing would have to leave first. So I think it's about highlighting the fact that at a startup, titles are important, but not as important as having a positive attitude about pitching in and helping where needed, knowing we're all doing our part. It's important to highlight potential growth opportunities, even if they're not visible today, but also recognize that not all growth might be at your company (and that's okay too).
What people qualities do you look for when hiring senior leaders?
When I got my first job at a startup I was 23 and only had one year of experience. A few months into the role, I asked the founder why the heck she hired me when I only checked off a few of the requirements for the role and had limited experience. She responded that she didn't hire for skills or experience, she hired for resourcefulness (at least for junior roles) – she didn't care whether you knew how to do something; she cared that you could figure it out with minimal help.
I've taken that with me through every subsequent role I've had – of course, there are some roles I've hired for – Senior Writer, Art Director, Software Developer – that require a specific skill set or level of experience; but across all the best hires I've made, there are a few common qualities:
A positive, can-do attitude and a willingness to help where needed
An enthusiasm for the mission behind the company, or the problem we're solving
Resourcefulness and an ability to bring solutions, not problems
A comfort level with being on a small team with lots of uncertainty (since not everyone wants to work at an 8-person company)
When hiring senior leaders, what quality do you value most?
I think I value strategic thinking the most, the ability for someone to step outside of their own box, their own role and requirements, and to think about the company as a whole. Our VP of Engineering is a great example of a strategic thinker. He's constantly asking questions, poking holes in our assumptions and ideas, and helping to align the day-to-day with the bigger vision at Willful. I appreciate how he doesn't just come in, do his work and go home. He sees himself as a key part of the senior leadership team that's guiding the company towards a larger goal.
We also just went through a mission/vision/values training exercise with Brent Wagner, and it was hugely valuable for us to all get on the same page about our North Star as a company, our internal and external values, and our 2020 priorities. I think alignment and transparency are the keys to enabling people to think strategically, and to both work on the day-to-day but also on the bigger picture.
---
If you'd like to learn from more senior leaders on how they approach people management, check out these other interviews: