Manager Community
Posted Feb 18, 2020
Remote Leaders: Why GitLab's Head of Remote "unchained from a life of commuting"
[wtr-time]
Learn about how Darren Murph, Head of Remote at GitLab empowers his team to succeed, feel included and ❤️ remote work.
Hiba Amin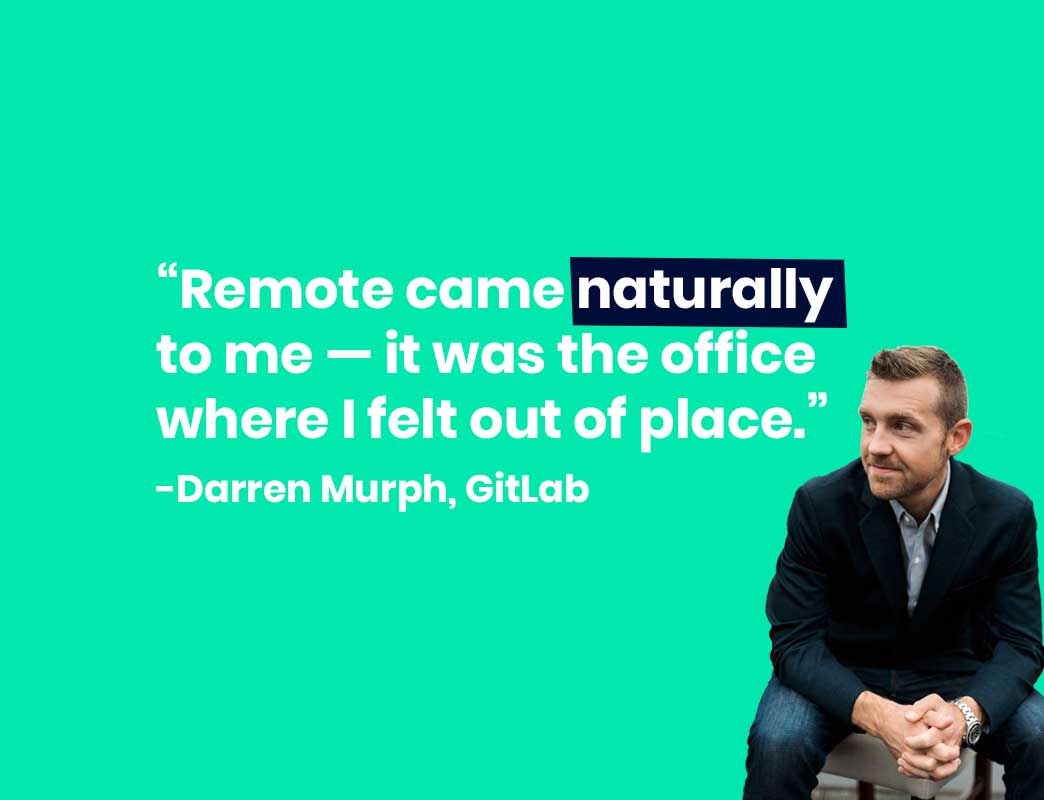 A 2019 study by Upwork found that 73% of all teams will have remote workers in the next decade. This has all been made possible because of companies like GitLab, Buffer, InVision and more.
With the rise of remote work, it's important for organizations and employees alike to understand the ins and outs of remote work. To learn more, we caught up with Darren Murph, Head of Remote at GitLab to discuss all things remote. Darren's role at GitLab focuses on everything from onboarding and culture, to process and communication. His focus is to empower everyone to succeed, feel included and love remote work.
Quick facts about Darren
Has been working remotely for over 14 years
Travels about 100,000 miles per year
Embraces a non-linear workday
---
What's in your team's tech stack?
We fully embrace asynchronous workflows, and these tools are tailor-made for moving projects forward without other team members being online at the same time:
GitLab
Zoom
Slack
Google Docs
What are some of the challenges that your team faces as a result of being remote?
Time zones are the biggest challenge, though it forces us to lean into asynchronous communication instead of defaulting to meetings. We are intentional about informal communication, hold daily company calls that we can all Zoom into, and love the bonds that are fostered during in-person moments at GitLab Contribute, Commit, and other conferences.
We take mental health seriously. We have a dedicated handbook page and team Slack channel. I've never felt closer or more connected to a team of over a thousand people. Every single team member is just a double-click away, and all-remote allows us to experience different cultures and backgrounds by Zooming with colleagues in over 65 countries.
What are the most important factors when it comes to effectively managing your team?
We hire managers of one at GitLab. People who thrive here relish autonomy, empowerment, and agency. By far, the most important factor is adding context. Excellent colleagues do not need to be managed; they need to be informed. Thus, it's on each of us to foster a low-context culture, where communiques are delivered thoughtfully, with precision and background, such that someone coming into the thread mid-stream — or even years down the road — can understand the context.
What strategies are you implementing to empower the team at GitLab?
We are public by default. Our vision, strategy, and processes are all public in our handbook. This ensures that there is a single source of truth for everything. There is no difference between what a prospective applicant or customer sees, and what our team sees.
Every single team member is empowered to put forth proposals via merge requests. We operate with short toes — in other words, there is no veering into someone's lane, as we are all empowered to learn from each other.
We apply iteration to everything, from work to workspaces. This empowers each team member to boldly move forward with small changes — two-way doors that are easily reverted if needed.
How do you build and sustain GitLab's culture?
Culture starts at the interview process. We are transparent with applicants about what it's like to work at GitLab, so they get a feel for our culture before they even apply. It continues with onboarding — the most robust and thorough in the world. Every team member is walked through a Getting Started guide, which encourages them to set aside time to soak in our values.
We're intentional about showing gratitude, utilizing a dedicated #thanks Slack channel and empowering everyone to recommend any colleague for a discretionary bonus.
What's your biggest challenge as a remote worker?
The blurred line between home and work makes it hard to disengage at times. To help with this, I worked with PTO Ninja to create a monthly Slack reminder for all GitLab team members to consider taking time away from work. Also, we encourage team members to start every 1:1 talking about life, not work. This acts as a forcing function to keep life first, and to ensure that you're devoting adequate attention to your family and community.
What's the biggest advantage you experience as a remote worker?
I'm able to live and work in a community that matters to me, near family that visits often and enriches my life in a way that is impossible to comprehensively describe. The flexibility to work a non-linear workday and fit my work into my life — as opposed to the other way around — is a tremendous blessing.
Where do you actually work?
Each day is different! My default is a home office, but I travel roughly 100,000 miles per year. I routinely work in vehicles, airplanes, and hotels.
How do you start your workday?
I embrace a non-linear workday, which enables me to maximize daylight hours and shift my work schedule back. When I'm home, I enjoy a morning walk with my wife, son, and dog before I truly settle into work. When I travel, I look to get in a hike or a bit of exploring in the morning and early afternoon, preferring to work when it's dark (and thus, wouldn't be ideal for scaling a mountain).
What was your reason for working remotely in the first place?
If you count each weekend as a tally mark, you can fit every single weekend of the average human life on one sheet of paper.
Life is entirely too short to work in a colocated role that owns you 5+ days per week.
I'm an explorer at heart. I thrive on traveling to new places and immersing myself in new cultures. Remote work enabled me to truly live. When I discovered remote, I felt like I'd found the greatest cheat code life has to offer. No commute, no set working hours.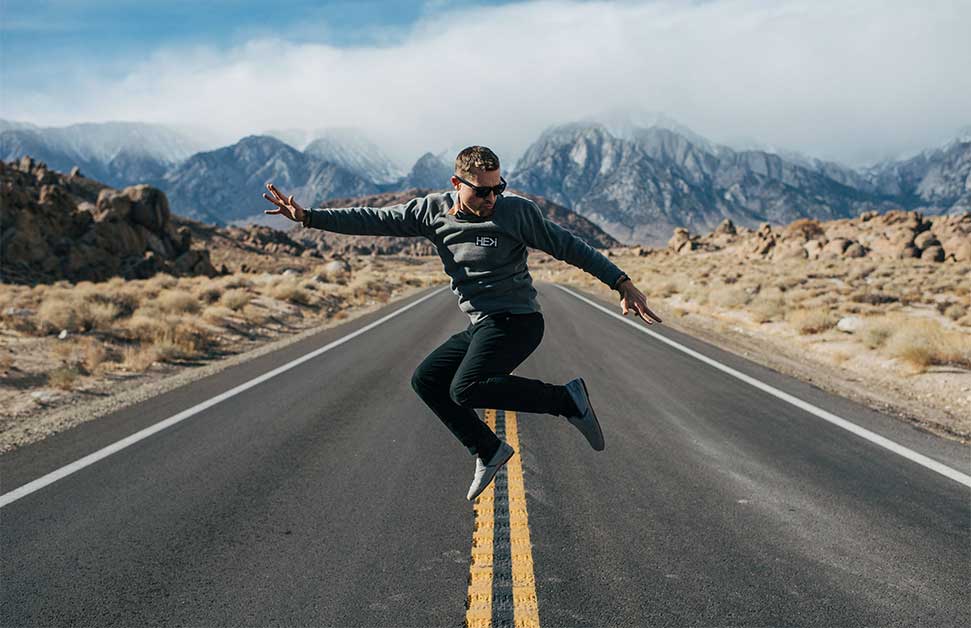 Do you feel like being remote hinders your career growth in any way?
Absolutely not. GitLab is all-remote, which means that there is no office. This means that there is no bias towards those who show up in an office — the office doesn't exist, so we're all on a level playing field, where results and collaboration are measured.
A partially-remote (hybrid-remote) company that intends to begin hiring remotely — or allowing existing employees to optionally transition from colocated to remote — must structure the company as if every single team member were remote.
This means that any hallway conversations must be documented and disseminated for all who were not present to hear, and it means that in-office workers must each use a single webcam and microphone to join a group call (as opposed to in-office colleagues gathering in a conference room with a sole camera).
Leaders must make a concerted effort to praise and promote people who they do not see in-person. Ideally, make the executive team remote, and have a companywide KPI to maintain a certain percentage of remote leaders.
How did you handle the transition from being on-site to remote?
I embraced it with open arms. Remote came naturally to me — it was the office where I felt out of place. I'm a natural storyteller and communicator, and prefer to collect my thoughts and deliver them via text. Not a day passes that I am not grateful for not having to commute.
Would you ever go back to working on-site?
If given the option, no. I do adore in-person interaction, and I love seeing colleagues onsite at events and conferences, but that's entirely different than an office setting that demands a daily commute.
What's one piece of advice can you give to someone who is about to go fully remote?
Help your significant other go remote as well. Once your entire family is unchained from a commute, you can let your imagination run wild as to what you're able to accomplish and experience. For those currently in a large city with no real passion for being there, look to rural towns and smaller cities.
I'm significantly healthier living in a rural environment with no traffic, no horns, and a community that recognizes how precious life is.
---
If you'd like to learn from other remote leaders, check out what these leaders had to say: