Management Skills
Updated Oct 3, 2022
10 Icebreaker questions for your team meetings
[wtr-time]
Start your next team meeting on the right foot by kicking it off with one of these icebreaker questions.
Nicole Kahansky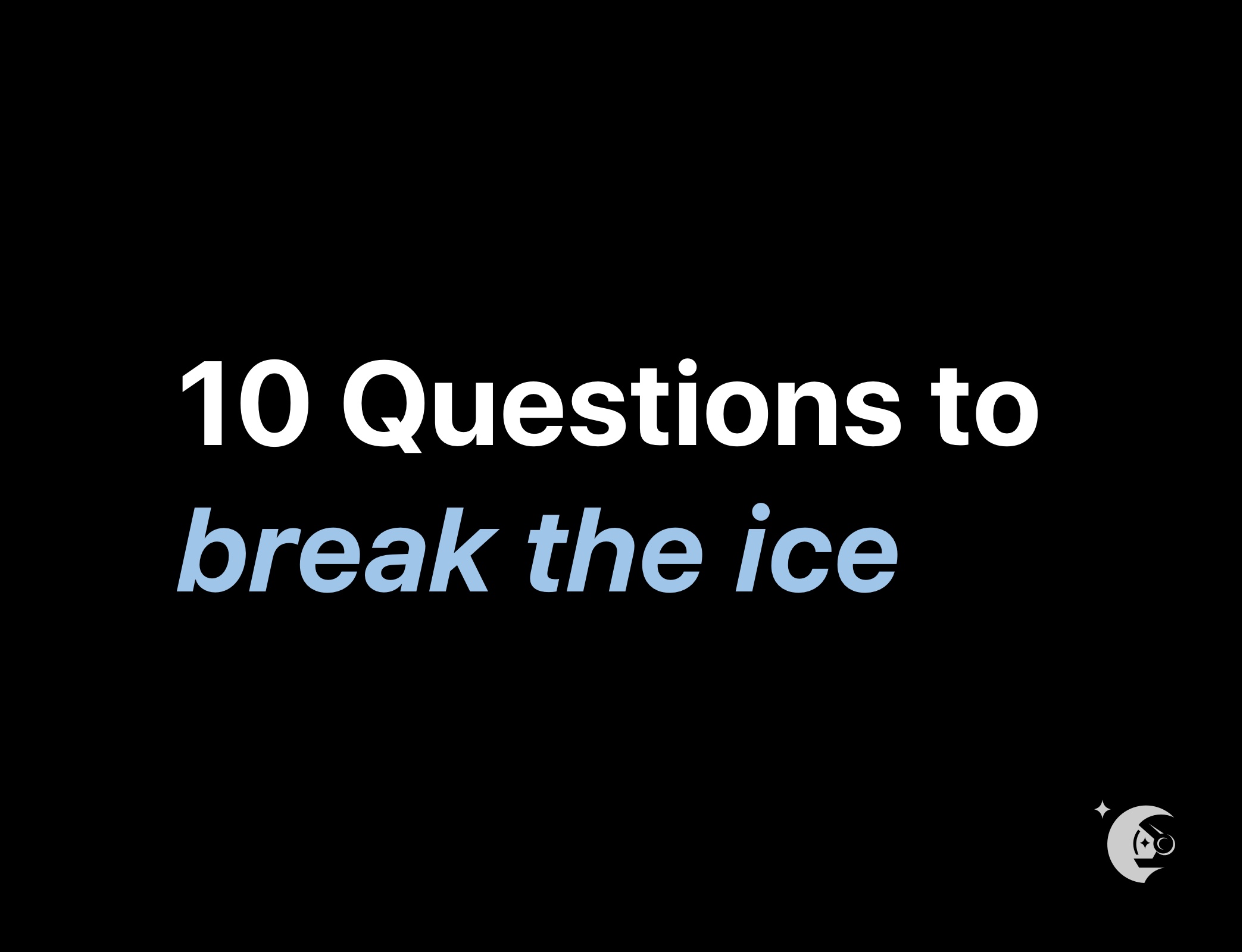 Icebreakers get a bad rap, and for good reason. These "group bonding" activities sometimes feel like 'forced fun'. But that's not what they're about.
Icebreakers can help make your team meetings feel more personal and your team members less isolated when executed properly. This is especially important as traditional offices become a thing of the past for so many people. With 97% of tech employees now working in a fully remote or hybrid environment, managers need to think outside the box to keep their teams connected.
But can icebreakers actually make a difference in team meetings? How do you do them the right way, so they prompt real engagement (and not eye rolls)? In this article, we cover:
Why are icebreakers important for team meetings?
Icebreakers often feel pointless because they're disconnected from your regular interactions at work. Typically, these activities are intended to help new people get comfortable with one another in a group setting.
But, if you don't continue building on those initial connections, what's the point?
Incorporating icebreakers in your first team meeting agenda can help everyone get off on the right foot, but the real benefits appear over a longer period. So, what are they? With the right approach, icebreakers can:
Make your team meetings feel more personal 💙
How many times have you heard one of those tired office clichés like "No agenda, no attend-a" or "This meeting should have been an email"? It's true — no one loves seeing their calendar devoured by pointless meetings. The solution, however, isn't always decreasing the quantity, but improving the quality. One of the best ways to do that is by letting people participate as individuals.
Why? Employees aren't just here for the paycheck. Hypercontext's 2022 report on high-performing teams found there wasn't a notable correlation between salary and retention, as long as companies were paying at or above market rate.
Psychological safety is crucial if you want employees to stick around. Because let's face it: when someone's treated like a cog in the machine instead of an actual human, it's only a matter of time before they disconnect, disengage, and, eventually, move on.
Icebreakers alone can't substitute for strong company culture, but they can enhance meetings by allocating time to focus on individuals rather than outputs.
Foster team connections 🤝
Think back to in-person meetings. There were natural breaks here and there where the talk wasn't all business. For example, when everyone shuffled into the conference room, or made a beeline for the coffee machine post-meeting. These moments were probably so insignificant that you didn't even remember them until now. But just like the compound effect, when you pile a bunch of tiny exchanges together over time, they serve a bigger purpose: you feel like you actually know the people you're working with.
It can be tough to replicate organic, on-the-fly office chatter in a remote setting. But just because there's no literal watercooler doesn't mean your team needs to feel like their co-workers are a bunch of disconnected faces on the other end of a Zoom call. While there's nothing wrong with bonding over random gifs or memes, icebreakers take it a step further by intentionally sprinkling in more opportunities for casual conversation.
Hypercontext's 2022 report found that most tech workers spend 10-20 hours per week in meetings. Setting aside a few minutes to talk about something other than immediate projects can help build rapport and connections.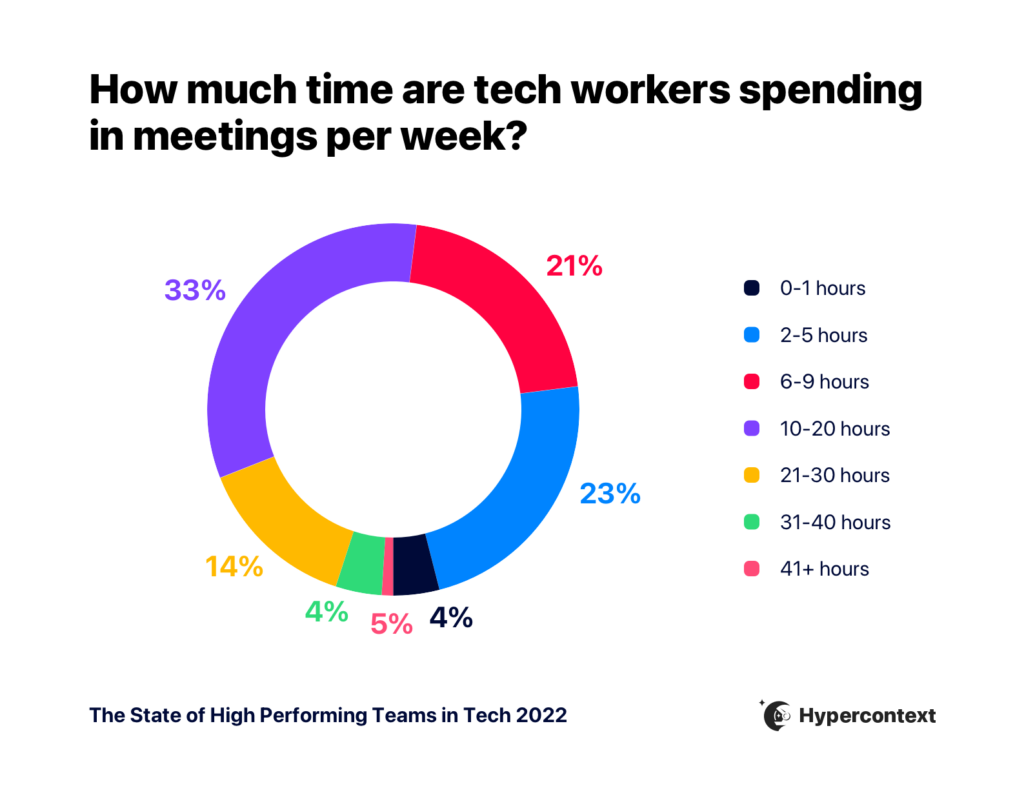 Boost individual confidence ✨
Just because everyone has equal opportunity to share in meetings, doesn't mean everyone is equally comfortable speaking up. According to The State of High Performing Teams, individual contributors are the least likely to feel comfortable speaking in meetings. The report also found that People of Color are less comfortable speaking in meetings than their white colleagues, and those who identify as women are less comfortable than men.
This isn't only detrimental to the individual employee, but can also have serious repercussions for both your team and organization. When employees aren't comfortable sharing ideas at work, they're 3X more likely to search for another job.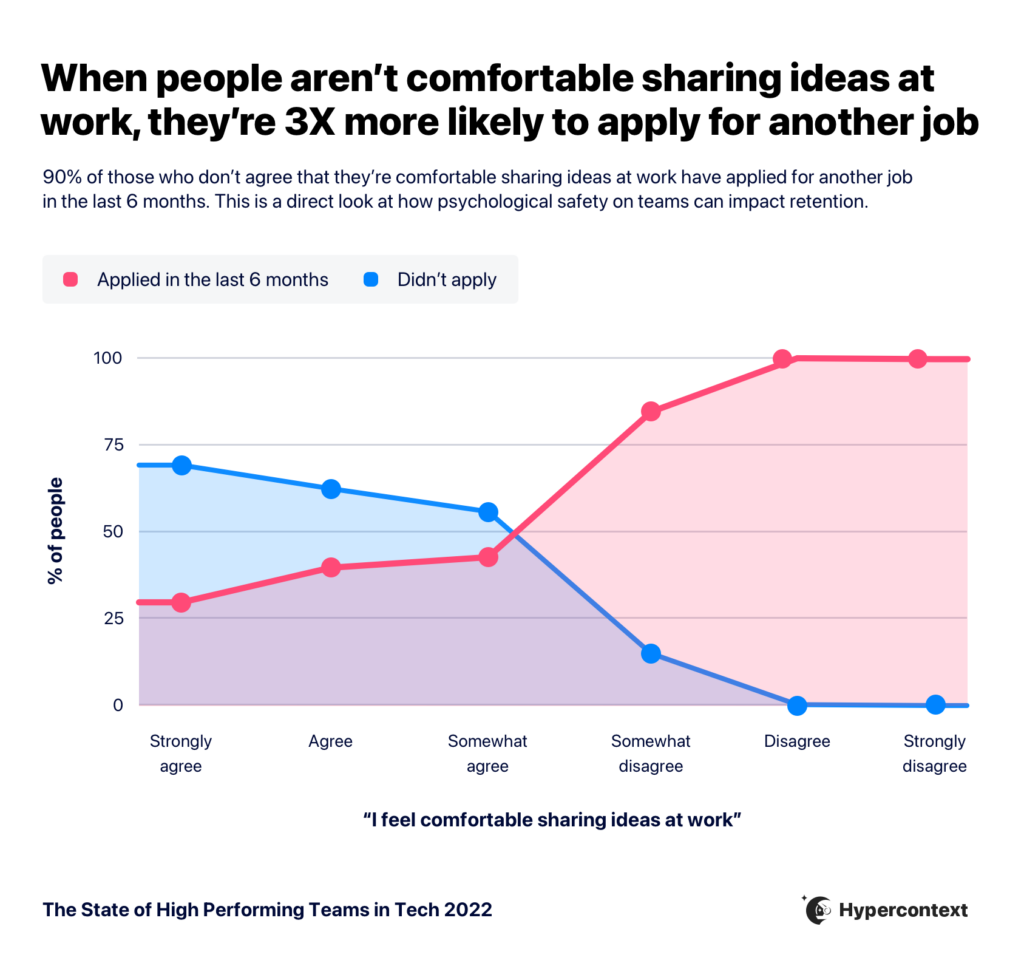 As structured, "low stakes" talking points, icebreakers help create a space where everyone is encouraged to contribute. They can help individuals get more comfortable speaking up.
10 Team icebreaker questions
Like with any team meeting, figuring out your talking points for icebreakers can be tough. Here are some of our favourites:
🤫 Psst: If you're already a Hypercontext user, we recommend the suggested questions feature in-app to help source ideas. There are over 500 recommended questions to choose from.
1. What was one win you had last week? / What are you proud of? 🎉
The 2022 State of High Performing Teams report found fulfilling work was one of the top factors impacting motivation and engagement. But, it's easy to lose sight of the bigger picture when you have a lot on your plate.
Encouraging your team to recognize their own accomplishments – from major successes to smaller wins – can help improve or sustain that drive.
2. What are you jazzed about (personally or professionally)? 🤗
Talking about latest obsessions provides an instant shot of fuel to any team meeting. In addition to learning more about their co-workers, individuals get to spread their enthusiasm for personal and professional interests, whether it's an exciting discovery on Product Hunt, a new Instant Pot recipe, or their dog's upcoming birthday party.
3. What's something non-goal-related you learned this week? 🤓
One of the biggest benefits of icebreakers is the subtle reminder that we're all human, even at work. That sometimes means surprise appearances by cats or kids on Zoom calls, bad lighting, or days where we'd rather not have the camera on at all. It also means we might have something insightful to share, even if it's not directly related to OKRs or SMART goals.
4. What are you most looking forward to this week? 🔍
One traditional office norm that doesn't have an obvious remote equivalent is just shooting the breeze. Asking your team to share something specific they're looking forward to is more open-ended than "How's your week going?", so people have the chance to actually get caught up.
5. What's your favorite place you've travelled to? ✈️
When it comes to icebreakers, travel-related questions are practically foolproof. This gives your team a chance to bond over interesting stories and experiences.
6. Who deserves a shout-out on the team? 📣
Icebreakers are designed to help your team get to know one another and build personal connections. Recognizing contributions from their co-workers helps individuals develop positive working relationships even further, while simultaneously fostering a collaborative team environment.
7. What activities do you do to stay centered? 🧘‍♀️
This is a more reflective spin on the classic "what do you like to do outside of work?" icebreaker. It similarly prompts discussion about hobbies and interests, but in the context of emotional wellbeing. This question leaves some room for vulnerability, should anyone feel comfortable sharing challenges around work-life balance. But, it's easy enough for individuals to focus on the activity and still feel like they're participating.
8. Write in the chat one word to describe how you're feeling right now 💙
The last time someone at work asked, "How are you?" did you even think about the answer? Probably not. While it's still an important question to ask, sometimes it's helpful to get more creative by looking at questions other managers are asking. This is exactly what we did for this question— taken from Jane Dutton, a business administration and psychology professor at the University of Michigan. Jane once asked all 70 people on a Zoom call to enter a single word in the chat to describe how they were feeling. She then invited people to read through what others wrote.
She explains, "It was a way we could be present to each other right from the beginning," says Jane. "Everybody's on Zoom burnout, so they're looking for ways to be more playful in our video worlds. Play is a major mechanism for connection."
9. What was the highlight of your day? ☀️
We all feel bogged down with tasks sometimes. Sharing a daily highlight — whether personal or work-related — is an opportunity for everyone to collectively look up from their to-do lists and acknowledge something positive, no matter how small.
10. Share your favorite song right now 🎶
Some questions will always prompt the same answer, like "What's your favorite pizza topping?" or "What was your first concert?" Instead, ask your team to share their favorite songs, movies, or TV shows of the moment. This keeps the conversation going, so your team can learn a little more about their co-workers every round. It's also a great way to pick up recommendations for your weekend Netflix binge.
👉 Pro tip: Start a running playlist with your team's favorite songs!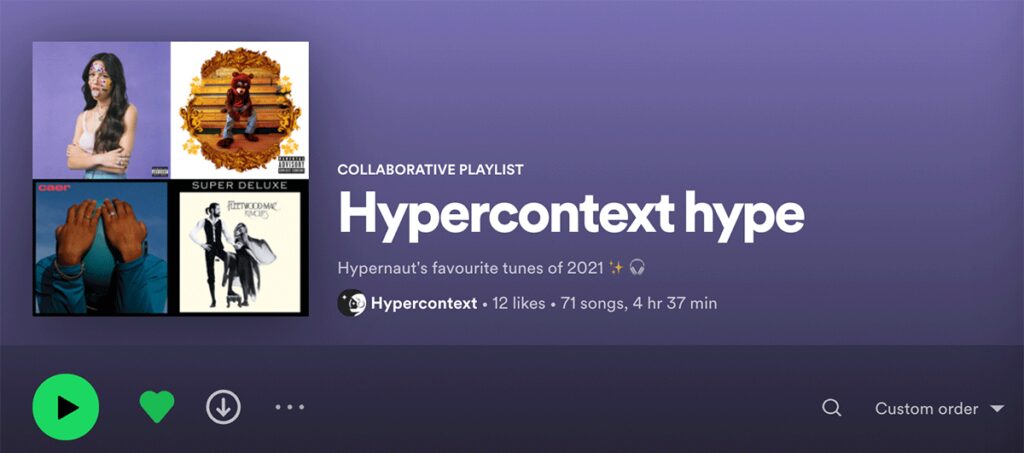 Bonus: The Wikipedia challenge
Not all icebreakers need to be questions. At Hypercontext, it's demo day tradition to start the meeting with the Wikipedia challenge. Starting on whatever Wikipedia page we ended on the meeting prior, someone chooses a new word, and everyone scrambles to find its Wikipedia page solely by clicking Wikipedia links. No searching. No googling. The person who finds the new page the quickest is the week's winner.
Throughout the year, we keep a running scoreboard that includes:
Fastest time
Least amount of clicks
Number of wins
Some friendly competition never hurts!
Icebreaker question wheel
Need help deciding what icebreaker to add to the agenda? We've got you covered. Spin the random icebreaker wheel. 👇
Team icebreaker do's and don'ts
✅ Do: Shake things up
Introducing variety will keep your icebreaker questions interesting and let your team cover more ground.
❌ Don't: Go overboard
No one enjoys feeling like their time is being wasted, and your team might start to resent icebreakers if they go on for too long.
It's always a good idea to keep an eye on the clock — at Hypercontext, for instance, we spend five minutes getting to know our team members each week. This gives us enough time to energize the call and make sure everyone is comfortable having their voice heard, but also doesn't derail the entire meeting.
✅ Do: Let your teammates contribute
Your team won't reap any icebreaker benefits if they feel like they're just going through the motions. Instead, encourage feedback to make sure your questions prompt discussions that people actually want to participate in.
❌ Don't: Get too personal
Icebreakers can be interesting and insightful without crossing the line. Avoid questions that are too personal since this will undermine your attempts to foster a psychologically safe team environment where everyone feels comfortable contributing.
Back to you
When done the right way, icebreakers make team meetings feel more personal, and co-workers more connected, by subbing in for those casual conversations we used to enjoy in the office. They can also provide a much-needed confidence boost to individuals who normally aren't comfortable speaking up in meetings, and helps you genuinely get to know your reports.
Don't be afraid to experiment with different questions and ask for feedback. Even if some icebreakers are more successful than others, continuously working to improve the quality of your team meetings will reap serious benefits in the long run.
---
Looking to improve your team meetings and access hundreds more conversation starters like these? Take our team meeting software for a spin!