An offsite meeting is a meeting that takes place outside of the office. The goal is to get your team together to discuss big picture strategy or goals, or a dedicated time to make headway on larger projects. Oftentimes, offsites are used to kick off projects, make quarterly plans or build up team morale.
Why have an offsite meeting?
Offsite meetings are a great opportunity for teams to come together and collectively solve a larger problem or plan out a period of work. The values of having an offsite meeting include:
The change in venue gets teams in a different headspace

Pulling teams away from their desks/workspaces removes the threat of interruptions

Teams that don't often work together have the opportunity to collaborate

You can condense a slew of meetings into one large chunk of time

The typical office or work environment distractions are eliminated
Pre-offsite meeting checklist
Offsites offer a lot of benefits, but they're a beast to plan and execute. Use this checklist to make sure you're ticking off the big items:
Determine your budget:

You don't have to break the bank for every offsite. It could be as simple as renting a communal office space, or going to a nearby park. If you're planning a larger offsite, steal some tips from our

Hypercontext annual offsite tell-all

.

Secure a date, venue, food and transportation (if needed):

Whether you're handling logistics in-house or outsourcing the event, make sure these big ticket items are sorted before

sharing your meeting agendas

or starting a conversation with the larger team.

Elect a coordinator

: Choose someone to communicate reminders, coordinate day-of plans and be the point-person for any questions.

Finalize and share your agenda

: Share your meeting agenda well in advance of your offsite (at least 48 hours). Give teams the opportunity to start thinking about what they want to bring to the conversation. Not sure where to start? Check out our agenda template below.

Assign pre-work:

Sharing the agenda is important, but you also want to provide as much additional context as possible by assigning "pre-work" or "pre-reading" – that way, you can spend your valuable offsite time making decisions, rather than getting everyone up to speed. For example, if your offsite is for problem-solving, assign some pre-work brainstorming or reading over a briefing on the problem you're solving for.

Assign a note-taker(s):

Instead of everyone taking separate sets of notes, assign a master note-taker. This person will be responsible for taking and sharing all notes.
Your offsite meeting agenda
Every offsite is different depending on your objective, but this basic structure can be followed for most purposes.
Click here to jump to the Hypercontext offsite meeting agenda template!
1. Objectives – why we're here
Use this time to share "why we're all here" and what you want to achieve at the of the offsite.
2. Ground rules
Here's where you'll outline the logistics of the offsite. You might assign smaller teams, send people to different physical locations, set time restrictions and more.
3. Activities/sessions
You'll likely have a few different sessions and activities throughout your offsite meeting. This section of the agenda may take several hours or even days.
4. Next steps
Always close your offsite with a summary of what's happening next.
Tips for your offsite meetings
Communicate the plan clearly and often
People WILL forget. They'll forget the date, the venue, what food is on offer, how they're getting there, what time – you name it, it will be forgotten. Count on this and over-communicate. Send out calendar reminders, chat reminders and make sure it's an agenda item on all hands meetings leading up to the offsite.
Get feedback
Immediately after your offsite (or in the last 10-15 minutes) collect feedback – while it's fresh in everyone's mind. Ask the content, perceived value, venue, food, etc. Use this feedback to improve your next offsite meeting.
Get your tech in order
Don't waste precious time in your offsite searching for the right dongle or fiddling with the WiFi. Make sure your tech-house is in order before your meeting – whether it's provided by the venue or not. (Or, go tech free! The Hypercontext annual offsite is held in a remote location intentionally to discourage phone use and keep us focused.)
Follow up
Any next steps or outcomes from your offsite meetings should be communicated right after your meeting – and multiple times thereafter. Your offsites should have a purpose, and people need to know that their creativity, ideas and hard work isn't going unnoticed.
---
Offsite meetings are fan favourites for many employees, but making sure they don't go off the rails is a tough gig. Try using Hypercontext to share your offsite meeting agendas in advance and for facilitating your discussions.
Your Hypercontext offsite meeting agenda template 👇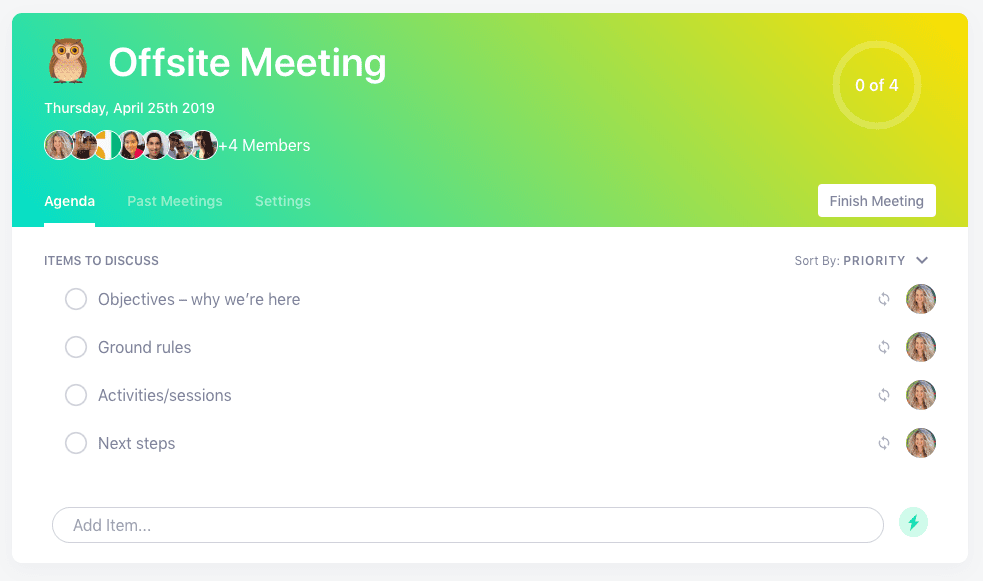 Run your offsite meetings in Hypercontext