Productive Meetings
Updated Apr 22, 2022
10 Secrets to productive team meetings
[wtr-time]
From preparation to follow-up, here are 10 ways you can improve the quality of your team meetings.
Shannon Maloney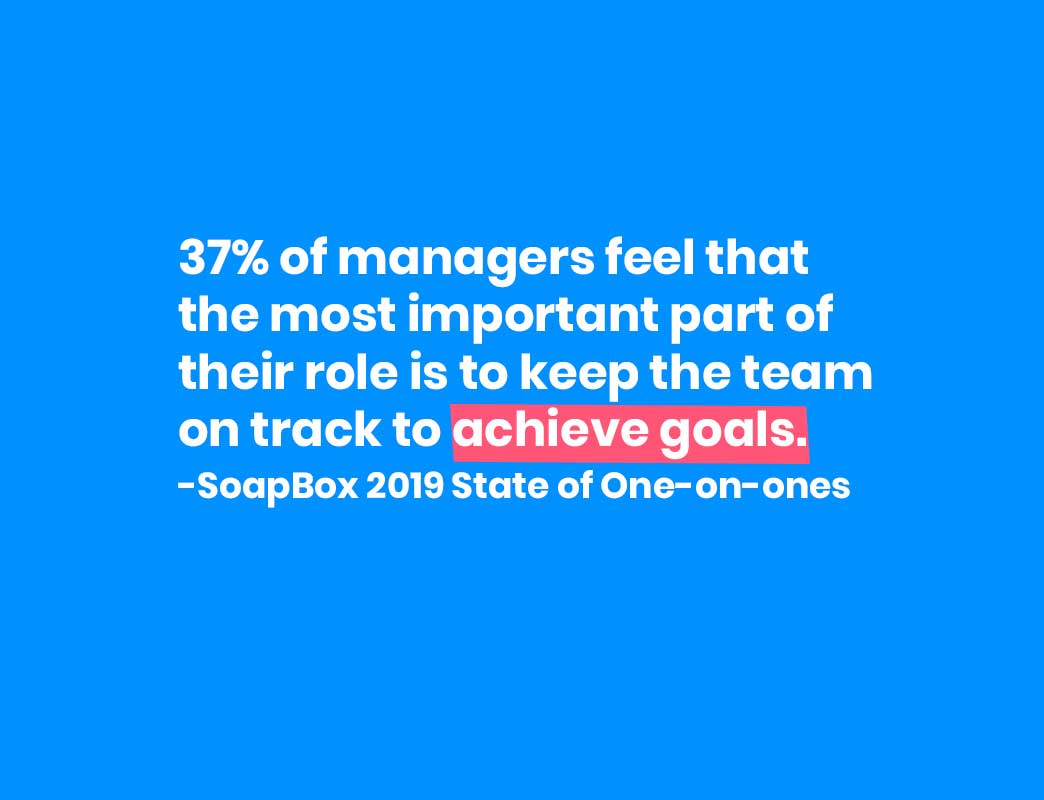 In a recent Hypercontext report, we learned that 37% of managers surveyed feel that the most important part of their role is to keep the team on track to achieve goals. What better way to align on and achieve team goals than empowering your team during meetings?
How do you have a productive team meeting?
Pre-meeting
1. Make sure everyone who needs to be in the room can make it
For most teams, team meetings happen on a recurring cadence (i.e. every 2 weeks on Monday at 2 pm for 1 hour). When you set this time up, make sure that everyone's available to meet. If someone key to the productivity of the meeting can't make it, don't forge ahead and waste the time of people who can attend.
2. Share your agenda in advance
By having a shared agenda that's available to all team members before each meeting, everyone has the opportunity to contribute to it. Having access to the agenda prior to the meeting, means that everyone on the team is able to come prepared and isn't surprised by what's set to be discussed.
3. Set a meeting goal
What are you hoping to get out of this meeting? If you're not sure where to start, here are some common team meeting goals to consider:
Understand and eliminate roadblocks
Outline the tasks and projects that each person will be working on between the current and next team meeting
Discuss how the team is tracking towards goals and what, if anything, needs to change
4. Prepare for the meeting
Set some time aside to review all agenda items and prepare talking points prior to your meeting; make that the expectation for everyone on your team. By doing this, you'll see a major uplift in how productive and collaborative your meetings become!
During the meeting
5. Remove all distractions
There's nothing worse than buzzing Apple watches and slack notifications dinging every three minutes. Go device-free save for your note-taker. If you're in a remote meeting, make sure everyone is on DND for the duration of the meeting. Not having everyone's attention in a meeting is frustrating and distracting for everyone, not just the person leading it.

6. Follow an agenda
We all know and love a Tangent Terry, but Terry is often the reason you leave a meeting asking, "What just happened?" If you're going off-book and the conversation isn't fruitful to the objective of the meeting, then park it immediately. Take a note of it, set up a separate meeting to discuss it if you need, but quite literally say "Terry, I want to make sure we get to X, let's move this to the parking lot and pick it up later."

7. Invite everyone to contribute to the conversation
Just because someone is the loudest in the meeting, doesn't make them right. The people on your team are there because they're valuable to the company and team. Their voices matter, regardless of how quiet or loud they are. If you're not giving them the opportunity to share their ideas, you're losing out. So, how do you get everyone to contribute during the meeting?
One simple and effective way to do this is by going around the table and asking for one idea or suggestion from each individual. This can be as simple as "I'd like to round-robin this agenda item. Everyone has up to one minute to share your biggest takeaway on X."

8. Take notes
During every meeting, you should be documenting meeting notes. As you progress through each agenda item, write a 1-3 sentence summary that will be sent out to the team post-meeting. Before you finalize each summary, confirm with everyone that your understanding of the key takeaway was also theirs so that everyone is aligned at the end of each meeting.
Post-meeting
9. Send notes to everyone
Remember those detailed notes and summaries you just wrote for your agenda items? It's time to put them to use. Combine all of your items and notes and send them out to everyone in the meeting. You can use meeting minute software to save time.
Pro tip: With Hypercontext, you can use a shared agenda to add items before the meeting, take notes during and send automated notes after, all in one place. 
10. Assign next steps
For a meeting to be truly effective, you need to break down your decisions into action items. And always, always, always assign next steps to a person with a deadline, otherwise, it won't get done. When you assign actions to individuals, you're encouraging ownership and responsibility within the team.
When you're able to run productive team meetings, the team will be more aligned and empowered to crush your collective goals.
---
Take 30 seconds to set up your meeting agenda in Hypercontext