Productive Meetings
Updated Sep 21, 2021
4 things to include in your daily scrum meeting agenda [Template]
[wtr-time]
Whether you're in-person or working asynchronously, these 10-minute pulse checks will keep you and your team on top of your sprint.
Chris Fraser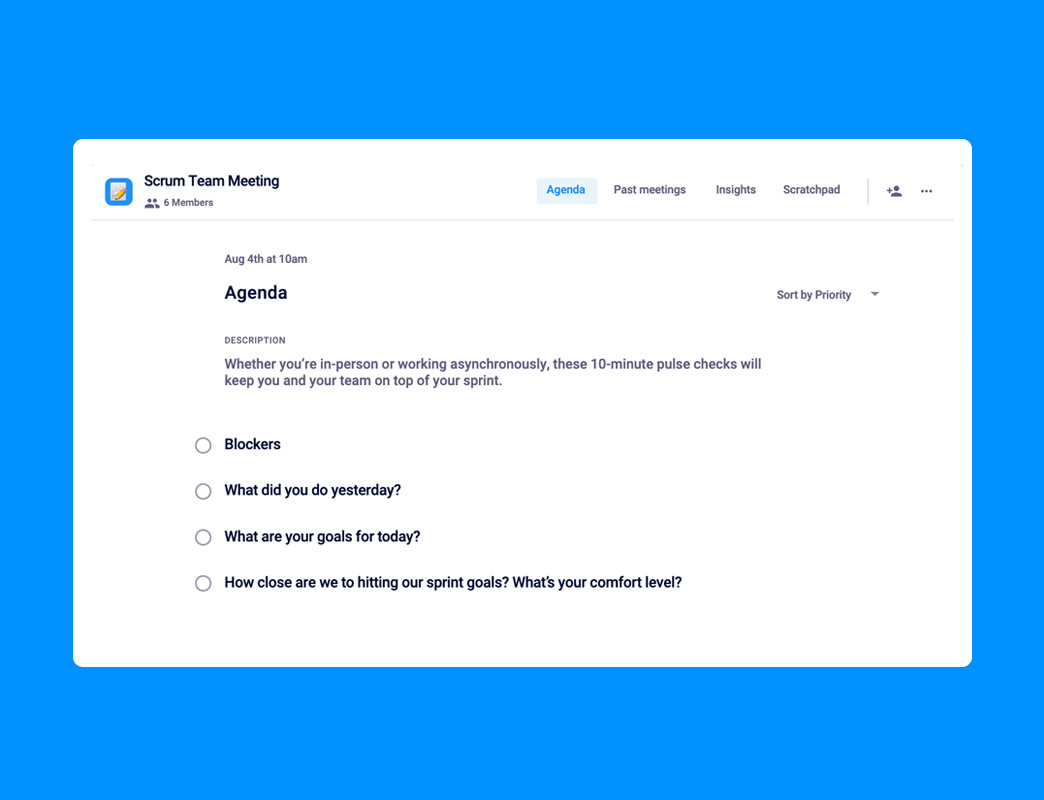 Scrum meetings, also known as daily standups are a part of agile meetings, or scrum ceremonies, where all team members can sync up on the work they did in the last 24 hours, and go over what's on deck for the next 24 hours.
In this article, we'll walk through:
Daily scrum meeting agenda template
Use this scrum meeting template for daily 10-minute pulse checks with your team. Whether you're meeting in-person or meeting asynchronously, these four agenda items will keep you and your team on top of your sprint.
Click here to jump to the Hypercontext scrum meeting agenda template! Download and use it for free.
Frequency: Daily
Meeting length: 10 minutes
Here are four items to include on your scrum meeting agenda:
1. Blockers
Is there anything preventing contributors from getting work done? Things to bring up here might be technical limitations, departmental and team dependencies, and personal limitations (like vacations booked, people out sick, etc.).
What this looks like in practice:
DevOps: Ran into issues setting up backup for the database on Digital Ocean
Marketing Manager: Our email service provider was down yesterday. Creating the newsletter draft today instead
Customer Success Manager: Waiting on an answer from the engineering team on how to resolve a bug for one of our customers
Account Executive: New sales sequence is almost done. Once marketing collateral is done, I'll add it into the sequence and set it live
2. What did you do yesterday?
This is a quick rundown of what got done yesterday (and if anything didn't get done, then why). This isn't the time for each person to run down their whole to-do list – they should focus on the large chunks of work that made up their deep focus time, and the activities that are relevant to your team as a whole.
What this looks like in practice:
DevOps:
Stripe testing
Implementation of DataDog completed
Marketing Manager:
New blog post live
Scheduled social promotion for the month
Secured co-marketing partnership with [company]
Customer Success Manager:
2 new help articles live
Ran QBR with [customer name]
3 onboarding sessions run
Account Executive:
Logged 50 emails, 5 calls, and 2 demos booked
Worked on new email sequence (50% done)
3. What are your goals for today?
Here, each team member will say what they want to accomplish – in other words, what they can be held accountable for in tomorrow's daily scrum meeting.
What this looks like in practice:
DevOps:
Set up tests locally for [tool or API name]
Deploy cache server
Marketing Manager:
Newsletter draft completed and ready for review
Launch survey for annual report
Customer Success Manager:
Prepare deck for [customer name] QBR tomorrow
1:1 with Nick
Account Executive:
3 demos with [prospect names]
Launch new sales cadence
4. How close are we to hitting our sprint goals? What's your comfort level?
This agenda item will help the scrum master get an idea of how the team is feeling about how their day-to-day activities are impacting overall goals for the team, and how contributors are feeling about the pace of the sprint.
What this looks like in practice:
Use a percentage: Feeling 90% confident we'll hit our sprint goals
Use a rating: Feeling 3/5. Too many blockers came up this sprint.
Have the team respond using the OKR traffic light system: 🔴 🟡 🟢
---
What to avoid in your daily scrum:
Lateness
Being late for any meeting is disruptive, but it's particularly distracting when the meetings are only 10 minutes long. Hold your team accountable for being on time, every time.
Monopolizing the conversation
Giving each team member the opportunity to talk is hugely important. Reinforce this at the start of each scrum if you find that certain team members have a tendency to ramble on.
Over-formalizing the process
Don't over-complicate your scrum meetings. Keep the agenda the same each time you meet, and make the technology for meeting consistently. Daily scrum meetings involve less than 10 minutes of meeting prep, max.
Other daily scrum meeting tips:
Hold your daily scrums in the morning and at the same time each day. If running asynchronously, ask that responses be submitted by the same time each day.
Do you daily stand-ups in person (standing up) where possible. If that's not possible, use a reliable and consistent tool for communicating remotely (we love a good SlackBot for this).
Let the team lead the conversation
Be a time cop and don't let your stand-ups run more than 10 minutes (If your meetings are taking more than 10 minutes, consider breaking it down using scrum artifacts.)
Your daily scrum meetings are all about holding your team accountable, removing blockers, and encouraging the team to build trust amongst each other. It's a short meeting, but a powerful one – when done properly. 💪
Scrum meeting agenda template 👇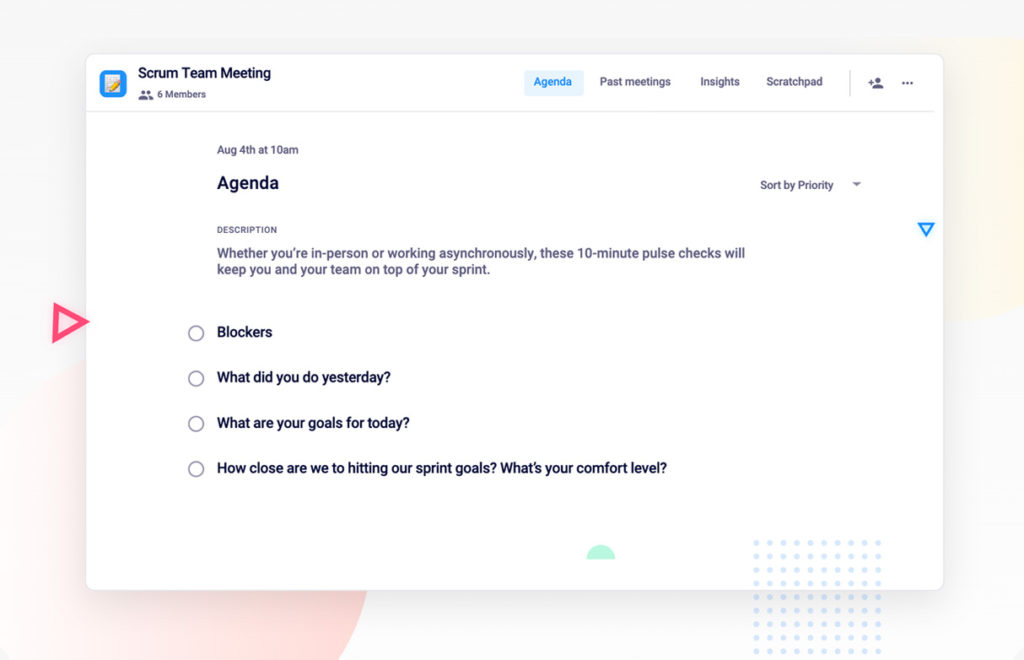 Use this scrum meeting agenda free with Hypercontext