Meetings are a great way to get to know people on your team, build trust with them, and get aligned on the work that needs to be done. Despite what the naysayers say, when they're done right they are productive.
1. Create and share an agenda before the meeting
Avoid nasty surprises by giving your team a heads up with a collaborative agenda before the meeting. Give them time to think through topics and ask questions that way your time spent in the meeting is even more productive.
How to do this in Hypercontext:
Click the + symbol next to "People" to create a one-on-one or "Teams" to create a team meeting
Invite your peeps
Email them with a reminder to start adding items to your agenda at least 2 days before you meet
Not sure what to add? Try one of our suggested items by clicking on the lightning bolt icon next to your agenda text box.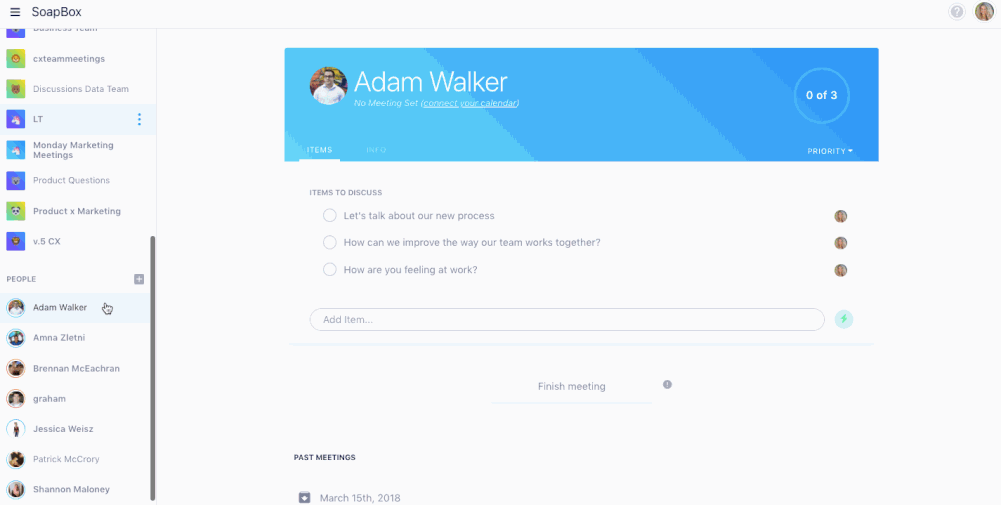 2. Own the 4 P's: Purpose, People, Product, Process
If it's your meeting, make sure the Purpose of the meeting is clear, you get the right People in the room, clearly identify the Product you hope to come out of the meeting with, and outline the Process for getting there. That way everyone knows why they're in the room. 

How to do this in Hypercontext:
Select a meeting channel from your left side-bar
Add "The 4 P's of this meeting" as an agenda item
Hover over the agenda item and click the double-arrow icon to set it as "repeating"
Click on the agenda item and outline your 4P's in the comments section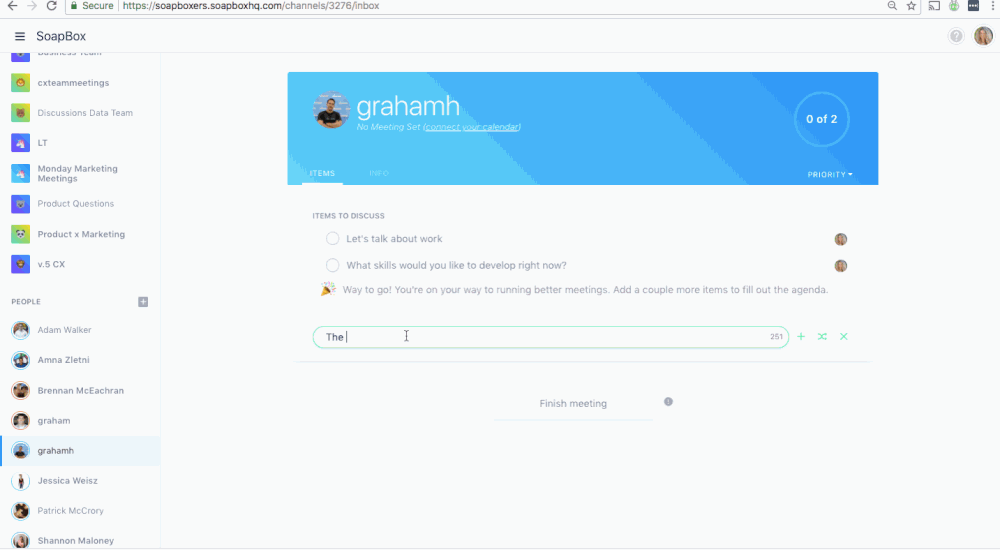 3. Make your meeting a screen-free zone
If you don't have their eyes, you don't have their attention, so get everyone to put their screens down. The only person who should have their screen open is the one taking notes in Hypercontext. 
How to do this in Hypercontext:
Assign one person to take notes in Hypercontext
Get everyone else to put their screens away
Cast or project the note-taker's screen
As you work your way through the agenda in Hypercontext, have the note-taker document your conversation on each item by clicking on it and adding comments using the text box at the bottom. When you've agreed on next steps or a resolution, add a summary at the top of the agenda item box.
When you're done, click "Finish meeting" to archive your closed agenda items (you can access them anytime by clicking on that meeting). Anything without a checkmark will stay on the agenda for the next meeting.