Hypercontext News
Updated Aug 6, 2021
The Hypercontext Chrome Extension is here
[wtr-time]
And it's going to help you and your team GSD 💪
Brennan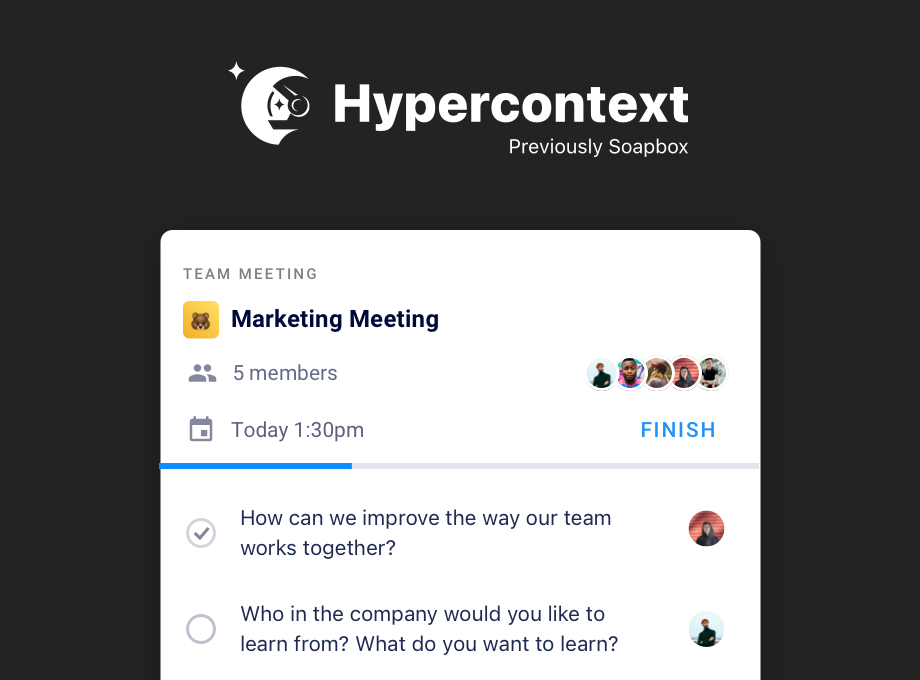 We are pumped to offer Hypercontext users another way to manage meetings with their teams with our new Chrome Extension.
Why we built it
We want to make Hypercontext as easy as possible to use where you work, when you're working. Customers tell us they love our Slackbot because it's easy to collaborate on meeting agendas while talking to their team, without ever leaving Slack. Similarly, the Chrome Extension was built to help you manage your meetings while they're top of mind, without having to leave Chrome.
Here's what you can do!
Manage your meeting agendas from any tab
Reading an article you want to share in your next meeting? Use the Hypercontext chrome extension to view, edit, and add to meeting agendas in any tab. Quick-add URLs with pre-populated text in 1 click.
View and manage agendas in your calendar
It's time your calendar did more than just store time, date, and location data. When you sync your Google Calendar, use the Chrome Extension to automatically open that meeting agenda when you click the calendar invite. At a glance, see all unread items on your agendas in the top right corner of your calendar events.
Use your agenda directly in Google Meet
No more jumping from one tab to the next to jot down notes. Once connected, your meeting agenda will show up during your Google Meet call, allowing you to add items, take notes, and assign next steps, all from your video call.
Other notable Chrome Extension features:
All of your next steps in one view: Whether you're using Asana, Todoist, or another project management tool, you'll be able to see all of your next steps from the tools your team is already using.
Google Drive integration: Edit Google docs and sheets within your agenda
Scratchpad: Public and private notes to document important information
Real-time employee feedback: Send out post-meeting survey questions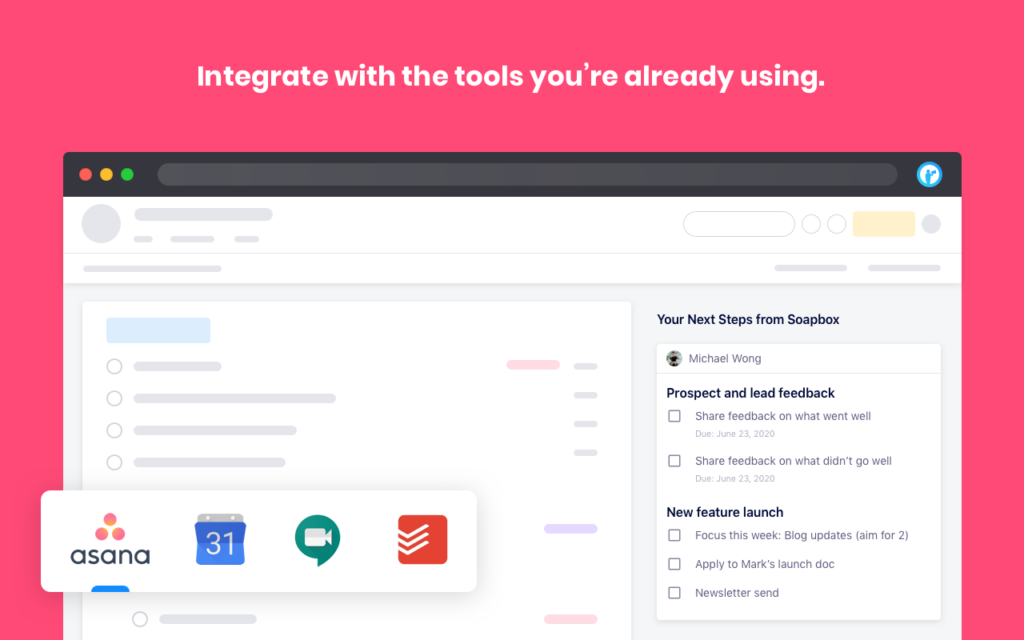 How to get it
Want in? 🙋‍♀️Go to the Chrome Web Store, add the extension and when you open it you can either sign up or sign into Hypercontext. Simply click the Hypercontext icon from any tab when you want to activate it.
The Soapbox Chrome Extension is the latest tool we're building to help busy managers become better managers. Sign up for the Hypercontext newsletter to keep up with all the cool new features we're building.