Hypercontext News
Updated Nov 16, 2021
How to introduce Hypercontext to your team
[wtr-time]
Hypercontext helps make it as simple as possible for managers to effectively lead high-performing teams. In this article, learn how to integrate Hypercontext into your team's workflow.
Nicole Kahansky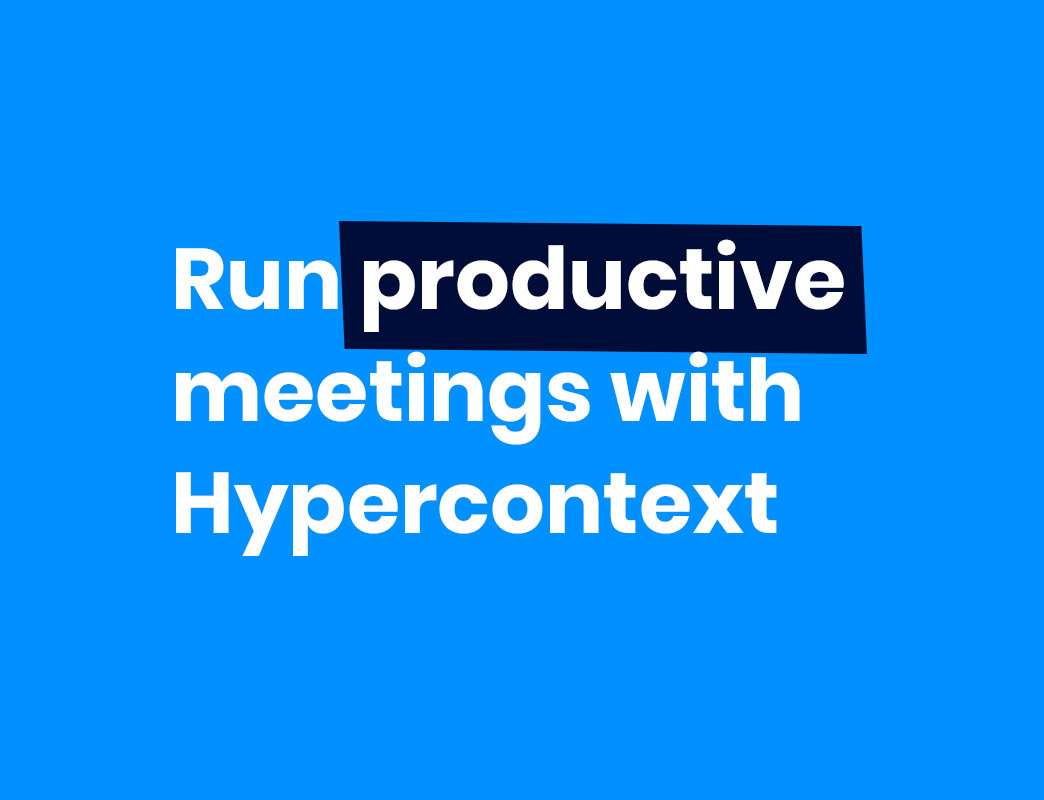 Introducing new tech to your team's workflow is hard. While the ultimate goal is to make your life easier, the upfront effort required to onboard can sometimes seem like more trouble than it's worth.
But, with the increase in hybrid and remote workforces, using the right tools to manage your team is more important now than ever before.
After all, managers account for at least 70% of the variance in employee engagement scores. Yet, many managers aren't well-equipped to succeed. 40% of managers have expressed low self-confidence in their ability to manage remote employees.
Hypercontext is a tool to help managers improve employee engagement by supporting the most important conversations managers have with their teams: one-on-ones and team meetings.
If you're considering introducing Hypercontext to your team, you're in the right place.
In this article, we'll walk you through:
How Hypercontext can help you manage your team better
Hypercontext was created to make it as simple as possible for managers to effectively lead high-performing teams.
At its core Hypercontext is about three things:
…and combining them all in one workflow.
📆 Meetings
Meetings are the greatest tool in the manager's toolbox — which is why making them better is our main focus.
When you add Hypercontext to your meetings, you can create shared agendas that allow you and your team to collaborate on agenda items, summarize discussions and assign next steps all in one place.
A shared agenda sets up your meeting, and your team, for success. With access to the agenda ahead of time and the opportunity to contribute, your team will be able to show up prepared.
Plus, you get access to hundreds of suggested questions and 60+ agenda templates to help guide your meetings.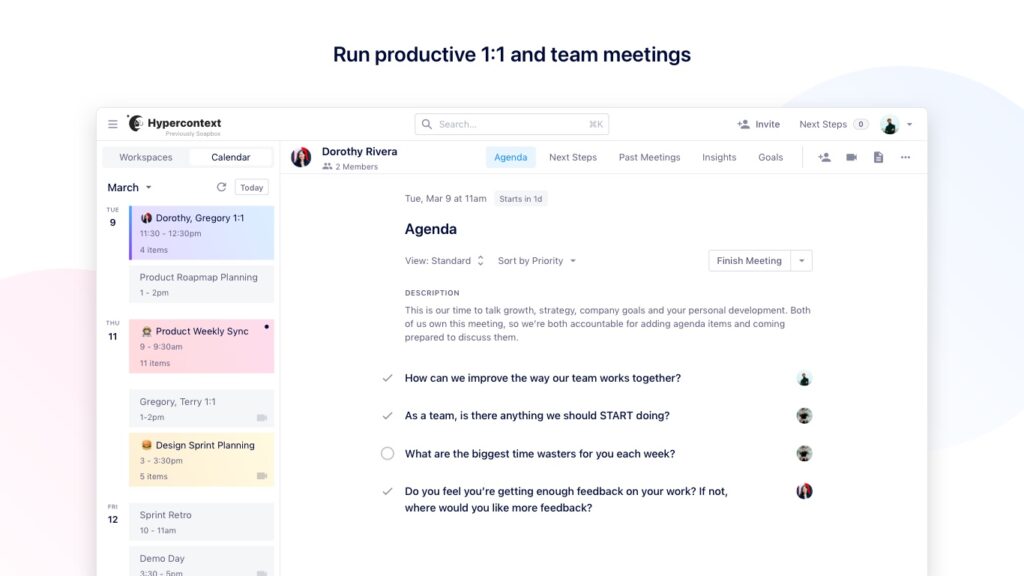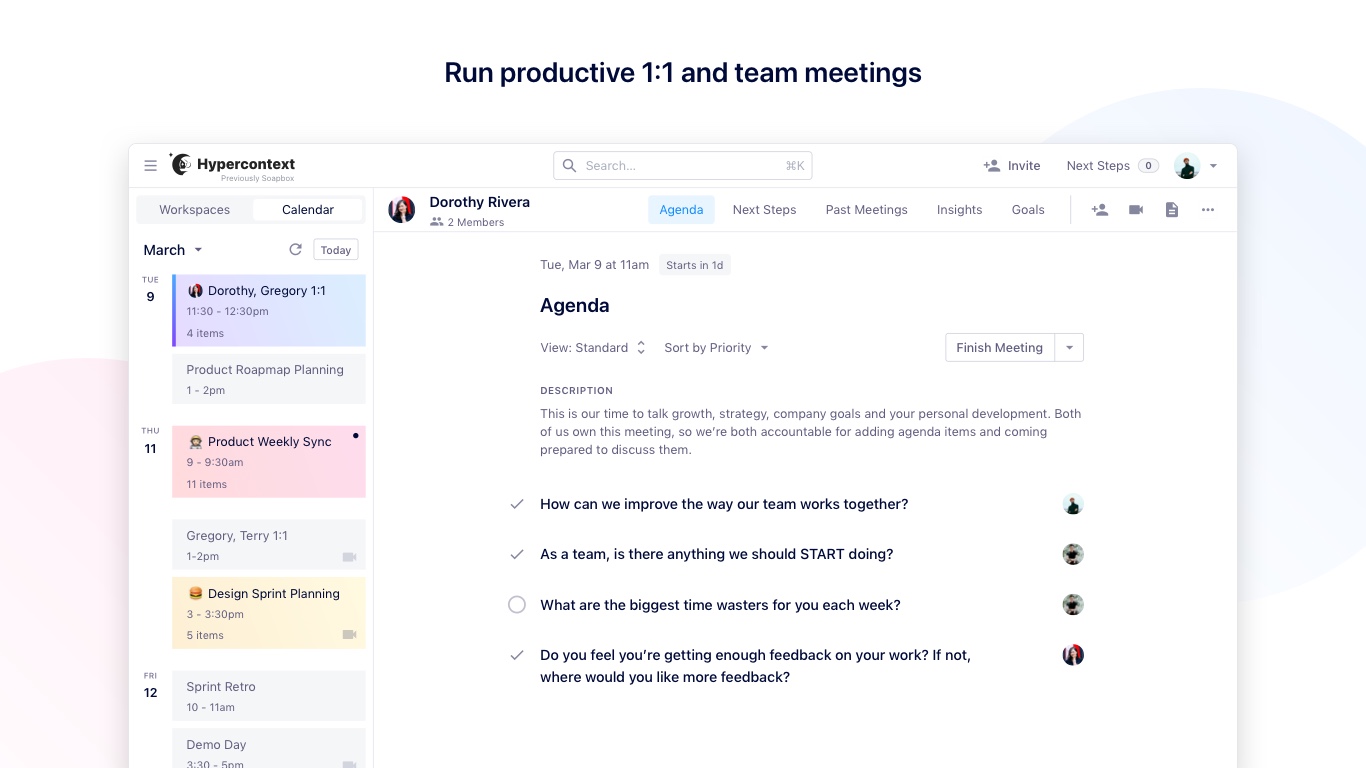 🎯 Goals
You're way more likely to hit your goals when you're talking about them regularly.
When you're only mentioning them quarterly, they're impossible for your team to remember. It's human nature — according to the forgetting curve theory, your brain forgets 40% of what it hears after only 1 day, 60% after 2 days and so on.
If your team can't remember your goals, how will you hit them?
Use Hypercontext to set measurable goals that you can add to the top of your team meetings. Hypercontext makes it easy to keep your goals top of mind, so you can stay hyperfocused (see what we did there?)
Plus, we have the largest library of publicly accessible goal and OKR examples on the internet. You can access suggested goals directly within the app, so you don't need to create them from scratch.
💙 Morale & motivation
How do you know if your employees are happy with how your meetings are going?
After every meeting, Hypercontext prompts all attendees to vote on how they think the meeting went. This allows you to track meeting effectiveness over time.
Are your employees unhappy with how your meetings are going? Our AI insights will let you know where your communication blindspots are, so you can continuously make your meetings more effective and meaningful.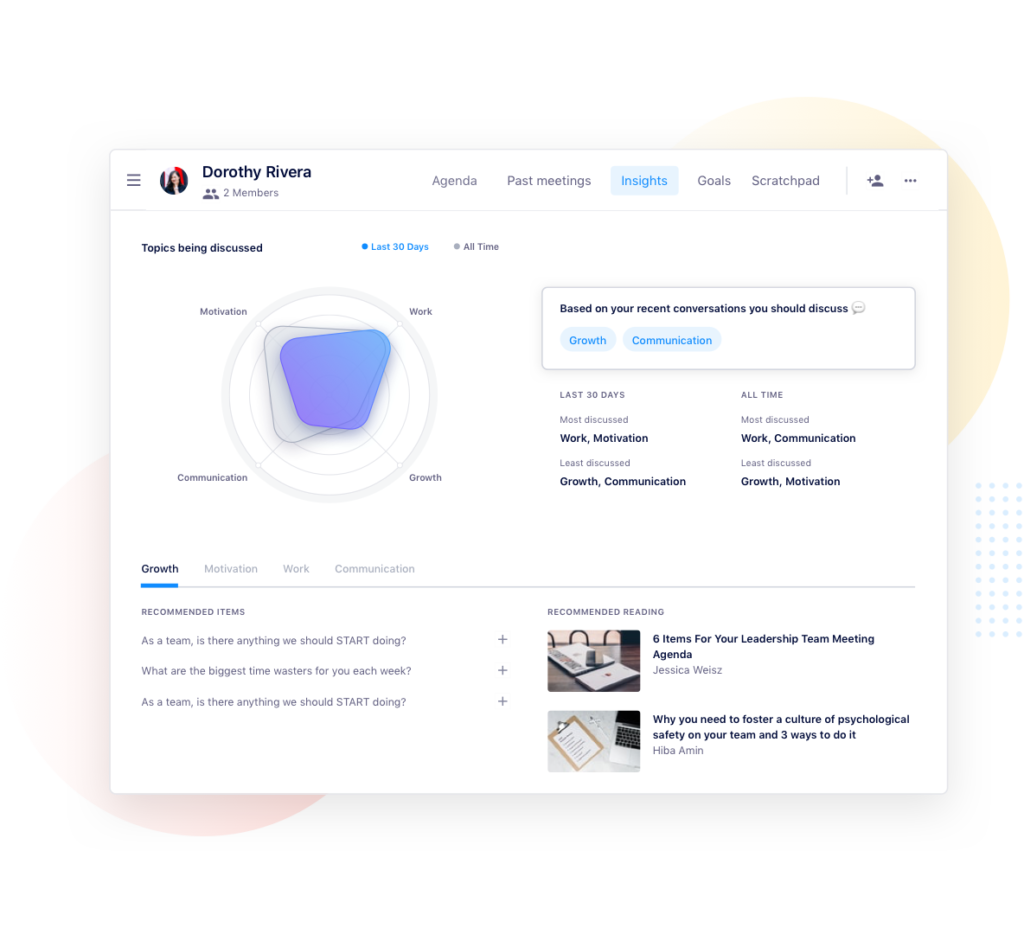 To sum it up, Hypercontext helps make sure you're focused on what matters: making meetings more effective so your team's more productive and engaged.
How to introduce Hypercontext to your team
Like all collaboration tools, Hypercontext works best when it's been fully adopted by your team. Here are some tips for onboarding your team to the app as seamlessly as possible.
Let your team know why you want to start using Hypercontext
First things first, let your team know you'll be using a new tool and, most importantly, why?
This could be as simple as a heads up via Slack, or an introduction in your next team meeting (or both!). Here's some explainer text you can use with your team:
"Everyone! I want our team to have more productive meetings. Hypercontext is going to help us with our meetings by giving us a central place for all our agendas. Moving forward, please keep the Hyeprcontext agendas updated. "
"Hi team. You'll all be receiving an invite from a tool called Hypercontext shortly. I think it'll help us stay more organized by combining our goals, meeting agendas, and notes all in one place. Please make sure you sign up and download the chrome extension before the next meeting."
"Keep an eye out for an invitation to join Hypercontext. We're going to be using this tool to help improve our meetings. Everyone will be able to add to agendas easily now, and we'll be able to keep track of our next steps and quarterly goals within the app. If you have any questions, we can chat more about it in our next team meeting."
Letting them know what you hope to get out of Hypercontext, and how you expect them to use the tool, will help set up your team for successful, more engaged meetings!
Set up a meeting and invite your team
Once your team's in the loop, it's time to add Hypercontext to your meeting.
When you sync the app with your calendar, you'll be able to access your calendar directly from the sidebar of your Hypercontext workspace.
To add an agenda, simply click on the meeting in the sidebar and hit "create workspace." This will allow you to build an agenda for the meeting and share that agenda with your team.
When you share the agenda, attendees will get an email notification that looks something like this: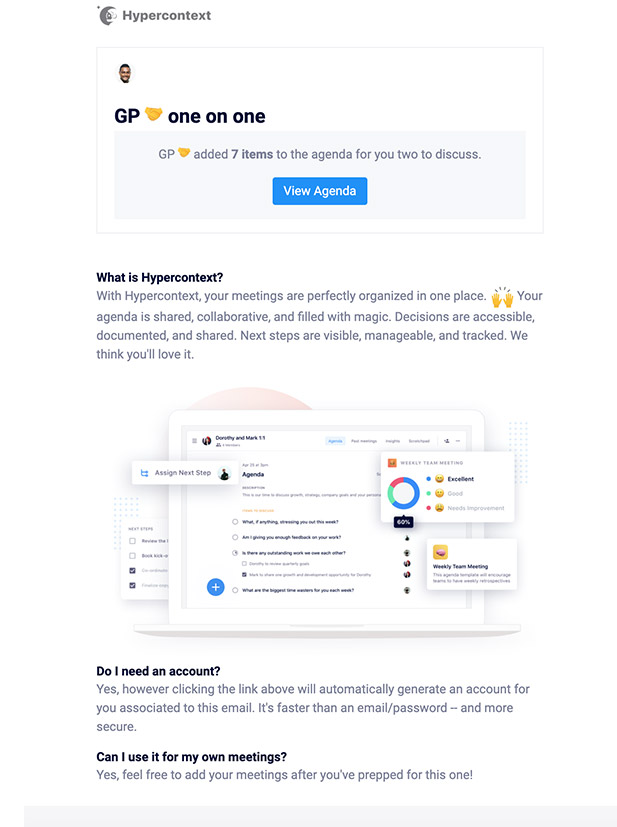 Plus, you don't need to build the agenda from scratch. Check out some common meeting agenda examples to get started.
Encourage your team to add to the agenda
Remember, this agenda is collaborative. So encourage your team to add items prior to your next meeting. Not only will this help them get into the habit of adding items to the agenda, but it'll also build more team accountability.
If they're hesitant or unsure what to add, especially when it comes to more intimate meetings like one-on-ones, let them know about the suggested items they can pick from. This will make adding items as easy as possible for you and your direct reports!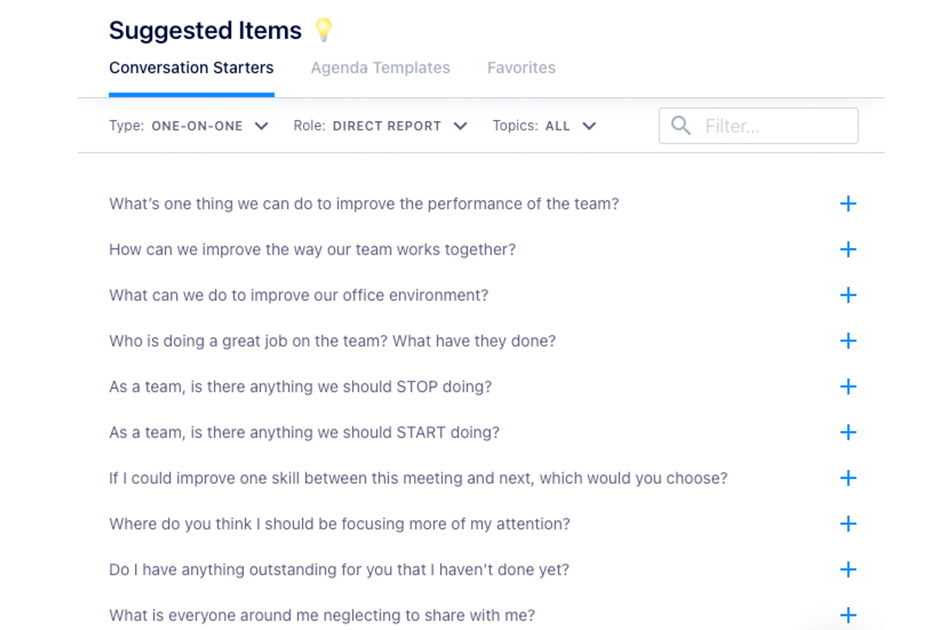 Open Hypercontext in your next meeting
Now that you've gotten your team to contribute to your agenda, show them how meetings can become more collaborative, organized and productive.
In your next meeting, pull up the app to keep you on track, check off items as you go, summarize what you discussed and track next steps.
If you're a Google suite user, we highly recommend using the Google Chrome extension (and encouraging your team to do the same.) It will allow you to see the agenda within your Google meet so you don't need to worry about switching tabs.
Download the Hypercontext Chrome Extension
Hit "finish meeting"
So now your meeting's done, how do you know if your team found it productive? How does everyone stay accountable for what was discussed? Don't forget to finish your meeting!
What happens when you finish your meeting? We'll send you and your team an automatic email that outlines 3 things to help you stay accountable post-meeting:
🗒️ Meeting minutes- You know those discussions you were summarizing throughout the meeting? They'll automatically get sent to you and your team post-meeting. This makes it easy to refer back to a summary of your discussion anytime you need a refresh.
⏭️ Next steps– Everyone's next steps will also be included in your meeting minutes email — including who's responsible and by when.
📣 Real-time feedback– Hypercontext will help you build a feedback loop and continuously improve your meetings with a 10-second survey for all meeting participants after each meeting. A simple multiple-choice question will help you get a pulse on if your meetings are effective.
To help keep everything in one place and organized, all meeting attendees will receive an email that looks like this: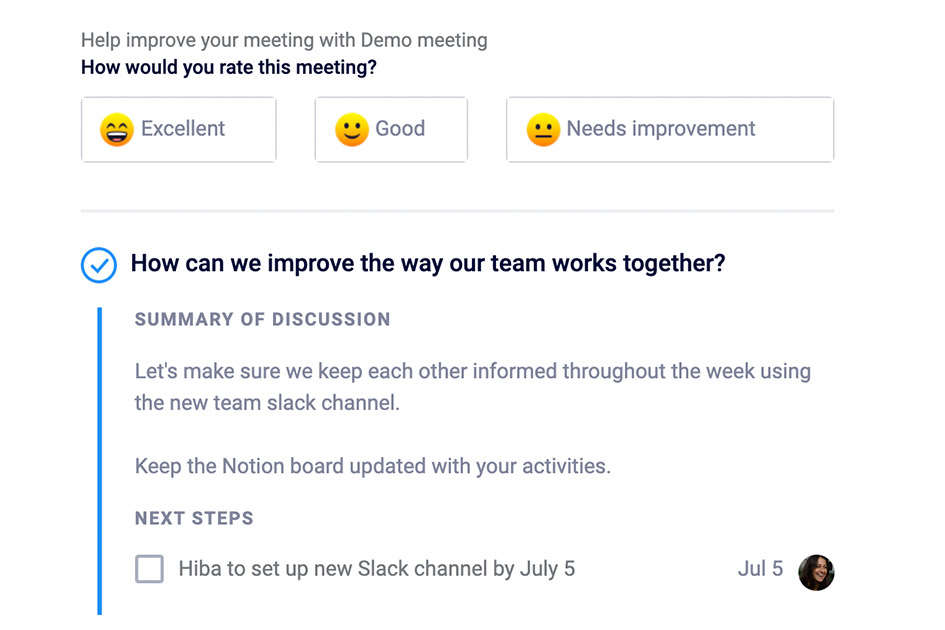 Integrate Hypercontext with your existing workflow
Apps are easier to introduce to the team when they work with the tools you already use. It makes your existing suite of tools more powerful and means adoption happens faster.
Hypercontext works with Chrome, Microsoft Teams, Zapier, mobile and more to come (🤫). So you can introduce new technology without disrupting your current workflow:
Chrome
Our chrome extension is a game-changer. We know you already have a million tabs open — now you don't need to go back and forth between your calendar and your agenda. You can access your agenda straight from your calendar, and from any tab within Chrome for that matter.
With the Chrome extension you can:
View, edit and add to meeting agendas in any tab
Manage your agenda and next steps through your Google Calendar
Use your agenda directly in Google Meet, no need to switch tabs
Turn on GSD mode to stop yourself from getting distracted on social media. The app will prompt you to focus on preparing for your next meeting instead of going on Twitter.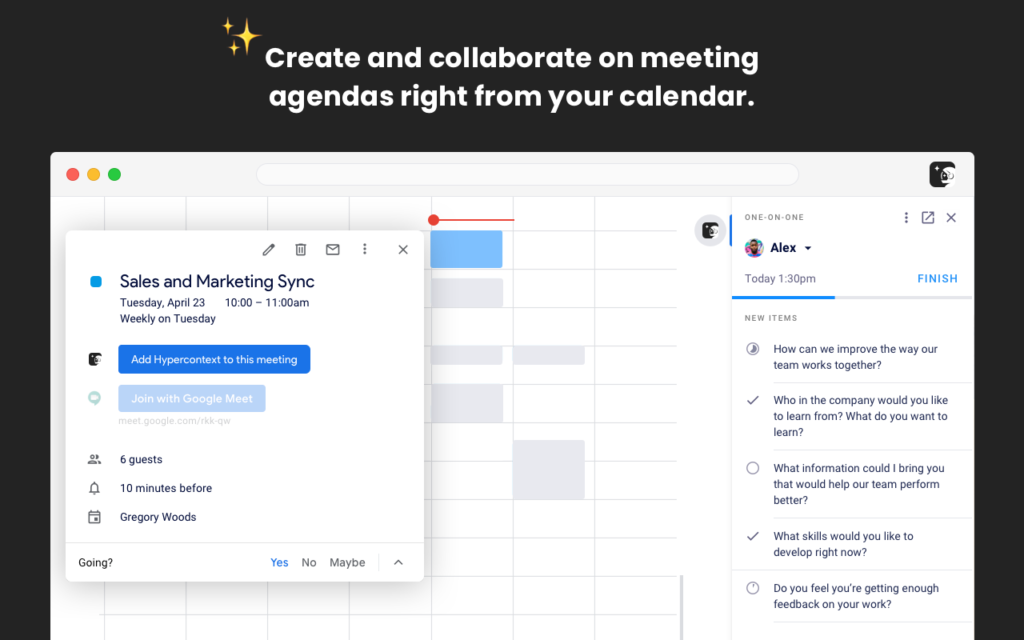 Microsoft Teams
When you add Hypercontext to your Teams account, simply tab over to see what's on the agenda for your meetings. Add items to the agenda, check them off as you go, close meetings and revisit past meetings all within the Microsoft Teams experience.
When you integrate Hypercontext with Microsoft Teams you can:
Easily turn conversations into agenda items
Collaborate as a team in one place
Make meeting prep quick and easy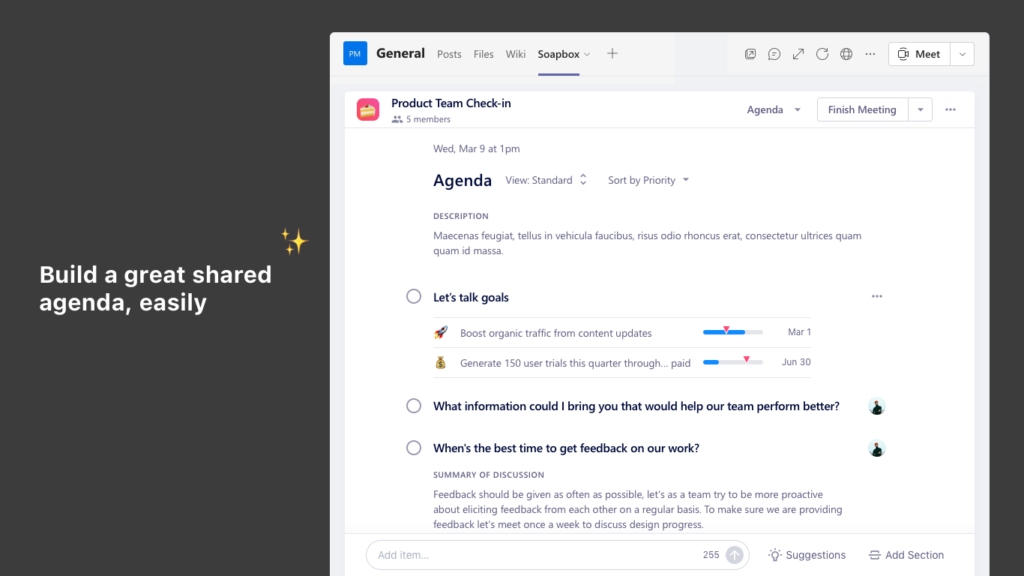 Mobile
If you and your team enjoy walking meetings, or are having an offsite, you can take Hypercontext on the go by using our apps for Android and iOS.When you download the Hypercontext app to your phone, you can:
Toggle through and tick off agenda items as you discuss them
Finish meetings and email notes to attendees
Get reminders and notifications to prepare for upcoming meetings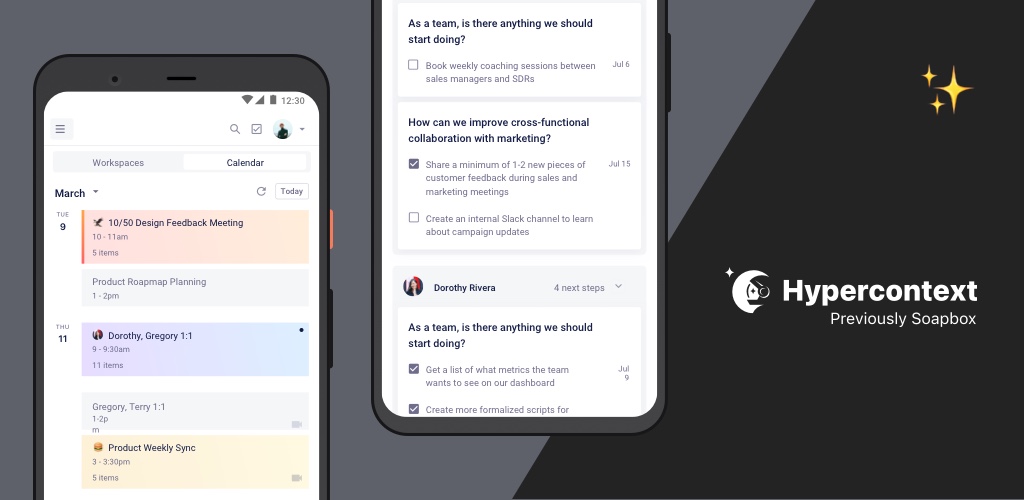 Zapier
Don't see any of your tools listed yet? Not to worry! Zapier can help you integrate Hypercontext with over 2,000 tools so you can automate your workflow. Zapier will help you connect your Hypercontext workspace with other commonly-used apps like Asana, Jira, Trello, Monday.com, Tosdoist and so many more.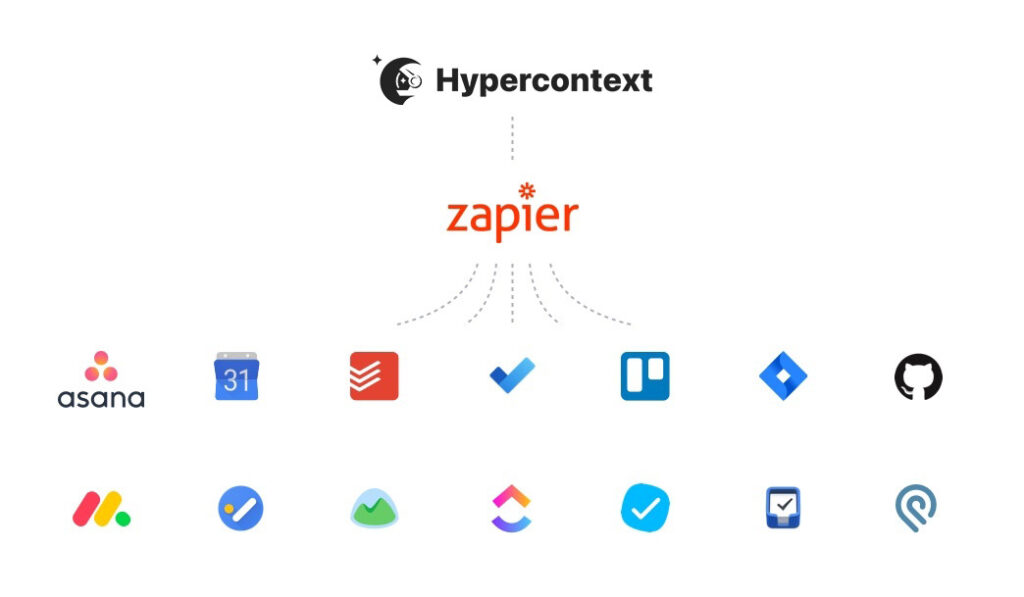 Coming soon: Zoom
Due to popular demand, we're working hard behind the scenes to develop a Zoom integration.
With the Zoom integration, you'll be able to access your agenda straight from your Zoom call. We're so excited to share it with you!
If you want to be the first to know when we've launched, click the button below to join the waitlist.
---
New technology is hard to adopt on your own, let alone getting your team to use it every day.
That's why we've designed Hypercontext to be lightweight, easy to use and to complement your existing tech stack.
If you're still struggling to make Hypercontext a habit with your team, try using these additional resources. We're here to help!
Other helpful resources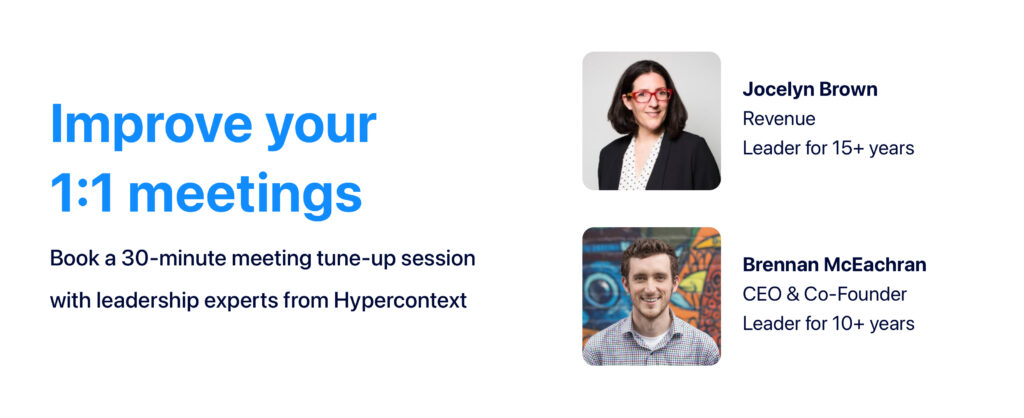 ---
Not using Hypercontext yet?