Management Skills
Updated Apr 20, 2022
Dear first-time manager…30 leaders share lessons for new managers
[wtr-time]
The average manager goes 10 years into their career without proper management training. Get a crash course in management from 30 leaders.
Hiba Amin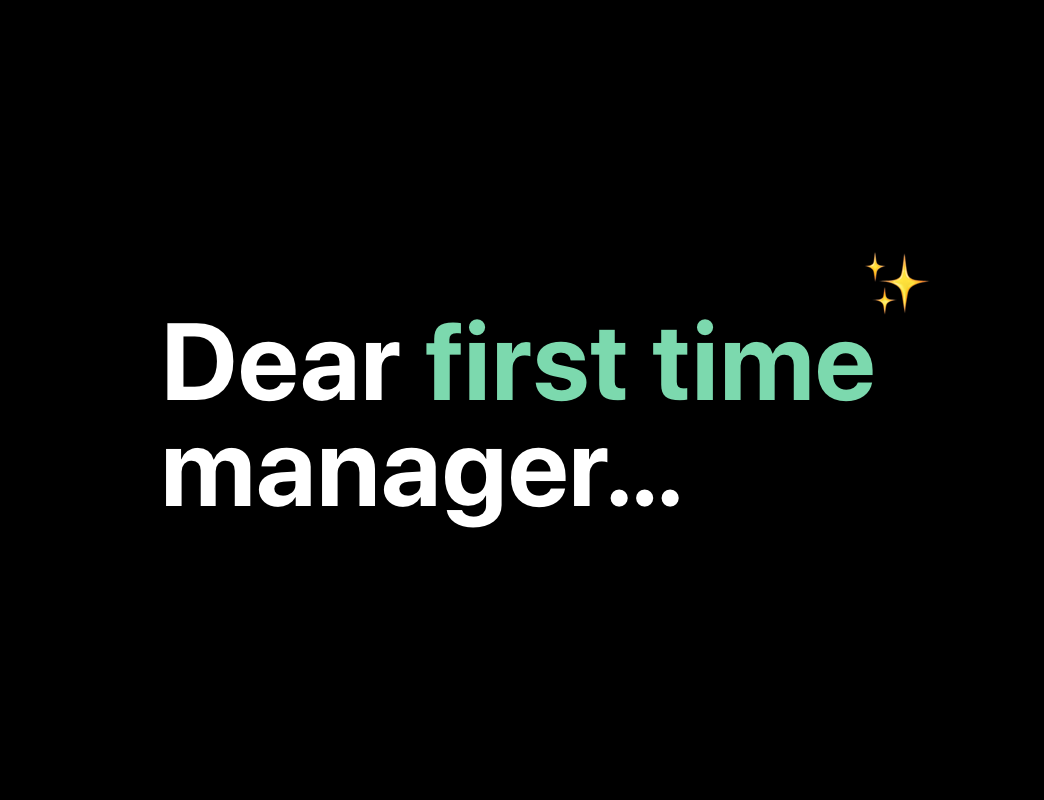 It's no secret that the average manager goes 10 years into their management career without any formal training.
Zero.
Zilch.
Nada.
So…What are new managers supposed to do?
You could read a management book. After all, there are plenty to choose from. The problem is, they're not always in touch with the reality of day-to-day management. And no one wants to read a whole book only to end up with no actionable or relevant advice.
In my experience, one of the best ways to grow is to talk to people. Whether you're looking for marketing advice to incorporate into your day-to-day tactics or insights on how to improve your people management skills — there are so many people who've been in your shoes and who are already experts in your domain. Learning from the experiences of those who've already found their footing is invaluable.
That's why we've rounded up the best advice from incredible leaders who are currently in the trenches. Each one of these leaders has written a letter for you, a first-time manager, with the hopes of imparting some lessons they've learned the hard way.
Let's dive in. 😊
Jump to a piece of advice:
Anjuan Simmons: You'll have to let go
Dear first-time manager…

You'll have to let go.

Congratulations on your promotion to manager! You've reached the culmination of years of hard work cultivating a variety of skills and finding solutions to problems that others struggled to crack. However, I have some news for you. You'll have to let go of a lot of the things that made you a great candidate to become a manager.

The first thing you'll need to let go of is understanding the detailed day-to-day work of the team. When I made the leap from individual contributor (IC) to manager, this was one of the hardest things to accept. After all, my super power as an IC was knowing everything I needed to do in deep detail and figuring out how to get things done. I tried to keep this "close to the details" mindset when I became a manager, but that limited my ability to focus on the overall health of the team. I didn't step back from the trees to see how the forest was doing. When I received some timely feedback from my senior manager about this, I quickly (but begrudgingly) left the details to my team. I almost immediately saw the benefit of having lots of mind space freed up to really "see" my team and meet their needs outside of getting code to production.

The second thing you'll need to let go of is the empty spaces in your calendar. As an IC, a big part of your job was finding large stretches of time to get into the deep thinking state necessary for solving complex problems in code. If you were lucky, your manager tried to keep you out of meetings so that you could have lots of time for maintaining in-depth level of focus. As a manager, the opposite will be true. You'll find your calendar filled up with meetings with very little spent outside meetings. Most days, you'll even have very little time between meetings. Your bladder won't enjoy this. However, this meeting time is important because you'll be building crucial context for the team. Are changes coming to the CI/CD pipelines because DevOps has implemented a new deployment tool? You'll want to help your team prepare for how that will impact their work. Is the product team changing how they gather information from customers to help your company build more delightful solutions? That's information your team needs to know so that they can also be involved in better understanding the people who keep your business alive.

Failure to let go of the details and empty spaces on your calendar will limit your effectiveness as a manager and also put a lid on the performance level of your team. You absolutely should put guardrails around the team and clearly communicate your expectations, but you have to trust your people to work in the team while you work on the team.

I know you'll do great! You're awesome. I look forward to hearing about your success as you make the journey towards becoming an experienced manager!

Oh, don't forget to pee.

Your friend,
Anjuan Simmons
Engineering Coach at Help Scout
Heather Foeh: Give feedback early and often
Dear first-time manager…

Give feedback early and often.

Giving feedback can be difficult, especially the first few times. My advice: don't wait! You will actually feel a lot better if address an issue quickly (within the same week it happened) rather than letting it fester. Plus, if you let too much time pass you may be tempted not to give the feedback after all.

When you give feedback in a timely manner it's actually less of a big deal to your employee, but when you wait several weeks or (God forbid!) until their annual review, then it blows the incident out of proportion.

Sincerely,
Heather Foeh
Director, Workfront Customer Marketing at Adobe
Alessandra Colaci: Be specific with your goals
Dear first-time manager…

Be specific with your goals.

In order for a team to rally around something, they need to understand 2 things:

1. The "why"

Convey the vision for the company and your specific team. Don't be generic about it. Get to the root of the purpose of your business. For example, "We want to help small businesses grow their revenue by 2x".

2. How to achieve those goals: get specific.

The people you manage can be set up for success by understanding exact goals, metrics, and timelines for their area of responsibility. Even if there's overlap, have only 1 person own each metric. Also, convey how those goals relate to each other. For example, "Jane owns SEO content which will drive 1,000 site visits each week. Then Alice owns opt-ins and will convert 10% of those visits to subscribers."

Sincerely,
Alessandra Colaci
VP, Marketing at Mailshake
Recommended reading: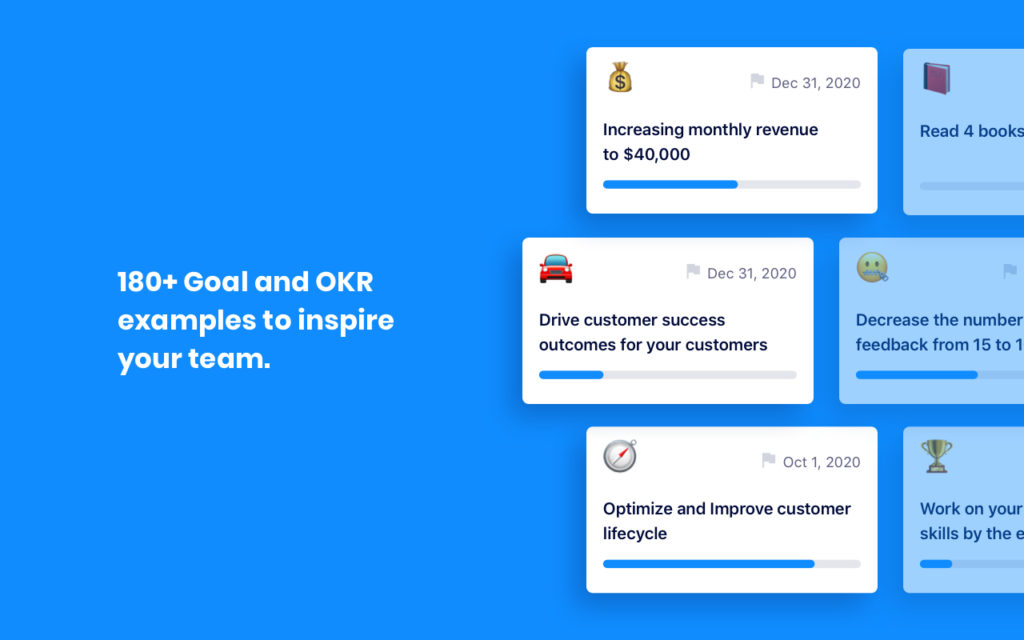 Amanda Natividad: Teach people to advocate for themselves in business terminology
Dear first-time manager…

Teach people to advocate for themselves in business terminology.

One of the best things a first-time manager can do is properly advocate themselves using business jargon. But even better? Teaching that skill to their direct report(s). The ability to teach this shows true mastery.

Advocating for yourself in a professional setting goes deeper than just speaking up when you need help, or asking for that promotion. It means making the business case and logical reasoning for why you deserve these things. It means shifting your mindset from, "I deserve this promotion because I'm loyal and I work hard," to "I deserve this promotion because I improved efficiencies and yielded a positive return on that investment."

Sincerely,
Amanda Natividad
Marketing Architect at SparkToro
Jocelyn Brown: Use every interaction as an opportunity to learn
Dear first-time manager…

Use every interaction as an opportunity to learn.

Leading people opens up a whole new way to learn. While no doubt your team will learn things from you, they are also possibly your best teachers. Asking for input on what you're thinking, what you're observing, and ideas you have will both help you make better decisions and keep you aligned with them and their reality.

You will never have all the answers but leading a team gives you access to a broader set of inputs than you had before.

Sincerely,
Jocelyn Brown
Former SVP, Customers and Revenue
Nael El Shawwa: Solution space vs. problem space vs. the mess
Dear first-time manager…

Remember: Solution space vs. problem space vs. the mess

Like most folks, the first part of my career I spent mostly in the Solution Space. Someone gave you problems and you figured out how to create solutions. Sometimes you had to go back and clarify or change parts of the problem. The solution space wasn't easy, but it was familiar.

In my first engineering management job I thought I would still spend most of my time in the solution space. I hadn't fully realized that I had to shift my mindset to this new problem space. That took some time to learn. I defaulted to jumping into the familiar "solution space" with my team when I thought we weren't going in the right direction, or we weren't going fast enough. At the time that made sense. I didn't realize that that was happening because the problem space was not defined properly and it was actually my new job to make sure it's defined properly.

As you progress further in your management career you become involved in multiple problem spaces, some isolated, some overlapping. You're also growing new leaders that in turn must take on the responsibility of shifting their mindset to the problem space. You have to learn how to delegate problems (not solutions) to your new leaders. You have successfully delegated all the problems away. What on earth do you do now?

Congratulations, you now own "The Mess". The Mess is where all problems are created from. But that's advice for another time.

Sincerely,
Nael El Shawwa
Head of Engineering at Perpetua
Corine Tan: A little gratitude goes a long way
Dear first-time manager…

A little gratitude goes a long way.

Gratitude is a great way to build a connection with your team and do some self-reflection. It's so easy to get caught up in the day-to-day that we forget to thank and recognize folks that do the most for us. There's plenty of research that shows the positive benefits of regular gratitude practice on mental health, productivity, and trust. The problem is making gratitude a habit.

For our team, we always make it a point to do Zoom gratitude circles at the end of each week. I first encountered this practice while at Techstars. We sat in a meeting of almost thirty individuals and took the hour to each appreciate one person. Our managing director started and picked a person. The chosen person would share their person, and so on. This exercise is extremely heartfelt and intimate, a few tears were shed when we expressed how much other Techstars founders and mentors meant to us. Doing this regularly with our team has done wonders for keeping us tight and building trust while remote.

Sincerely,
Corine Tan
Co-Founder of Kona
Benyamin Elias: Get your team to think for themselves
Dear first-time manager…

Get your team to think for themselves.

First-time managers often think the manager's role is to teach their team, or to be very involved in what the team produces (and for that reason, tend to hire less experienced team members). In fact, a team becomes much more effective if the manager delegates as much as possible—not just the work, but the thinking behind the work.

When the team starts to think for themselves, more stuff gets done, higher quality stuff gets done, and the manager has more freedom to look for new ways to make the team more effective.

Sincerely,
Benyamin Elias
Director of Growth Marketing at Podia
P.s. Benyamin did a full talk on this piece of advice! Check out the full session 👇
Melissa and Johnathan Nightingale: Get trained
Dear first-time manager…

Congratulations on the promotion.

Get trained.

The new job is completely different than the old one. Most people wait 12 years between stepping into management and getting any training on how to be a boss. You can fuck up a lot in 12 years. Go get some training.

Sincerely,
Melissa and Johnathan Nightingale
Founders of Raw Signal Group
Ramli John: Think of your role as more of a coach than a "manager"
Dear first-time manager…

Think of your role as more of a coach than a "manager."

When I started seeing myself as more of a coach than a manager, I realized that my primary responsibility was not to manage the time of my direct reports. Instead, it was to enable them to do their best work and remove any barriers blocking them from succeeding. Approaching management with a coaching mindset also pushes you to share a vision and rally everyone around a common goal.

It might be a simple mindset shift, but it makes a big difference!

Sincerely,
Ramli John
Managing Director at ProductLed
Brian Noyle: Respond to requests with "yes, and here's when I'll get to it," or "no, and here's why"
Dear first-time manager…

Respond to requests with "yes, and here's when I'll get to it," or "no, and here's why."

Like all good advice, I stole this practice from a former employer and have integrated it into my daily work. As a manager, you're going to encounter challenging employee scenarios, resource constraints, sales pitches, and all types of requests that interrupt work. It's an easy and dangerous path to drift into a reputation either as a pushover or as uncooperative.

When saying yes, the ability to commit to a date signals that you can be trusted to deliver, and manages the requesters' expectations. Presentation of a reasoned argument to accompany a negative response removes ambiguity and proves to the recipient that you've truly listened to their request, considered the issues in play, and arrived at a professional and respectful conclusion. Together, they take you out of emotional reactions in the moment.

Here are a couple examples:

"Miguel—Yes, I'd be happy to help you get unstuck! My calendar is full until 1pm, so I'll address your issue at that time and reach out if I have any questions."

"Kira—No, we don't have the resources to implement that partner integration at this time. There are too many external dependencies that we don't yet understand. I need the team focused on revenue-related features that have already been outlined for us. I'm happy to discuss prioritizing this issue next quarter."

Sometimes, people won't like your answer… But they will respect it and view you as professional. This will provide a solid foundation upon which you can grow as a manager. Good luck!

Sincerely,
Brian Noyle
Director of Engineering at Bonusly
Nadja Komnenic: Find a mentor who gets you
Dear first-time manager…

Find a mentor who gets you.

Don't presume management is something you can wing because you have good "people skills." Instead, find a mentor. Take the time to seek out and learn from other managers, especially those who have had a similar path as you—it will help you avoid big mistakes you're likely going to make on your management journey. When you're proactive and take the time to learn from other leaders, you'll avoid strictly learning from your own failures as you navigate this new found role you're in.

Sincerely,
Nadja Komnenic
Head of Business Development at Lemlist
Moly Milosovic: Talk about meeting purpose and structure openly and often
Dear first-time manager…

Talk about meeting purpose and structure openly and often.

I've seen too many people hating on bad recurring meetings that never change. You as a manager have the power to prevent unnecessary, unproductive meetings and boost team morale in the process. As a leader, it's your responsibility to continuously change meetings up to suit the needs of your team. But, it's also important that the evolution of your meetings is not only on you, but on the entire team as well.

To get a consistent pulse on the effectiveness of your meetings, you can send DMs to folks or add talking points to your agenda to discuss meeting effectiveness. Try asking "what value do you see or want more of from X meeting?" or "What do you think we should cut from or add to the agenda?"

Remind your team that these meetings aren't personally precious to you and you want them to be valuable, and then follow up periodically to ask if anyone feels a change is needed. I worked with my team to change our monthly team meeting format up 3-4 months in a row and it's now one of our favourite, most high-value meetings. (And our team is about to grow by two people so we're reviewing the format right now!)

Sincerely,
Moly Milosovic
Senior Marketing Manager, Community at Jobber
Recommended reading:
Nandini Sharma: Collaborative teamwork and two-way idea sharing brings results, not just you
Dear first-time manager…

Collaborative teamwork and two-way idea sharing brings results, not just you.

Over the years, I have observed that until your team members believe in your vision and trust you enough to let you manage them, you can't get one task done successfully. Your role isn't to manipulate anyone into meeting a certain business objective, but to enable them instead.

Remember that, above all the technical jargon and efficiency talks, management is a human skill. As a manager who's just starting out, you should keep your focus on communicating with your team as a fellow colleague, and solve problems collaboratively. Remember: Enabler first, manager second.

Sincerely,
Nandini Sharma
Assistant Marketing Manager at ProofHub
Andy Crestodina: Let them figure it out
Dear first-time manager…

Let them figure it out.

Even if you can solve the problem yourself, don't. At least not without letting your team give it a shot. When someone comes to you with a problem (which will happen 4x per day) don't take it on yourself. Don't even offer a solution. Just listen. Ask a question. "What have you tried so far?"

Your team shouldn't come to you with problems until they've already thought about possible solutions.

If you do all the thinking for them, the professional development of your team members will be slow. And you'll find yourself barraged with problems all day.

Sincerely,
Andy Crestodina
CMO and Co-Founder at Orbit Media Studios
David Maidment: You're now in the 'people' business, and every person is different
Dear first-time manager…

You're now in the 'people' business, and every person is different.

Try not to rely too heavily on what you've done so far in your career, especially if you have been in particularly technical roles. Your focus now is on the people on your team, and the things that made you a successful individual contributor won't necessarily help you as a manager.

Think about it this way: You're starting an exciting new career from scratch and should view every day as a learning experience. People are unique, so you'll save yourself a lot of headaches by thinking of 'management' not as a single set of reusable tactics, but as the ability to quickly teach yourself how to effectively interact with every individual you become responsible for.

Sincerely,
David Maidment
CTO at WONDR
Derek Jones: Build a lasting relationship with your team
Dear first-time manager…

Being a manager is all about building a lasting relationship with your team.

Stepping up to a managerial role for the first time is often intimidating. After all, being responsible for a whole team of people, and their results, is not a small thing. However, bear in mind that you're not alone, and that the pressure doesn't need to be solely on your back—and the best people to help you with that is your team! Make sure you keep your team happy, productive, engaged and motivated—but be clear on establishing roles and expectations, to hit that sweet spot between too much leadership and not enough.

The punchline here is to build lasting a relationship with your team. Begin by offering flexibility, thus empowering your team with their choice of schedules and shifts. As market studies have shown—and especially in the light of rapidly shifting trends following the onset of the pandemic—employees value flexibility in choosing shifts and working hours. Prioritize clear communication to keep everyone in the loop: think regular meetings and timely updates, apps for real-time info distribution, but also setting specific goals and objectives. Give both positive and constructive feedback, in real-time and with tangible examples.

You should also make sure that you provide learning opportunities for your team in order to help them progress. Above all, be respectful and transparent, show gratitude and show your human side—don't be afraid to voice concerns, but be the source of positivity that others can turn to when things go awry. That way, you're making sure you're not only delegating tasks, but building a lasting relationship based on mutual respect and acknowledgement.

Sincerely,
Derek Jones
VP, Enterprise Strategy for Americas at Deputy
Vicki Yang: Remember, you don't have to have all the answers
Dear first-time manager…

Remember, you don't have to have all the answers.

Even before I was a manager, I always felt like I had to have all the answers if I was the lead on a project, the meeting, or the people. I would either not say anything and default to the person who knew the most in the room, or get so caught up in trying to respond that I wouldn't hear new ideas. It puts you in an artificial space that can actually limit growth, of yourself and your team!

Even now, this is still a good reminder that my role, in most situations, is to facilitate, guide, and coach. Knowing how to lead with curiosity and empathy helps build trust, which leads to better discussions and better ideas. Crowdsourcing and working collaboratively to solve problems is one of my favorite things to do, and the end result is usually much more thorough and impactful than what you started with.

Sincerely,
Vicki Yang
VP of People Operations at Bonusly
Hiba Amin: If you want your team to open up, be vulnerable first
Dear first-time manager…

If you want your team to open up, be vulnerable first.

In all aspects of my life, I've been an open book. But, there have been moments where I haven't been, purely because my manager didn't react well to feedback that I shared or they never created a safe space where I felt like I could be my honest self.

As new managers, we crave feedback and growth. We want to improve as people leaders while setting our team up for success when it comes to our overall goals. But, if you don't create a safe space for your team to share feedback, challenges, and things they're struggling with… You'll never improve as a manager. You'll also make it really hard to hit team goals by hindering open communication.

That's why practicing vulnerable leadership is so important. As managers, we hold most of the power in the relationships we hold with our team, and the best way to foster psychological safety on your team is to lead by example. Be vulnerable first and your team will follow.

Sincerely,
Hiba Amin
Senior Marketing Manager at Hypercontext
Recommended reading:
Suchita Chopra: The greatest skill you can have is empathy
Dear first-time manager…

The greatest skill you can have is empathy.

Empathy is an underrated management skill. Beyond stats, I can personally vouch that empathy is positively related to job performance. If you, as a manager aren't practicing it enough, you might be negatively impacting your team's performance.

People often value soft skills such as politeness, empathy, and being humble as skills that matter personally, not professionally. In my experience, I've seen a lot of my fellow first-time managers being rude in the name of being "brutally honest." I've also seen managers dictating people and always expecting them to cater to their schedules and working style, not the other way around.

The ability to be accommodative towards someone else's needs, being compassionate, and connecting with them is critical both personally and professionally. Demonstrating empathy in my personal life and in the workplace is something that is a deal-maker or breaker for me. The same should go for every individual leading a team.

Sincerely,
Suchita Chopra
Content Marketing Manager at StoryXpress
Len Markidan: Have the hard conversation now
Dear first-time manager…

Have the hard conversation now.

The most memorable mistakes I made as a new manager all involved waiting too long to have the hard conversation. Whether it's about a report's performance, project delays, or unforeseen challenges, the most powerful tool you have is early, clear, and frequent communication.

There's probably something, as you read this, that you're putting off saying to a report or manager because you know it will be uncomfortable. If the situation is fixable, the only way you'll start fixing it is with a conversation. Do it today.

Sincerely,
Len Markidan
Chief Marketing Officer at Podia
Jay Gadi: Organization is key
Dear first-time manager…

Organization is key.

When I first became a manager, something that took me a while to understand was the importance of being organized and using the tools I had at my disposal. As a manager, you're going to get thrown around into many different situations. They'll all result in many different action items for you to do. On top of that, you'll also have your own list of items that you want to get done. It can be a lot to manage (and organize).

What's worked best for me has been a combination of organizing my calendar in chunks and creating a checklist for all of my todos. Here's how to make these two tips work for you:

When it comes to your calendar, you'll want to block slots for focus time to allow yourself the time and focus needed to get your to-do list done. For example, book your 1:1s back-to-back, that way you can stay focused on your team instead of context switching all of the time. Make sure to also book off time for yourself to eat and breathe. I can't stress how important this is.

When creating your checklist, add tasks to your list as soon as they come up. It doesn't matter how big or small it is, add it in there immediately. Don't rely on your memory because chances are you'll be pulled away from your task and completely forget about it.

Sincerely,
Jay Gadi
Engineering Manager at Homebase
Elle Woulfe: Be clear about the desired outcome
Dear first-time manager…

Be clear about the desired outcome.

People can accomplish great things when given the space and freedom to problem solve and be creative. Rather than telling your employees what to do, try explaining the desired outcome that you want to achieve and giving them the authority and control to propose solutions. This is not to say that sometimes you shouldn't provide very clear, tactical directives, but I have found that employees who feel empowered and autonomous are happier, more engaged, and will reach incredible heights.

The key to building high-performance teams is leading with empathy, treating people with respect, and providing very clear insight into what you're trying to accomplish. When people feel heard and trusted, they'll go to great lengths to rise up to challenges. The process of goal-setting is critical and it doesn't need to be overwrought. Even rallying around a single revenue contribution can be enough of a north star to help everyone shape their own contributions and provide purpose and meaning to their work.

Sincerely,
Elle Woulfe
VP, Growth Marketing at InVision
John Thomas Lang: Be credible and confident while making an impact
Dear first-time manager…

Be credible and confident while making an impact.

Don't overthink it. People are people whether you're managing them or not. Take a human approach with your management style while demonstrating your credibility and rolling up your sleeves when needed. Don't be overly authoritative but guide your team with humble confidence. You're there for a reason, don't be afraid to lead when needed.

Ultimately, make an impact on those around you. Find areas of growth for you and your direct reports and watch them rise!

And finally, be authentic.

Sincerely,
John Thomas Lang
Head of Marketing at Amount
Jeremy Moser: Overcommunicate and publicly recognize accomplishments
Dear first-time manager…

Overcommunicate and publicly recognize accomplishments.

When you begin managing people, it's key to overcommunicate. Provide your team everything they'll need to get the job done—processes, procedures, tools, and company information. Overcommunicate in the early stages so that they can properly execute tasks. For example, at uSERP, we organize everything into databases with procedures and videos. This helps align expectations between leaders and the people they manage.

Secondly, publicly recognize your team's accomplishments. Share them in Slack. Send internal company newsletters. Not only is this a huge boost for their confidence internally, it's positive reinforcement that lets them know they're on the right path and the work they're doing is important and truly meaningful in the company as a whole.

Sincerely,
Jeremy Moser
Co-founder and CEO at uSERP
Recommended reading:
Abby Reimer: Hire people you won't really have to "manage"
Dear first-time manager…

Hire people you won't really have to "manage".

At our company, we look specifically for candidates who are curious, motivated and comfortable teaching themselves to some degree. We actually brand internal management as "mentoring". We don't want to manage you; we'd rather guide you.

By prioritizing these skills in the hiring process, we set both new team members and our leadership team up for success. Managers don't feel the need to control every detail of the new hires' work, and new hires are given the space to learn and independently test out ideas. Win-win, eh?

Sincerely,
Abby Reimer
SEO Manager at Uproer
Fabian Camargo: Watch out for the traps
Dear first-time manager…

Watch out for the traps.

My guess is that you're good at what you do. Probably really good. It's probably the main reason you were promoted. But managing is different from doing the work.

Naturally, you'll wonder what you're supposed to do. How are you expected to add value? There are a few answers that will seem natural and obvious. Your team will have a lot of questions; you should answer them. Your team will be doing the work that you're good at; you should show them how it's done. Your team will break things and run into issues; you should fix things.

👆 These are traps.

Now don't get me wrong. There will absolutely be times when you should do all of the above. The trap is in thinking that this is the work of the manager. It's in thinking that you're a Mandalorian and "this is the way".

What should you do instead? First, watch out for any advice that gives you a definitive answer. When it comes to management, the answer is almost always it depends. There's a balance to be found.

Think about these two different problems:
1. What's the best way to do the work now?
2. What's the best way to improve the team's ability to do the work in the future?

You want to balance the two so that you deliver great work in the present AND grow the team.

If you're used to optimizing for execution, optimizing for team growth will likely feel unnatural. A nice way to ease yourself into it is to ask a few more questions. Whatever you would normally do, try to take a pause, ask one or two questions, and then if you still feel like it, proceed as you would before. Try questions like: "what have you tried so far?", "what's your opinion?", "what's the real challenge for you here?", "how should we proceed?" or "what would be a good next step?". You'll know you're on the right track if the team is performing well because they're good at what they do and not because you're doing more work than ever.

Good luck!

Sincerely,
Fabian Camargo
Engineering Management Coach at Camargo Consulting LLC
Brett McGrath: Do more listening than telling
Dear first-time manager…

Do more listening than telling.

There's a ton that I learned from my experience as a first-time marketing leader. The biggest lesson that I learned was to always do more listening than talking. It's really easy to walk into a situation where you're "the boss" and start directing traffic. What's more challenging is to manage yourself and take a step back to listen. The best marketing ideas, tactics, and strategies come from collaboration. The more you can gather feedback from your people and infuse it into your marketing strategy the more trust you will earn with your team. Building trust is the foundation to winning on any team in any industry.

Sincerely,
Brett McGrath
VP, Marketing at The Juice
Mihael Cacic: Make one decision that eliminates the need for future decisions
Dear first-time manager…

Make one decision that eliminates the need for future decisions.

You've probably got in a managerial position because you were good at your job – that is, creating deliverables for your clients or bosses. And now, as a manager, you're moving onto a role where you're delegating most of the work to other people. But because you have, over the years, developed a certain "style" for creative work and an eye for quality, you will realize that the work your team is producing will oftentimes be not as good as if you'd do it yourself.

It's important that you do NOT re-do the work. Instead, give thorough feedback. It can be in video, text, or audio format, whatever. But you need to train your team – you need to make them just as good as you were in that role. So invest in them: get on one-on-one training calls, buy them courses, heck, even create your own course.

And after they've mastered one part of the service, give them more responsibilities. Show them your decision-making process so they can make good decisions without you. It sounds counterintuitive, but strive to become redundant.

Sincerely,
Mihael Cacic,
Content Strategist at 21writers
Vladimir Danila: Don't be afraid of failure
Dear first-time manager…

Don't be afraid of failure.

There's a chance your employees will fail. It could be something small or something big, but it's bound to happen. We're all human and we can't be on top of everything 100% of the time. As a first-time manager, you can't see failure as a bad thing. This is a chance for both you and your team to learn from your mistakes and bounce back. It's easy to forget that this is one of the best ways to improve ourselves.

Being a first-time manager, you're probably scared of letting your team members down and they're afraid of letting you down. Don't let the fear of failure consume you. On the contrary, learn to tame it and embrace it when it happens. You and your team will come out stronger on the other side.

Good luck!

Sincerely,
Vladamir Danila
Founder and CEO at Vectornator
Joris Luijke: Become truly excellent at running 1:1s
Dear first-time manager…

Become truly excellent at running 1:1s.

I think 1:1s are the first thing every new manager needs to nail. It's absolutely crucial to get this time right. So, reading up about how to structure a great 1:1 is a good starting point.

There's plenty of materials out there to learn from. And, you'll get better over time. For example, early in my management career I'd often make the rookie mistake of jumping straight into work updates. And I still need to resist the temptation sometimes! Your reports will always have plenty of work-related questions to ask, and roadblocks to resolve.

But, experienced managers will tell you that once you start talking about the work, it's very hard to return to a crucial question that affects everything your direct report is currently working on. And that question is: how are they feeling?

Learning how to structure great 1:1s and ensuring that you focus all your attention on your team member during the 30-60 min chat will be a good start.

Sincerely,
Joris Luijke
CEO of Pyn
Recommended reading: