Management Skills
Updated Jun 11, 2021
2020 Roundup: the top 10 leadership reads from the Hypercontext blog
[wtr-time]
With data from over 500,000 readers this year, here are the most read blogs to help set you up for a strong start to 2021.
Hiba Amin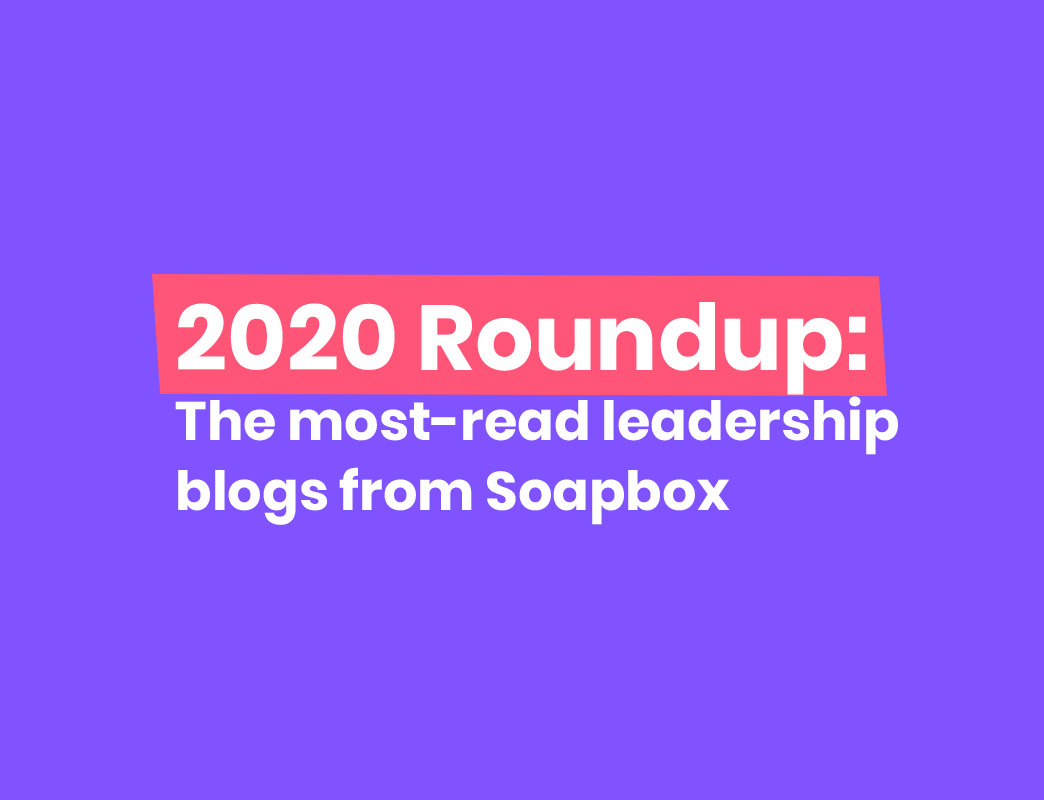 2020 has been one big rollercoaster ride, to say the least.
For many people-leaders, this year was a real test; from navigating layoffs while keeping morale and engagement levels up, to leading a team virtually for the first time.
And, while it wasn't an easy year, we've learned and documented a lot of lessons along the way. With data from over 500,000 readers this year, here are the most read blogs to help set you up for a strong start to 2021.
Jump to a section: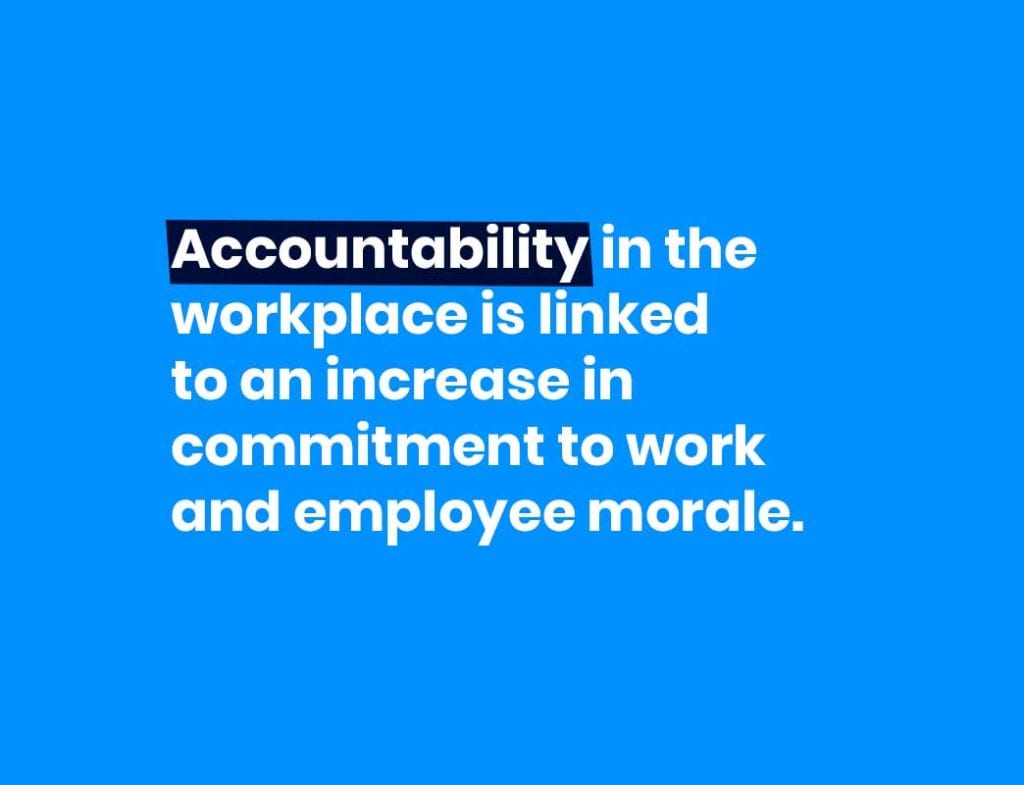 1. How to make accountability a core part of your workplace culture
Read time: 8 minutes
Workplaces with a strong sense of personal ownership and accountability thrive— but how do you get there?
In this article, you'll learn about:
What accountability in the workplace means
How to make accountability a core part of your culture
The importance of continuous feedback
How to make accountability a habit
An accountability framework to use with your team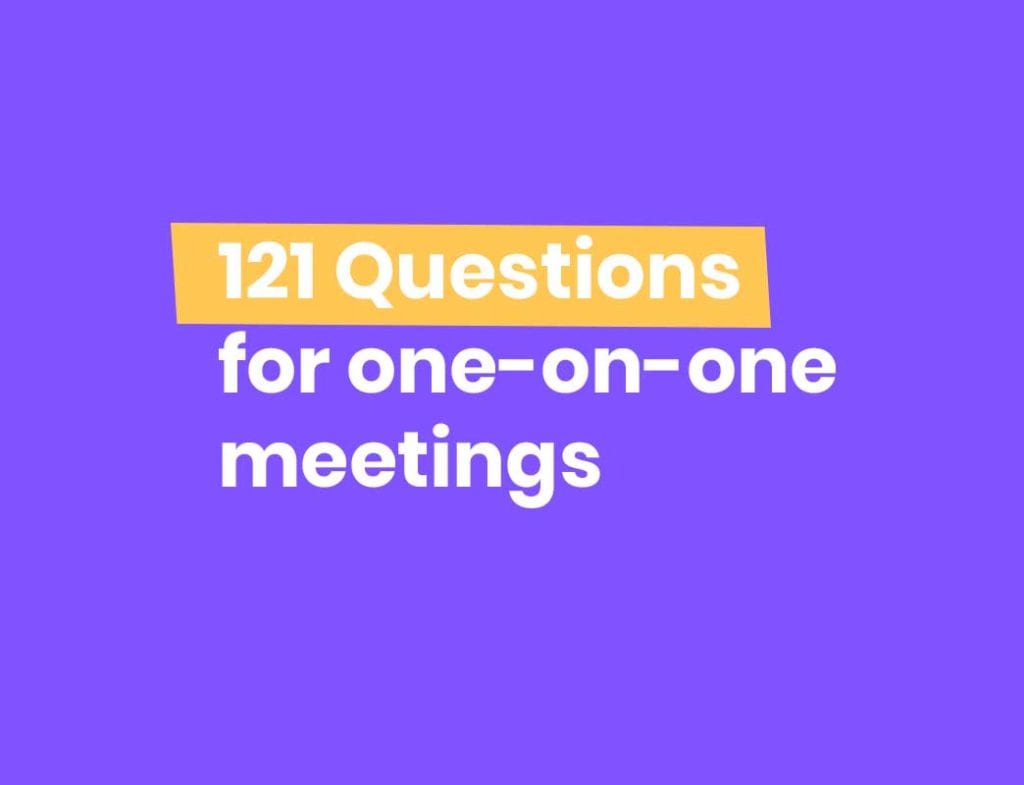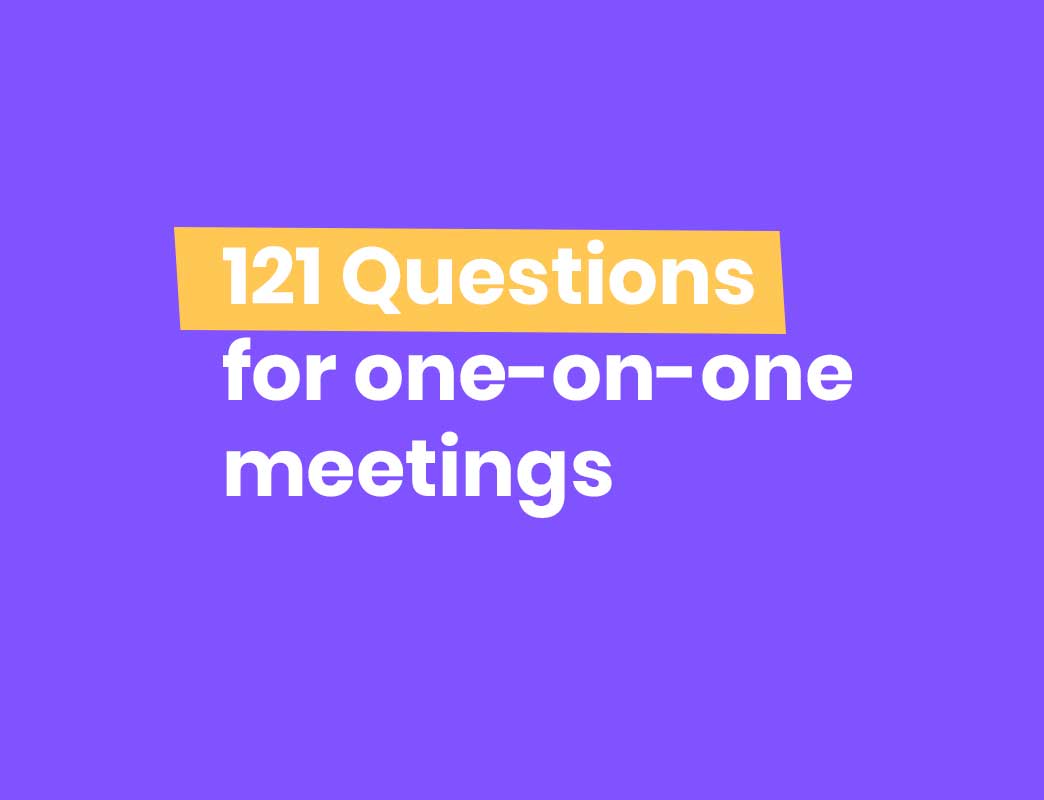 2. 121 One-on-one meeting questions
Read time: 15 minutes
We've compiled a list of 100+ 1:1 questions from experienced leaders and high-performing individual contributors. Have better conversations with your team by adding any of these questions to your next meeting agenda.
In this article, you'll access questions around:
Growth and development
Communication
Employee motivation and engagement
Addressing roadblocks
Sharing feedback between managers and employees
Company culture
Priorities, productivity, and strategy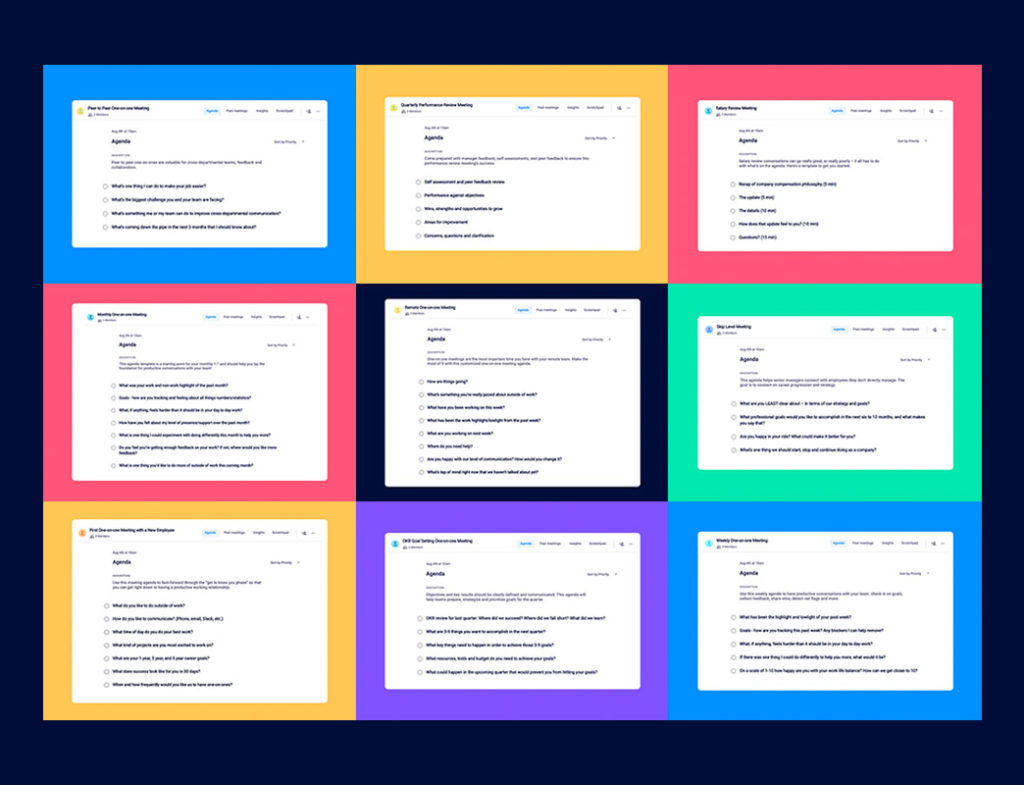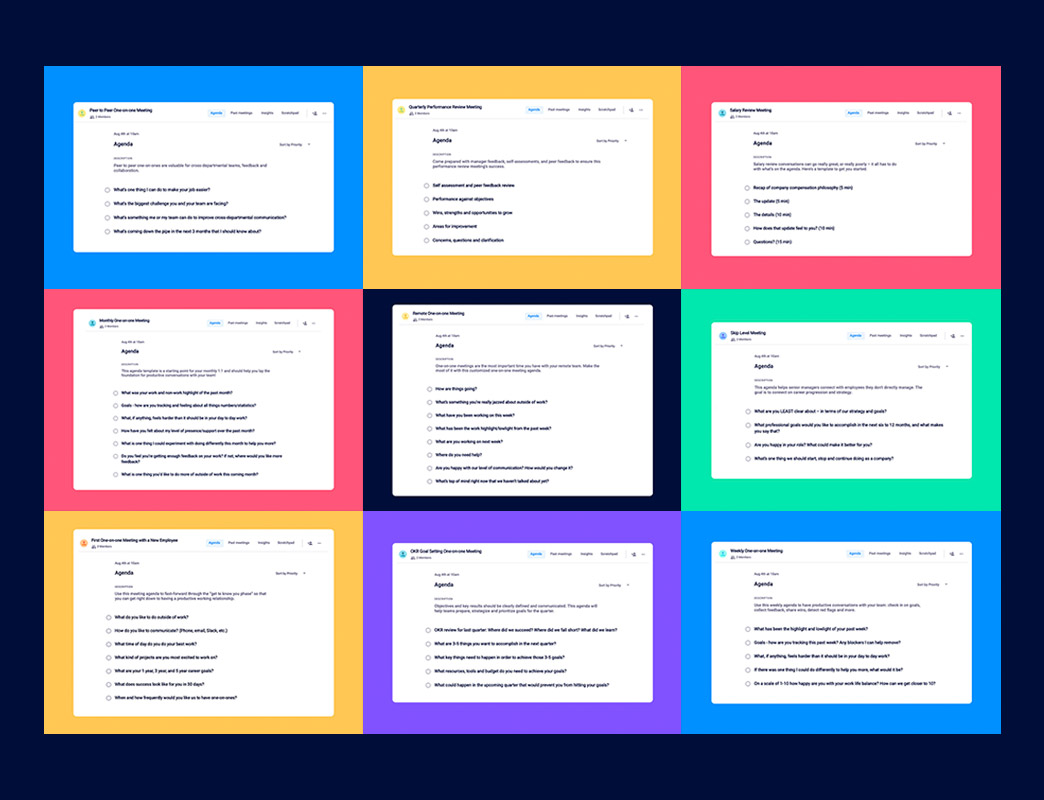 3. 9 One-on-one meeting templates
Read time: 9 minutes
One-on-one meetings are the most important opportunities for managers and employees to share feedback, build trust, and increase engagement. That's why we've put together nine 1:1 agenda templates for the different types of 1:1 meetings you'll likely have each year.
Templates include:
First one-on-one meeting
Weekly one-on-one meeting
Monthly one-on-one meeting
Remote one-on-one meeting
Skip level one-on-one meeting
Quarterly performance review one-on-one meeting
OKR goal-setting one-on-one meeting
Peer to peer one-on-one meeting
Salary review meeting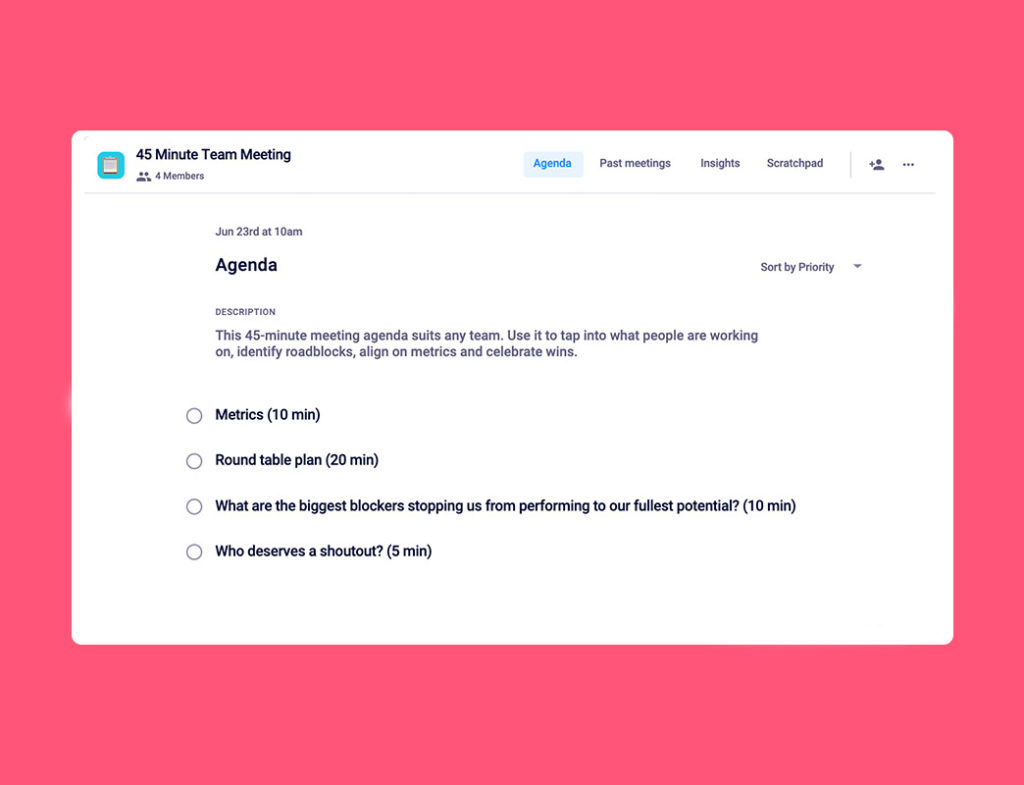 4. The 45-minute team meeting agenda
If your team meetings always run over time, this agenda template will ensure you stay on track (and on time) every single meeting.
In this article, we cover:
The purpose of team meetings
Tips for effective team meetings
What to talk about during this meeting
45-minute team meeting agenda template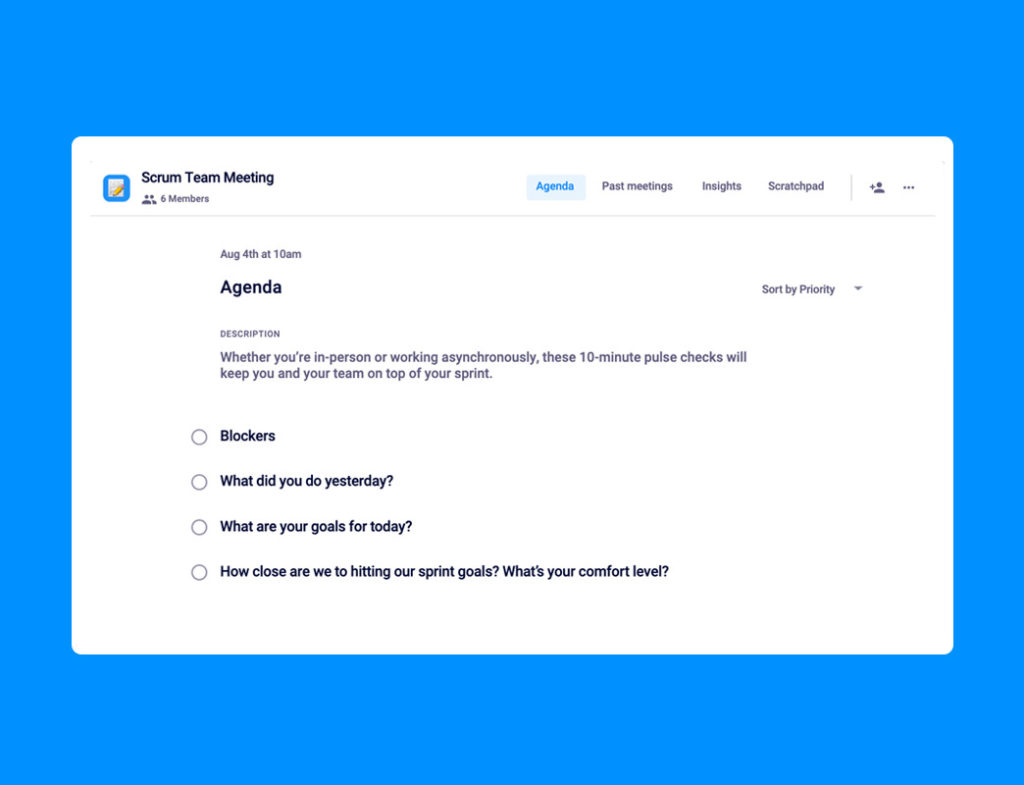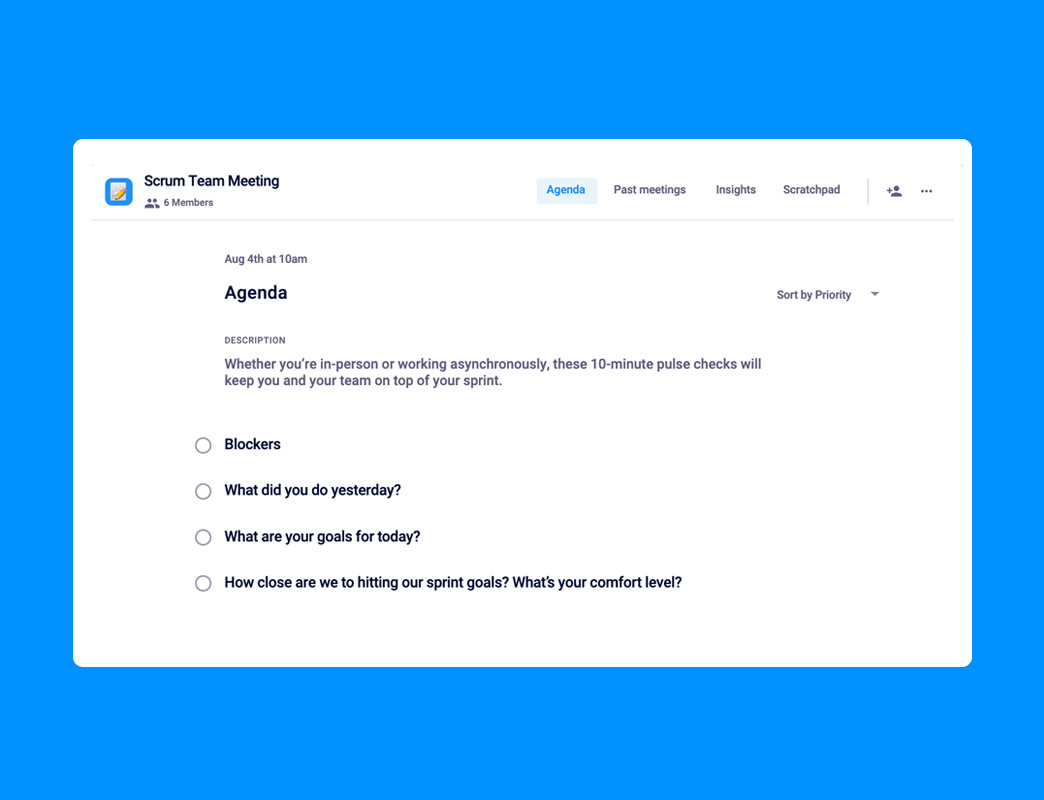 5. 4 things to include in your daily scrum meeting agenda
Whether you're working in-office, remote, or meeting asynchronously, these 10-minute daily status updates will keep you and your team on top of every sprint.
In this article, we walkthrough:
A daily scrum meeting agenda template
Things to avoid in your daily scrum
Other scrum meeting tips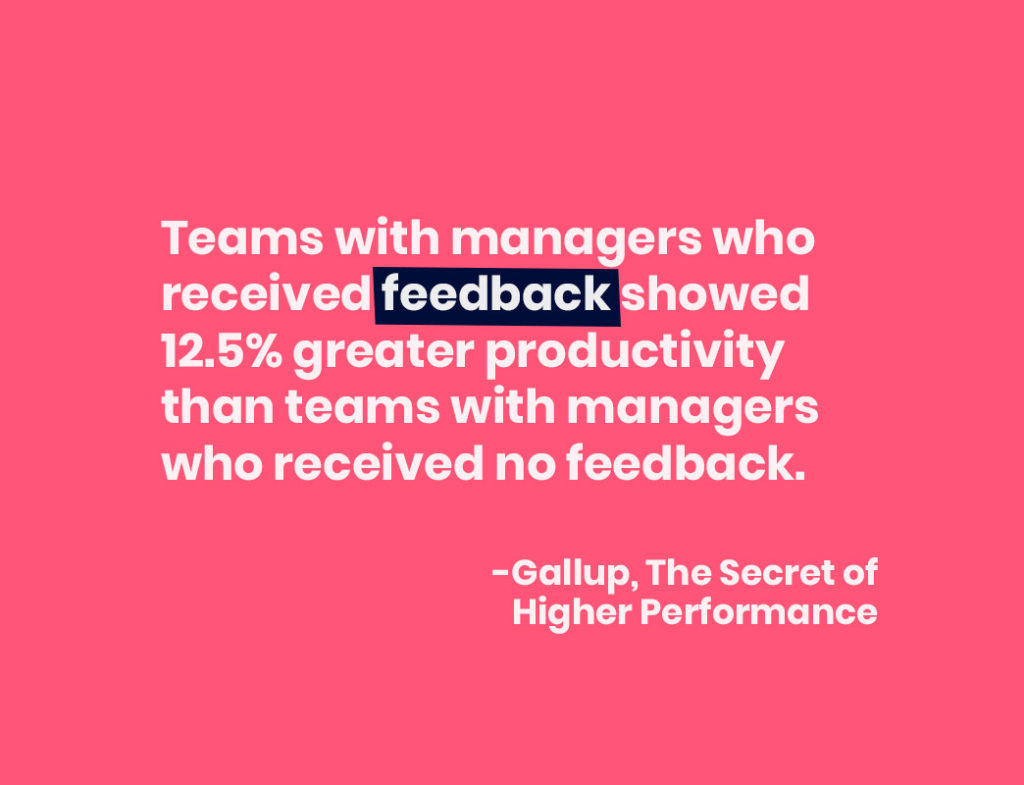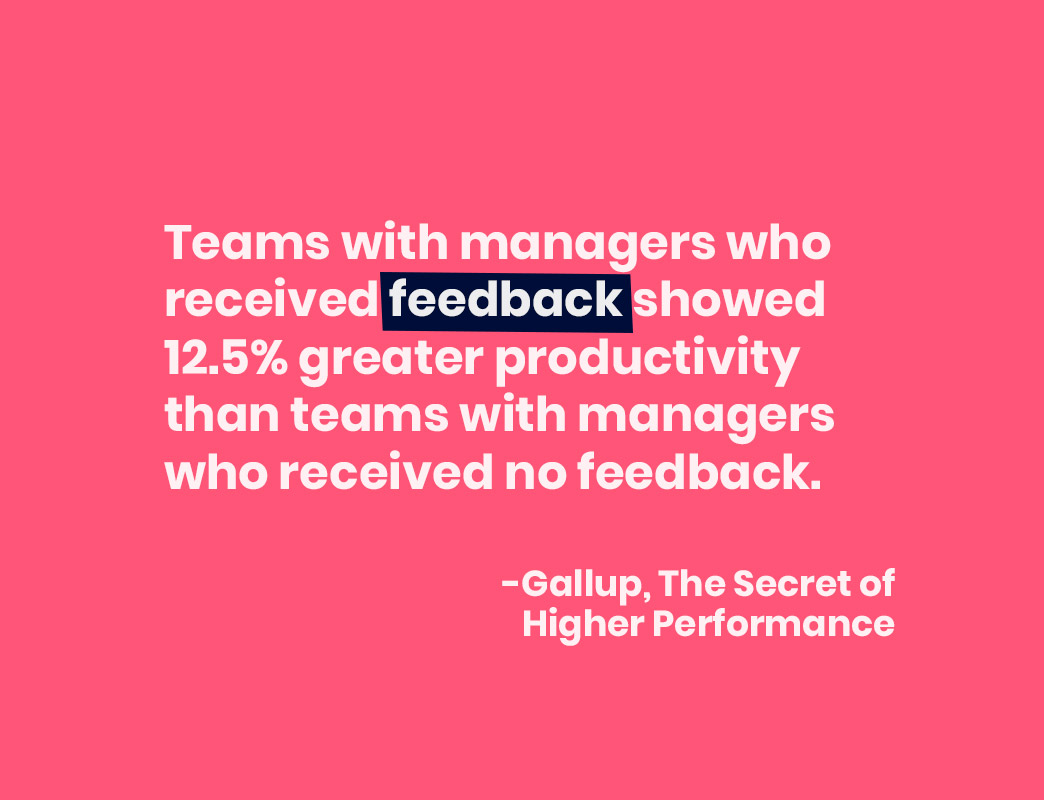 6. Measuring meeting effectiveness: 5 post-meeting survey question templates
Meetings are a part of the workplace, there's no denying that. But, just because they have to happen, doesn't mean that they're always run effectively. That's why it's so important that you get meeting feedback after every meeting, be it one-on-ones, team, or one-off meeting.
In this article, we'll walk you through:
Why you should ask post-meeting survey questions (every time)
How meeting effectiveness survey questions will make you a better manager
5 post-meeting question templates to use when asking your team for feedback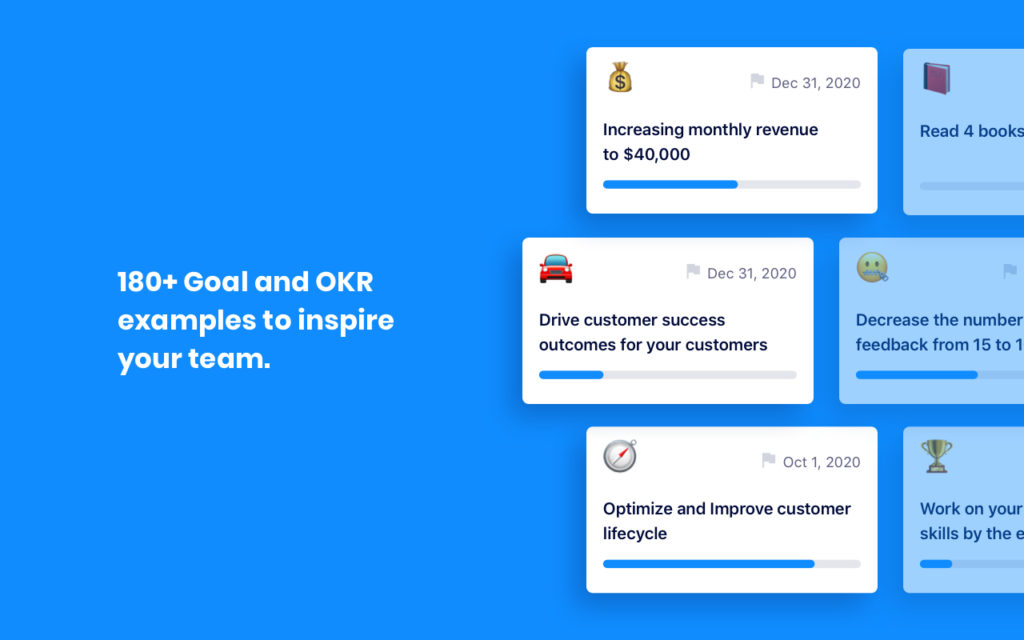 7. 180+ OKR and goal examples
Goals are some of the hardest things for leaders and ICs to come up with. That's why we put together this curated list of over 180 goal and OKR examples, including contributions from high-performing teams at G2, GitLab, and Unbounce.
Check out goals across every department: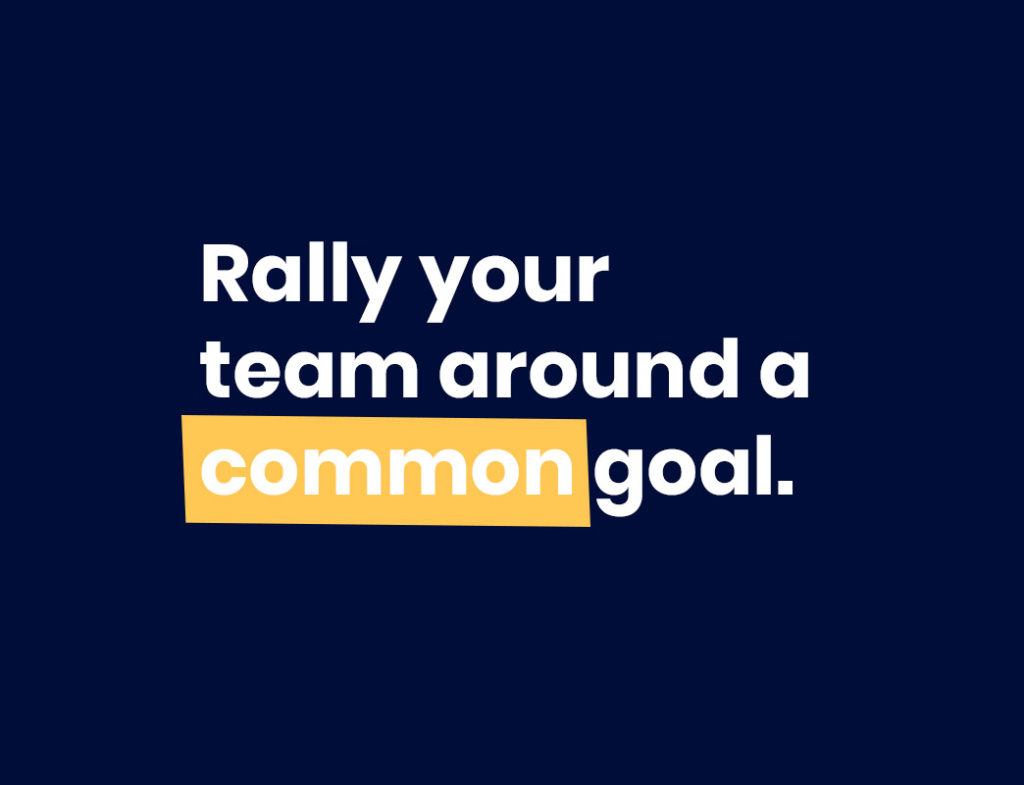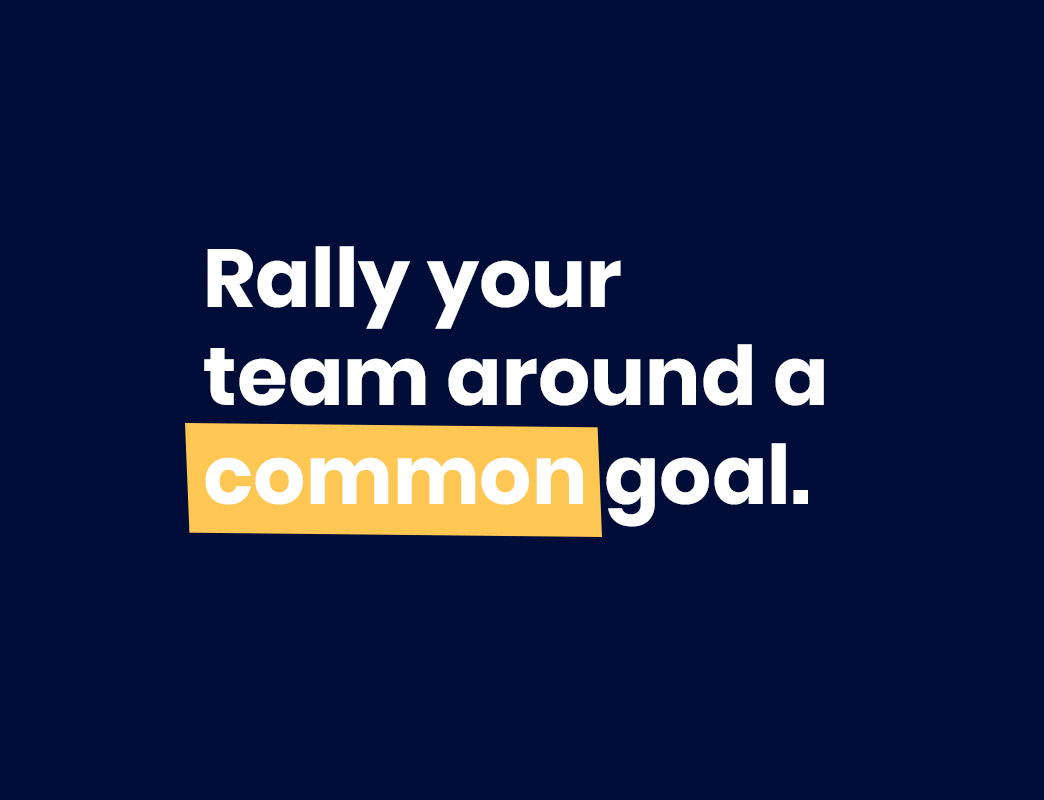 8. 5 Ways to set (and surpass) team goals every single quarter
If you want to align your team and push them towards success, you should set quarterly goals for your team. Learn about the GOST model, SMART goals, OKRs, and more.
In this article, we'll walk through five key steps to setting (and conquering) goals as a team:
Set 90-day goals with your team
Align your 90-day goals to your company goals
Make sure each goal is measurable and attainable
Give your team members ownership over each goal
Incentivize performance with career progress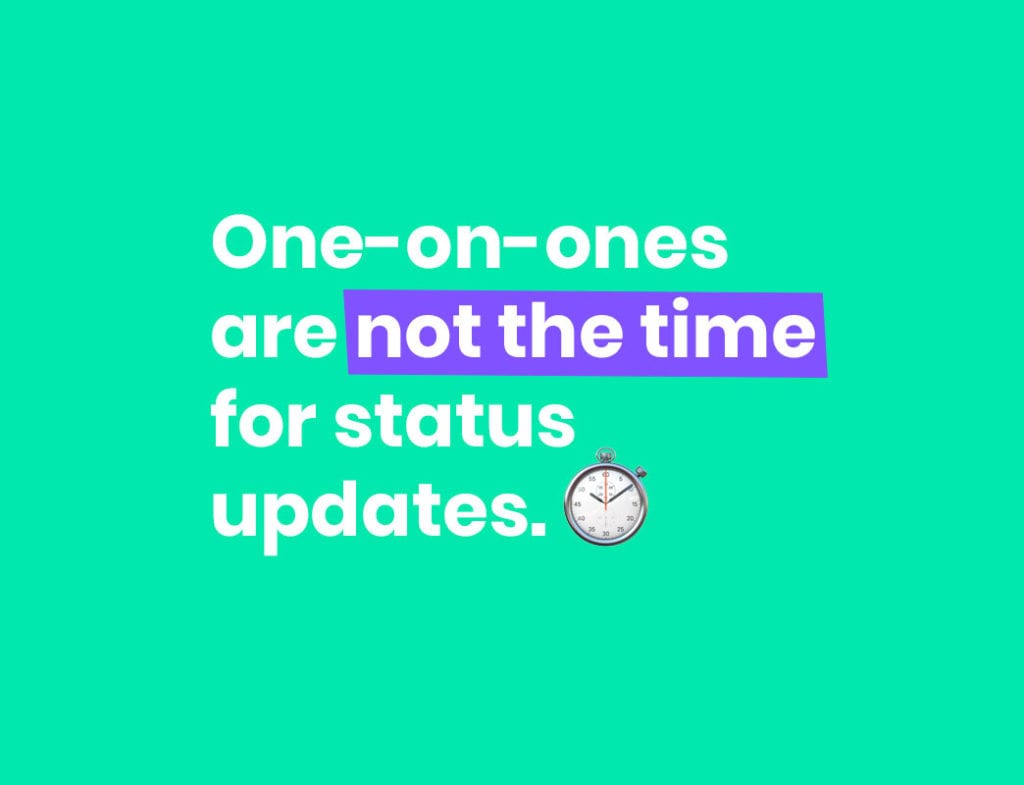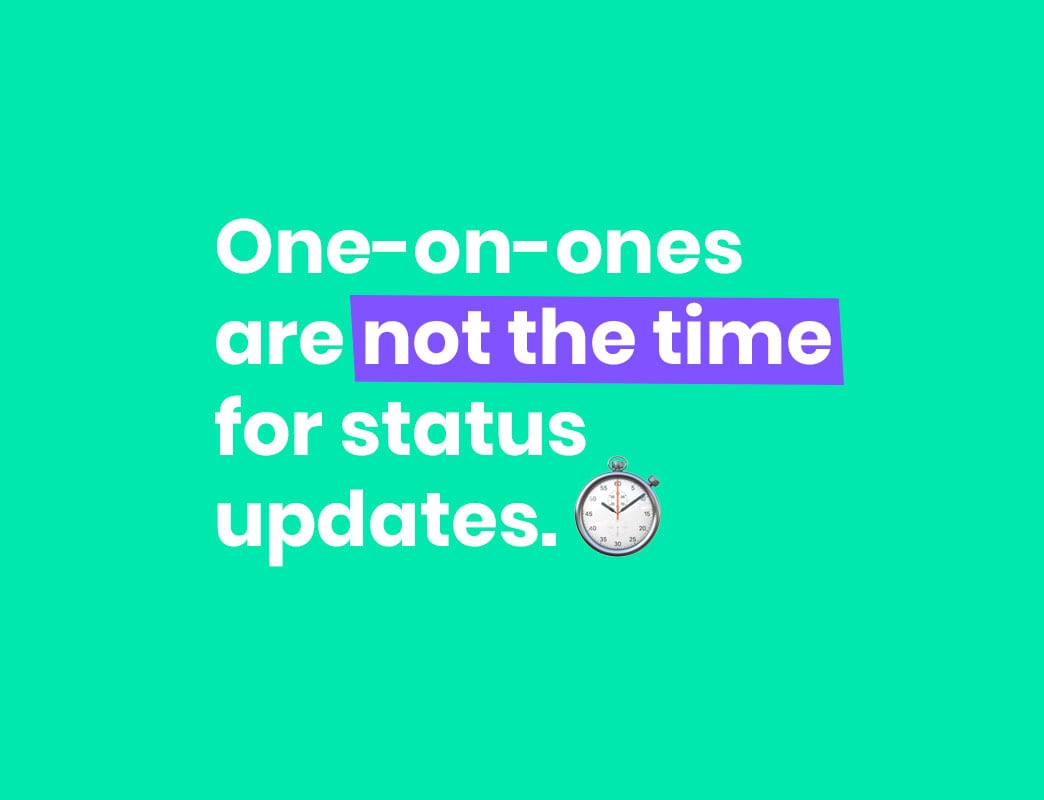 9. 24 tips to have more effective one-on-ones
From fostering a psychologically safe place to documenting next steps, we've put together the ultimate one-on-one meeting checklist. Learn about best practices for pre-meeting prep, what to do during the meeting, and things to do post-meeting.
Some tips include:
Share your meeting agenda ahead of time: aim for at least 48 hours before your meeting.
Managers: do less than 50% of the talking. Let your employees lead the conversation and choose questions that will open up the discussion.
Start and end on a positive: even if you're having a tough conversation, or dealing with negative feedback, try to end on a positive note.
Put your notes in a central place: be sure that both you and your employee have access to the notes and next steps.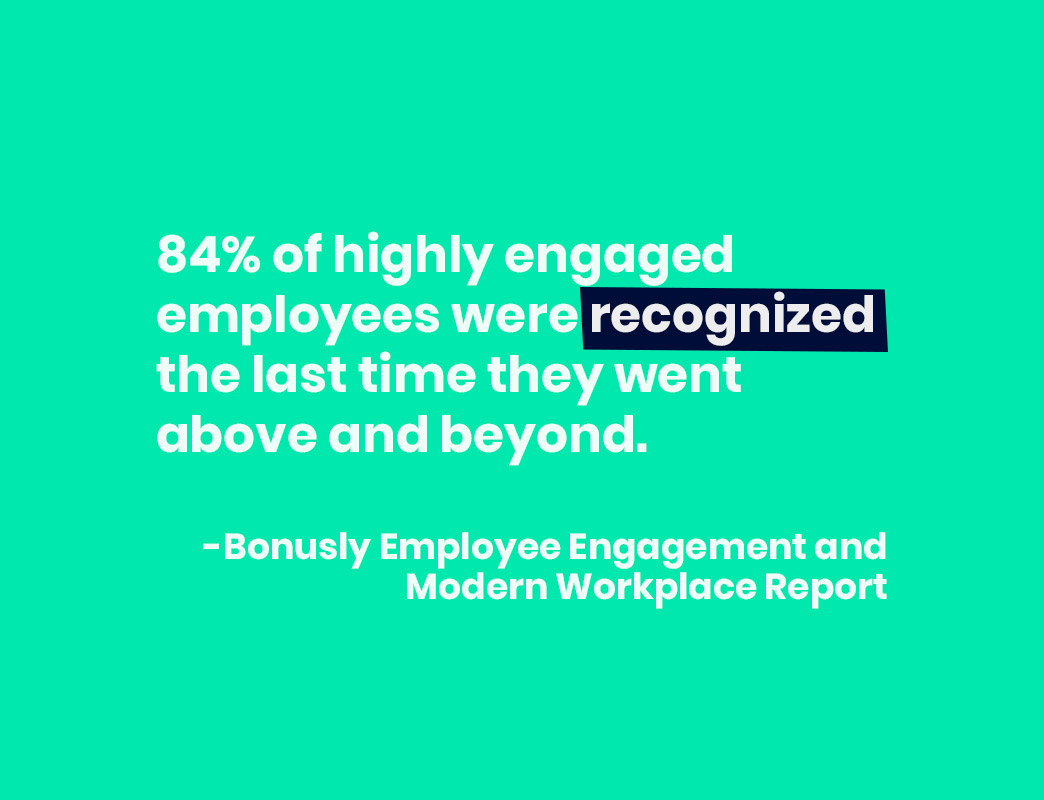 10. Employee recognition: Creating a "Culture of Kudos"
Building a culture of kudos can be a great way to celebrate employees for all the hard work they put in. Learn about the importance of employee recognition and how to build a culture of kudos in your organization.
In this article, we cover:
The business case for employee recognition across every level of your organization
Public vs. private recognition
Ways to recognize employees in the workplace
---
Become a better leader. Get actionable management tips and best practices delivered to your inbox!