Manager Community
Updated Dec 17, 2021
Remote Leaders: How Jonas Olausson leads a distributed team through a crisis
[wtr-time]
Hiba Amin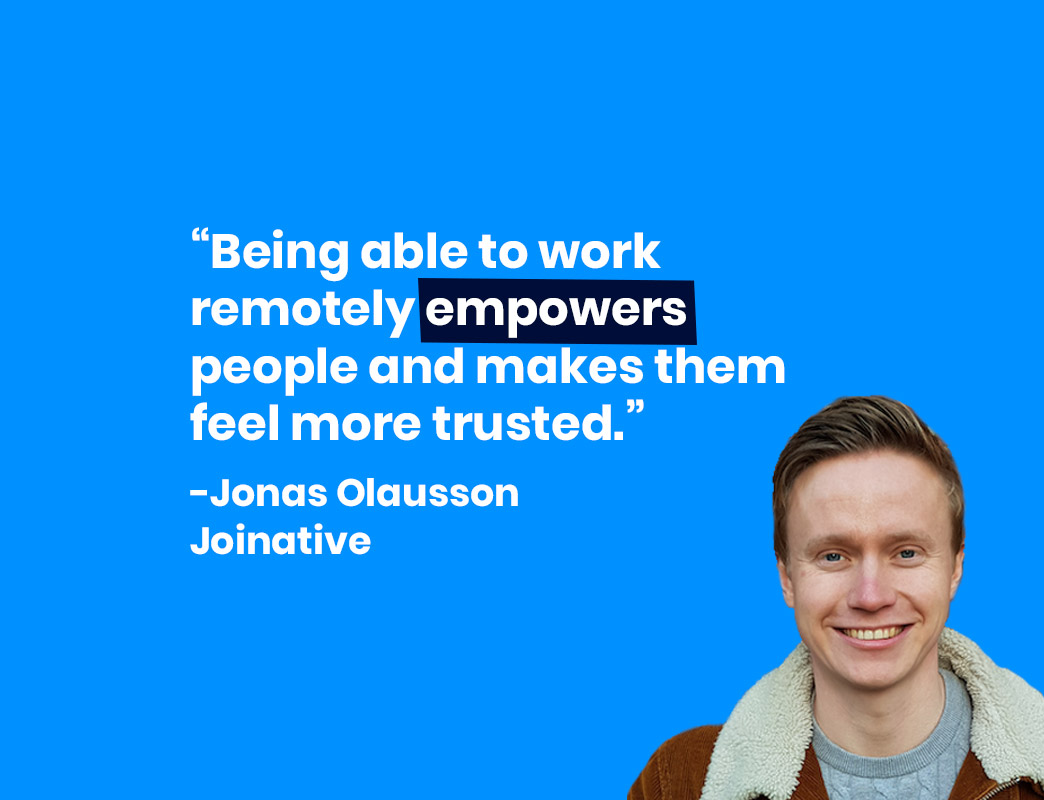 We recently caught up with Jonas Olausson, Founder of Joinative to learn more about how he's managing his distributed team during a crisis. Jonas has been working remotely long before the coronavirus outbreak and he has quite a few things to share with managers new to this concept of remote work.
Quick facts about Jonas:
Jonas has been remote full-time since October 2018
He launched a native advertising agency and SaaS business in November 2019
Jonas manages a distributed team of 3, having a deep understanding of every process his team members are responsible for
To begin with, what are the biggest advantages of managing a remote team?
Based on my own experience, I'm more productive when working remotely, and so is my team. Flexibility is a great advantage for all of us. Being able to work remotely empowers people and makes them feel more trusted. This all contributes to employee satisfaction and motivation.
"Being able to work remotely empowers people and makes them feel more trusted." -Jonas Olausson, Founder of @Joinative – Full interview on @HypercontextApp
Click To Tweet
What are the challenges of founding and managing a fully remote business?
I think communication is the biggest challenge for every leader of a remote team. You should always be descriptive and say precisely what you mean. As a remote leader, you need to remind yourself that your team is working from their own respective location, so you all lose out on the little interactions that help add context in a traditional office setting. So, over-communicating is how my team tackles this challenge.
You should never forget that even though different departments might be doing completely different work, it's crucial for everyone to be aware of what developments take place across the company. Your marketers don't have a deep understanding of how your developers are writing code, but they need to understand your product road map and stay up to date with your future plans to feel involved. This might sound obvious when you all work from one office and can discuss everything in a water cooler chat, but it's easy to overlook these details when managing a remote team.
Sometimes it's much easier to explain and solve issues when you just sit next to each other. When you're remote you should make sure your connection is good enough to host an online presentation, create never-ending Slack threads, etc. to ensure everyone is on the same page. We even decided to work on-site with our developer from time to time – this helped me to get involved with the product creation process much more than I could with hangouts.
What's in your team's tech stack?
To ensure transparent and more effective communication, we use the following tools:
How have you adapted your management style to better lead your team during a crisis?
When managing a newly built company during a crisis, you can easily assume that you'll face serious challenges as you work towards building your business. And it's not only about the lower interest in your product or fewer clients that need native advertising agency services. It's also about dispelling your employees' fears and enabling them to deliver great results. 
As the global situation evolved and panic started to spread, I realized the importance of highlighting to the team that our workflow wouldn't be seriously affected. So, I let the team know, in case anyone had concerns, that my "door" was always open to anyone wanting to talk about the business, their concerns, and any ideas they had.
I believe that today, it's just more important than ever to encourage the team to talk to each other and always start calls with talking about how their life is going.
"I believe that today it's just more important than ever to encourage the team to talk to each other and always start calls with talking about how their life is going." – Jonas Olausson, @Joinative. Full interview on @HypercontextApp
Click To Tweet
Also, I want to highlight our team wasn't affected as much as others due to the fact none of us have the added stress of juggling work with taking care of kids.
What are some things you and your team are doing to keep each other's spirits high?
Since going into quarantine, we've been having more calls than ever. Before lockdown, we would each have a weekly team and one-on-one meeting. Now we have daily morning meetings – and that's not just for the sake of accountability, but this is what's helping us to feel less isolated and more connected.

Moreover, there's a small but significant change to our weekly calls – after sharing their plans for the upcoming week, every team member estimates their happiness and workload level. This is a point where people can either share their positive emotions or slow down and think about their real attitude towards the tasks they're working on. First of all, this helps each person to understand the current state of things (it's not easy to evaluate how close you are to burnout before you stop and think about it). And of course, it helps me realize when it's time to step in and talk to an employee and provide them with support.
How do you keep your team accountable?
I'm always on top of other team members' tasks and plans. Before starting this or another project, we estimate how much time it might take to complete it. Of course, you can't heavily rely on precise estimates, and this is where daily standups help a lot. With regular updates, I know how projects are coming along and if everything is going smoothly or if something's blocked.

At Joinative we prioritize transparency. Project management tools allow every team member to be aware of the progress of their co-workers. This also contributes to the productivity and accountability of the team.
It's also crucial to communicate the company vision and mission to everyone. The best way to do that for us as a newly built team was to create our messaging together. After two days of workshops (by a happy coincidence, all of us were in Berlin at the time), our brand purpose, mission, and values were developed and documented by the entire team. I should say this activity has had a significant effect on the team's attitude towards our company culture.
Do your employees manage to keep the work-life balance during the lockdown?
It's difficult to set these boundaries while we all are locked at homes and work is one of the very few activities we can do. But I don't encourage overworking. I believe we still need to have a full weekend to replenish our energy resources and get ready for a new week.
" I don't encourage overworking. I believe we still need to have a full weekend to replenish our energy resources and get ready for a new week." -Jonas Olausson, @Joinative. Full interview on @HypercontextApp
Click To Tweet
When it comes to your own motivation and productivity levels, what are some techniques or things you're doing to try and stay motivated yourself?
I use one personal flexible sprint planning that helps me keep track of all my tasks and progress.
It helps get an overview of all my work, regardless of the topic or client. I can then make sure to focus on one at a time and fully deliver it rather than switching my mindset in the middle of a task.
As a leader, you also need to be honest with yourself and allow for some unproductive time to stay motivated. If a task is less urgent but more challenging and rewarding, it's sometimes okay to do that first. If I realize I'm in a state where I'm not productive, I'll get out of the environment by going on a run or a walk and call someone I haven't talked to in a while before getting back to it.
Nothing is more demotivating than finishing a long day of work and feeling like you accomplished nothing. Seeing the tickets I've completed and taking regular breaks help me prevent that.
What do you feel is the most important thing leaders should be doing with their team right now?
Take your employees' emotions seriously. Motivating your team is important, but don't forget to support them and make them feel more connected to one another.
Also, leaders should understand that this is the right time to set up processes that will allow them to be more flexible even when quarantine ends. Don't think you won't need this in the future. Keep looking for better ways to manage remote teams as this skill will be very valuable in the coming years.
What about the operational part? As a leader of both an agency and a SaaS company, how have your approaches changed?
The clients of our native ad agency have gone remote like everyone else, and our communication has changed as well. Now, we're having regular online meetings every week (or more often if needed) to go through campaign performance reports together and talk about our next steps.
Reaching out to marketing experts and offering them to test our new tool for advertising reporting, I noticed that people are more open to conversation these days. Also, a lot of managers have too much on their plates, and if you have a product that helps them save time, they'll listen to you.
How, if at all, have your one-on-ones changed since we've entered into the world of leading during a crisis?
Nothing has changed here. We keep having weekly one-on-ones that take about 20 minutes. During times of uncertainty, employees need to get enough feedback on their work to reduce the risk of frustration or demotivation.
As a distributed team, has anything changed for your team?
Yes. As has already been mentioned, the lockdown made us feel more isolated. Everyone was lacking communication, and we were not an exception. That's why we implemented daily standups and brought a new life to the Slack channel for sharing non-work-related content.
What's one piece of advice you would give to managers leading in a crisis?
Trust your employees. If you haven't built a loyal team before this crisis, you won't make people work harder with employee monitoring software and other tracking tools. All you can do is to make it clear for your employees that you're working through a crisis and you need to pull together now. Follow the progress of your projects and be ready to get involved if things get stuck. But don't try to control everything and everyone.
---
Learn more from remote leaders like Jonas:
Become a better leader. Get actionable management tips and best practices delivered to your inbox!