Productive Meetings
Posted Sep 9, 2021
6 items for your leadership team meeting agenda
[wtr-time]
Here are six things to add to your next leadership team meeting agenda to have more meaningful and actionable conversations.
Brennan
A high-performing leadership team needs to be able to make 💯 business decisions quickly and efficiently. To do that, they need an effective leadership team meeting.
The goal of this meeting is to arm the senior leadership team with the information they need to make key decisions about the business. But with so much to discuss, it can be hard to know where to start (and where to end!).
In this article, we'll walk through:
Let's get started!
What is the purpose of an executive meeting?
Your weekly leadership team meeting is a dedicated time to bring together the leaders of every major function of your organization. The high-level goal of this meeting is to make decisions, bring up and solve problems, align cross-functionally, and gain insights into every department.
Why are leadership meetings valuable?
Your whole executive team is swamped. It's nearly impossible to find a time to meet. Is meeting in real-time really necessary?
Yes, yes it is.
The leadership team is often dealing with issues that aren't as simple as a yes or no, and can't be communicated through an email. They require discussion and debate to find the best solution.
Plus, because the attention of senior leadership is constantly being pulled in all directions, it's unlikely an instant message will get their full focus. They're juggling a lot.
Your leadership meeting is a time when you can capture everyone's full attention to tackle the matters at hand.
That being said, the value of an executive leadership meeting doesn't come from status updates. Make use of async tools to keep each other up-to-date. Communicating asynchronously between meetings will make your real-time meet-up a lot more effective and productive.
How do you conduct a leadership meeting?
Effective meetings don't just happen. Rather, they need to be intentionally created. Especially when there are a lot of complicated issues to address, big decisions to be made and strong opinions in the room.
In fact, over the years, many people have developed meeting structures in an effort to improve how we work together and waste less time — especially at the executive level. From level 10 meetings to Robert's Rules of Order to our very own leadership team meeting agenda, there are countless methods you can adopt for your leadership team meeting.
But regardless of the ✨ official ✨ structure of your meeting, the first step to conducting an effective leadership meeting is establishing the purpose. Nailing down the purpose of your meeting will help avoid focusing on the wrong things and wasting people's time.
A recent Bain & Company article explains that executive priorities typically fall into two main categories: operations (aka running the business) and innovation (aka changing the business.)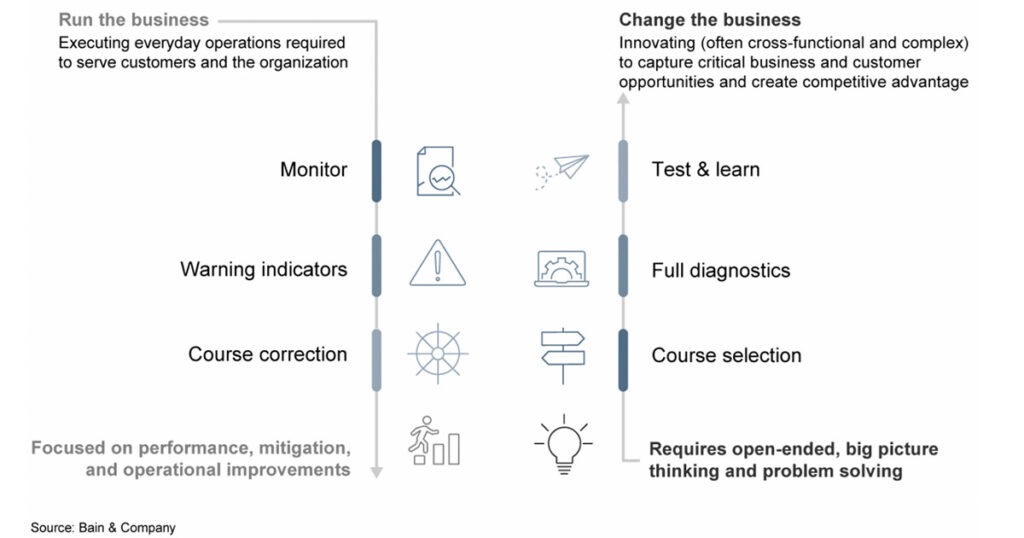 If you're trying to fit "change the business" topics into a "run the business" agenda, you'll surely fail.
When you make this distinction, leadership can tailor their meeting agenda better and stay on track with what they want to achieve.
But, go one step beyond this high-level distinction also. What, more specifically, do you want to achieve with your meeting?
For example, "the goal of this meeting is to address current roadblocks leaders are facing in their respective areas and solve them collectively."
To find the purpose for your meeting, Priya Parker, the author of "The Art of Gathering" provides these helpful tips:
Zoom out: What's the big picture reason you're meeting?
Drill down: When you think of your reason for meeting, ask "why?" Keep asking why until you've hit a belief or value.
Think backwards: Think of what you want the outcome of your meeting to be and then work backwards to establish your purpose.
Once you nail down the purpose, we recommend holding the meeting weekly. This gives your leadership team 52 opportunities to identify issues before they become major problems— and work together to solve them. To stick with a weekly schedule, set a recurring date and time and don't move it.
What to add to your leadership meeting agenda
To help stay true to the purpose of your meeting, you need a meeting agenda. It's a non-negotiable.
Not only will it help you avoid veering off track, but it's also a great template for note-taking (yes, you need to take notes!) so you have a communal source of truth to refer back to.
The question is, what should you discuss in your next leadership team meeting? 🤔
Here are 6 items we add to our weekly leadership meeting agenda to have more meaningful and actionable conversations.
1. Personal update
Start your senior management meeting by sharing something about yourself with the group. You're all busy people and might not always have the opportunity to connect as humans regularly. But don't overlook building rapport. It could be as simple as sharing what you did last weekend.
Starting here will really set the tone for the rest of your meeting.
If this feels unnatural at the start, try using a simple icebreaker question, like:
How was everyone's weekend?
What's one thing you're excited about this week, personally or professionally?
Where are you traveling to next?
2. Metrics
The bulk of your time in leadership team meetings is tracking progress on metrics and OKRs to identify where you're on or off track. That way, you can course-correct if needed.
If you find this agenda item is overwhelming your meetings, there are a couple of different ways you can go about structuring this conversation:
The red, yellow and green method
If you're running on OKRs, you can use a simple red, yellow, and green method to get down to brass tax and cut through the noise. Are you feeling green, red, or yellow about hitting a 50% increase in signups this quarter? If it's green, move on quickly. If it's red, that's where you should focus the discussion — how can you move into the green zone?
Pick 3-5 metrics to focus on every week as a team
With a lot of metrics to cover, across your engineering, marketing, customer success, sales, and other teams, it's important that you narrow down your focus to a select few key metrics that you can focus on as a team week-over-week. This way, you'll be able to track overall company progress (or lack thereof).
Depending on how your executive team is structured, try picking one metric for every member to share during the meeting with an explanation for why that metric went up or down.
3. Wins and insights
Spend time as a group sharing wins on behalf of your employees and customers. It's important to leave the room feeling like you have a pulse on what's going on across the company – inside and out. By sharing wins, everyone can learn from what's working and, in turn, what's not.
Doing this also gives your leadership team the opportunity to share recognition with employees that they may not necessarily interact with on a regular basis. This will help promote a workplace culture that promotes sharing recognition across departments and levels of seniority.
4. Messages to share
Here, you want to determine what's important to communicate to the entire company. Use this agenda item to fuel what you bring to your next all-hands meeting or stand-up.
Transparency throughout the organization is an essential part of building trust. And that transparency always needs to trickle down from the top.
5. Hot seat
Before each meeting, elect a different person to do a deep dive into their particular area of the business.
Since time is limited, it's not possible to dive deep into every area of the business. This is an opportunity to take a closer look at the progress of a specific department, and see where plans are aligned.
Use this to uncover issues, blockers, and areas where other leaders might be able to step in and help.
6. Issues
Throughout the meeting, if any issues have been identified but remain unsolved, now's your time to address them. Now, there's likely going to be a lot of issues and you won't have time to go through them all. Rather, choose the most pressing and decide how to solve it.
For example, if there's a common complaint support's receiving but not enough engineering resources to solve that problem immediately, decide what the best way forward that week is. Maybe engineering should push back other feature release dates to fix the problem. Or, maybe this complaint isn't a priority.
If there's time, move on to the next issue. Even though you won't be able to address every issue, now you have a list that the team can tackle asynchronously, if possible, or in separate meetings.
👉 Try this agenda template for free with Hypercontext
Expert tips for your next leadership team meeting
In addition to meeting basics like setting a purpose and using an agenda, we follow 5 core principles at Hypercontext to make sure our leadership team meetings are focused and productive:
🥣 Stirring the pot is better than holding your tongue
Create an environment where there are no passive-aggressive comments – and therefore no one hesitates to share an opinion or to start a tough conversation. There's no room for that in this meeting (or any really).
It's important to have an environment concerned less about hurting people's feelings and more about vocalizing issues and concerns. The only way to do that is to create a psychologically safe space.
👥 Discuss instead of tell
Come armed with information to fuel productive conversations and make decisions. Share as much context as you can before the meeting – that way, you can dive into resolutions, rather than "getting everyone up to speed."
Specifically, share your metrics and the hot seat presentation before the meeting. Allow others to digest and prepare questions for the meeting to provide for a more focused conversation. Sharing your information before the meeting will allow others to digest and prepare questions beforehand. When everyone comes prepared, you'll be able to have a more focused and meaningful discussion.
✅ Focus on solving things together vs. pointing fingers
Collectively, you as a leadership team own the results and the trajectory of the business. Sharing that responsibility means sharing failures and successes.
Spend the valuable time you have in this meeting laser-focused on solutions, rather than problems. Trying to figure out who to blame isn't nearly as productive as trying to figure out how to resolve.
🗺 Encourage change over staying the course
The definition of insanity? Repeating the same thing over and over again and expecting different results. You need to be open to change and embrace it. Resistance to change can mean the success or failure of your product and/or business.
🎯 Keep goals top of mind
To stay aligned, you need to keep your company's goals top of mind. What's the vision that you're trying to achieve? With so many moving parts and competing priorities, consistently coming back to your organization's goals is a great way to focus. Add your goals to the top of your leadership meeting agenda so they're truly impossible to forget.
Wrapping up
Good leadership meetings are essential for progressing companies forward. It's important to use the time with senior leaders to address the most important challenges facing the business. How your leadership meeting develops, and the productivity of that meeting, will trickle down to each individual team, so it's crucial that you use the time here wisely.
The first step in a more productive leadership team meeting? Having an agenda.
Your Hypercontext leadership team meeting agenda template 👇