Productive Meetings
Updated Jan 27, 2022
5 Things to add to your project management meeting agenda (plus meeting tips!)
[wtr-time]
Increase your team productivity with these project management meeting tips, and our ultimate project management meeting agenda template.
Nicole Kahansky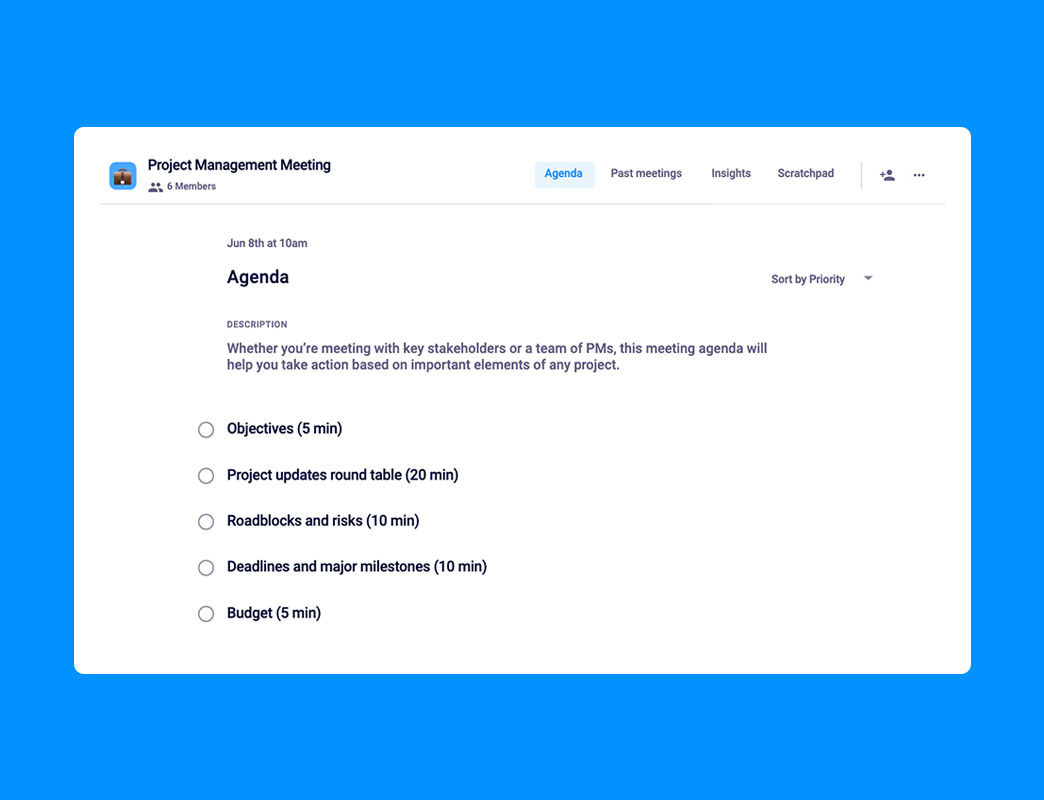 Project management calls for a fine balance of communication, agility, organization, and focus. From managing cross-functional collaboration and stakeholder communications to moving deadlines and budgeting — there's a lot to keep track of. Having the right strategy and tools in place is key to success! 🔑
Cue project management meetings.
Project meetings, when run successfully, will help the whole team stay up-to-date and on track to meet goals, without wasting a project's most valuable resource — time.
Keep reading to learn more about:
What is a project management meeting (and why is it important)?
Your project management meeting is a time to regroup with stakeholders of a project team and address items that need to be discussed to keep the project successfully moving forward.
During this time, all key stakeholders can sync on:
Status updates (do this asynchronously in your collaborative meeting agenda or other async communication tools)
Blockers or scope creep that need to be addressed and potential solutions
Whether or not you're on track to meet your deadlines
Reviewing your RACI matrix and make any changes necessary as the project moves along
This meeting is one of the tools in your toolbox filled with project management software, methods (i.e. agile project management), and communication channels.
Beyond this meeting, your project will likely come up in team meetings, company-wide meetings and one-on-ones. So why have a whole meeting to talk about a specific project?
This is a time to dive deep with key stakeholders.
Having a dedicated meeting for major projects means that you're able to maintain alignment and open communication channels across multiple functions of a business. It's also a great way to minimize potential frustrations down the road.
How to prepare for your meeting
Most Project Managers are running 2-5 projects at a time, so there's no time to waste. Here are some of our favourite tips to prepare for a productive project meeting.
Understand your team
No two project teams are the same, so don't use a cookie-cutter approach. This doesn't mean you need to reinvent the wheel for each project. It just means you should be open to making adjustments that will optimize your teamwork. 💪
With different people on each project, it helps to understand how your specific team works best.
Some teams might operate better with weekly meetings and some may prefer bi-weekly meetings. Your project kick-off meeting is a great time to get an understanding of everyone's working styles and a meeting cadence that suits all.
Use the right collaboration tools
Don't save all your updates for your project management meeting. It's helpful to make use of project management tools, like Asana or Timely Tasks so you can tackle challenges as they arise by task.
Also, make use of bringing structure to your meetings with collaborative agendas. To foster better collaboration, take advantage of meeting formats like:
By applying other communication tools and methods, you'll be able to stay hyper focused from end-to-end.
Make sure you have ALL of the right people in the room
Make sure you have everyone you need in the room. If a key person in your project can't make the meeting, don't push on and have a less valuable meeting because of it. Reschedule and maximize everyone's time by having all of the right people in the room.
That being said, only invite people who need to be there. For example, if you're using the aforementioned RACI matrix, those who simply need to be informed don't necessarily need to be in the room. You can send them the meeting notes after the fact, rather than wasting a whole 30 minutes of their time.
Create an agenda
Make an agenda and make it collaborative.
Creating a collaborative agenda is one of the easiest things you can do to make sure that everyone arrives at the meeting prepared and focused with talking points in hand. When there's no agenda in place, it's easy to veer off-topic or forget about an important item that needs to be discussed.
Using an agenda ensures that you cover everything and make use of everyone's time effectively, so they're not leaving the meeting feeling like their time could have been better spent.
Common project management meeting dysfunctions to avoid
As you prepare for your meeting, here are some common meeting downfalls to be conscious of avoiding.
Micromanaging
Project Managers, we get it. You're facing a lot of pressure to keep your project moving and get it off the ground. But don't fall into the habit of needing visibility into everything that's happening on the team.
Trust is imperative, and no one likes a micromanager! It can be harmful to team dynamics. Not to mention, it's a waste of time for everyone.
Let your team keep the updates to the important stuff, and trust that they've got the rest covered. Making use of project management tools in addition to meetings can be a huge help in getting the information and context you need without micromanaging every piece of the project.
Lack of accountability
We wrote a whole piece on accountability in the workplace and the same concepts hold true for each project.
According to Partners in Leadership, a lack of accountability can lead to:
Low team morale
Unclear priorities across the team
Employees become less engaged
The team or individual is not meeting goals
Low levels of trust
…none of which make up an effective team.
The easiest way to avoid a lack of accountability is by defining expectations and responsibilities from the outset. When people have a clear idea of what's expected from them, it's easier to deliver.
There are many frameworks you can use to help assign roles and make accountability crystal clear, including RACI (our favourite) or RAPID. Choose one that works best for you and your team.
Loud vs. quiet voices
In every meeting there will be voices that dominate and voices that are more timid. As the meeting facilitator, it's important to find ways to ensure everyone's heard and that you foster a team culture of psychological safety.
Technology is a great solution for this. Encourage participants to add comments to the collaborative agenda in advance. That way you know when someone has something to say and can prompt them to speak.
Another factor in ensuring everyone's heard: our friend, accountability. People should speak to the roles they're accountable for. If someone else has something to add but there isn't time to hear from them, they can contribute their idea in the agenda comments beforehand.
Only focusing on status updates
While it's important to walk through progress, don't let it eat up the whole meeting — make use of your PM tool. Set the expectation that everyone should update their responsibilities and progress to your PM tool before meeting and only cover any major updates.
Beyond that, you should use the time to discuss blockers, align on timelines, and move around tasks as needed. Best case scenario, you end the meeting early and everyone gets some free time back in their calendar!
Project status meeting tips
Now that you know what not to do, here are some tips to keep you and your team set up for success during every project status meeting.
Assign a meeting time-keeper
There's a lot to cover, you want to let everyone speak, there are follow-up questions, you want to catch up with your team! Aaah there are so many reasons why time can escape you in a project management meeting.
But trying to cover too much ground won't serve you or your team.
Keep your team in check by protecting their (and your!) time. Assign a time-keeper at the beginning of the meeting, and ensure that everyone knows the estimated time for each agenda item. This can be as simple as adding a time expectation at the end of each agenda item: i.e. Discuss blockers (5 min)
Summarize and add next steps
If you don't make decisions, did the meeting really happen? For each agenda item, be sure to summarize any key decisions that were made and assign action items that need to get done.
Pro tip: You can add your action items directly in Hypercontext, so everyone has their next steps laid out clearly in the meeting minutes.
Take notes – and share them
Notes are so crucial in these types of meetings. At the end of your project, you want to be able to have a clear retrospective meeting on results, what went well and what didn't go well. They'll go far in keeping everyone on the same page, tracking progress over time and increasing accountability. Give everyone access to the meeting notes and encourage people to contribute to them.
Keeping your notes in one central place that everyone can access will also avoid the meeting notes email dance and losing them in the email vortex.
Pro tip: Check out our meeting minutes feature to help!
Put your action items in your PM tool right away
Whatever task management or project management tool you use (I.e. Jira, Asana, Hubstaff, Trello), add in your updates and new items right away. You can even carve out time in the last 10 minutes of the meeting to get your house in order in your PM tool.
Focus, focus, focus
This really goes for all meetings, but be ruthless about keeping your project management meetings focused. If conversations start to go off the rails, reiterate the meeting objective – if the conversation doesn't pertain, then either shut it down or take it offline.
5 Things to add to your project management meeting agenda
Project managers, you know and love these meetings for keeping you on task and organized. But what should be on the meeting agenda to keep your meeting on track?
Here are five essentials for your next project management meeting agenda.
Jump to the free Hypercontext project management meeting agenda template!
1. Reiterate your objective
"We are gathered here today…" just kidding – well, sort of. Spend two minutes at the top of your meeting to reiterate the goal you're collectively working for and the purpose of the meeting.
Here's an example of a meeting objectives you can use to get started:
The objective of this meeting is to understand how we're tracking towards our deadlines, align on progress, address roadblocks, and sync on the next steps as they pertain to [insert project name].
2. Round table project update
Don't confuse this "update" with everyone rattling off what they've done in the week. Focus on what didn't get done, why and what the impact is on the project. Working on a team, no one will ever collectively complete everything on time always. Things come up. This is your opportunity to make sure everyone's priorities and tasks are in line.
3. Roadblocks and risks
Segue into what roadblocks and risks are forecasted. Focus on short term (what might happen in the week) and long-term (what might happen in a month, or two months from now). This is your biggest opportunity to solve problems and eliminate obstacles before they arise.
4. Deadlines and major milestones
Here's where you can press into important dates coming up, whether it be an upcoming presentation, a beta launch, etc. Make sure everyone in the team knows of the important dates.
If there are action items that need to get done before those milestones, assign clear next steps.
Pro tip: Add dates to a shared calendar (yes, in addition to your PM tool!).
5. Budget
This item won't be relevant to every team member and every project, but it might be relevant to spend some time talking about where you are in your budgeting. Are you over or under and what needs to be prioritized to stay in line?
---
Your Hypercontext project management meeting agenda template 👇