SoapBox teams has officially launched March 26th, 2018 in the new Microsoft Teams store. Now, you can add SoapBox to team meetings and build, collaborate and action team meeting agendas without ever leaving the Microsoft Teams experience.
SoapBox Features
Build shared agendas- Allow your team members to build and collaborate on team meeting agenda items.
Add Suggested Agenda Items- Shuffle through and add suggested agenda items to your meetings.
Check items off as you tackle them- As you have your meeting tick off things you've completed, or if you haven't gotten to an agenda item it will automatically roll over into your next meeting.
Get Notifications- Receive notifications any time a team member contributes to your meeting agenda, an item is closed or there's an upcoming meeting you need to prepare for.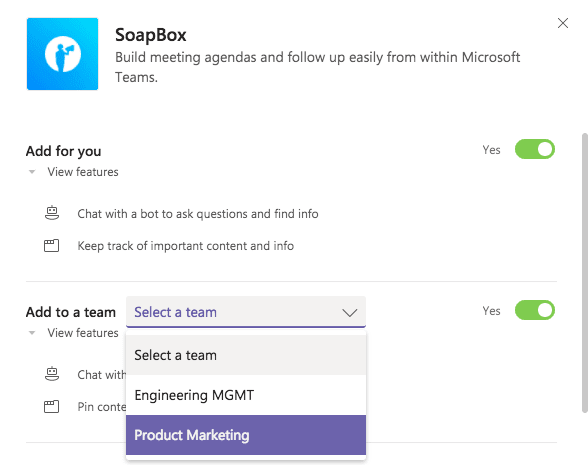 How to add SoapBox to Microsoft Teams
Follow this link to take you to the Microsoft Teams SoapBox app
Pick the team you want to add SoapBox to in the drop down
Click install
SoapBox will take you through the rest!
Why SoapBox?
SoapBox takes the admin out of managing team meetings without ever having to leave the Microsoft Teams experience. We equip teams with the tools they need to collaborate in their most important meetings without adding another "place to go" in their manager stack.
Learn more about SoapBox and Microsoft teams.